Post by Old School Kane on May 16, 2011 13:15:50 GMT -5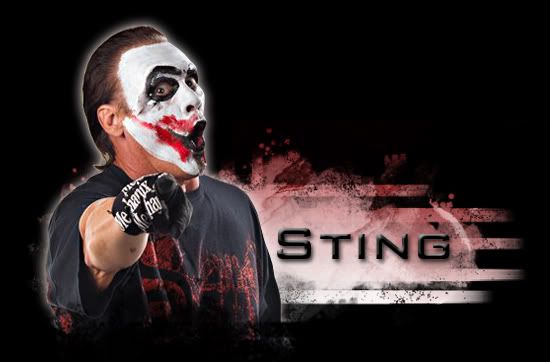 Wrestler Name: Sting
Hometown: Venice Beach, California
Height: 6'2
Weight: 250 lbs
Signature Moves
Belly to back suplex
Diving crossbody
Diving DDT
Diving knee drop
Dropkick
Flying clothesline
Inverted atomic drop
Military press slam
One-handed bulldog
Sleeper hold
Slingshot crossbody
Spinebuster
Splash
Stinger Splash – innovated
Tombstone piledriver
Vertical suplex sometimes from the top rope

Finishers

Scorpion Death Drop (Inverted DDT, sometimes initiated with a scoop lift)
Scorpion Deathlock

Achievements:
WCW International World Heavyweight Championship (2 times)
WCW United States Heavyweight Championship (2 times)
WCW World Heavyweight Championship (6 times)
WCW World Tag Team Championship (3 times)
TNA World Heavyweight Championship (3 times)
TNA World Tag Team Championship (1 time)
Titantron

Short Description of Wrestler
Steve Borden, better known by his ring name Sting, is an American professional wrestler, currently signed to Total Nonstop Action Wrestling (TNA), where he is the current TNA World Heavyweight Champion in his third reign. He is best known for his tenure with World Championship Wrestling (WCW).
Borden has held twenty-four championships in various promotions throughout his career, and is a fourteen-time world champion: a six-time WCW World Heavyweight Champion, two-time WCW International World Heavyweight Champion, two-time NWA World Heavyweight Champion(he is also the only man to ever hold the NWA World Heavyweight Championship in NWA and TNA), three-time TNA World Heavyweight Champion, and one-time WWA World Heavyweight Champion.
Industry commentators have described Sting as the "franchise" of WCW; prior to its cessation, the organization said of Sting, "He is the franchise player of WCW, and perhaps no one better represents the organization than the man called Sting". He is arguably the most well-known professional wrestler to have never performed for World Wrestling Entertainment.
Borden is the only wrestler to win Pro Wrestling Illustrated's "Most Popular Wrestler of the Year" award four times. After getting sick of Hogan & Bischoff in TNA, The Stinger quit the company and decided to join the rapidly growing UFWA in a shock appearance at the Retribution Pay Per View!
---
Match History
Wins: 9
Draws: 0
Defeats: 11
06-19-11 - Fall From Heaven: Sting def. Alex Shelley to earn a full time UFWA Contract
07-01-11 - Burnout:
Samoa Joe def. Tyler Black & Sting (3way)
07-08-11 - Burnout:
James Storm, Sting & Cheerleader Melissa def. Marcus Brett, Kirsten Franceschi & Katie Williams
07-22-11 - Burnout:
Marcus Brett & Tyler Black def. Sting & James Storm
Burnout 8-5-11
AJ Styles & Maria Valdez def. Jack Swagger & Sting
Burnout 8-12-11
Sting def. AJ Styles
Burnout 8-19-11
Jack Swagger & Maria Valdez def. Sting & Kofi Kingston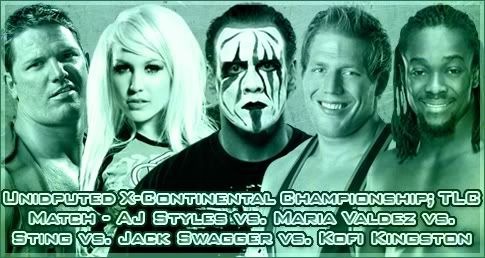 08/19/11 - Splashdown: Maria Valdez def. Kofi Kingston, AJ Styles, Jack Swagger, Kofi Kingston & Sting to retain X-Continental Championship
Burnout 9-2-11
Sting & Shelton Benjamin def. Kofi Kingston & AJ Styles
Burnout 9-12-11
Maria Valdez def. Sting, Cody Rhodes, Jack Swagger & AJ Styles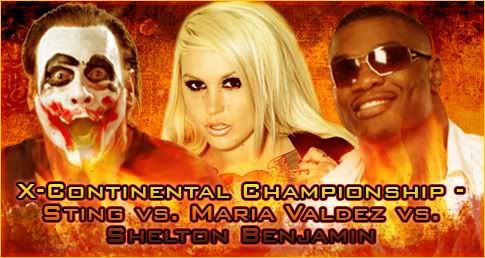 09/25/11 - Warzone of Hell: Maria Valdez def. Sting & Shelton Benjamin to retain X-Continental Championship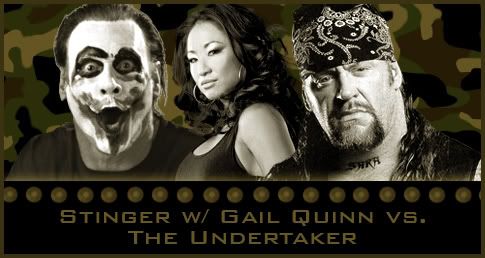 03/25/12 - Retribution: The Undertaker def. The Stinger by DQ
Burnout 4-13-12
Crimson & The Undertaker def. Johnny Gargano & The Stinger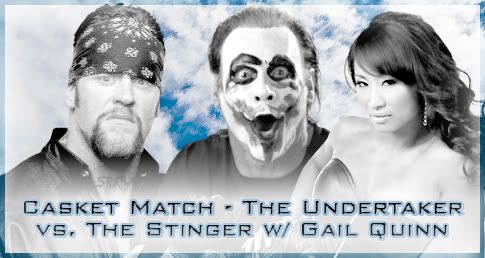 04/29/12 - Fall From Heaven: The Stinger def. The Undertaker
Burnout 5-18-12
Jake Hager & The Undertaker def. The Stinger & Christian
Burnout 5-25-12
The Stinger & Gail Quinn def. The Undertaker & Cheerleader Melissa
06/03/12 - Final Frontier: The Stinger def. The Undertaker & Jake Hager