Post by ♡☈aveη on Aug 5, 2010 7:46:31 GMT -5
The first WNW!
Thx to the match writers and everyone who sent in skits. Enjoy!!
______________________
Michael Cole:
Hello folks and welcome to the first ever Wednesday Night Wreck. I'm Michael Cole alongside my broadcast colleague Tazz and do we ever have a show in store for you.
Tazz:
The Superstars and Divas have been fired up for this very moment and I for one can't wait to see what they do out there tonight.
Michael Cole:
And we kick it off with Diva action.
-----------
Opening match, Triple Threat Match: Kelly Kelly vs. Torrie Wilson vs. "Harajuku Barbie" Nicki Minaj
All three women circle each other before Kelly and Torrie decide to work together to take out Nicki and throw her out of the ring. After that both women shake hands before locking up in the middle of the ring. They move to the ropes as Torrie leans back and whips Kelly, she ducks the first time around but Nicki grabs Kelly and drags her out of the ring. The two began to fight until Nicki whips her to the steps and rolls back in but Torrie doesn't give her a chance to stand as she stomps on Nicki. But on the last stomp Nicki grabs the foot and tackles Torrie down and begins punching her. Torrie tries to block but nothing works. Kelly now rolls back in and mat slams Nicki hard as Kelly helped Torrie up. Nicki slowly gets up and once again all three circle around each other before Torrie and Kelly grab Nicki by the arm and both whips Nicki to the rope, Nicki ducks first time around but as she returned Nicki double clotheslines both women and taunts before she tosses Kelly out of the ring.

After that Nicki goes to work on Torrie, she grabs her up by the hair and whips her to the turnbuckle, following that Nicki runs and hits a running clothesline making Torrie go down, Kelly sneaks back and jumps on Nicki's back but Nicki runs backwards and knocks her off. Torrie comes back and hits Nicki with a dropkick and goes for the pin but gets a two thanks to Kelly who broke it up. Kelly and Torrie once again as Kelly whips Torrie to the rope as she ducks the first time around but Nicki clotheslines Torrie out of the ring and hits Kelly from behind. She turns her around and sets her up for the Massive Attack (Stratusfaction) and goes for the pin 1...2...t- no Kelly managed to kick out somehow and Nicki yells at the ref. Kelly gets up and turns her around as she hits the K2 on Nicki and pins 1...2...th- nope, somehow Nicki managed to kicks out. Both women lay there catching their breath as Torrie rolls in and goes to cover Nicki but gets a two. Torrie now tries to pin Kelly but also get a two. Torrie now grabs Kelly up and kicks her in the stomach and hits the Nose Job and covers.1...2...no saved by Nicki. Kelly rolls outta the ring as Nicki wasting no time sets Torrie up for the Massive Attack (Stratusfaction) and goes for the pin 1...2...3!!
----------------
Michael Cole:
What an opening contest Tazz.
Tazz:
Indeed it was those Divas looked good out there tonight Cole in more ways than one.
Michael Cole:
Easy partner. Now folks all week the front offices have been fielding questions about how this will work with Co-GM's that run Wreck underneath "The Ultimate Vixen" Raven, hopefully tonight all that and much more will be answered as we continue on Wednesday Night Wreck.
Before the commercial break Samuel is shown standing on the wall as if waiting on someone, when Nicki Minaj passes by he steps off the wall and drapes his arm around her and the two smile a lot before entering her dressing room letting the door close behind them.
-----------
Tag match: The Most Awesome Team Without a Name (AJ Lee/Madison Rayne) vs. "The Perfectionist Diva" Michelle McCool & "Foxy Diva" Alicia Fox
Michelle & Alicia attack Lee & Rayne from behind on the ramp, cutting their entrance short. Alicia and McCool whip AJ Lee to the steps, keeping her out while they soften Madison Rayne in the ring. Both stomping Rayne in the ring, Foxx & McCool get their fill after a Double DDT. AJ Lee tosses Alicia Foxx out of the ring as she goes in for the attack to McCool, starting the match. Michelle is whipped across the ring with multiple arm drags, before getting out of the rut with a slap to AJ's face. Michelle taunts to the crowd but turns around to a missile dropkick by a furious AJ Lee. Lee leap in the air for a hurricanrana, but Michelle holds her in place for a Faith Breaker (Belly to back inverted mat slam). As Michelle is about to plane Lee's face to the mat, Madison makes the save with a Yakuza Kick to the skull of McCool. Alicia Foxx steps in, taking Rayne down with a tilt-a-whirl backbreaker. Michelle finally makes it to her feet to see Alicia and Rayne brawling on the outside. She turns around and blindly walks into AJ Lee's Sliced Bread #2 Lee quickly pins and get the win before Alicia Foxx can make it in to break the pin.
-----------
Single match: Ela Cantat vs. "Princess A" Akasha Monroe
Michael Cole:
Ladies and Gentlemen it is time for another Diva's match and boy do we have a treat in store for you.
Tazz:
That's right anytime you get to see our old friend Akasha Monroe, she promises to bring some excitement in your life and a whole lotta fine as she likes to say.
Michael Cole:
She'll be facing newcomer Ela Cantat who made an impressive debut at the UFWA joint show last week.
Tazz:
Apparently she doesn't have the best reputation in the locker room when it comes to her attitude towards the other Divas as Akasha told us earlier this week in her promo but let's see if Ms. Cantat can back up all that attitude her in the ring.
Ela Cantant makes her way down to the ring with a serious look of all business on her face. She runs up the steps and enters the ring and takes no time to pose for the fans, instead she narrows her eyes and stares up the ramp awaiting her opponent. Commander hits and Akasha struts out onto the stage and pauses and puts her hands on her hips. She nods and flings her arms as the pyro goes off to match her movements and pounds the steel on her way to the ring. She enters the ring and walks over to the ropes and bends over and blows a kiss at the audience. Ela stares at her with disgust and grabs her by the hair and throws her violently to the mat. Ela pulls Akasha's head up off the mat and delivers several elbow shots. Akasha yanks on Ela's braided hair and rolls her over and delivers several shots to the face until she is admonished by the referee who pulls her off. Ela stands and smirks at Akasha as the referee pulls her backwards to the opposite corner. The referee signals for the bell and starts the match. Akasha bursts out of the corner and hits Ela with a running Jumping Snapmare. She stands and backs up and hits Ela with a Running Leg Drop. Ela quickly jams a thumb in Akasha's eye as she prepares to lift her from the mat.

Ela then pulls both feet back and kicks Akasha in the shins to send her to the mat. Ela quickly rolls Akasha over and dashes to her feet and locks her in a Modified Figure Four Leglock. Akasha struggles to free herself to no avail and the ropes appear to be a million miles away. Akasha begins twisting her body with all her might and rolls them over and now the pressure is on Ela who promptly releases the hold and slaps the mat. She stands and advances on Akasha who plants her with a drop toe hold. Akasha then rises to her feet and executes a Back Rake to Ela who cries out in pain. Akasha kicks Ela in the stomach as if she were a soccerball and as Ela rolls over in pain Akasha does it again. Akasha goes to lock in a Boston Crab but Ela plants her hands on the mat and brings her body up as if she just executed a Matrix evasion and kicks Akasha in the stomach with both feet sending her flying backwards. Ela stands and hits Akasha with a Spear and hooks the leg for a cover, Akasha kicks out at two.

Ela pulls Akasha up off the mat and whips her into a nearby empty corner, she rushes Akasha and hits her with a Turnbuckle Clothesline and then sets her up on the top turnbuckle and backs up and executes a Turnbuckle handstand headscissors takedown. Ela again goes for the cover and Akasha kicks out at two. Ela pounds the mat in frustration and as she bends down to lift Akasha she finds herself pulled into a quick roll up which the surprised Ela manages to kick out of before it is too late. Akasha is the first to rise to her feet and yanks Ela up by the braid and pulls her in for a Belly to Belly Suplex. Akasha then gets down and begins to choke Ela and the referee begins the five count, Akasha releases at four and pulls Ela up off the mat and Irish whips her into the nearest corner and puts her arm up in the air and waves it around in a circle as she takes off and delivers a Handspring Facecrusher. Akasha goes for the cover and Ela kicks out at two. Akasha pulls Ela up off the mat and Ela immediately goes for her Bittersweet Curse (Butterfly Kick) but Akasha grabs the first leg before the pivot leg can make it around and holds it and takes the other one and executes a Big Swing drop. Akasha pulls Ela to her feet and plants her with a Royal Pain (Suplex Lift Neckbreaker) and hooks the leg and the referee's hand hits the mat three times in succession giving "Princess A" a royal victory for the evening.
------------
Singles match: Cody Rhodes vs. "The War Machine" Rhino
At the sound of the bell both men lock up as Rhino whips Cody to the ropes, he ducks the first time around but as Cody came back Rhino hits a shoulder block as Cody goes down. Rhino picks him up but Cody hits a jawbreaker and kicks him in the stomach and hits the Silver Spoon (DDT) he covers but gets a two count. Rhino gets up as Cody walks around and both circle around each other before Cody grabs one of Rhino's legs and pushes him to the turnbuckle but Rhino fights back hitting Cody in the back. Cody rolls out of the ring as Rhino looks at him before going out of the ring and Cody begins to run and rolls back in as does Rhino, Cody begins stomping on Rhino until he grabbed his leg and pushed him back to the rope but he hits a dropkick on Rhino and covers but gets a two count. Cody grabs him up by the hair and hits a few shots in the head but Rhino pushes him off as Cody leans back again Rhino hits a hard clothesline. He grabs him up and whips him to the turnbuckle and Rhino was going for the spear but at the last second Cody moves and Rhino hits the turnbuckle Cody rolls him up using the ropes and gets a two count.

Cody now hits a few knee drops, as he goes for one more Rhino rolls out of the way and Cody hits the mat and holds his knee. Rhino picks him up for a side belly to belly suplex and covers him but he gets a two count. Rhino whips Cody to the turnbuckle but he stops himself and when Rhino came Cody jums up he kicks him then does a crossbody but Rhino caught him and slams him down hard on the mat. Rhino begins punching Cody in the head. Cody tries to block but it doesn't work. Rhino picks up Cody but he reversed it and Rhino was about to hit the turnbuckle but he turns around only to by hit by a clothesline from Cody. He grabs Rhino up and sets him up for the Cross Rhodes but Rhino managed to counter it and nails a DDT. Cody slowly gets up just as Rhino went for the Gore and covers 1........2......no! Cody somehow managed to kick out. As Rhino picks him up Cody kicks him in the stomach and nails the Cross Rhodes and covers 1..2..3!
----------
The arena lights go dim and the opening guitar riff to "Ace of Spades" plays through the arena. The crowd bursts as Jack Ace comes out to the ramp, dress in wrestling tights and a dress shirt, fedora and aviators being sported as well. He walks down the ramp, big smile and high-fives to the crowd as the music continues to play. He slides into the ring and picks up a microphone and stands on a turnbuckle. The music fades out and Jack holds the microphone up to his lips.
"ARE WE ENJOYING THE SHOW, ATLANTA!!?!?!?"
The crowd pops and Jack jumps down, laughing and seemingly enjoying the reaction.
"Good! Good! Good evening everyone; glad you could join the talented roster tonight; because tonight we have a match coming up that is sure to please all who care to watch. A triple threat match between Brutus Magnus, the British Phenomenon, C-Money, a fierce veteran, and yours truly, the "High Roller." All three men competed last week on the UFWA launch show for a shot at the World Combat title and, through some sense of bad luck, all three failed. Tonight, we get redemption for one of those souls. Will C-Money continue his attempt to regain his glory? Will Magnus aim to turn himself around after whining last week about how much he's been screwed?"
A resounding laughter comes from the crowd as Jack smirks, eating it up.
[/color]
"Well personally, I must say, I hope they weren't hoping for a yes. Because believe me, Atlanta, this High Roller's going allllll in tonight, and those other two-"Just then, the camera pans to Brutus Magnus standing atop the entrance ramp, Dee Dee at his side. As Brutus and Dee Dee make their way down to the ring, Brutus shakes his head in response to what Jack had been saying, crowd not so pleased with their interruption.
[/b][/i]
"That's great Jacky-boy, really it is. You call yourself the 'High Roller', right? Well I haven't seen much high-rolling from you, in fact I've seen the complete opposite. Last week you did a God awful job of showing off what you can. Sure, I didn't do much better but I still don't see how you can come out here, saying that you'll be giving it your all because trust me, mate, you won't be getting anywhere. This week is MY week. That title shot is mine."
Jack's previous smile reduces and he quickly responds.
"That's all well and good, Brutus. But you're not fooling anybody by bringing your doll out here and preaching how I don't have the right to make claims. I don't need to remind you that 'not fairing much better' really means 'was the first eliminated,' right?"
The crowd has a moment to laugh before Jack continues.
"Brutus, you may the best Britain has to offer, but so far that hasn't proved much beyond being a tag line. Last week, I got cocky and handed Cody Rhodes the title shot on a platter. You won't get the same opportunity this time; you can bet on that. And I don't want to hear you moan when you lose again, either."
"Excuses, Jack. All I hear is excuses. You're over-arrogance cost you, did it? Okay, you can continue to mask the fact that you were just straight-up undeserving with that load of BS, it's not going to bother me any. Because quite frankly, I don't even care what you have to say. If you really want to get your point across, let's get this match underway right now and allow our actions to speak for themselves."
Brutus looked at Dee Dee, who offered him an applause and an approving look. The crowd goes silent that offer.
[/b][/i]
"Oh, and don't worry about having to hear me moan about losing. Because I won't be losing. That, Jacky, is nothing more than a guarantee."
Jack removes his aviators and closes the pegs, looking seriously ready to fight. He stares down Brutus, the crowd cheering for a brawl, then smirks and chuckles a little bit.
"I think you have the patience to wait for our other opponent. Don't get too anxious on trying to place your bets, Brutus. Keep your words soft and sweet, or else I might have to hit ya' harder."Jack ends that sentence with a sarcastically arrogant smile, while Brutus' same expression remains as he takes a step back, once again glancing over to Dee Dee before turning back to Jack.
[/b][/i]
"Soft and sweet are two words that are never to be associated with me. Jack, enough with the crap. Let's just step back, shut up and wait for our other opponent, as you mentioned. When he's here, it'll be all down to just seeing who the best man of the three is. I'm confident that the title shot will be awarded to me but I'll at least humor you now, Jack. May the best man win..."
Brutus ended, with clear sarcasm. Jack smiled and nodded his head. Removing his shirt he threw his garments to the outside, speaking before throwing the mic as well.
"... may the best man win."
----------

Triple Threat match: "The High Roller" Jack Ace vs. C-Money vs. "Britain's Finest" Brutus Magnus (accompanied by Dee Dee)
Winner advances to the Fatal 4-Way World Combat Championship match at the upcoming PPV.

All three competitors circle one another before Brutus is first to advance. He runs into Jack with a shoulder block to knock him down before going to work on C-Money. Brutus pulls C-Money into a Wrist Lock. After breaking it, Brutus throws him into the corner, following up with a Running High Knee Strike. C-Money drops to the mat, while Dee Dee continues to cheer on Brutus. Brutus turns suddenly, only to be crushed by an oncoming Jack Ace. Jack takes him down with a quick German Suplex, causing Brutus to retreat to the outside. This leaves Ace and C-Money remaining. C-Money fights his way back into things as he hits Ace with a Snap DDT, followed by a Kip-up. C-Money poses in the center of the ring momentarily before getting back to work on Ace. Bringing him back up to his feet, he Irish Whips him into the ropes. As Ace flies back at him, C-Money connects with a Spinebuster.

C-Money is suddenly pulled into a roll-up from Ace but he manages to reverse the pinning predicament in his favor. Jack Ace also manages to kick out. Before Ace can do anything else, he finds himself hoisted onto C-Money's shoulders and crushed with a Throw'd (TKO). C-Money hooks his leg quickly with a cover but he finds himself pulled out of the ring by his leg by Brutus Magnus. Brutus tosses C-Money aside before dragging Ace out of the ring too. Brutus begins laying into Ace with a series of forearm shots before slamming him head-first into the steel steps. Brutus goes to do it again but Jack extends his arms out and stops the move from connecting. Brutus doesn't let that stop him as he switches directions by slamming Ace this time head-first into the ringside barricade. With Jack Ace leaning back against the barricade, Brutus begins lighting up his chest with a series of knife-edge chops.

Brutus slides back into the ring but is prevented from getting to his feet as C-Money kicks him down. Magnus crawls to the corner but finds himself crushed by a Strong Right Punch from C-Money. Brutus collapses to the mat but as C-Money drags him back up, Brutus begins to fight back. He punches C-Money repeatedly in the gut to cause him to double over in pain before delivering a powerful European Uppercut. Brutus then pulls him into a Release Double Underhook Suplex. "Britain's Finest" then sets him up for the Tormentum (Twisting Samoan Drop). As soon as Brutus connects with the move, he finds himself assaulted from behind by Jack Ace. Ace throws Brutus over the top rope before he successfully pins him before Brutus is able to break up the pin, therefore stealing the victory.

----------
Single match: "Queen of Extreme" Lita vs. "The Quintessential Diva" Trish Stratus
Trish and Lita start this match with a simple lockup. Lita gets the advantage and she maneuvers Trish through the ropes to land ringside. Trish takes a minute to regroup before sliding back in the ring, staying close to the ropes to keep Lita at bay. They lockup again in the middle of the ring. Lita again gets the better of Trish as she locks her in a headlock. Trish flips Lita off the back but Lita lands of her feet and pulls Trish in for a schoolboy. Trish kicks out at two and quickly gets to her feet unleashing a fury of elbow shots to the side of Lita's head. Trish backs Lita to the ropes before Irish whipping her opposite. Lita ducks a clothesline and goes to pull in Trish with an Extreme Twist of Fate. Trish spins out and pushes Lita to the ropes. Trish advances for her next move, but Lita grabs a hold of Trish legs and lifts her over the ropes. Unknown to Lita, Trish safely lands on the apron. Trish grabs Lita by the hair and pulls down with force as she hops off the apron, snapping the back of Lita's neck on the top rope. Lita stumbles to the middle of the ring tending to her neck. Trish slides back in the ring and clotheslines Lita in the back of her head. Trish stomps Lita on the mat before pulling her up to her feet.

Trish whips Lita to the ropes and connects with a huge Spinebuster. She goes for the pin, but only gets a 2. Trish pulls Lita to her feet in a headlock, signaling for a Stratusfaction to a mixed reaction from the crowd. Lita fights out with punches to the Trish's ribs. Lita slips out and powers Trish to the mat with a Russian Legsweep. Lita rolls over to mount Trish with right haymakers. Lita lets up and catches Trish leg from a Chick Kick attempt. Lita pulls Trish in for a clothesline, with another following. Trish dodges the next with a MaTrish. Trish kicks her feet up to wind up in a handstand position as she wraps her ankles around Lita's head and rolls her over, Reloading the MaTrish. Lita rolls to her feet and locks eyes with Trish. They charge to each other, both with a clothesline in mind as they take each other out. Lita is the first to make it to her feet at the count of 5 as Trish uses the ropes for assistance. Lita pulls Trish to the middle of the ring and plants her with a Lita DDT. The Queen of Extreme climbs tosses her shirt into the crowd as she makes her way to the top rope as Trish lays in the perfect position for the Litasault. Lita dives off but crashes on the mat as Trish rolls out at the last possible second. A close-up can show Trish laughing as Lita rolls around in pain of the missed Litasault. Lita makes it up to her feet but in an instant is knocked back down in the form of a massive Chick Kick to the head. Trish pins Lita and gets the 3 count for the win.
-----------
Tag match: Rated Y2J (Edge/Chris Jericho) vs. "The Predator" Randy Orton & "The Wrestling God" JBL
Edge and JBL are the first to start off this contest. Edge unleashes a fury of right hands, drawing JBL in the corner. Edge follows with stomps to the gut and a blatant foot choke. He release on the referee's count of 4 and goes back for yet another choke, again releasing on 4. Edge drags JBL out of the corner and mounts him with closed fists. JBL pushes him off and slides out of the ring. Unluckily for him, he slid out to the opponent's side. Jericho springboards off the ropes and lands on JBL with a Plancha before rolling him back in the ring. Edge tags in Jericho who goes to take JBL out with a running bulldog. JBL reverses as he launches Jericho to the ropes. Upon rebound Jericho runs into a Big Boot from "The Wrestling God". Randy holds out his hand begging to be tagged in but Bradshaw ignore him as he goes back to work on Jericho. Jericho hits JBL with a thumb to the eye with an one-handed bulldog following, giving him time to tag in Edge. Edge stalks Bradshaw for the Spear. JBL dodges out of the way sending Edge speeding into the corner. Edge stops himself before his shoulder meets with the ring post. He turns around with a Big Boot in mind. JBL think the same thing, the result being both superstars knocking each other out in the middle of the ring.

Randy Orton and Chris Jericho circle past one another after being tagged by Edge and JBL at the same time on the refs count of 6. Jericho dives through Orton's legs and catches him off guard with an Enzuigiri when Randy turns around. However, Orton doesn't fall and one makes it down on one knee. Jericho keeps up the momentum and bounces off the rope to deliver a snap neckbreaker but Randy catches it with a powerful scoop slam. The crowd erupts into a frenzy seeing Randy's momentum pick up. He circles Jericho in his predatory kicks and softens him up. Before long Randy is in his Viper pose waiting for Jericho to stand up. Randy crouches and then goes to deliver a RKO but when he hits the RKO, JBL tags his foot while it's in the air.

Randy drops Jericho with the RKO and rolls himup but not paying attention to JBL who had now begun to run against the ropes. Randy turns to look at JBL in disbelief after the ref tells him he has been tagged out. However, this was part of JBL's plan and he catches him off guard with a Clothesline from Hell. Layfield laughs and pins Jericho before Edge can make it across the ring to break the count. JBL quickly rolls out of the ring before Edge can get him and begins to celebrate. Randy turns to JBL while on the ground in pain and stares at him dead in the eye. JBL made his way up the ramp yelling, "I told you not to get in my way boy."
----------
Following their match, a tired wore out Edge slides out of the ring and grabs a mic. He rolls back in the ring and catches his breath, pacing back and forth, with Jericho leaning against the turnbuckle, mic in hand as well, Edge begins to speak.
~Edge~
There, are you happy now? We played your game, danced like puppets for the past two weeks. Gauntlet matches, random tag team matches. Like you're being forced to book us in these matches just to humor us. Well that's not the case. We let you have control over us for long enough, now, now it's a different story.

Jericho steps away from the Turnbuckle to the center of the ring and takes a long hard look around at the crowd, shaking his head slowly before he speaks.
~Jericho~
For too long myself and Edge have done what we were told to do. I know what you're thinking, it's only been two weeks. It's two long weeks for someone such as myself and Edge. So we broke routine, we didn't pander this week, we didn't send a message to our former partner Randy Orton, and JBL, no. See, because that's what's expected of us. So we made an agreement, a deal between ourselves. We decided no matter what happens tonight, win or lose, we're out of Wreck. Done, no more Rated Y2J for Wreck. No, instead we made plans, we have a game plan, we have things for us to do as a unit. Oblivion is the place for Chris Jericho and Edge, Oblivion is where Edge and Chris Jericho will truly shine.
Edge smirked and and looked at Chris nodding smugly, walking to the ropes and leaning against them, speaking once again. Edge looks straight into camera with a devious look in his eyes.
~Edge~
There's people on Oblivion who I personally know, very very well, and I have some "unfinished" business with her. And it doesn't matter who's in my way, I'm getting back to her, plowing her through her and finishing what I started--
Jericho cuts Edge off in the middle of his words, a wide grin reached his face, and a sudden smugness raised in his demeanor.
~Jericho~
I couldn't agree with you more, Edge. See when we're on Oblivion we'll finally put that twobit whore and her side kick, Maryse and Genesis. We'll finally shut Ego-Trip up and show them why we're the best in the world at what we do. There is not a team in this business, a woman on the streets, or a parasite in the audience who can show us other--
~Edge~
Whoa whoa whoa, Chris, Chris, slow down...this isn't about Ego-Trip..
Jericho just stands there looking confused at Edge, as Edge backs away and leaves the ring, without looking back and a grin on his face--Soon after, Jericho follows confused and annoyed.
[/i]
-----------
Single match: Candice Michelle vs. Jenny Tuck
Justin Roberts - Ring Announcer
: The following contest is set for one fall. Making her way to the ring...
Michael Cole
: What a minute partner, is that...is that Maryse? What's she doing out here? She has no business being here she is a Friday Night Oblivion Superstar.
Tazz
: Who cares why she's here Cole, it's Maryse. The Sexiest of the Sexy has come to Wednesday Night.
Michael Cole
: It looks like she's coming over here Tazz.
Maryse flings her coat off to the floor and rounds the corner to the announce table and picks up the headphones and takes a seat next to Tazz.
Tazz
: Welcome to Wednesday Night Wreck Maryse.
Maryse
: Thank you Tazz it is good to see you again. Ugh...Michael Cole.
Michael Cole
: Maryse what are you doing here? You have no business being here.
Maryse
: Michael, sexy is Maryse's business and these two "Divas" have both said that they are sexy. Soooo, the Sexiest of the Sexy has come to see if they can hold claim to that.
Jenny Tuck is the first to come from behind the curtain and as she makes her way down to the ramp she takes extra care to be as sexy as she possibly can. She steps through the ring ropes and walks up to the nearest camera and plants a kiss on the lens. Then Candice Michelle's music hits and the audience gives this fan favorite the welcome that rivals all others. Candice struts out onto the ramp and gives the fans a little show before heading to the ring with a lot of energy. As Candice climbs up on the turnbuckle, Jenny rushes her and grabs her and shoves her off the ring apron to the floor. Jenny exits the ring and rolls Candice up and shoves her under the bottom rope. Jenny rolls in and the referee signals for the bell. Jenny pulls Candice up off the mat and chops her in the chest several times before whipping her across the ring, Candice dodges a wild clothesline attempt and bounces off the other side of the ring ropes, she takes Jenny down with a Lou Thesz press and follows thru with several punches. She stops before the referee counts to 4 and stands up giving the fans a little wiggle. Jenny pulls her down into a quick roll-up only to receive a one count. Jenny gets on one knee and puts on out in front of her and grabs the rising Candice and attempts to place her over the knee but Candice has other plans and executes a back kick to Jenny's mouth. Candice stands above Jenny and bends over and comes up with a wiggle and jumps up in the air and comes crashing down on Jenny's torso. She pulls Jenny to her feet and whips her across the ring into the turnbuckle. Candice runs over with a Monkey Flip in mind but as she leaps up on the second turnbuckle Jenny reaches up and grabs the straps of her tops and pulls her down hard to the mat. Jenny goes for the quick cover and puts her feet up on the ropes. The referee begins to count but sees her legs on the ropes and stops the count and admonishes her.
Maryse:
Typical Jenny Tuck there, she cannot do anything unassisted.
Michael Cole:
So you've met Jenny Tuck before? Is it safe to assume there is some bad blood there Maryse?
Maryse:
Michael Cole, Maryse already told you why here tonight. There is no bad blood between Jenny Tuck and Maryse, clearly as you see from her performance she is not in Maryse's league.
Tazz
: What do you think of Candice's performance so far?
Maryse:
It is not what Maryse expected but match not over yet.
Michael Cole:
Do you mean that in a good way or a bad way Maryse?
Maryse ignores Michael Cole's question and smiles while watching the match continue. In the ring Jenny Tuck is being taken down by a Scoop Slam from Candice. Candice climbs the turnbuckle and leaps off for a Diving Cross Body but is caught in mid air by Jenny and sent down hard by a Last Call that flings Candice across the ring. Candice lays there and slowly begins to stand, Jenny Tuck stands and charges at her. Once Jenny gets close enough Candice pulls the top rope down and Jenny spills to the outside floor. Candice picks her up and whips her back first into the barricade and she hits with a hard thud. Candice runs over and deliver several forearm shots to the face before picking Jenny up and lifting her and dropping her torso first into the top of the barricade. Candice raises a fist in the air and the crowd cheers. Maryse stands up from the announce table and pulls her headset off and walks over to Candice and the two stand there and glare at one another for several moments. Candice slowly backs away and rolls in the ring to beat the referee's 10 count and performs a mesmerizing dance in the middle of the ring. Maryse quickly picks up Jenny Tuck and plants her to the floor with a French Kiss (Snap DDT) and rolls her under the bottom rope. Maryse backs up the entrance ramp laughing at her handiwork.
Candice stares at Maryse puzzled as does everyone else and Maryse turns and walks up the ramp and through the curtain. Candice picks Jenny up and sets her up for the Sugar Rush (Forward Russian legsweep) and drives her down hard into the mat. Candice hooks the leg and the audience counts with the referee, 1...2...3!
Justin Roberts - Ring Announcer
: Here is your winner, "The Candy Coated Diva" Candice Michelllllle!
Michael Cole:
What was that Tazz? Why did Maryse help Candice Michelle?
Tazz
: Chill Girlpants, as long as we've known Maryse does she ever really help anyone other than herself?
Michael Cole:
This leaves so many unanswered questions partner and from the look on Candice's face she was clearly not in on whatever Maryse's plan was. Maybe we'll get more answers next week or perhaps this Friday on Friday Night Oblivion. Stay tuned folks we have more Wednesday Night Wreck action coming up after this commercial break.
As Wednesday Night Wreck goes to commercial the last shot seen is Candice Michelle celebrating her victory.
------------
Samuel is seen walking out of a dressing room pulling on his wrestling gear with a smile on his face. The camera pans back to the door and Nicki Minaj's name is on the door and it pans back to Samuel who continues his walk. The camera shows Fear leaned up against the wall looking as if he's been waiting on Sam but he says nothing as they continue their walk in the hallway. They cross paths with Ivory who was exiting a locker room and she rolls her eyes at them as Sam waves at her with a smug grin on his face. She stomps her foot and heads over to Cena who glares daggers at Sam and Fear.
Tazz:
Don't say it Cole, I'll do it for you. *high pitched annoying tone* Oh my gosh partner, why was he coming out of there?
Michael Cole:
I don't sound like that Tazz, and...that's not the question I was going to ask, I want to know why he was putting on his gear instead of it being on already.
Tazz:
One day that nose of yours is gonna get your teeth knocked down your throat.
Michael Cole:
Whatever Tazz, folks we'll be right back with your favorite Superstars and Divas when we return on Wednesday Night Wreck.
------------
Tag match: Royal Anarchy (Samuel/Fear) vs. John Cena & Justin Gabriel (accompanied by "Purple Fury" Ivory)
The commercial ends and the two teams are already in the ring bouncing around to warm up each man staring across the ring into the eyes of his opponent with evil intentions in his eyes. Sam steps through the ropes as does Cena and Fear and Justin Gabriel circle one another as the bell rings. Justin cockily mouths off at Fear and slaps him across the face and shoves him to the mat and stands there staring at him with a smug grin. Cena shakes his head and yells at his young rookie to follow thru with another move, Fear stands up erect and his eyes darken and he catches Justin on the chin with a Boxing Hook, as Justin's body leans with the blow Fear unleashes on him with Boxing Combination Jabs and pulls him into a side headlock to deliver Grapple Knees To The Head. He shoves Justin down to the mat and begins to angrily stomp on him. Cena paces back and forth on the ring apron while Sam laughs and climbs the turnbuckle and takes a seat as if he's bored and begins to retie his boot laces. Ivory pounds the mat yelling at Justin to cover up as Fear has mounted him and is delivering punches to the face. The referee grabs at Fear who turns to glare at him but stops as the referee gets to four of his five count. Fear goes to tag out to Sam who hops into the ring. Sam pulls Justin up off the mat and sends him right back down with well placed Shoulder Thrusts. He drags Justin close to Cena but pulls him away. Cena fumes from the corner while Ivory shouts at Sam. Sam smiles and turns his back but quickly turns and catches Cena with a Vionic Punch. Sam shrugs and turns around to see Justin slowly beginning to stand up, Sam takes off running and hits him with a Bicycle Kick to the chin that sends him back to the mat. Sam slaps Justin across the face before pulling him up and whipping him across the ring and into the Royal Anarchy corner.
Michael Cole:
Tazz what happened to him? That is not the Samuel we know.
Tazz:
Sure it is Cole or were you not paying attention to the changes? That monster has been buried a long time and it appears to be loose.
Michael Cole:
Well I don't like it, he was the nicest guy on the roster and...
Tazz:
Look Cole, nice gets you nowhere in this business and I dare you to go tell him that he isn't meeting your "expectations" of how his attitude should be. I tend to like the version of Sam. You're just going to miss the one person who was nice to you during interviews.
Fear tags out to Samuel and enters the ring and the two of them lock Justin in the Spinal Chord (Fear locks in a Crippler Crossface while Sam locks in a Haas of Pain). Cena is beside himself and Ivory hustles around the ring and hops up on the apron yelling, the referee goes to make her get down and Cena explodes in the ring taking Sam out with a clothesline and turning to grab the rising Fear from behind in a twisting belly to back suplex. He slides out of the ring and Ivory hops down off of the apron. Justin begins to crawl to his corner to make the tag and as he almost gets there Fear grabs his leg and begins to pull him backwards. Justin struggles to break free and kicks his foot away and catches Fear with a kick to the side of the head as goes to grab the leg again. Justin finally makes it to Cena and tags out while Ivory tends to the battered Justin. Cena enters the ring like a ball of fire and takes Fear down with multiple clotheslines. Once he reaches the fourth one he pauses and points at Sam, Sam in turn flicks him off. Cena hits Fear with an elbow drop. Cena picks him up and plants him with a Spin-out Powerbomb and stands at Fear's head and waves his hand back and forth in front of his face as the crowd chants "You can't see me" and Cena hits his patented Five Knuckle Shuffle on Fear. Cena climbs the turnbuckle to stalk Fear and waits for him to stand. Fear slowly begins to stand and Cena leaps off the turnbuckle with a Diving Leg Drop. He turns to smile at Sam and holds his hands out to his sides while Ivory applauds mockingly. Sam begins turning red on the apron and it's now his turn to glare at Cena and begin to pace the apron. Cena pulls Fear up off the mat and puts him on his shoulders for the FU (Fireman Carry slam), Fear begins to frantically fight out of it with elbows to the side of the head until he slides off Cena's shoulders to the floor. Fear quickly grabs Cena and hits a Back Suplex Neckbreaker. Fear falls to the mat and Sam bounces with anger and anticipation waiting to be tagged in.

Fear begins to make his way to the corner and tags out to Samuel who enters the ring and sees Cena standing and catches him with a running STO. Samuel slaps Cena across the face and pulls his head up "This is the part where I beat the shit of you Superman". Samuel shoves Cena's head into the mat. Samuel backs up and runs to rebound off the ropes and Ivory grabs his foot and trips him. She turns around innocently and the referee looks confused. Sam pounds the mat with his fist and turns to glare at her. He stands up and Cena catches him with left and right punches until he backs him up against the ropes, Cena grabs Sam's arm and whips him across the ring but Sam rebounds with a Flying Neckbreaker that sends Cena to the mat. Sam locks Cena in a Royal Slam (Glam Slam submission) and the referee asks Cena if he wants to quit. Cena begins to scream "I will not quit". Cena struggles and finally manages to cause Sam to loose his grip. Cena rolls away and Sam goes to stand. Justin Gabriel starts trying to enter the ring and the referee detains him while Ivory grabs Sam's neck with her purple scarf and chokes him against the ropes. Seeing Justin interfering send Fear into a rage, he has had enough and enters the ring and blasts Justin with a Head Trauma (Charging Big Boot). Pure chaos breaks out as Cena charges and Ivory releases Sam's neck and moves out of the way Cena blasts him with a clothesline that sends him right over the top rope. Justin tumbles to the floor from the force of the kick and Fear exits the ring and begins to pummel him. The referee starts his ten count, and Cena and Sam begin to trade haymaker punches on the floor. Ivory yells at Cena about the count but it is too late and the referee reaches ten. Cena stomps the floor and holds his head in disbelief. Sam's lip curls into a snarl and he shoves Cena with all his might causing him to bump heads with Ivory and they both fall to the floor. Sam grabs a microphone and breathes heavily with anger.

Samuel: That was an unexpected ending but John here's what I propose for next week so long as you and you two "women", no I don't mean that Casey Cortez chick that you keep cheating on your mom with, which is pretty gross by the way John, I thought you were from West Newbury not West Virginia. Anyway I'm talking about that bitch of yours underneath you and your bitch on the side over there Justin. Next week your protege' versus my protege'. Winner gets to choice of what he wants to do to the rival's mentor at a time and place of his choosing. That is if you two don't bitch out and not show. But after what happened to you here tonight I'd understand if you don't.
Sam throws the microphone down and hits Cena in the face as he and Fear make their way up the ramp.
----------
Right before the main event starts Amanda's locker room is shown and Amanda tries to get ready for her match. She sits there on a chair and it seems that she really isn't that happy with her match even thogh she is in a main event.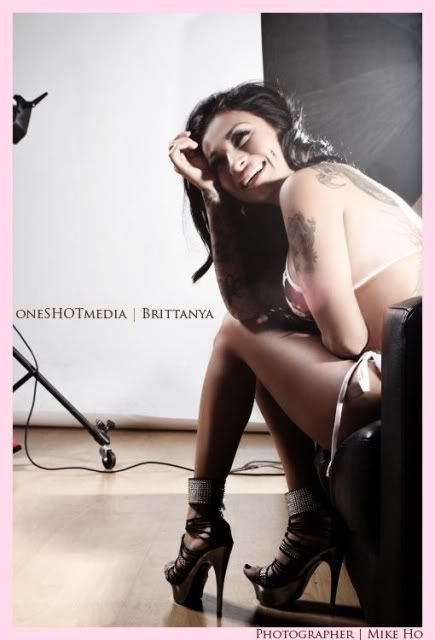 Amanda lights a cigarette and buries her face in her hands. It takes a while and then she looks up again. At first it has looked like she was a bit scared or at least worried, but now she seems to e full of confidence again.
~Amanda~
Ok Rae ..if you want it like that then you can have it.
She drags at her cigarette and inhales deeply.
~Amanda~
I though bringing me to jail and this crap last week was enough to terrorize and punish me, but it seems that I was wrong again. I really can't understand how a single person can be so mean and sadistic and how you can try to ruin my health or end my career.
The petite girl shakes her head and it seems that she really doesn't understand it.
~Amanda~
So Rae, now you may think that you can scare me by putting me in such horror matches without me knowing my opponents, but you're wrong. Maybe in the past that would have worked, but I have changed a lot and now it's not so easy anymore to scare me. Maybe you haven't seen that cuz you're too busy with taking care for yourself or with buying shoes. Haha
But anyway, I'm not here to offend you, I'm here to threaten you and to show you tat you can't push me around anymore. Nobody treats a Goddess of War like this and even you will learn this one day.
Now Amanda laughs out. She stands up and now she looks for her ring gear. At first she wanted to go out there juz in a normal jeans and some combat boots, but it's a main event and so she thinks of something special. She looks around in her locker and then she takes a really short jeans skirt, a small black bikini top and some really high heeled sandals. She puts all this clothes on and now she looks into the mirror and she is really satisfied with hr hot outfit, the fans will love it. Then she puts on a cowboy hat and leaves her room.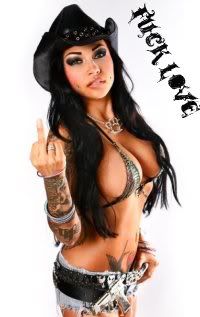 ~Amanda~
Ok Rae, now you will see what it means to mess with a Goddess. You know that my major goal is to get you back for all your crappy actings and tonight I will begin. Yeah, I will fuck up all these morons you have chosen as my opponents and you will see that there can be only one winner tonight and that's the Goddess of War.
But wait, that's not all ...Before I kill your friends I also wanted to tell you that I have something very special for you in mind. I have contact to my old gang again and they agreed that they will help me to reach my goals. So don't forget, from now on I have someone who holds my back. Oh, and what makes it even more interesting is that on of these people already joined your company. So the time of your reign is over and this day will come really fast. Haha ...enjoy your last days as the boss here Rae …
Now Amanda walks over to the stage She waits for a moment and now her song is played.
Amanda walks to the stage and raises her arms in victory while the fans are cheering at her. She blows kisses at the fans while she makes her way down to the ring.. As she reaches the ring she kicks off her high heeled sandals and slides into the ring. Now she hops on the ropes and waves at the fans again. Then she goes over to her corner, awaiting her opponents to come to the ring.
----------
Main Event, A touch of Rae Gauntlet match: "The Goddess of War" Amanda vs. 3 mystery opponents hand selected by "The Ultimate Vixen" Raven
*As Amanda has finished her say, The crowd pops off with w chorus of boo's as Raven makes her way to the head of the ramp. With a mic in hand and a smile on her face she waves to the jeering crowd, before turning her attention to Amanda*
My goodness, hun. What's with the sourpuss look you've been sporting lately? Is it me?-No it couldn't possibly be. After all, I'm everyone's Big 'Rae' of Sunshine!
*Raven smiles as the audience throws a wave of jeers her way*
Yeah, let's just wait 'til The Falcons miss the playoffs
again
this year, then we'll see who boo's who. Anyway, Amanda, I know you're a little worried about your opponents, but don't worry. There are absolutely no tricks up my sleeves, okay? I'm not even dressed to compete. I'll be damn if I scuff up my Minolo's kicking your ass up & down the ring. Getting on to the match, I decided to borrow talent from the
other
company. Yes folks,
that
company. Your first opponent is.....
Without warning, Beth Phoenix slides in the ring, taking Amanda out from behind with a chair shot to the back of the head. The bell rings and Beth wildly stomps Amanda to the mat. Beth picks Amanda up by the head and tosses her in the corner. She follows up with hard shoulder thrusts to the gut, each one more painful than the last. Amanda tries to fight back with wild right hands, but Beth fights back harder with a headbutt to the mouth. As Amanda's lips start to bleed, Beth lifts her overhead via Military Press and tosses her over the top rope to crash ringside. By now, Raven has pulled up a chair in front of the announcers table to enjoy the action up close. Beth rolls Amanda back in the ring for a pin attempt, but only gets a two count. Amanda tries getting to her feet, but stops on one knee, as she locks eyes with a smiling Raven. This distraction opens a window for Beth to trap Amanda in a elevated double chickenwing submission. Before Beth could come down with the Glam Slam, Amanda reverses the submission with a victory roll-up. She gets a two count. Amanda gets to her feet only to walk in a beheading clothesline from The Glamazon. Beth pick Amanda back up to her feet to hit a devastating Down In Flames (Michinoku Driver II). Beth holds the position for a pin, but at the last minute, Amanda gets her shoulder up to save the match for herself. Raven throw a fit ringside as Amanda kicks out. Beth looks over at Rae who shouts out instructions to her "Get your ass back in there and finish this!". Beth turns around only to be greeted with a springboard dropkick to the chest by Amanda. The Goddess of War gets her second wind as she takes it to Phoenix with quick kicks to the legs, breaking her down. Beth ends up on one knee as Amanda completes the combo with calf kick to the jaw. Amanda climbs the top rope ready for her next move, but Raven decides to get involved and pushes Amanda off the turnbuckle to crash on the mat. Raven has her seat ringside as Beth Phoenix prepares Amanda for a Glam Slam. Amanda wiggles out and lands on her feet. She kicks Beth in the mid section and follows up with a No.1 Stunna (Stone Cold Stunner). Amanda pins Beth to pick up the first win.

As Beth is being escorted out of the ring, Amanda stands tall in the ring as she and Raven exchange a few choice words with each other. Amanda turns around only to be tossed across the ring via belly-to-belly suplex courtesy of Awesome Kong. Amanda picks herself up in the corner, unaware of Kong revving up for a splash. Kong hits her mark crushing Amanda in the corner. Amanda lifelessly falls to the mat as Kong drags her to the middle of the ring and follows up with a running splash. The crowd gasps in "ooh!" as Kong follows with yet another splash, crushing Amanda for the third time. Raven instructs Kong to take the top rope for a diving splash. Kong dives off, falling to her mark. Amanda gets her seconds wind as she rolls out of the way. The ring shakes a bit as Kong slams front first on the mat. She tries picking herself up with the rope but finds herself hit with The 818 (The 619) followed with a slingshot splash. Amanda gets the 3 counts picking up her second win of the night.

Amanda begins getting to her feet as her next opponent hasn't made their way to the ring yet. Amanda finally gets to her feet with an positive reaction from the crowd, but Raven puts an end to that as she spins Amanda around for a Muah (RKO).
Amanda, over the past months, you & I haven't seen exactly eye-to-eye. The threats and the disrespect, get to a point where it just gets on my nerve; especially coming from a druggie, ex-con, piece of shit like you! If I have said it once, I have said it plenty of times; I Am Raven! I deserve.....
*Raven is cut short by the audience, who's boo's get louder with every word Raven speaks. She drops the mic from her mouth and looks at the crowd with somewhat shocked look*
Excuse me! I deserve the upmost respect from the ones I back that work for me & from you people in these seat, but you can't seem to get that through that damn tattooed skin of yours. So you know who your next opponent is? The very same person who helped me put you in check last week. Ladies and Gentlemen, my bodyguard, enforcer, and everything above, Vipera!
Amanda has gotten to her feet with help from the ropes. She leans on them as the cloaked women, now revealed as Vipera, makes her way to the ring. Amanda tries to make a b-line to attack Raven but Vipera steps as she leaps in the air knocking Amanda out with a Shining Wizard, her knee catching the side of Amanda's head. Vipera goes for the pin & Raven steps in as ref as she makes a quick 3 count.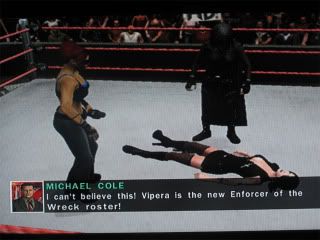 *Vipera and Raven stand over Amanda in victory. Raven steps to the ropes and raises her hands in the air and takes a formal bow as if she had beaten Amanda herself. Raven points over to Vipera and applauds her for a job well done. Vipera takes off her cloak to reveal her face to the world*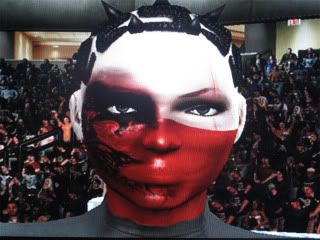 *Wednesday Night Wreck fades out with the last image of Vipera's disfigured face*
[/center]