Post by Adam on Mar 1, 2016 7:13:21 GMT -5

1st March 2016
Corpus Christi, Texas
Backstage, Cheerleader Melissa and Chyna are just talking things over.
Cheerleader Melissa:
I know things haven't gone particularly well recently but with the announcement of the Tag Team Rumble, I think this really could be our time. I can't imagine that either one of us will be easy to eliminate in this.
Chyna:
That's something we can agree on there. I feel as though that will be our night to shine and claim what is ours... a shot at Tag gold.
Melissa nodded.
Cheerleader Melissa:
Precisely. We will have to head into that with momentum, though and tonight is the time to earn that.
Chyna:
Then let's get this out the way. I'm sure if we manage to get onto the same page, there won't be a problem...
Chyna turned to walk away as Melissa didn't seem to sure about that last sentence but followed behind her.
--------
Becky Bayless:
Welcome to Tuesday Night Oblivion! We're back here in the States and more specifically, Texas, on our final Oblivion stop before Retribution.
Rob Van Dam:
I for one am excited for that event but tonight is no doubt going to be a great build-up!
Show Opener; Singles Match: Angelina Love (accompanied by Sable) vs. Rebel
Becky Bayless:
We're kicking things off with the newly re-formed Beautiful People's Angelina Love taking on Rebel!
- Rebel and Angelina have a great back and forth few minutes.
- Rebel even starts to close in on the victory but it's Sable who acts as a distraction to stop her.
- Angelina connects with the Botox Injection to the jaw to knock Rebel out. She covers for the victory.
(Winner - Angelina Love)
Becky Bayless:
A great fight but Rebel but a huge win for Angelina.
Rob Van Dam:
She's dominating on Oblivion so far.
--------
SoCal Val stands in the back ready to speak.
SoCal Val: Well that was quite an exciting first match tonight! Now we're going to discuss the... (gasps)
Debra:
Hey yawl. (loud cheers)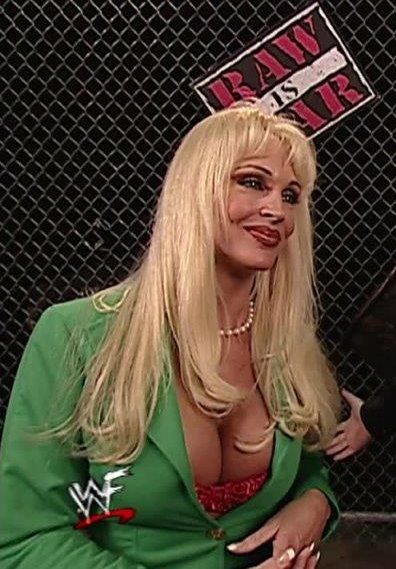 SoCal Val: Wow! Welcome to Oblivion Debra! What brings a Burnout diva like yourself to the arena here in Texas tonight?
Debra:
Well what can I say hun? I love ol' Texas! (loud cheers as she smiles)
SoCal Val: We last saw you in action against Candice Michelle in a unique but equally violent Lioness Den match at Day of Awakening. You still display some of the bruises from that one... what next for Debra now that your feud with Candice is finally done? Indeed... what did she whisper in your ear after it was done.
Debra:
Well... lets just say it wasn't pillow talk. As for tonight, apart from seeing Mr Punk for a friendly chat I am also here to check out some of the Tuesday Night Oblivion talent to see up close what they can do.
SoCal Val: Oh? Thinking about trying to get a move to this brand?
Debra:
No honey but... I have big plans to build on the success I had last year as a manager. Now that my bitter rivalry with Candice is behind me I can finally get my professional life back on track, happily married and very hungry to bring more success to Jarrett Enterprises.
All I'm gonna say is... you better watch what these "Puppies" have to say on Friday Night!
Now if you'll excuse me... thanks SoCal, the pleasure was all mine.
Debra walks away leaving SoCal Val to ponder curiously over what Debra said.
Becky Bayless:
Interesting to see Debra here. What could it mean?
Rob Van Dam:
Well she isn't looking for a date... at least I hope not! (laughs)
--------
Singles Match: Kenzy Black (accompanied by Ashley Jak & Talia Cavenagh) vs. Xavier Woods (accompanied by Big E & Kofi Kingston)Big E:
Ooooh, Corpus Christi, Texaaaas! Don't you dare be sour!
The music of the New Day hits as the three make their way onto the stage.
Big E:
Texas, we are here tonight to show you that there is no need to fear... with the plethora of Trios teams within the company right now, we are the most dominant!
Kofi Kingston:
It's true, it's true. Tonight, we show why the New Day are the strongest... well... not us, personally but our good friend Xavier, here.
He said as he slapped Xavier on the chest.
Xavier Woods:
That was an excellent introduction... thanks! But you know that I am not going to let either of you down tonight. This is certainly a match I can handle. After all, Kenzy Black and her friends? As great as they are, they're stepping into the ring with a master. Let's do this!
Becky Bayless:
Well the New Day are confident... is Kenzy?
- Kenzy and Xavier go back and forth in the opening minutes.
- Kenzy uses speed to her advantage to turn the tables and start to dominate.
- Xavier catches Kenzy with the Culture Shock from out of nowhere to steal the victory.
(Winner - Xavier Woods)
Becky Bayless:
Xavier with the win!
Rob Van Dam:
But Kenzy and crew don't look too happy!
Talia grabs a microphone from ringside before handing it to Kenzy in the ring.
Kenzy Black:
That's not good enough! You were just lucky, Woods. I'm not letting things just end like that. I want a rematch... now!
She throws the mic down as Xavier seems to agree, stepping back into the ring.
Singles Rematch: Kenzy Black (accompanied by Ashley Jak & Talia Cavenagh) vs. Xavier Woods (accompanied by Big E & Kofi Kingston)
- Big E & Kofi Kingston get into an argument with Ashley Jak & Talia Cavenagh at ringside.
- Xavier immediately goes in for the kill on Kenzy.
- Kenzy reverses with a small package to steal the win.
(Winner - Kenzy Black)
Rob Van Dam:
Well, that's how you get payback! Xavier is gonna regret accepting that challenge.
Both sides stare each other down as New Day retreat backstage.
--------
SoCal Val:
Ladies and gentlemen, the #1 Contender to the Ultra Violence Championship... Levi Flynn.
Levi wondered onto the scene with a smile, an arrogant one at that, on his face.
SoCal Val:
Levi, you defeated three others last week to become the #1 Contender and will soon face Jimmy Jacobs for the Ultra Violence gold. Tonight, however, you face Jacobs, along with his team mates Kevin Owens and Daizee Haze.
Levi Flynn:
And that's no problem at all because I have the awesome Seth Black and Cleo Laine beside me in this Trios match. I'm not worried about their chances because I'm confident in ours. I'm yet to really be defeated here... Seth and Cleo have also dominated during their time here so why should we be worried?
SoCal Val:
And you're confident that you can leave with the Ultra Violence Championship when you do challenge Jacobs for it?
Levi nodded.
Levi Flynn:
Of course. There is no alternative. You see, when I was the World Champion in my other company, I held that championship for 789 days. That's over 2 years. Solid. And out of roughly 50 or so matches, I only lost 2 of them. I've never truly felt fear in the ring and I am not going to start now.
Levi turned and wandered away.
SoCal Val:
Well, thanks...
--------
The camera then cut to another scene in the backstage area. This time, it's Dean Ambrose standing in front of the camera, holding his half of the UFWA Tag Team Championships.
Dean Ambrose:
So, we're not too sure where we stand right now, if we're honest. The Tag Team Rumble has been made for Retribution... are we in that? I know our titles aren't on the line but what if it's myself and Roman that walk away with the win?
He shrugged that off.
Dean Ambrose:
But that's something to worry about at the time. For now, it's about Tag Team Warfare. Four teams are about to step into the ring and one will leave with the win. It might be a non-title match but I'm not ready to lose to anybody around here and I know the same goes for Roman. We want as much momentum as we can get so to defeat three teams all at once? That sounds perfect...
He said before walking off.
--------
Tag Team Fatal Fourway Match; Non-Title: UFWA Tag Team Champions The Shield (Dean Ambrose & Roman Reigns) vs. Austin Aries & Lacey vs. British Invasion (Brutus Magnus & Doug Williams) vs. Chyna & Cheerleader Melissa
Becky Bayless:
This is an interesting match but no doubt one that is going to tell us who's got most momentum heading into the Tag Team Rumble at Retribution!
Rob Van Dam:
This is going to be a competitive one!
- Aries and Lacey dominate the majority of the match.
- The British Invasion manage to regain control after a while, taking advantage of another miscommunication between Melissa and Chyna.
- Ambrose hits Melissa with the Dirty Deeds. Reigns delivers Spears and Superman Punches to anybody attempting to get involved, allowing Ambrose to pick up the win.
(Winners - Roman Reigns & Dean Ambrose)
Rob Van Dam:
A huge win for the champs. Could this be an insight into what we're going to see at the Tag Rumble?
--------
The Oblivion branch of the Anti-Divas Army stood backstage.
Ember:
We've been quite quiet recently but that's for a good reason... we've been watching the so-called competition and we can report that we're not thrilled with the lack of competition out there for us. There are very few... in fact, no, female teams out there good enough to challenge us.
Lita:
So now is the time we step forward again and start to be in the spotlight again. We'll be doing that at Retribution. Until then, we'll be here to watch the back of the amazing Shelly Martinez as she destroys Cecilia Crawford.
Shelly Martinez:
It's true – that is precisely what is going to happen. There is no chance for anybody to stop me, or us, as a team. That is why we stand so tall and so dominant. There have been no real challengers for us and that includes Cecilia Crawford...
She raised an eyebrow.
Shelly Martinez:
Cecilia is a nobody. That is a fact. I appreciate the fact that she has a few impressive wins recently, but is that really enough? I doubt it. The problem is, she relies too heavily on luck and no real skill. Tonight, she steps into the ring with one of the best. I would hate to be her right now.
Shelly stared into the camera and walked away, with her team mates following.
--------
Singles Match: Cecilia Crawford vs. Shelly Martinez
Rob Van Dam:
Things are still personal between these two sides. Who can win this week?
- Neither woman can gain the upperhand over the other.
- Cecilia goes in for the kill but Shelly is able to block it.
- After a great back and forth match, Shelly pulls Cecilia into a roll-up to steal the victory.
(Winner - Shelly Martinez)
Becky Bayless:
Shelly with the win!
Rob Van Dam:
Great fight by both ladies.
--------
We see Kevin Owens talking to the cameras with his participation in a six man tag coming up.
Kevin
Owens
Day of Awakening was unforgettable in many ways. It was the night where the world stood up and saw Kevin Owens as a real deal in UFWA. I fought back and forth with the most dangerous man in the world as far as this profession goes and came this close... this close to beating The Beast. I made one mistake... one f**king mistake and that was thinking Lesnar was done after I powerbombed him onto the steel steps.
I never tapped... Brock Lesnar had to twist my arm so bad I wasn't even awake to hear the bell. I saw Heyman's little speech, the fact they acknowledged my efforts tells you the lengths I went to beat him and how far I pushed Lesnar... but the fact is I lost and it hurts more than the pain I felt after the match was over.
Make no mistake Brock you and I will meet again... some day... but not for a long time. You were right Paul it is time to move on and I will also be competing in the Superstar Rumble and who knows? The Oblivion Championship is something I'd like to get a shot and if I have to
As for my match tonight? Infamous? Sure you can be full of yourselves for having a million cousins, brothers and sisters on the roster watching all your backs but you know what? F**k your family. I'm pissed off and you are in the wrong place at the right time for Kevin Owens. That's all I gotta say...
Kevin Owens snarls as he walks off to join his Hardcore Revolution team mates who were waiting for him
--------
Trios Match: Hardcore Revolution (Ultra Violence Champion Jimmy Jacobs, Kevin Owens & Daizee Haze) vs. InFamous (Levi Flynn, Seth Black & Cleo Laine)
Becky Bayless:
Levi Flynn earned his place as #1 Contender to the UV gold last week so let's see how he can fair against the current champion and his team?
Rob Van Dam:
This is going to be epic!
- InFamous dominate at the start of the match.
- Jacobs and Daizee drive Levi and Cleo from the ring in a great back and forth brawl at ringside.
- Owens pins Seth Black following the Pop-Up Powerbomb.
(Winners - Jimmy Jacobs, Kevin Owens & Daizee Haze)
Rob Van Dam:
Hardcore Revolution with the win!
The Hardcore Revolution celebrate that victory as InFamous try to recollect themselves. However, Oblivion General Manager CM Punk makes his way onto the stage.
CM Punk:
Congratulations. Another huge win for the Hardcore Revolution! It does seem as though you are all unstoppable right now. So much so that I'm going to start issuing you some more challenges. You just overcame a huge one but you've got another one... now.
Jacobs seemed uncertain of what he meant by that but didn't have to wait long to find out.
CM Punk:
You remember how Levi became #1 Contender to the Ultra Violence Championship last week? Yep. That match is happening... now.
Punk turned and left as Jacobs just stared at him leave before turning his attention back to Levi.
Becky Bayless:
Woah! Can you believe that?!
Rob Van Dam:
Punk has always had it in for Jimmy Jacobs so this makes sense!
Ultra Violence Championship Match: Jimmy Jacobs (c) vs. Levi Flynn
- It's a brutal match from the start, with both sides bringing weapons into the ring immediately.
- Jacobs is busted open after Levi strikes him with a barbed-wire bat.
- Flynn eventually finds himself on the defensive after Ivelisse hands Jacobs his signature spike, which he uses as a weapon.
- During an InFamous and Hardcore Revolution brawl at ringside, Levi is able to plant Jacobs with the No Remorse onto a steel chair to pick up the win.
(Winner & NEW Ultra Violence Champion - Levi Flynn)
Rob Van Dam:
We have a new Ultra Violence Champion! Woah!
Levi celebrates with Seth Black and Cleo Laine as Kevin Owens, Daizee Haze and Delirious drag Jacobs out the ring, who is visibly frustrated with that result.
--------
Scarlett Bordeaux stood backstage with her hands on her hips.
Scarlett Bordeaux:
So... they want to throw me into a match with a whole loada opponents? Great. This is perfect practice for the Divas Rumble because I want to assure you now that it is me who will be leaving with the win there... oh, and the win tonight.
She smirked.
Scarlett Bordeaux:
As far as I'm concerned, this is my match to win. They both are. These are matches that I'm confident I can overcome and I don't doubt at all that my chances aren't amazing. I've got this one and I hope those ladies know...
Scarlett leaned forward and blew a kiss to the camera before wandering off.
--------
Sudden Death Match: "Dirty Diva" Ashley Massaro vs. "Foxy Diva" Alicia Fox vs. The Kat vs. Scarlett Bordeaux vs. Christina Crawford
Becky Bayless:
This match is really to gain momentum heading into the Diva's Rumble.
Rob Van Dam:
These are some of the best so who can do it?
- Alicia Fox and Scarlett Bordeaux work together to dominate at the start of the match but Christina and Ashley team up to stop them.
- Kat looks to take advantage of this as the two sides fight amongst themselves but Alicia puts her down with the Foxx Kick.
- Scarlett surprises Kat with a Diving Crossbody from the top to keep her down for the count.
(Winner - Scarlett Bordeaux)
Becky Bayless:
Scarlett with the win! She'll definitely be one to watch in the Rumble!
--------
Becky Bayless:
Woah!
Rob Van Dam:
The Beast is back!
This crowd in Texas raises the roof as Brock Lesnar along with Paul Heyman marches on the stage for his first appearance on Tuesday Night Oblivion since Day of Awakening, showing a few battle scars from his brutal Extreme Rules with Kevin Owens. Igniting pyro on the stage and then heading to the ring in typically menacing fashion, Brock Lesnar stands in the ring as Paul Heyman gets a microphone. The crowd stand in anticipation as one of the best talkers in the game prepared to make his verbal pitch.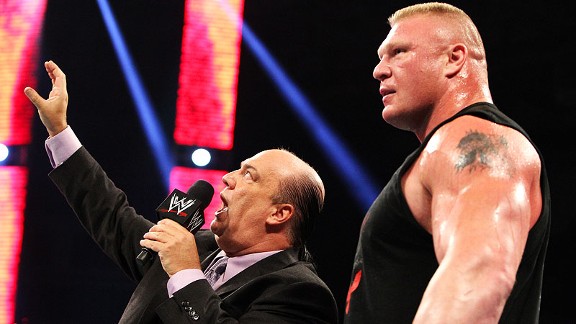 Paul Heyman: LADIES AND GENTLEMEN! (loud cheers) My name is PAUL HEYMAN and I am the advocate for the BEAST who stands before you here tonight... MY CLIENT... BRAOOOOOOOOOOOOOOCK... LESNARRRRRRRRRR! (cheers)To the Texans here tonight in Corpus Christi I compel you to listen to these words. A few weeks ago at Day of Awakening my client took on Kevin Owens in a match that was every bit as intense, every bit as destructive and every bit as bloody a battle as was foretold. My client acknowledges one thing about the man known as Kevin Owens that he personally despises. He respects you for ONE thing... you came to fight and fight alone without fear of the consequences. You pushed my client all the way and perhaps came closer than anyone to inflict the kind of defeat even Cesaro couldn't inflict on The Beast without interference. Yet for all your efforts they were in vain. My client defeated you and finally this long drawn out conflict can be noted as one of the more violent episodes of UFWA history. My client vowed revenge for what you did at Splashdown last year and he did EXACTLY what he promised he would do. Physically hurt you and leave you unconscious in the ring. Its time to move on Mr Owens and my client will do so quickly...
What next for Brock Lesnar? On the horizon is the special annual event known as Retribution and there will the equally annual Superstar Rumble with the winner earning the right to challenge for the World Heavyweight Championship OR Oblivion Championship. Lets wind the clock back a year shall we? My client entered the Rumble Match and took out everything in this path and lets note the fact that were it not for an Olympic Hero... which my client retired by the way (boos) Brock Lesnar would have won that match and Cesaro would never have got his Final Frontier moment to become the Champion. He'd probably still be drinking soda in the back with Shelton Benjamin! (boos
)
This great injustice eats away at my client every day and finally... FINALLY he gets a chance to avenge that disappointment. This time NO ONE will stand in the way. Superstar after Superstar will be thrown over the top rope, Superstar after Superstar will be eliminated and the last man standing... the CONQUEROR of the Retribution Rumble will be only ONE man... MY CLIENT... BRAOOOOOOOOOOCK LESNAR!
Brock looks into the camera as his theme hits and he leaves with Heyman
Becky Bayless:
So from that we now know Brock Lesnar will be in the Superstar Rumble at Retribution!
Rob Van Dam:
You could argue by doing that he will be the favourite to win it!
--------
Main Event; Singles Match; Non-Title: Oblivion Champion Tyler Black vs. Luke Harper
Becky Bayless:
Luke Harper has been on a roll recently but he's about to face the Oblivion Champion. This is not going to be easy.
- Tyler Black manages to outrun all of Harper's attempts in the opening minutes.
- Harper starts to dominate after catching Black with a Big Boot to the face.
- Tyler Black fights back and looks to put him away with the Paroxysm but Harper blocks it.
- Harper plants Black with the Discus lariat from out of nowhere and covers to pick up the victory.
(Winner - Luke Harper)
Becky Bayless:
Woah! Harper just beat the Oblivion Champion!
Rob Van Dam:
That's epic! Congratulations to him on that.
Before any more can be said, CM Punk arrives on stage again.
CM Punk:
It seems as though I have been the bearer of bad news for the Hardcore Revolution so far this week but having said that, I am now here to deliver some good news for you.
Harper tilts his head, listening closely.
CM Punk:
At Retribution, we don't have many matches outside of the three Rumble matches and now is no different. However, there will be three championship matches. Two will be announced at Burnout later this week but tonight, I can announce one and that is going to be an Oblivion Championship match. Given the roll you have been on, you've got the shot, Luke Harper. So we'll be seeing you face off against Tyler Black for the gold and if we see a repeat performance of tonight, we might just see a new champion.
Oblivion comes to an end tonight with the sight of a frustrated Tyler Black cradling his Oblivion Championship and Luke Harper staring him down.
Becky Bayless:
Well thanks for watching, guys and girls. Be sure to tune into Oblivion this week.
Rob Van Dam:
And then Retribution the next. I'm looking forward to it!