Post by Adam on Jun 21, 2016 6:15:27 GMT -5

21st June 2016Birmingham, United KingdomBecky Bayless:
Welcome to Tuesday Night Oblivion!
Rob Van Dam:
We're continuing with our opening rounds in both the King and Queen tournaments so let's look at how the latter is shaping up.
Becky Bayless:
There are still some great matches coming up.
Rob Van Dam:
Including Talia Cavenagh versus Molly Holly and that's coming up next!
Show Opener; Queen of the Ring Opening Round Match: Talia Cavenagh (accompanied by Ashley Jak & Kenzy Black) vs. Molly Holly (accompanied by Women's Champion Jacqueline)
- Talia gets in a few shots before following up with several fast-paced moves.
- Molly eventually turns the tables, starting to dominate as she throws Talia around the ring.
- Alicia Fox, Britani Knight, Christina Crawford and Haruna Sakazaki appear at ringside as Jacqueline begins to argue with them.
- As the group start to assault Jacqueline, Molly is visibly distracted as Talia takes advantage, pulling her into the Fake It to pick up the win.
(Winner - Talia Cavenagh)
Talia celebrates that huge victory up the ramp with Ashley and Kenzy. Back at ringside, Britani and Haruna slide into the ring to assault Molly. Soon, the numbers are evened out as Terri Runnels and The Kat storm the ring and join the fight.
Becky Bayless:
A huge win for Talia.
Rob Van Dam:
But Molly was screwed, let's be honest.
They soon dispose of Britani and Haruna out of the ring as Alicia and Christina join them. Jacqueline, Molly, Terri and Kat stare them down as we head to commercial break.
Becky Bayless:
This is really getting personal!
--------
After the first commercial break of the evening, we return to see Talia Cavenagh backstage following her win. Ashley Jak and Kenzy Black are standing with her.
Talia Cavenagh:
I don't care how you look at it, you can call it a screw-job towards Molly, I say that I'm a dominant force. I just destroyed her out there and regardless of whether anybody got involved or not, I would have won. So yes, you are looking at the Queen of the Ring right here!
She said with a smirk.
Talia Cavenagh:
And these two lovely ladies behind me? They're your next UFWA Tag Team Champions, like it or not!
Talia turned and walked away with Ashley and Kenzy following.
--------
Becky Bayless:
Let's see how things have turned out for the King tournament so far here on Oblivion.
Rob Van Dam:
There have been some great matches already and some more coming up!
King of the Ring Opening Round Match: Doug Williams (accompanied by Brutus Magnus) vs. Francesco (accompanied by Serenity)
- Francesco starts off strong, connecting with a rolling Sobat Kick into a Tornado DDT.
- Williams soon comes back fighting, hitting Francesco with a series of power moves.
- Much like last week, we see the Brotherhood appear on the stage. Magnus immediately shouts at the group to stay away as they head down the ramp.
- The Brotherhood start to attack Magnus at the bottom of the ramp as the New Day then appear from behind, evening the odds a little.
- However by now, Francesco is back up and pulls Williams into a roll-up to steal the win.
(Winner - Francesco)
The Brotherhood start to dominate the battle outside the ring until a visibly pissed-off Williams chooses to get involved. Soon, the Brotherhood are left to retreat backstage as the two sides are separated by the security team.
Becky Bayless:
Francesco heads to round two.
Rob Van Dam:
But the Brotherhood are to blame for Williams' loss there!
--------
SoCal Val:
Ladies and gents, please welcome... ODB.
ODB:
Hey there, red!
SoCal Val:
ODB, you have a huge opportunity around the corner as you take on Veda Scott in the opening round match of the Queen of the Ring tournament.
ODB:
Good, isn't it? Me... I'm considered to be a potential Queen? Haha, that is hilarious but I'll take it. Unfortunate thing is that Veda isn't quite going to be able to live up to her own expectations. She's been wrapped up in her own crap so is she focused on me? Probably not. Do I care? Hell no. I'll surprise the world in this tournament and leave as the Queen, haha. That still sounds weird...
She said as she started wandering away.
--------
Queen of the Ring Opening Round Match: Veda Scott vs. ODBBecky Bayless:
Veda Scott has her interest perhaps elsewhere but she'll no doubt want to advance in this tournament.
Rob Van Dam:
Can she defeat ODB?
- ODB kicks things off by throwing Veda around the ring like a ragdoll.
- Veda soon comes back fighting after hitting a Tilt-a-Whirl Russian Legsweep to ODB.
- With Veda gaining momentum, the music of Tori hits as she and X-Pac appear on the stage. Veda shouts at them to stay away.
- ODB takes full advantage of this, pulling Veda into a roll-up to steal the win.
(Winner - ODB)
Becky Bayless:
Veda was screwed but that's payback for you!
ODB celebrates her victory backstage as a furious Veda Scott throws a tantrum in the ring out of evident frustration.
X-Pac:
Aww, that's a shame, isn't it? Veda just lost her opportunity to become Queen of the Ring... just like she loses every other opportunity.
Tori:
Well, she made us lose our opportunities so it looks like she's one of us now.
She and X-Pac shared a laugh.
Tori:
Sorry, Veda. But you paid some other random newcomers to attack us, well, this right here? Losing another opportunity? Consider this payback.
Tori and X-Pac return backstage as Veda continues to throw a tantrum around the ringside area.
--------
Singles Match: Cheerleader Melissa vs. Titus O'Neil
Becky Bayless:
Cheerleader Melissa hasn't been in action much recently so can she get herself back on track here?
- O'Neil hammers away at Melissa with a series of shots as soon as the opening bell rings.
- Melissa soon begins to dominate, hitting O'Neil with hard series of knife-edge chops to the chest.
- Melissa wastes no time in pulling O'Neil into the Kudo Driver to pick up the decisive victory.
(Winner - Cheerleader Melissa)
After her decisive victory, Melissa demands a microphone from the ringside area. She walks back into the center of the ring, staring out to the crowd.
Cheerleader Melissa:
You just all saw what I just did, didn't you? You saw me just destroy a man double my size and defeat him with ease. That is precisely what just happened. So what next? What's the plan for Cheerleader Melissa? Well, let me get real for a moment.
She said as she sat down in the center of the ring.
Cheerleader Melissa:
I have been with the UFWA since day one and since then, I've done just about all there is to do. I'm the first woman to hold the World Heavyweight Championship and the only one to have a legitimate reign. On the very first UFWA show, I was the one to win the main event match. I defeated Oblivion General Manager CM Punk. I defeated Hall of Famer Marcus Brett... which leads me perfectly onto my next point. The UFWA Hall of Fame. I understand why Marcus is there, don't get me wrong. In fact, every inductee did deserve their place but what about me? Was I even in the running? Was I considered as an option? I've shown nothing but loyalty to this company yet it seems as though I'm still being overlooked.
Do you all remember back on the recent joint-show? On the very first show after Final Frontier, the world witnessed CM Punk vacate the Ultra Violence Championship due to Chyna leaving the company. Again, that shows complete disrespect to me. Nobody has even bothered to ask me where I stand on that, since I am the former champion and I should indeed still be the champion. So I am now still left uncertain where I stand and for that reason, I want CM Punk and everyone else to know that I am going to continue to do what is best for me and me alone. Unfortunately, it seems as though neither General Manager has the balls to be honest with me or even give me the chances that I deserve.
So let me make this clear... I have since spoken to a different kind of management and that comes in the form of a woman who I do respect. I recently approached Debra to join The Exchange and as of tonight, I can announce that an agreement has been reached so now, the world had better watch out. The real Cheerleader Melissa is back and working alongside Debra? Well, I know I can trust her to finally get me straight back to the top. Like it or not.
Becky Bayless:
Woah! Can you believe it?
Rob Van Dam:
Melissa is under Debra's management as a member of the Exchange? I can't say I saw that coming.
Becky Bayless:
I don't think anybody did but this is certainly going to be interesting!
--------
The C&C Wrestle Factory's Caprice Coleman is standing by with his team mate, Cedric Alexander as he's busy preparing for his upcoming match.
Caprice Coleman:
Ready for this? I mean, the New Day are one of the best teams out there right now.
Cedric Alexander:
Good job I'm only against one of the three then, huh? It's not gonna be a problem though man, trust me. Kofi is a good guy and a brilliant athlete but this is my time.
Caprice Coleman:
Plus, he's got more than enough to worry about right now.
Cedric Alexander:
No doubt about it. I know that he's got a lot to think about so I don't doubt that I'll be able to get through this. Does anybody expect me to win this thing? Probably not... but I got this.
Caprice nodded in agreement as the two walked off.
--------
King of the Ring Opening Round Match: Cedric Alexander (accompanied by Caprice Coleman) vs. Kofi Kingston (accompanied by Big E & Xavier Woods)Becky Bayless:
The New Day have been having a rough time with the Brotherhood... so can Kofi Kingston put that aside?
- The match is a standard back and forth between two fast and agile athletes.
- For the second time tonight, the Brotherhood make their presence felt as they re-emerge and start to assault Big E and Xavier Woods at ringside.
- The match continues, with Kingston refusing to let that effect him. Kingston remains in control, hitting Alexander with a Russian legsweep.
- Regardless of the British Invasion getting involved on the New Day's behalf, the Brotherhood still seem to be in control.
- Andrew Lincoln hops onto the ring apron and smashes Kingston in the back behind the referee's back.
- Alexander plants Kingston with the Lumbar Check to steal the win.
(Winner - Cedric Alexander)
The fight continues between the Brotherhood, the New Day and the British Invasion. The two sides square off until we see CM Punk storm onto the scene with several members of security, who prize them all apart.
CM Punk:
Get these guys out of my arena.
He pointed to the Brotherhood.
CM Punk:
I don't care if people from Burnout show up here but not these guys. This is the second time tonight. Take 'em out.
The Brotherhood are then escorted from the building as the other two teams disappear backstage.
--------
Queen of the Ring Opening Round Match: Terri Runnels vs. "Foxy Diva" Alicia Fox (accompanied by Christina Crawford, Britani Knight & Haruna Sakazaki)
Becky Bayless:
Terri is completely outnumbered here but can she overcome the odds and advance in the tournament?
- Terri Runnels shows a much more aggressive side than usual in the opening minutes.
- Alicia refuses to back down and comes back fighting, even looking to put Terri away early with the Foxx Kick.
- Jacqueline, The Kat and Molly Holly arrive at ringside and a brawl ensues on the outside of the ring between them and Britani, Christina and Haruna.
- Terri pulls Alicia into a roll-up to steal the win!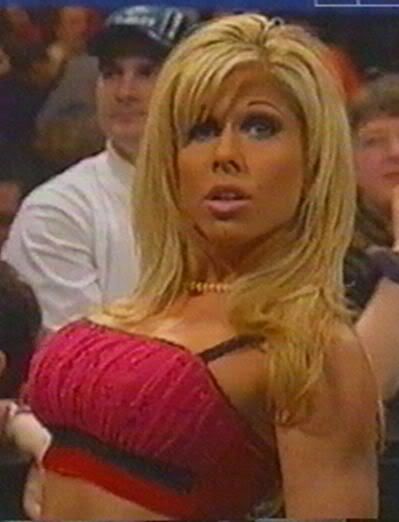 (Winner - Terri Runnels)
Terri celebrates that victory but receives a beat-down from Alicia, Britani, Christina and Haruna. Naturally, Jacqueline, Molly and Kat, who join the fight. A brawl breaks out between all eight women before Alicia, Britani, Christina and Haruna are left standing tall, having thrown the opposition over the top rope.
Becky Bayless:
This really is getting personal now! These two sides want to kill each other.
Rob Van Dam:
That was our final Queen of the Ring opening round match for Oblivion. Let's see the brackets again!
Becky Bayless:
We'll be heading into round two so next week, we'll see Nicole Franceschi versus Rachel Knight, Scarlett Bordeaux vs. Talia Cavenagh and Terri Runnels vs. ODB.
Rob Van Dam:
I'm looking forward to that.
--------
King of the Ring Opening Round Match: Tyler Black (accompanied by Allison Wonderland) vs. Corey Graves
Becky Bayless:
This is our final opening round match in the King tournament for Oblivion.
Rob Van Dam:
Tyler Black is the last member of the Shield standing after another disastrous week. Can he pick up the win here?
- Corey Graves dominates in the first minutes of the match, throwing Black around the ring.
- With Allison cheering him on, Tyler Black is able to come back fighting and catch Graves with a Belly to back suplex lifted and twisted into a reverse STO.
- Black remains in control but Graves continues to hold his own.
- Graves counters the Paroxysm with the MK Ultra to pick up the win.
(Winner - Corey Graves)
Becky Bayless:
Another bad night for the Shield... they're all out of the running just in the first round!
Becky Bayless:
Corey Graves is through and as we can see on the brackets, we've got some epic matches coming up next week!
Rob Van Dam:
We'll see Cedric Alexander versus Shelton Benjamin, Corey Graves versus Francesco and a throwback to a former rivalry in Jimmy Jacobs versus Crimson!
--------
Main Event; Tag Team Match: Oblivion Champion Mitch Voelker & Stefani Voelker vs. Hardcore Revolution (Luke Harper & Ivelisse)
Becky Bayless:
Main event time! We'll see Oblivion Champion Mitch Voelker in action with his wife against two of the toughest members of the Hardcore Revolution.
- Harper throws the Oblivion Champion around the ring with force at the start of the match.
- Mitch Voelker comes back fighting, catching Harper with an STO.
- Mitch brings Stefani into the match at the same time Harper brings in Ivelisse.
- Ivelisse takes over immediately, hitting Stefani with a Flaming Arrow before covering.
- Stefani plants Ivelisse with the Original Synn. With Mitch and Harper still battling outside the ring, Stefani picks up the win.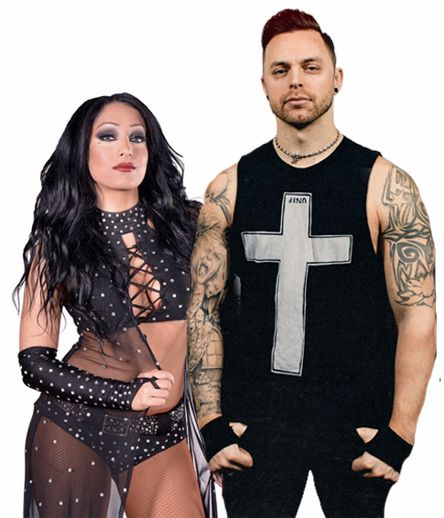 (Winners - Mitch Voelker & Stefani Voelker)
Becky Bayless:
A huge win for the Voelkers!
Mitch and Stefani celebrate this victory but before they can head backstage, we see and hear CM Punk arrive back on the stage.
CM Punk:
Congratulations Mitch but before you get any further, I'm going to stop you there. You'll be interested in this, trust me.
Mitch stopped in his tracks.
CM Punk:
Independence Day is now just about a week away. We're heading into one of our biggest shows of the year but we don't have a challenger for you, Mitch, or the Oblivion Championship. Don't you think it's the time to change that? So next week, on our final Oblivion before Independence Day, we're going to have ourselves a mini tournament to decide your new challenger. Or should I say, challengers? We'll have three triple threat matches, including you Luke Harper...
He said, pointing towards him.
CM Punk:
So at Independence Day, you should be left with three solid challengers. Enjoy.
Mitch seems to accept that, nodding as he and Stefani then return backstage as Oblivion comes to a close.