Post by Adam on Aug 2, 2016 13:59:32 GMT -5

2nd August 2016
Bossier City, Louisiana
Oblivion kicks off to a video from earlier in the day of the Anti-Divas Army members Lita, Shelly Martinez, Ember and Katie Lea assaulting Ashley Jak and Kenzy Black in the carpark as they arrived at the arena with lead pipes. They're ruthless in their attack, leaving Ashley and Kenzy unconscious in on the concrete. Talia Cavenagh races onto the scene, attempting to make the save but it's too late as the Anti-Divas run off of the scene and retreat. Talia screams for help as several staff members race onto the scene.
Rob Van Dam:
There we just saw a video from earlier tonight where the Anti-Divas took out Ashley Jak and Kenzy Black. We've been informed that they will no longer be able to compete in their tag match later tonight.
Becky Bayless:
We're not sure if that match will go ahead in some other capacity but we'll find out after our opening match, I guess!
--------
Show Opener; Singles Match: Shelton Benjamin vs. Sin Cara
Becky Bayless:
Shelton Benjamin needs to pull of a win here to really get back on track.
Rob Van Dam:
He's been struggling recently but can he do it?
As Benjamin finishes making his way to the ring, he grabs a microphone from ringside.
Shelton Benjamin:
Last week wasn't a good week for me. Even before that, I had taken some time away to attempt to figure out where to go next. Look how that turned out for me... so tonight, I vow to make a change. That change will come in the form of a win here tonight. I dunno where I'll go from here but I'm gonna at least get this one outta the way.
He turned to Sin Cara and looked straight at him.
Shelton Benjamin:
So Sin Cara, let's go to war.
- Shelton Benjamin is quick to throw Sin Cara overhead with a German Suplex.
- Sin Cara comes back fighting with a series of high-flying matches.
- Soon, Benjamin strikes with a Superkick to the jaw of Sin Cara. Benjamin covers but Cara rolls out of the ring.
- Sin Cara leaps from the top rope but is caught with the Paydirt in mid-air to pick up the win.
(Winner - Shelton Benjamin)
Rob Van Dam:
Safe to say that was a much needed win for Benjamin and it was a decisive one!
--------
We see Talia Cavenagh walk down the hallway of the arena, letting out a sigh as she continued to walk and brush her dark hair back. She didn't look at all happy and if anything, more worried.
Becky Bayless:
Talia had to witness her partners Ashley Jak and Kenzy Black be assaulted at the hands of the Anti-Divas Army. Ashley and Kenzy were supposed to be in tag action but it looks like Talia is still heading out to the ring!
Rob Van Dam:
We'll see what she's going to do when we come back!
--------
Becky Bayless:
As we saw earlier, Ashley and Kenzy are no longer able to compete... will the Anti-Divas plan have worked or does Talia have something in mind?
The Anti-Divas are the first to make their way to the ring. However, Talia Cavenagh still makes her way onto the stage by herself and with a microphone in hand.
Talia Cavenagh:
Okay, I get it. You four are threatened by us so you want to keep doing your best to prove a point and well, if ever there was a way to make an impact, then it certainly is to do it by taking out two of the greatest young talents on Oblivion. At the same time, it was incredibly weak. In fact, it was pathetic.
She rolled her eyes.
Talia Cavenagh:
But as you've probably noticed, I am dressed to compete so I'm happy to take their place tonight but guess what? I'm not alone. I've actually got a few other friends out there. Sure, the person I have chosen to work with me tonight is not one of my usual team mates but I've worked with her before in our other company and she has recently signed with the UFWA so why shouldn't we bring her debut forward a little. She is a former multi-time Champion... she is... Jorja!
'The Realest' by Issues hits as Jorja bursts onto the stage to a huge reaction from the crowd. She joins Talia on the stage and hugs her before taking the mic.
Jorja:
Some of you may know me, others might not. I am Jorja and I've been a wrestler slash manager for just about two years but in that time, I've captured numerous championships and learned one hell of a lot. Myself and Talia might not have always been the best of friends but I respect her as well as Ashley and Kenzy so it's an honor to join forces to take you losers out.
She threw the mic down as she and Talia then sprinted down to the ring.
Rob Van Dam:
Can you believe it? Talia brought in UFWA's newest signing, Jorja! What a match this is going to be!
Tag Team Match: Talia Cavenagh & Jorja vs. Anti-Divas Army (Shelly Martinez & Lita; accompanied by Katie Lea & Ember)
- Lita is quick to beat down Talia in the corner of the ring. Shelly soon joins her and the two double-team Talia with a series of moves.
- Shelly is then tagged in legally as she picks up Talia. Talia is able to respond with a Sitout jawbreaker.
- Talia brings in Jorja, who is first nailed with a Tornado DDT from Shelly. The two then have an impressive back and forth.
- Jorja pulls Shelly forward and into the Dope Beat. Talia spears Lita across the ring to stop her in her tracks so Jorja is able to cover for the win.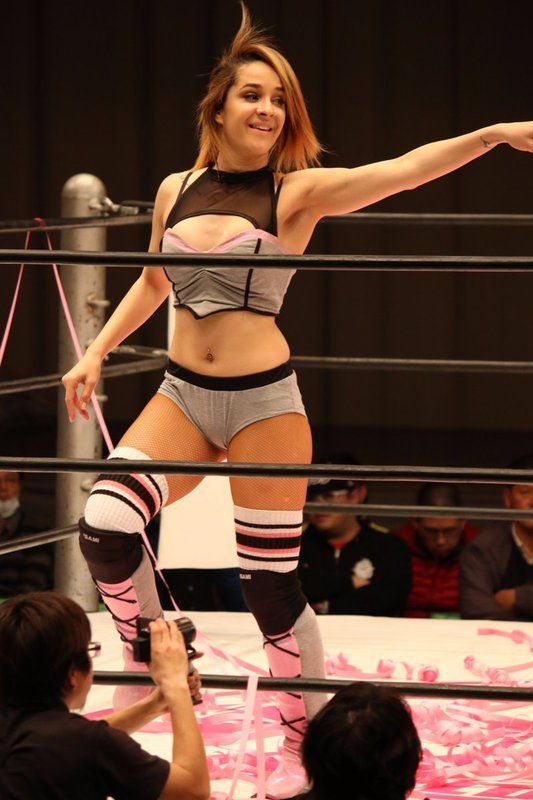 (Winners - Talia Cavenagh & Jorja)
Rob Van Dam:
What a debut for Jorja and what amazing payback for Talia.. that's got to feel good!
--------
We see Veda Scott stood behind the camera.
Veda Scott:
Ladies and gentlemen... prepare to witness the very best trios team out there destroy all around them. Myself, Caprice and Cedric will, from this point onwards, destroy the competition and leave a trail of destruction in our wake. Cleo Laine and Seth Black learned that last week but again, tonight, Cleo will face our wrath once more.
The camera then panned out to show Caprice Coleman and Cedric Alexander to either side of her.
Caprice Coleman:
InFamous did get themselves into this trouble in the first place. Last week, we finally outsmarted them and forced them to understand that they're actually not invincible. In fact, they're easily beatable after all. All we had to do was lull them into a false sense of security.
Cedric Alexander:
And it was easy. So tonight, Cleo might start to realise what I'm all about and accept that she actually has met her match and the same goes for Seth Black. He might be a bit too busy in the UV Tag Title Tourney match that's happening later tonight but we're thinking about the here and the now.
Veda Scott:
So my man here, Mr. Cedric Alexander is about to teach you yet another hash lesson, Cleo Laine.
Veda stared into the camera before walking off with Cedric and Caprice following.
--------
Singles Match: Cedric Alexander (accompanied by Caprice Coleman & Veda Scott) vs. Cleo Laine (accompanied by Seth Black)
Rob Van Dam:
This rivalry is heating up and with the addition of Veda Scott, InFamous are outnumbered but can Cleo still overcome Cedric Alexander tonight?
- The two exchanges shots at the start of the match, with Cleo eventually gaining momentum.
- Cleo looks to take down Cedric with a Springboard Tornado DDT.
- Caprice takes Seth out at ringside, allowing Veda to act as a distraction to the referee. This gives Cedric the opening to pull Cleo into a roll-up.
- As Veda drops down from the ring apron, the referee turns back to make the count and award Cedric the win.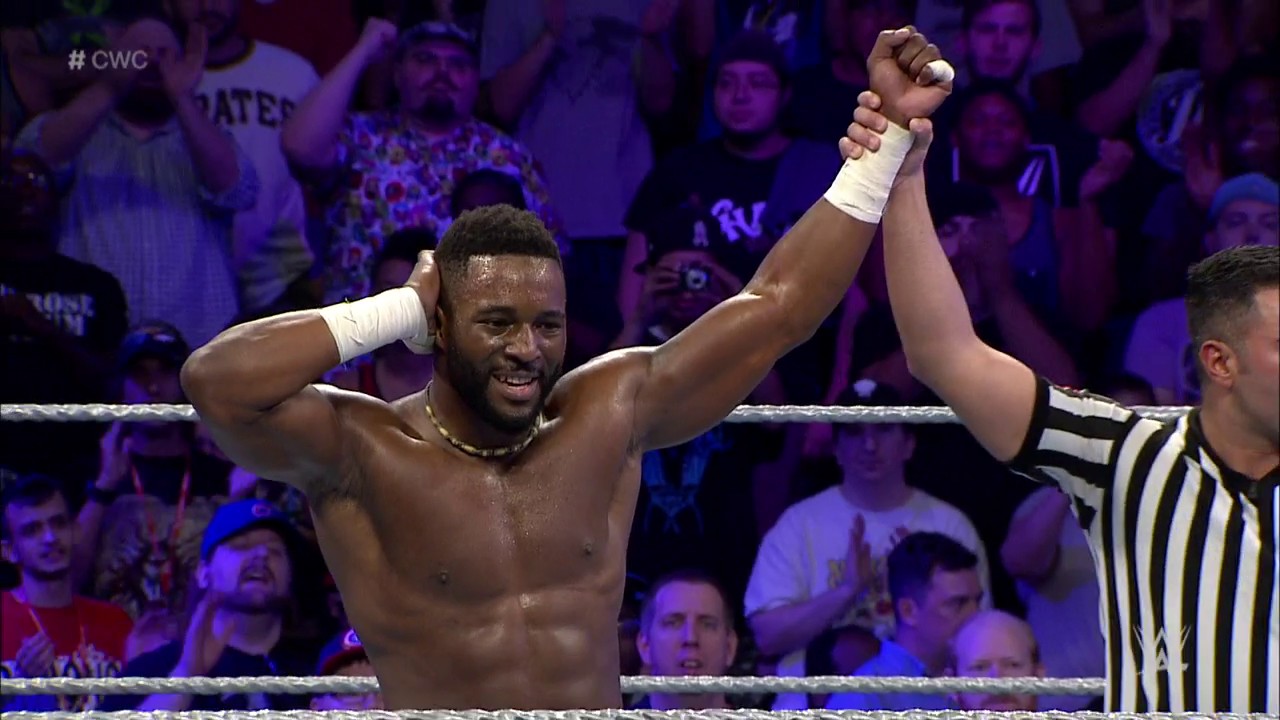 (Winner - Cedric Alexander)
Becky Bayless:
Cedric did it again... that's two weeks in a row!
Rob Van Dam:
InFamous have finally met their match!
--------
We see Hardcore Revolution members Jimmy Jacobs and Ivelisse stood backstage.
Jimmy Jacobs:
Prince Devitt and Gail Kim want to portray themselves as being worthy champions and are aiming to do that through the means of challenging one of the most dominating teams around in the Hardcore Revolution to a far tougher match than we initially believed.
He raised his hands and began applauding.
Jimmy Jacobs:
Well done. You're finally breaking out of the stereotype of being boring champions.
Ivelisse:
Although, you could still fit into that category but at least you're doing something worthwhile and that is allowing the fans to see the Hardcore Revolution destroy you in not one, not two but three matches in the same night.
Jimmy Jacobs:
So of course, we'll accept their challenge. We'll concoct an impressive match type on our end so now it's your turn to not let us down.
Ivelisse:
We'll see you again on Friday Night Burnout where it will once again be our honor to destroy you.
She said with a smirk as she and Jacobs walked away.
--------
Triple Threat Tag Team Match: Hardcore Revolution (Delirious & Daizee Haze) vs. Sky Blondes (Angelico & Jack Evans) vs. British Invasion (Brutus Magnus & Doug Williams)
Becky Bayless:
The tag team division is definitely heating up but which Oblivion teams can gain some momentum?
- Angelico and Jack Evans are the dominant force at the start of the match as they hit a series of double team moves on Brutus Magnus.
- Soon, Delirious and Daizee Haze get involved. They work together to throw both members of the Sky Blondes out of the ring.
- After a great back and forth between the remaining teams, Delirious goes in for the kill but Brutus Magnus stops him with the Tormentum.
- Williams throws Daizee overhead with the Chaos Theory and holds her down for the count and the win!
(Winners - Brutus Magnus & Doug Williams)
Becky Bayless:
And it's the British Invasion with the win! What a match that was!
Rob Van Dam:
But it's the Brits who walk away with some bragging rights tonight!
--------
Singles Match: Christina Crawford (accompanied by Women's Champion Haruna Sakazaki & "Foxy Diva" Alicia Fox) vs. Molly Holly (accompanied by Jacqueline, The Kat & Terri Runnels)
Becky Bayless:
This is one of the longest running rivalries! These women still hate each other!
- Christina manages to get some shots in on Molly before she strikes back with an Inverted DDT.
- Molly remains in control until Alicia Fox grabs the ankle of Molly, tripping her.
- Christina takes the opportunity to strike Molly with the X-Factor. She rolls her over and covers to pick up the win.
(Winner - Christina Crawford)
Becky Bayless:
Christina stole it and all thanks to her sister!
Rob Van Dam:
Safe to say Molly got screwed!
As a brawl continues between the women involved, we then see Diva's Commissioner Mickie James make her way onto the stage with a microphone in hand.
Mickie James:
Hey! Cut that out! Stop it right now! Why? Because every single one of you will want to hear precisely what I've got to say.
The women in question finally stop fighting and turn to the stage.
Mickie James:
Ladies, I'm sick of you. All of you. You might be some of the best wrestlers in the world but I'm afraid I've got some harsh news for you. It's about time we start making some cuts and you'll notice that happening across the company but I'm going to be doing my part to help the process. So there might be eight of you in this ongoing rivalry but following Splash-Down? Only four will remain.
She took a step forward, continuing to stare at the women in the ring.
Mickie James:
I'm going to implement a Fight or Flight set of matches. I'll be pairing you off in four separate singles matches at Splash-Down and the rules are simple... if you win, you keep your job. If you lose, you're fired. And Haruna, whoever you get faced with, you WILL be defending the Women's Championship against them so if you lose, you'll lose not only the title but your job. Nobody is safe.
Mickie then returns backstage.
Becky Bayless:
Woah! Can she do that?!
Rob Van Dam:
It sounds like it! Mickie is seriously going to have to end up firing four of these eight women and all because they lose a match? Talk about pressure!
None of the women in the ring can believe what they're hearing and all just stand there in complete shock as we head into another commercial break.
--------
We see Levi Flynn preparing for his upcoming match with Mandrews standing by, adjusting his X-Continental Championship belt on his shoulder.
Levi Flynn:
We've been working together for a while now and apparently, we will be in the Trios tournament as a team well so it's about time we actually y'know, talked properly.
Mandrews:
Sure... uh... what do you want to talk about?
Levi hesitated, actually not sure how to respond to that.
Levi Flynn:
Yeah... I don't really know. I mean, at least we know we're on the same page, though. That's really all we need to know. I know you struggled with Dalton last week...
Mandrews nodded.
Levi Flynn:
... but if you can work things out with him ahead of him joining you and I for the Trios tournament so we can all be on the same page, that would be great.
Mandrews:
Yeah, you're telling me.
He said with a roll of his eyes.
Levi Flynn:
But for the rest of this tournament? We're prepared to get through this, right? You and me?
Mandrews nodded again to reassure him.
Mandrews:
No problem at all, Levi. I've got your back and I figure that if you've had my back for as long as you have already, then we're already well on the way to winning this thing.
He and Levi did a quick fist-bump before the two walked off.
--------
Ultra Violence Tag Team Championship Tag Team Tournament Match: X-Continental Champion Mandrews & Levi Flynn vs. Teagan Cavenagh & Seth Black
Becky Bayless:
The Ultra Violence Tag Team tournament is reaching it's end but we'll see one of these amazing teams be eliminated here tonight!
Rob Van Dam:
Both teams have impressed but only one can move on!
- Teagan and Seth work flawlessly together in the opening minutes of the match, taking down both of their opponents with a series of weapons, including a steel chair and garbage can.
- Seth throws Levi across the ring with a huge Suplex before going to work on Mandrews with a kendo stick.
- Eventually, Teagan is taken out of action after Levi hits her with the Nothing Personal onto a steel chair.
- Mandrews hits the 180° stunner on Seth and covers to pick up the win for himself and Levi.
(Winners - Mandrews & Levi Flynn)
Becky Bayless:
Mandrews and Flynn do it!
Rob Van Dam:
Wow, they're moving on and it's a shame we'll be losing Seth and Teagan as a team but how great did they do?!
--------
Trios Match: Skylar Dawson, Liz Crawford & Cecilia Crawford vs. The Dollhouse (Jade, Marti Belle & Scarlett Bordeaux)Becky Bayless:
The Dollhouse officially accepted Scarlett Bordeaux into the team last week but what can she add to the team in this match?
With Skylar, Liz and Cecilia already in the ring, the Dollhouse then make their entrance to the ring. Jade grabs a microphone on the way as the three stand in the center of the ring.
Jade:
Last week, we announced that our newest member into out Dollhouse is the beautiful Miss Bordeaux. Tonight, we show what, as a Trio, the three of us can do. We defeated two out of our three opponents from tonight last week as well so of course we can get the job done!
Marti Belle:
Duh! Of course, the Dollhouse are now stronger than ever. Myself and Jade have been doing okay but we don't want that. We want to do an amazing job so now with Scarlett, we're going to ensure it. The three of you losers are just the first victims.
Scarlett then took the mic.
Scarlett Bordeaux:
I've been overlooked for as long as I can remember and the same can be said for Marti and Jade. Nobody has taken them seriously but now? We're making a change and it's going to involve us kicking more ass than ever before and once again, these three losers in the ring with us are going to just be the start of it all!
Scarlett then dropped the mic as the match began.
- Skylar Dawson is the dominant force in the opening minutes of the match, throwing Jade around the ring. Soon, Marti steps into the ring as an attempt to help her but receives the same fate.
- Soon, Jade tags Marti in legally after Skylar tags in Cecilia. The two exchange shots but Cecilia catches her with the CDT.
- Cecilia and Liz work together briefly but Scarlett and Jade soon put a stop to that as they throw Cecilia out of the ring.
- Scarlett hits Liz with a Diving Crossbody and stays on her for the cover. Liz fails to kick out, meaning the Dollhouse steal it!
(Winners - Jade, Marti Belle & Scarlett Bordeaux)
Becky Bayless:
The Dollhouse are more dominant now than ever before!
Rob Van Dam:
The addition of Scarlett certainly has renewed their confidence!
--------
Tag Team Match: "2016 King of the Ring" Crimson & Nicole Franceschi vs. Corey Graves & Britani Knight
Becky Bayless:
Crimson has his Oblivion Championship match at Splash-Down but it's clear Corey Graves is no Crimson fan. The two bring their respective girlfriends to battle this week so let's see how this match unfolds!
- Britani Knight is vicious in her approach as she throws Nicole around the ring.
- Once Nicole had turned the tables following a leg lariat, she tags in Crimson as Britani brings in Corey. Crimson gains the upperhand at first following a Chokebomb.
- Mercedes sprints down to the ring and drags Nicole off of the ring apron. She throws her into the steel steps with force to take her out.
- This allows Graves to hit a distracted Crimson with the MK Ultra to steal the win.
(Winners - Corey Graves & Britani Knight)
Becky Bayless:
Mercedes screwed Nicole and Crimson!
Rob Van Dam:
And that wouldn't be the first time, either!
--------
Ahead of her match, Cheerleader Melissa was pacing back and forth in front of the camera.
Cheerleader Melissa:
Tonight, I take it to ODB. I do respect her because she is a fighter. She is strong and she knows what she is doing. However, I'm on a mission right now, whereas she's just getting lost in the shuffle. So I'm not going to hesitate to tear her apart and give her the fight of her life. She is not ready to be up on my level. I have a lot ahead of me so I'm going to start really stepping up and taking it.
ODB is just one more stepping stone to the top for me and that is all she is. I do respect her but that doesn't mean I'm not going to tear her apart this week and leave her a broken mess in the ring, just so I get what I want.
Melissa left it there as she stormed off.
--------
Singles Match: Cheerleader Melissa (accompanied by Debra) vs. ODBBecky Bayless:
We've seen a more renewed vicious side of Melissa... can she defeat ODB, who is just as powerful?
- It's a great display in the opening minutes as the two each use their raw power to impress.
- ODB briefly gains control as she hits Melissa with a Running powerslam.
- Melissa soon turns the tables and catches ODB with a Leg hook sitout scoop slam piledriver.
- Melissa hits ODB with the Kudo Driver to pick up the dominant victory.
(Winner - Cheerleader Melissa)
Becky Bayless:
Melissa with the win! Debra must be very happy with her client!
Rob Van Dam:
Who wouldn't be after that performance?
--------
Ultra Violence Tag Team Championship Tag Team Tournament Match: Diva's Champion Sasha Banks & Dalton Castle (accompanied by the Boys) vs. Kirsten & Andrew Lincoln
Becky Bayless:
It's our second and final Ultra Violence Tag Team Championship match of the evening but which amazing team will advance?
- It's a great battle between Castle and Lincoln in the opening minutes, with Castle eventually gaining the upperhand after cracking Lincoln in the skull with a garbage can.
- Sasha takes it to Kirsten with a series of impressive technical moves.
- After Lincoln clotheslines Sasha out of the ring, he and Kirsten deliver a double Suplex to Castle.
- Kirsten then hits Castle with the Futureshock onto the remaining steel chair. Kirsten then holds Sasha back as Lincoln covers to pick up the victory.
(Winners – Kirsten & Andrew Lincoln)
Becky Bayless:
What a match! That really could have gone either way!
Rob Van Dam:
But it's Kirsten and Lincoln who take one more step towards the gold!
Oblivion comes to an end with Kirsten and Lincoln celebrating that win.