Post by Kirsten on May 13, 2017 17:22:29 GMT -5
Nirvana:
Welcome to the Final Frontier main show, night two!
Natalie Chase:
You'll notice that Kameron Ryder is not joining us on commentary right now but that's because he's teaming with Brotherhood team mate Anthony Paine!
Tony Stein:
He'll be taking on Lucas and Harry Davies and that match is kicking things off now!
- Anthony Paine is the dominant force in the opening minutes of the match, just throwing Lucas around the ring. Lucas soon fights back with a rake to the eyes.
- Lucas plants Paine with a DDT before tagging in Harry Davies.
- Davies remains in control for several more minutes as he keeps Paine on the defensive. He goes for the Broken Hero but Paine blocks it and tags in Ryder.
- Ryder storms into the ring and hammers away at Davies with several hard shots, ended with a Running DDT.
- Ryder tries to put Davies away with the Ghost Fame but Davies is able to block it and tag Paine back in as Davies brings in Lucas.
- Paine and Ryder then work together to beat down Lucas but Davies is straight back in.
- Ryder takes out Davies with a huge clothesline as both go crashing out of the ring.
- This then allows Paine to pick up Lucas and deliver The Paine Killer to pick up the victory.
(Winners - Kameron Ryder & Anthony Paine)
Natalie Chase:
A big win for the Brotherhood there!
Tony Stein:
Congratulations to them and what a start to the show!
Nirvana:
I guess Kameron is going to join us back on commentary now? Ugh...
-----
We see Women's Money In The Bank winner Perrie Hart standing backstage with that briefcase in her possession, just talking to a staff member backstage. Soon, her sister Sammie makes her way towards her.
Sammie Hart:
Hey! If it isn't my favourite sister!
Perrie Hart:
Uh, hey?
Sammie continued to smile as Perrie looked more confused.
Sammie Hart:
So, I know it's taken a while but I have to say congratulations on winning the briefcase! That's such a huge deal but I knew you could do it!
Perrie Hart:
Well, thanks. And sorry to see what happened in the Battle Royal earlier...
She said, finally trying to be nice to her sister.
Sammie Hart:
Well, it's not the end of the world. I mean, there's always a chance to get back on track, right? Considering you've got that briefcase and can cash in on any of the women's championships, we could probably cash in together on the Women's Tag Championships...
Perrie's face suddenly dropped.
Perrie Hart:
Seriously?! You think you can just use me for a title shot? I can't believe I was starting to trust you again...
Sammie Hart:
I'm not using you, I'm just saying -
Before Sammie could continue, Perrie picked up the briefcase and stormed off with it.
-----
Kameron Ryder:
Ultra Violence Women's gold is on the line next!
Nirvana:
Will Kacey retain or will Vixen's Rumble winner Bri cash in successfully?
Natalie Chase:
This is a huge battle between two of the best!
- The match starts off with the two exchanging punches and brawling in the ring
- Its not long before weapons get involved. Kacey using a Kendo Stick to lace the back of the challenger
- Kacey uses the stick to choke Bri Kelly from behind. Bri fights out of it and hits a sit out jawbreaker for a near fall.
- Bri takes the kendo stick, screaming as she hits Kacey with it multiple times in revenge. Kacey rolls out of the ring.
- Bri bounces Kacey's head off the steel steps a few time. She then pulls out a table and slides it into the ring. Bri also pulls out a steel chair.
- Slamming it onto the floor, Bri prepares to use it. She swings it and misses. Kacey cracks Bri with a right hand. Bri stumbles towards a barricade.
- Kacey runs and smashes through Bri with Warrior's Call and they both end up collapsing through the barricade! Crowd pops big with both women down
- Kacey holding her ribs gets up and heads back to the ring. She sets up the table and returns to the outside to see Bri crawling.
- Kacey uses the steel chair and cracks it twice off the back of the challenger. She then chucks the dented chair down and irish whips Bri into the steel steps.
- Putting her back into the ring, Kacey makes a cover and gets a near fall. Kacey hauls Bri and throws her across the ring with a hair pull snapmare
- Grabbing another chair, she places it down and looks for her K2 stomp. She goes for it but Bri dodges it.
- Bri begins a fight back with multiple knock downs and a missile drop kick. She then goes for a moonsault, placing a chair on Kacey.
- Kacey moves but not the chair! Bri's moonsault hits the chair with force. Bri stumbles to her feet, straight into a huge Chokebomb by Kacey for another near fall.
- Frustrated, Kacey mounts Bri and brutally smashes the face of Bri. Bri now has a nasty cut on her head.
- Kacey places Bri on the table and lands a hard slap to the face. She then goes to the top rope and turns her back.
- Outta nowhere, Bri recovers and launches herself into a Springboard reverse frankensteiner and Kacey crashes through the table!
Natalie Chase:
My god! Kacey just got drilled through that table!
Tony Stein:
Bri won't get a better chance! The champion has been wounded badly!
- Both women are down and both try stagger to their feet. Bri nails Kacey with the Let It Go onto the steel chair! ONE! TWO THREE!
(Winner and NEW Ultra Violence Women's Champion - Bri Kelly)
Natalie Chase:
A brutal Ultra Violence match and we got a new champion!
Tony Stein:
Kacey will be back in time but congrats to Bri Kelly!
Kameron Ryder:
That's one hell of a result, congratulations to Bri indeed!
Bri staggers up and holds the Ultra Violence Women's Championship belt high as the crowd cheer wildly.
-----
Freddie Grayson is just hanging around backstage but soon, his Brotherhood team mate Anarchy General Manager Adam Ryder walks up behind him, hitting him on the shoulder.
Adam Ryder:
Hey man, enjoying the show?
Freddie Grayson:
Couldn't be enjoying it more, man. Well, obviously, I'd love to compete but hey.
He shrugged.
Adam Ryder:
Well, that's what I wanted to talk to you about. I know you were gutted you missed ShockWave due to injury but you don't have to miss Final Frontier. I might be springing this on you a bit late but are you ready to step into the ring tonight?
Freddie Grayson:
Tonight? Really?
He sat up.
Adam Ryder:
Yeah. We never really stated a specific number of people who were going to perform in the X-Division Championship match. It was kinda just the guys who were there at the time but we were always open to add more.
Kirsten walked past at that point to chime in.
Kirsten:
I approve of this, by the way!
She stated before walking away.
Freddie Grayson:
So I can be part of it?
Adam Ryder:
If you're ready to fight, then you've got it.
Freddie couldn't help but smile and rather violently pull Adam into a hug.
Freddie Grayson:
You're the fucking best, man. I will not let you down.
Adam Ryder:
You never do.
He rose to his feet and hit Freddie on the shoulder again before Freddie just sat back. Suddenly, he shot up.
Freddie Grayson:
Shit, I gotta get ready!
He shouted before running off.
-----
Natalie Chase:
Stables Championships on the line next!
Tony Stein:
The Wolfe Pack defend against the Monarchy!
Kameron Ryder:
Of course, Phillip Blake was added to this match yesterday and we heard Gustav Wolfe is actually going to join them as well.
Nirvana:
Interesting...
- That doesn't happen, however, as Gustav Wolfe opts not to step into the ring as he announces newcomer Ramon Reyes as his replacement, which seems to catch the Monarchy off-guard.
- Union Jack and Blain Marshal work together as the start of the match, choosing to hit Pierre Renaud with a series of double team moves.
- Renaud is eventually able to fight back as he hits Marshal with a DDT. Jack, however, stays in the ring and hits Renaud with a powerslam.
- Renaud eventually brings in Luchadorable #2 at the same time Nicole Franceschi is brought in. The two ladies trade shots but its Nicole who gains control with a Roundhouse kick and then a suplex.
- Luchadorable #1 and Luchadorable #2 are then able to work together to turn the tables and hit Nicole with a series of double team moves until Jezabelle comes to Nicole's aid and the two take on the masked women.
- Eventually, Luchadorable is able to tag in Ramon Reyes as newcomer Phillip Blake is also in.
- Reyes impresses and keeps Blake on the defensive until Blake nails him with a huge running kick.
- Blake almost puts Reyes away but Anton makes the save. From here, Reyes brings Anton in and the two beat down Blake.
- Marshal and Jack clothesline Renaud and Anton out of the ring, leading to Jayden and Wolfe sending them out the ring. Nicole then joins the fight and then both Luchadorables fly onto all of them with suicide dives.
- Zara attempts to tag out to the last remaining possible partner but Jezabelle argues with Zara instead.
- Jayden catches the distracted Zara with the J-Driver and covers. Jezabelle seems uncertain as to whether to break it up or not but chooses not to.
- Jayden successfully pins Zara to pick up the victory.
(Winners & STILL Stables Champions - The Wolfe Pack)
Kameron Ryder:
Dammit... then again, I don't like either of these teams!
Nirvana:
Either way, you've got to admit that was a huge win for the Wolfe Pack!
-----
In another Hall of Fame highlight video, we see Luca walking onto the stage, looking sharp in a suit.
Luca:
So, when they asked me to induct Samoa Joe into the Hall of Fame, I had to jump at the chance. After all, we have plenty of history with one another and we've kicked each other's asses probably more so than any other two people around! So of course, I have grown to respect him and so it is an honor to induct him into the 2017 Hall of Fame.
He smiled.
Luca:
Samoa Joe has been a mainstay in the main event scene during his time here which lead to multiple World Heavyweight Championship reigns. He did, of course, also dabble in tag team wrestling and hardcore wrestling, going on to be UFWA Tag and Ultra Violence Champion over the course of his career. He's always been one of the most hard-hitting athletes around and he never backed down from a challenge. He was forced to retire last year but still, nobody can forget what he brought to this business and now, that will forever be immortalized in the UFWA Hall of Fame.
Samoa Joe then walked onto the stage.
Samoa Joe:
First of all, I want to thank Luca for those kind words. Most people will remember us as enemies but I can assure you, I've got nothing more than respect for the guy. So thanks Luca and thanks to everyone I had the pleasure of working with. That includes my good friend and former tag partner Jaz Ashby, who was also inducted into the Hall of Fame tonight. It means a lot to me to even be recognized for something like this given the amount of talent the UWFA has seen come through the doors. It's an honor to be standing here as an inductee.
He nodded.
Samoa Joe:
I like to believe I've achieved quite a lot and I guess this is recognition of that. I wouldn't be where I am today without the support of everyone and the way most of my opponents forced me to step up. It's been an honor and do I miss it here in the UFWA? Damn right I do but UFWA, you've always got a fan for life in me.
He nodded to end as he received a positive response from the crowd as he and Luca left the stage.
-----
Tony Stein:
The Rejekts requested this match last night and it seems they've got it!
Kameron Ryder:
They'll be facing a team also making their rebut... Simon Newman, Bella Preston and Timothy Stevens!
- Rellik kicks off the match with a brutal assault on Simon Newman. He hits him with a Short Arm Clothesline and then an Overhead Belly To Belly Suplex.
- Rellik brings Dallas in as Newman heads to his corner and tags in Bella Preston. Bella seems hesitant to step into the ring but eventually does.
- Dallas doesn't care and just smashes Bella back into the corner with force. He then unleashes a brutal assault on her in the corner with several high knees and kicks.
- Dallas then delivers a huge Crooked arm lariat and then an Inverted bulldog. He just toys with Bella before tagging in Konstantin. The big man steps into the ring and just stares at Bella, who scrambles across the ring, begging for mercy.
- She manages to escape and tag in Stevens.
- Dallas and Rellik wipe out Bella and Newman so Konstantin is left to take down Stevens with a huge Release wheelbarrow facebuster.
- Konstantin finally puts him out of his misery with the Reign of Darkness for the victory.
(Winners – Konstantin, Rellik & Dallas)
Kameron Ryder:
A very decisive victory for the Rejekts!
Natalie Chase:
I'll admit, that was impressive!
The Rejekts stand tall as the crowd continue to boo.
-----
We see Adam Ryder stood backstage.
Adam Ryder:
So, last night we crowned a new Ultra Violence Champion so I want to say congratulations to Logan Frost. However, Frost isn't safe. For tonight, he will be, since he's not in the arena and he's still being checked over for potential injuries... but we're officially changing the rule of the championship itself.
After speaking to Kirsten and Andrew Lincoln, we've decided to add a 24/7 rule to the Ultra Violence Championship. That means, of course, anybody can become champion at any point, be it in a match or not. As long as there's a referee to make the count, anything can happen.
With that, Adam walked off and we head back to ringside.
-----
Natalie Chase:
Time for some tag team action between two of UFWA's brightest teams!
Tony Stein:
The winner of this could certainly be perhaps in the argument for a future shot at the UFWA Tag Team championship
- Fort Knox attack The Rising Sons as they make their entrance. A fierce brawl breaks out on the entrance ramp for a minute.
- Eventually the bell sounds as all four return to the ring and continue to brawl. Cash and Midas clear Katashi from the ring and isolate Rei
- Midas hits a big boot on Rei and gets a two count from the first pin of the match.
- Midas tags in Cash, Rei attempts to fight back is taken down with a Leg-feed enzuigiri.
- Midas dumps Katashi from the apron to prevent a tag. He then lands repeated knees to Rei in the corner.
- Cash is tagged in. Fighting Words connects but luckily for Rei he falls out of the ring.
- Cash and Midas stomp on the outside as referee prevents Katashi from getting involved first.
- Rei counters Midas superman punch attempt with a big kick and tags in Katashi
- Katashi goes on the offensive with a series of different hard martial art kicks
- Katashi clears Cash from the ring with a clothesline but is then smashed by The Midas Touch
- Rei rolls up Midas for a near fall. Midas transfers into the DexPlex but Rei gets a foot on the rope.
- Midas goes for another Midas Touch but misses. Katashi lands a kick that stuns Midas in the corner
- Rei and Katashi hit a Powerbomb/Leg Drop combination to Cash
- Dex charges both but is caught with a double kick. Rei/Katashi score moments later with the Shinryaku!
- Katashi covers Midas! ONE! TWO! THREE!
(Winners - The Rising Sons)
Natalie Chase:
A hard hitting match is over! The Rising Sons have done it! Fort Knox has fallen!
Tony Stein:
If they continue like this, the tag team champions may have a new challenger to worry about!
-----
A big pop erupts as "Fallen Icon" The Stinger appears on the stage and waves his trademark baseball bat around while laughing in his crazy way.
The Stinger:
Woohahahaa! Hello its me, its me the good ol' Stinger back in UFWA once again! You wanna hear a joke? Knock Knock! (WHOS THERE?!) Me stupid! AHAHAHAHAHAHA!
Now tonight I must be serious for this is a serious occasion. Allow me to bring you all back in time, to a world where the crazies took over the asylum! In 2011 I met a beautiful young lady who at that time was already a former Divas Champion in UFWA but something was missing. A talented and ferocious competitor in the ring she became the key to unlocking the gates of UFWA. She went from a sweet innocent Kim into the traitorous Quinn. One night at Black Apocalypse, the plan came all together and by the end of that show, the UFWA everyone knew was gone forever and from the ashes we began the new era of the company.
Her career? Well it speaks for itself folks. She became the first woman to hold the Ultra Violence Championship, a key member of the Consortium of Darkness and later countless tag teams fell as she and Prince Devitt created one of UFWA's most devastating moves, the Royal Defeat which earned them a tag team championship. Before that she was a member of the Ladies of Distinction and beat Angelina Love to be the UFWA Divas Champion, not to mention she is a former winner of a Money in the Bank match AND a Black Apocalypse match!
In every single way, I am proud to be standing here as her friend and introducing to you the artist formerly known as Gail Kim, her evil alter ego Gail Quinn but today and becoming a member of the UFWA hall of fame you know her as the one and only Zoe Seikooooooooooo! WOOOOOOOOOOO!
Zoe walks out onto the stage in a glamorous dress and waves. She then embraces Sting and playing up to her old Quinn character she plants a kiss on his cheek and giggles in crazy fashion.
Zoe Seiko:
This... this is strange for me. While I've been in the business for most of my life and the UFWA has been my home more so than anywhere but did I see myself as being in the Hall of Fame? No. Of course not. Yet here I am and that means the world to me. I've achieved far more than I ever thought I would and I have plenty of people to thank for that from Stinger, to Debra to Jessie McKay to Nicole Franceschi to Prince Devitt and to my current partner, Jodie Scott. Every single one of them allowed little ol' me to work alongside them and together, we all did some incredible things. I wouldn't be where I am now without them.
She couldn't help but smile.
Zoe Seiko:
So this is an honor for me to be a part of. I've had plenty of opportunities come my way and I'm grateful for them. This isn't down to me, this is down to the chances I have been fortunate enough to receive and I just took advantage of them as best I could. I'm honored to have achieved all of those things as well as now adding being inducted into the 2017 UFWA Hall of Fame to that list. Thank you.
The Stinger walks back out onto the stage with something in hand as the applause continues. This time he has the Sting face make up on. He then grins and it appears he has a face mask that fits Zoe perfectly. She puts it on and they pose together as the old Sting/Gail Quinn partners in crime as the crowd pop for it. They then share a hug and the a "You Deserve It!" chant is directed towards Zoe who gets a little emotional.
-----
Natalie Chase:
This match seemingly came out of nowhere but it's a personal one!
Tony Stein:
Holly Ricci and Lola Lewis have been tag partners for as long as I can remember and are even former Women's Tag Team Champions.
Kameron Ryder:
It seems the two can't stand each other now and there is, of course, the added stipulation that the loser has to leave the company!
Nirvana:
What a match this is going to be!
- The match starts with a hesitant shake hands between those two.
- At the first minutes, Lola seems to dominate the match, giving her former tag team partner a series of chain strikes, successfully wear Holly down
- Lola attempts to end this match quickly with giving Holly the Sugar Rush but Holly manages to counter it into a vicious Clothesline.
- Holly covers Lola but she manages to kick out. after that, Lola decides to retreat outside the ring to recover.
- Holly gives Lola a chase but Lola is running even faster. Holly is getting closer and Lola decides to enter back the ring, in there, Lola then ambushes her with some cheapshots.
- Lola manages to corner Holly to the corner as she's about to do her signature, hanging figure four leg lock.
- Holly is getting choked out with that move and referee has to count it and Lola stops at 4
- The damage has been done to Holly as she gives the crowd a taunt and teasing her fans with her body swinging.
- Lola puts another focus to Holly and about to end it but Lola is taunting too much, causing her to make Holly fit again
- Seizing the opportunity, Holly gives a kick to the gut, ending the match with an L bomb as well as ending Lola's UFWA journey.
(Winner - Holly Ricci)
Natalie Chase:
Holly did it, Lola is out of here! Wow.
Tony Stein:
Lola has been a mainstay with the company for years so this is a shame to see!
Kameron Ryder:
But rules are rules and Lola is gone!
-----
Following a commercial for UFWA merchandise, we see Renee Taylor trying to catch up with Lola Lewis.
Renee Taylor:
Lola! Lola!
Lola didn't stop but Renee finally caught up with her.
Renee Taylor:
Lola, we're so sorry to see what happened out there. Do you have a few moments to talk with us?
Lola sighed but nodded.
Lola Lewis:
I almost had her... I felt so sure I could do it. Do you know what Holly put me through? She mistreated me for months, blamed me for everything and eventually just turned her back on me. Now? She's cost me my job...
Renee Taylor:
So this really is the last we're seeing of Lola Lewis in the UFWA?
Lola Lewis:
I have no choice, do I? Holly just got precisely what she wanted and I was stupid enough to go along with it. But I'll leave gracefully and just say that I want to thank everybody who had my back around here. This has been a crazy ride and it's all over now but I won't forget any of it. So thanks to everyone and even thanks to Holly for pushing me to be the best I could be... until recently of course.
Renee Taylor:
Well, Lola, nobody is going to forget the phenomenal mark you've left on this company and we wish you the best.
Lola forced a smile.
Lola Lewis:
Thanks...
She muttered before she walked off.
-----
Natalie Chase:
We've seen some huge matches so far and we're about to see another!
Tony Stein:
This is for the Trios Money In The Bank and will be decided between some of the very best Trios teams around!
Kameron Ryder:
That does include the recently reunited InFamous and I'm not gonna lie, I'm rooting for them.
Nirvana:
No shit...
- It's the Gunn Club that dominates at the start of the match as they fight off all who get in their way.
- Soon, Seth Black is able to overpower the Gunn Club and send each of them across the ring with a series of Suplexes. Meanwhile, Brett and Cleo work together to bring in a ladder.
- Brett starts to climb the ladder but he's soon met by Aerin, Sabrina and Mara as all three Coven members attack him from behind. Laine steps in and tries to help Brett.
- Meanwhile, Chelsea Rayne attempts to sneak in and steal the win but as she's mid-way up the ladder, she's whacked in the back by Sherrie Fox wielding a steel chair. Sherrie then assaults Rayne with the chair.
- Sherrie then begins to climb up the ladder but soon, Mara joins her. The two are at the top and begin to exchange shots. Soon, Shooter Magnum steps in and pushes over the ladder so both crash to the outside of the ring.
- Magnum and Colt Walker then both work together to climb their way up the ladder. Both Gunn Club members have their fingertips on the briefcase but suddenly, Marcus Brett and Seth Black are both in to put a stop to them.
- Black pulls Magnum up and powerbombs him off the ladder. He then does the same but plants Walker on top of Magnum. Marcus Brett then hits a springboard Moonsault on the two from mid-way up the ladder.
- Both are then assaulted from behind by Cheyenne and Aimee Birch. The two throw Black and Brett into the ladders.
- Aimee Birch is next to make her way towards the briefcase but she's stopped by Sabrina.
- Scarlett Star and Fyre are both then on the scene as they make their way into the ring with a ladder. They use it to knock Sabrina out.
- Seth Black clotheslines both Scarlett Star and Cheyenne out of the ring before throwing Tommy Gunn over the top rope and onto both of them.
- This allows Marcus Brett to fly out of the ring with a Suicide Dive to ensure all three are kept down.
- Back in the ring, Seth Black keeps guard as Cleo Laine climbs the ladder and retrieves the briefcase.
(Winners & 2017 Trios Money In The Bank Winners - Marcus Brett, Seth Black & Cleo Laine)
Kameron Ryder:
And of course, InFamous do it!
Tony Stein:
A huge win for them! They've got gold and a guaranteed Trios shot!
-----
We see Rhys Huxley and Darcy Giorgio walking down the hallway backstage. Suddenly, they're both attacked from behind and we see these people to be Oliver Orozco and Jax of the Brotherhood.
Tony Stein:
What the hell?!
Natalie Chase:
Can they do this?
Kameron Ryder:
Oh, this is good!
Jax then thrusts the Tag Team MITB briefcase into the hands of a nearby referee. Adam Ryder is also on the scene and he consults with the referee, approving of this move. He even produces a ring bell from out of nowhere and rings it, telling the referee to now focus on the 'match.
Natalie Chase:
Looks like we've got us a match!
Jax drags Huxley up and throws him into the wall. Meanwhile, Darcy attempts to fight back but Orozco attacks her with a high knee to the face, followed by a DDT onto the cold, hard ground. Darcy is down and out as Jax delivers the Battle Cry, crushing Huxley into the wall in the process. Huxley is laid out as Jax covers him. The referee slides into position to make the count and declare the Brotherhood the winners.
(Winners & NEW UFWA Tag Team Champions – Oliver Orozco & Jax)
Kameron Ryder:
Yes, new champions!
Natalie Chase:
Come on, that was unfair!
Kameron Ryder:
That's just part of the MITB contract, guys. It was fair and it was abiding by the rules!
Adam then picks up the Tag Team Championship belts that Rhys and Darcy had dropped during the attack and hand them to Oliver and Jax.
-----
Kameron Ryder:
X-Division gold on the line next and I'm sure I don't even have to say who I'm rooting for here!
Nirvana:
Shut up.
Kameron Ryder:
Freddie Grayson.
Tony Stein:
Well, Scramble action next!
- An inevitable brawl kicks off the match the moment the bell rings.
- Cassian is the first to make a pinfall in the match to become X-Division Champion for now and that is after hitting Marsden with the Bang-A-Rang.
- Cole immediately reclaims the X-Division Championship gold as he rolls Cassian up to steal it back.
- Cassian and Cole then brawl their way out of the ring as we see Romeo Matthias squaring off with Richie Allen.
- Allen looks to put Matthias away but Matthias dodges an oncoming Allen and strikes with a Running DDT and follows up with the Impulse. He covers to become champion.
- Again, Cole sneaks in behind Matthias and nails him with the Throwing Shade. He becomes champion for the third time in this match alone.
- Cole looks to fight off all the competition but The Curse from Allen puts him back down so Allen is able to pin and essentially become champion.
- Allen remains in control briefly, fighting Freddie Grayson off but Cole once again pulls Allen into a roll-up to steal that pinfall.
- Marsden is next to become the interim champion as he nails Cassian with the Mega Drive to become the next champion.
- Marsden is able to retain that position at the top for a few minutes as the other competitors fight amongst each other.
- Grayson dominates for several minutes as he takes it to Allen. Meanwhile, Matthias and Cassian square off.
- Cole is able to once again regain the gold as he catches Matthias with the Throwing Shade. Cole then seems desperate to stop all following pin attempts as the minutes tick by.
-Soon, Grayson hits Marsden with the Random Act of Violence to lay him out. He covers him to become the interim champion.
- Cole attempts to continue his streak of immediately regaining the gold as he looks to put Grayson away but Grayson fights him off long enough to waste some time.
- As the bell rings to signal the time running out, Cole can't believe it.
(Winner & NEW X-Division Champion - Freddie Grayson)
Kameron Ryder:
Yesssss!
Natalie Chase:
Obviously, Kameron is happy with that result, as I'm sure many others will be but Kenny Cole certainly won't be!
Tony Stein:
He dominated much of that match though, so he can at least be pleased with that!
-----
We're shown another highlight video of the Hall of Fame. This time, we see Seasons members Robyn Wynter, Spring and Alice Autumn stood behind the podium.
Robyn Wynter:
Of course, Summer Valdez is a name that everybody knows. She's done just about everything there is to do here, from making history as the first Vixen's Champion to holding practically every other championship there is to hold. Of course, she's been a name that everybody remembers for being one of the greatest. She's never quit, she's never given up and she's about to make history again.
Spring:
Let me tell you why Summer Valdez is great, she's great because she's the only person to date to hold both the UFWA Vixen's title and the UWF Women's title at the same time. She's won tournaments, she's made history by doing firsts, she's been a queen, she's done so much in so little time I can't think of any Vixen more deserving of this induction
Alice Autumn:
So Summer, there's no denying that all three of us respect you, as does everybody else. You've done some amazing things and we know there's even greater things in your future. You're nowhere near done yet!
Summer then makes her way onto the stage, pulling each of her team mates into a hug.
Summer Valdez:
This is huge for me. When I first joined the company, I was just that crazy girl that stalked people! Of course, that did pay off since I ended up as tag team champion with those I stalked more often than not...
She said with a laugh.
Summer Valdez:
But I grew up, I became a more serious athlete and I took control of my career. Now I'm standing in front of you as a multi-time champion and a woman who has actually made history. It's a huge deal for me so honestly, I just want to say thank you. That goes out to everybody who has had my back and everybody who has ever stepped into the ring with me. It's because of all you that I am where I am, whether we've been partners or enemies. From Jimmy Jacobs, to Eli Jenson, to my girls in the Seasons here. You've all put up with me and you've all had helped shape me into the woman I am today so thank you!
Summer couldn't help but smile as she then left the stage with the rest of the Seasons.
-----
Kameron Ryder:
More hardcore action now as the Ultra Violence Tag Team Championships are on the line!
Nirvana:
The Anti-Administration defend against the Young Guns!
- The four part off early as the men battle the men and the women battle the women
- Zayne and Alice end up pairing off on the outside where Zayne nails Alice with a urinagi side slam for a two
- Levon uses a kendo stick to Russian leg sweep April for a two
- Zayne with a chair shot to the back of the head of Will gets two as Alice makes the save
- April gains control on Alice and the two battle in the corner, April hits a Superplex on Alice through a table but Levon makes the save just in time
- With Alice hurt Will gets double teamed, however Levon reverses a double suplex with a double DDT
- Zayne rolls out the ring as Levon gets a two on April
- Zayne attempts to get on the apron but Levon kicks him off with a running yakuza kick that sends Zayne into the barricade
- Autumn then drops April with Alice in Wonderland and pins her for the three to win the titles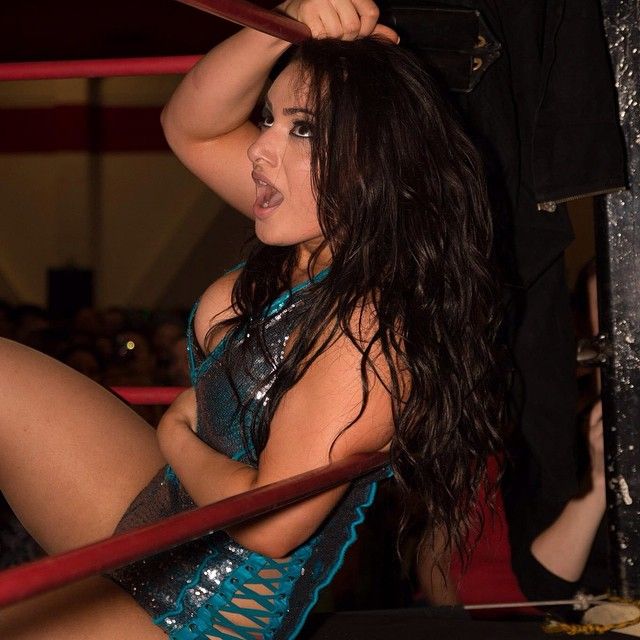 (Winners & NEW Ultra Violence Tag Team Champions - William Levon & Alice Autumn)
Kameron Ryder:
New champs!
Nirvana:
Big win for the Young Guns there. Seems things are going from bad to worse for the Anti-Administration...
Natalie Chase:
Pierce is not going to be happy about that result!
-----
Another Hall of Fame induction segment is shown from two nights ago.
Allison Wonderland:
Of course, it's been quite a while since you've seen me in the company and I have missed it but I am here just as a guest this evening to induct a good friend of mine into the UFWA Hall of Fame.
She couldn't help but smile.
Allison Wonderland:
Myself and Orlando Cruz go way back. From our time in the Age of the Fall, to the Hardcore Revolution and the Shield. We've worked together since day one and now, he's flying high by himself so I couldn't be more proud of him. We haven't necessarily seen eye to eye all the time but for the most part, we've been the best of friends so it is my pleasure to induct the amazing former multi-time champion and legend, Orlando Cruz.
She took a step back as Orlando Cruz made his way onto the stage.
Orlando Cruz:
I want to thank Allison first of all for the kind words and for the fact that she's put up with me from the start! She's right in saying we worked together in three different teams over the years but we've now gone our separate ways and I still like to think I've got plenty left in me. I've managed to achieve a lot and typically, that has been as part of a team but I've still made a name for myself.
He nodded.
Orlando Cruz:
And tonight, I want to celebrate every single person who has had my back here. I wouldn't be here if it wasn't for them but I've done some amazing things because of them. Hey, I'll even thank Shane Knox and Micah Sterling... and we haven't even won the damn Trios titles yet!
He said with a laugh.
Orlando Cruz:
But regardless, this is a dream come true to me. It was just a dream once and now I'm living it so thanks to everyone who I've ever shared the ring with. This is epic.
Orlando smiled again as he hugged Allison and the two walked off.
-----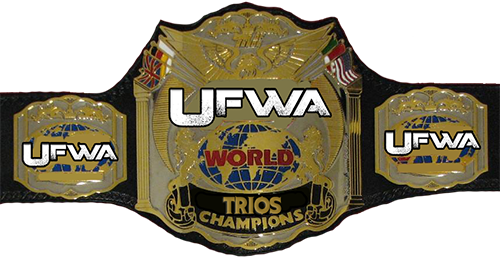 Natalie Chase:
Trios Championships on the line next!
Tony Stein:
Shane Knox earned this shot and was essentially forced to have Cruz and Sterling as his partners. Can they work together?
- A wild out of control brawl kicks off the match with the teams fighting all over in and outside the ring. Eventually The Bank Vault take advantage of their better team work and communication to overwhelm the challengers and take the lead in the match leaving Knox and Cruz down on the outside.
- The Champions beat down Sterling for a while as Knox and Cruz get back to their corner. Mitch hits his finisher on Sterling.
- Cruz and Knox spend so much time arguing over who should get tagged in next they nearly lose
- Sterling JUST manages to get a foot on the ropes.
- Sterling hits a Discus enzuigiri on Mitch and manages to make the hot tag to Orlando Cruz
- Cruz goes on the warpath with a series of big boots and superkicks to his opponents. He makes a tag to Shane Knox
- Cruz then does a brilliant dive over the ropes that wipes out the champions on the outside when they tried to regroup
- Cruz rolls Stefani back into the ring. Cruz and Sterling finally look a team as they brawl with Mitch and Eddie on the entrance ramp to the back.
- Knox goes for a Chokeslam but Stefani counters with a modified Original Synn. Near fall!
- Eddie Kassidy runs back down to the ring and double teams Knox with Stefani. Eddie Kassidy hits Face Breaker on Knox and Stefani goes for a cover.
- Rolling out of the ring to celebrate, Eddie thinks its over. The count goes but Orlando Cruz hits a Phoenix splash outta nowhere on Stefani! The pin is broken just in time!
- Eddie frantically tries to get back into the ring but Orlando Cruz suicide dives to stop him!
- Knox gets to his feet and crushes Stefani with the Knox Out!
- Mitch Voelker is sprinting at full speed down the ramp with Sterling chasing him but he is unable to save his wife from the pin fall, sliding in too late! ITS OVER!
(Winners & NEW Trios Champions - Shane Knox, Orlando Cruz & Micah Sterling)
Natalie Chase:
New Trios Champions! NEW Trios Champions! Wow! The makeshift team have done it!
Tony Stein:
Some would say they got lucky but I doubt they'll care! They have won at Final Frontier!
Cruz, Sterling and Knox celebrate with the championships. They give each other awkward expressions but seem happy enough while the former champions are devastated. Mitch in particular is irate.
The new champs celebrate separately trying to steal the spotlight for themselves.
-----
We see a pissed off Zayne Pierce backstage, pacing back and forth, trying to calm himself down, as is April Morales. We then see Kirsten walk onto the scene with both Adam Ryder and Andrew Lincoln.
Kirsten:
Awww, unhappy with how things went earlier?
Zayne Pierce:
What the hell do you think?
Kirsten shrugged.
Kirsten:
Well, I did have an offer for you but if you're just going to speak to me like that, maybe I'll go elsewhere...
Zayne rolled his eyes.
Zayne Pierce:
What do you want?
Kirsten:
Look, we want to give you and the rest of the Anti-Administration an opportunity. See, you haven't all had the best of nights so I guess we want to throw you a bone, as it were. I happen to have not participated at all in the ring throughout Final Frontier at all so I figured I'd step into the ring later. I'm aiming to put together an Administration team who wants in.
Adam Ryder:
So you put together a team as well and we'll go to war. I know you want nothing more than to get your hands on us right now.
Andrew Lincoln:
So this is your chance. If you want to step up and show that the Anti-Administration is still holding it together, then go for it.
Zayne narrowed his eyes.
Zayne Pierce:
Fine, you've got it. Your Brotherhood friends have taken out Rhys and Darcy so we're already at a disadvantage but you think we can't put together a team to beat you? We've got this.
April Morales:
Yeah, don't worry... we'll be out in that ring later and what's more is the Anti-Administration will finally get back on track and it will be at your expense. You'll regret this...
Kirsten just ignored here, turning and walking away as Adam and Lincoln followed.
-----
A video package is shown showcasing the friendship of the Women's Champion Hailee Morgan and "Luscious" Lucy McIntosh. Its very cheesy. It ends and we see Lucy looking at the camera with a tearful expression
✿
Lucy Mcintosh:
(fake tears) Wasn't that beautiful? Is there a greater friendship in UFWA than that of myself and my best friend in the whole world Hailee Morgan, the greatest Women's Champion of all time? She is going to totally destroy that dork Ashley Jak tonight in LA and cement her place as the best of the best for that division! Final Frontier will be OUR night! However despite all of the support and happiness for my BFF champion I have left plenty of room for my own ambitions.
Here is a little message for you Summer Valdez and Vicky Royce. I hope you two have a good match tonight because rest assured, who ever leaves town with that Vixens title you better keep it warm because I'm coming after that belt! (does a motion to her waist) It deserves to be around the waist of someone drop dead gorgeous like me! (looks) HEY ITS MY CHAMPION HAILEEEEEEEE! WOOOOO!
An excited Hailee Morgan comes onto the screen and they head off with high pitched giggling talking about something shouting "OH MY GAWDDDDDDDDD!"
-----
Kameron Ryder:
I am going to be the most biased in this one, since my beautiful wife Ashley is in it. She will, of course, leave as your new Women's Champion.
Nirvana:
You make me sick...
Kameron Ryder:
Don't worry, you'll find love one day. Maybe. Probably not, actually...
- Hailee Morgan gets off to a strong and powerful start as she keeps Ashley on the defensive after hitting her with several hard shots.
- Hailee then performs a Blockbuster neckbreaker but as she goes for the Springboard Moonsault, Ashley is able to dodge it.
- Ashley then takes control as she drags Hailee up by her hair and rocks her with a Spinning heel kick, followed by a Jawbreaker and then a Reverse STO into the middle turnbuckle.
- Ashley goes in for the kill with the Crackajak and hits the move but she misses the Rise From The Ashes.
- This allows Hailee to regain control as she drags Ashley up and performs a huge Spear.
- Hailee then throws Ashley across the ring with a Crucifix Head Scissor but as she goes for a Handspring Back Elbow, she misses, crashing and burning in the corner.
- Ashley goes in for the kill but Lucy hops onto the ring apron to act as a distraction. As she does, Lucy goes to slap her but Ashley grabs her hand to stop her.
- Lucy pleads with her to let her go but this, again, is just a distraction as it buys Hailee time to recover. Hailee then races forward and clubs Ashley on the back.
- Hailee then goes to hit Ashley again but Ashley dodges so Hailee collides with Lucy.
- Hailee can't believe it as she screams in terror and apologizes to her bestie. However, she's distracted by this enough for Ashley to strike with the Ashes to Ashes and we have a new champion!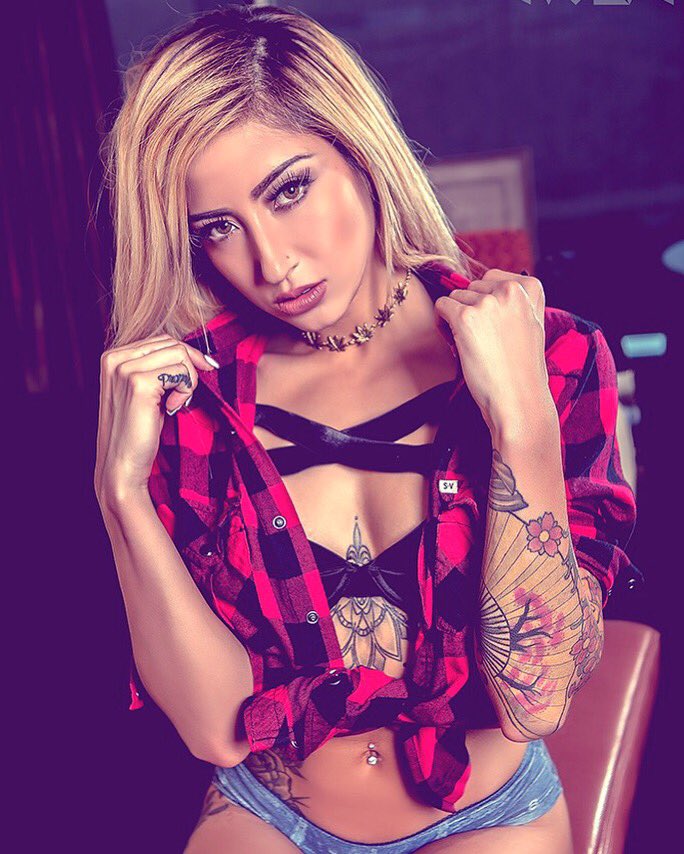 (Winner & NEW Women's Champion - Ashley Jak)
Kameron Ryder:
Yes! Oh my god, tonight's results are on point. I could not be more proud!
Nirvana:
Ugh...
-----
'Be All End All' by Anthrax hits as we're shown a promo video featuring highlights of a tag team in action but it's not necessarily clear who they are. Soon, the words 'coming soon' flash on the screen.
Natalie Chase:
Looks like we have a new team on the way!
Tony Stein:
Interesting, I can't wait to see whoever it is!
-----
Natalie Chase:
And it's our final MITB match!
Tony Stein:
Some huge names in this, Nat, so it really could go either way!
Kameron Ryder:
This is going to be good.
- As soon as the opening bell is rung, Karmozijn seems to snap and start assaulting everyone and run around in circles in the process.
- We also see Jesse Caine dominating as he assaults Akio Izumi with a series of power moves.
- Caine then proceeds to begin climbing the ladder. Thanks to an impressive high-flying springboard move, Damon Lamar lands on the ladder with him. The two trade shots.
- Nixon gets involved, pushing over the ladder so both go crashing to the outside.
- Azaiah lays a ladder horizontally from the ring apron to the ringside barricade and powerbombs the body of Karmozijn through it.
- Azaiah is then taken out with a ladder shot to the head from Izumi. Izumi then knocks out Luca with the same move.
- Izumi then begins to climb the ladder in the ring but Lamar puts a stop to him.
- Hunter, Caine and Nixon seem to be the final three competitors left standing. All thee square off but it's Hunter who is able to dispose of the other two.
- Hunter then leaps onto them and every single competitor outside the ring with a suicide dive.
- Everybody is down but soon, Hunter returns to his feet and slides into the ring. With nobody to stop him, he reaches the top.
- However, we see a non-competitor slide into the ring and crack Hunter in the back with a steel chair. That person turns out to be the returning Corey Hayden.
- We also see Nirvana appear on the scene after leaving the announce table, helping Azaiah to his feet on the outside. Hayden throws Hunter out of the ring as he and Nirvana then assist Azaiah is starting to climb the ladder.
- Both Luca and Izumi attempt to slide into the ring to stop him but Nirvana and Hayden attack both, leaving a clear path for Azaiah to reach the top and retrieve the briefcase.
(Winner & 2017 Superstar Money In The Bank Winner - Azaiah)
Natalie Chase:
Woah! Azaiah did it but he had help!
Tony Stein:
Nirvana even left her post here on commentary to get involved. Thanks to her and the returning Corey Hayden, Azaiah is your Money In The Bank holder!
Kameron Ryder:
Dammit.
Azaiah stands tall with Nirvana and Corey Hayden as the crowd boo.
-----
After a commercial for UFWA's next Pay-Per-View event Indestructible, we see Azaiah backstage with the Superstar MITB briefcase in his arms. Corey Hayden and Nirvana are with him, celebrating that huge win. Their EGO team mate from UWF, Criss Slater, then joins them.
Corey Hayden:
Dude, this is epic! Nobody even saw that coming.
Nirvana:
Yeah, I've gotta say, that was all planned to perfection!
Azaiah:
I couldn't have done it without the two of you. And Criss? We know you've always got our back. I didn't even know you were in the arena tonight but dude.
He said as he put Criss in a playful headlock.
Criss Slater:
Of course, I had to support my team this evening!
Azaiah:
And I appreciate it. It's great that I finally have some partners around here I can trust. EGO are officially part of the UFWA.
Corey Hayden:
And it's about time, right? We've all been here for a while and what do have for it? A bunch of screw-jobs and other crap. Now, we've finally got the MITB briefcase in the group.
Nirvana nodded with a smile on her face.
Nirvana:
And we're officially here to support you now. We're going to be the new top team to watch around here.
Azaiah:
And with this, we're going to head straight to the top. I don't see anybody is going to be able to stop us...
The others nodded in agreement as the group walk off.
-----
Natalie Chase:
Time for one another title match!
Tony Stein:
T.M.I. defend the Women's Tag Team Championships against four other teams!
Kameron Ryder:
It seems like an impossible task but can they do it?
- The bell rings as all four teams are surrounding Avery and Haruna who are standing back-to-back in the middle of the ring.
- The Vixens of Tomorrow begins their first attack, charging at whoever in front of them but still getting outnumbered by 8 women gunning for them.
- Faye and Teagan throw Avery outside the ring while Haruna is also being thrown by Kathleen and Kaity.
- Now the UFWA original team is gone as the UWF teams are now brawling against each other and throw each other outside the ring.
- Every time Avery and Haruna enters the ring, all four teams suddenly forming an alliance to keep Vixens of Tomorrow away from the arena.
- Haruna tries to enter the ring but Melissa and Katana give her a double superkick, sending her back to the floor again.
- Same effort was given by Avery but still useless as the women inside the ring just throw her back outside the ring over and over again.
- A lot of back and forth keep happening between four teams in the ring, with multiple failed pinning attempt and some efforts to keep Vixens of Tomorrow away from the ring.
- There's a lot of teamwork happen between two Beauty Club teams as four of them easily take The Sirens down with outnumbered effort.
- Same goes for the team of Teagan and Melissa who got outnumbered by the Beauty Club as well. Beauty Club seems to dominate in this match.
- As they all taunting the crowd, Avery and Haruna finally sneak into the ring and cleaning the house, giving all Beauty Club members each of their own finishers and send them out of the ring.
- Avery gives a Stan Lane to Katana who is the only Beauty Club remaining on the ring and going for a pin but TMI and Sirens going back to the ring and ambush Avery and Haruna again.
- The Sirens throws Vixens of Tomorrow again outside the ring and this time, Katana and Kathleen locks Avery and Haruna in the bottom ring using a handcuff attached to both of them.
- In the ring, Teagan is giving Jenna her finisher, Showdown while Melissa does the same by doing Melissatack to Faye
- But out of nowhere, Daisy and Kaity throws Teagan and Melissa again and steal the pin from them. Teagan and Melissa looks at the new champion in shock while Avery and Haruna still trying to escape the lock from their hands.
(Winners & NEW Women's Tag Team Champions - Daisy & Kaity)
Natalie Chase:
We've got new champs!
Tony Stein:
The Sirens walk away with the win and the gold!
Kameron Ryder:
What a match that was. All five teams showed something there... even if most tried to cheat!
-----
We see the Administration gearing up for their upcoming match but they're not looking too happy right now.
Kirsten:
Erica, I can't ask you to perform in this tag match. You have the main event to think about instead. And of course, we still need Mercedes to relax so she doesn't aggravate her injury.
Erica Rose:
But that leaves you down a person. You can't afford to head into battle with the Anti-Administration with the disadvantage.
Andrew Lincoln:
We know, Erica. But we don't have any other options at this point.
"I'll do it."
We hear the voice of Melissa as she steps onto the scene.
Adam Ryder:
Mel, you've literally just wrestled.
Melissa:
Yeah and I lost. I'm not happy about it so I want to prove something out in that ring. I may as well help you guys in the process, right?
Everybody seems hesitant but then nods.
Kirsten:
Y'know what, we're out of options so Melissa, if you want in, you've got it. We appreciate it.
She smiled as Melissa nodded to acknowledge that.
-----
Backstage, all members of the Brotherhood are backstage with Kerri Leigh. Currently, it's Oliver Orozco, Jax and Freddie Grayson who are taking center stage as Myles Maxted, Nyle Adessi, RJ and Anthony Paine are hanging around in the background.
Kerri Leigh:
Gentlemen, it seems things are going to plan for the Brotherhood, at least for the most part. The majority of you are now champions and it seems as though you just can't be stopped. First, let me say congratulations to Freddie, Oliver and Jax on all becoming champions tonight.
Freddie Grayson:
Thanks, Kerri. It wasn't easy but I came back from injury and straight into a championship match. Of course, I've got to thank the awesome Adam Ryder for that chance and now, I'm X-Division Champion!
Oliver Orozco:
And we have Adam to thank as well. Without him, myself and Jax cashing in the Tag Team MITB might not have gone to plan quite as well but thanks to him, it worked perfectly and now, we're your new champs! He might have let us down in the past but he really came through for us over the past few nights.
Kerri nodded.
Kerri Leigh:
You did that in what some people are describing to be a quite cowardly way. Regardless, are you worried about the backlash from the Anti-Administration?
Jax shook his head.
Jax:
Have you seen the state of the Anti-Administration right now? They're falling apart and that's why we did what we did tonight... we just took advantage of that and now, we're the champions. Why? Because we're a stronger team. The Anti-Administration are struggling and we're about to see them once again have their asses handed to them by the Administration, who we're supporters of. The cracks had already formed... Final Frontier marks the night that they're officially broken.
The rest of the Brotherhood nodded in agreement before they all walked off.
-----
Natalie Chase:
This is a match that was set up earlier and we barely even know who is competing on both sides!
Tony Stein:
Apparently, it's going to be Kirsten, Adam Ryder, Andrew Lincoln, X, Eli Jenson, Mike Austin, Anya Castello & Melissa versus Harley Archer, 3D, Alexandria Lennox, Zayne Pierce, April Morales, Lucas, Paulie and Donnie!
Kameron Ryder:
This is going to be interesting!
- The big men X and Archer start off the match with X hitting X Marks The Spot off the bell. Denton however stops the pin from happening
- Kirsten goes down with an injury early on after Zayne knocked her from the apron. On the landing Kirsten appeared to break and ankle
- Zayne controls Ryder for a good part of the match focusing on his back. Ryder however counters a spinebuster attempt with a DDT which allows Ryder to tag in Anya and Zayne to tag in April
- Lucas and Lennox get in to an argument and start to fight between them which pisses off Zayne. James Diamond at ringside calms the two of them down
- Donnie uses a steel chain on Eli behind the referees back but only gets a two as Melissa breaks the pinfall
- Officials at ringside try to call for help for Kirsten but Kirsten is unable to move, she tells the referees her ankle is shattered
- Lincoln gets a near fall on Paulie after The Hero Killer but both Archer and Denton stop the fall
- April takes charge of the match over Melissa, even using Mel's Melissattack on her. Austin breaks the count before the three however
- All hell starts to break loose between the two groups with Lennox and Lucas again fighting between them
- Zayne appears to have the match won after hitting Linc with The Upgrade. However Kirsten slips back in the ring and nails Pierce with the Barbed Wire Twist.
- Kirsten pins Zayne to win the match for The Administration
(Winners – The Administration)
Natalie Chase:
Big win for the Administration! I guess it's true, the Anti-Administration are struggling right now!
Tony Stein:
They've had a terrible fed nights, let's be honest!
Kameron Ryder:
And that right there, just makes it ten times worse.
Pierce is furious about that result as he throws a tantrum on the outside of the ring. Several of his team mates argue their way up the ramp, apart from April, Darcy and Rhys, who stick around to try to calm him down.
-----
"Phantom Power And Ludicrous Speed" by Pierce the Veil hits as Summer Valdez walks down to the ring, just staring ahead of herself and storming down the ramp. She reaches the ring but grabs a microphone on the way.
Summer Valdez:
Last night at Final Frontier, I was screwed out of the Vixen's Championship. I'm furious about it but that's not the only thing. Everyone knows how much I love and respect my team mates in the Seasons. Earlier tonight, we saw EGO reform here in the UFWA and they happen to be people I always want to hurt so since I want a Final Frontier victory after being screwed yesterday, I want any member of EGO to head to the ring right now and take me on in singles action. EGO assaulted my Seasons team mates last week and I still want payback for that so I'm taking this opportunity to kill two birds with one stone.
She turned her attention to the stage.
Summer Valdez:
I know Vicky is too much of a coward to face me like a woman again, plus she seems to be trying to forget about the Seasons altogether and quickly move on to far less relevant people... so I'm going to shift my attention to someone else. After all, Spring is Vicky's problem now and I fully believe in my girl to get the job done when her inevitable title match rolls around. So until we see that fateful day, I want to still prove myself. Since myself and my girls handle each other's business and with Spring and Alice taking on Azaiah and Slater very soon at UWF's Gold Rush so I want a piece of that action now. Criss Slater, I do know you're back there tonight, so get your ass out here and fight me like a man.
After a brief wait, we then hear "Indestructible" by Disturbed hit as Criss Slater makes his way onto the stage and makes his way down to the ring, shouting at Summer in the process. He reaches the ring and the two just immediately start trading shots.
- The two continue to brawl with a series of lefts and rights to each other.
- Soon, Slater begins to take control after shoving Summer into the corner and hitting her with a huge running kick.
- Slater tries to put Summer away with the Slater Bomb but Summer manages to dodge and counter with an Enzuigiri, followed by a Wrist-Clutch Exploder Suplex.
- Summer now attempts to end the match but Slater answers with a quick T-Bone Suplex.
- The two can't seem to gain control over the other but soon, Slater catches her with a German Suplex.
- Slater then remains in control but a Queen Bomb from Summer soon puts a stop to him.
- Summer then connects with the Santa Maria to finally put Slater away.
(Winner – Summer Valdez)
-----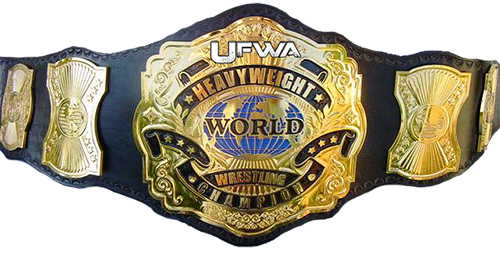 Natalie Chase:
Time for our huge main event! This was originally a singles match, then a triple threat and now, a 6-Pack match!
Tony Stein:
These are some of the absolute so I can promise you now this is going to be a phenomenal match!
Kameron Ryder:
I don't doubt that guy, this is one hell of a main event!
- It's an all-out brawl at the start of the match, with Black and Flynn squaring off, Erica and Ruocco exchanging shots and Tate and Reid battling it out on the outside of the ring.
- Soon, Tate gains control as he throws Reid into the steel ring steps with force. He's then joined by Ruocco as the two attack Reid with a series of double team moves.
- Meanwhile, Erica Rose and Conrad Black work together back in the ring to beat down Levi Flynn. The two throw him overhead with a double suplex before Black hits him with the Black Out.
- Black isn't able to cover as Caiden Tate puts a stop to him. Tate puts the boots to Black but Erica comes to the aid of her husband by dragging Tate backwards. From here, the two trade shots. However, Tate is able to drage Erica into the Worst Case Scenario. Black barely breaks it up before Erica submits.
- Black goes to work on Tate but Tate dodges a clothesline attempt from Black as Ruocco appears from out of nowhere, hitting Black with a Lariat.
- Ruocco then remains in control, delivering a series of Triple rolling double underhook suplexes but before he can even think about covering, Reid appears to break it up.
- Reid then focuses on Ruocco, hitting him with an Enzuigiri and then a Springboard tornado DDT. Flynn then slides back into the ring as he and Reid work together to beat down Ruocco.
- Erica Rose returns to the ring as she throws Reid out of the ring quickly before she and her brother, Levi, exchange shots. The two siblings square off but Erica gets the better of the situation with a huge Cartwheel Bomb. Flynn rolls out of the ring but Erica is sent straight out of there as well by Reid.
- We then see Reid nail Ruocco with the Riot Act but before he can cover, Reid is dropped with the Black Out from out of nowhere.
- Black is then met with the Betrayal from Caiden Tate but in turn, Tate is nailed with the Every Rose Has It's Thorns from Erica.
- Erica returns to her feet but is then nailed with the Ruocco 'n Roll. Ruocco goes for the cover but it's broken up by the returning Levi Flynn, who strikes with the No Remorse.
- Levi Flynn rolls Ruocco over and covers. Conrad Black slides back into the ring but Bradley Reid puts a stop to him attempting to break up the pin. Flynn blows a kiss to Conrad as he has no choice but to watch Flynn pick up the victory over Ruocco.
(Winner & NEW World Heavyweight Champion - Levi Flynn)
Natalie Chase:
Woah, we've got a new champion! Levi Flynn did it!
Tony Stein:
Conrad Black's year-long reign is over and we have a new World Champion!
Kameron Ryder:
Dammit... he's not part of the Brotherhood anymore so I can't support this...
Levi Flynn has his hand raised in victory and is awarded the World Heavyweight Championship. Bradley Reid soon staggers into the ring and joins Flynn in celebration. Meanwhile, a furious Conrad Black is sat on the outside with Erica Rose, both just staring at the Fallen Brothers as they celebrate that huge victory.
Natalie Chase:
Things are definitely not over between these two sides!
Tony Stein:
Of course not! This is likely just the beginning of another chapter, Nat!
Kameron Ryder:
And like it or not, Levi Flynn is your new World Champion and that's the scene we've got to end with!
Flynn and Reid hold up the Championship between them as Final Frontier comes to a close.