Post by Samuel on Oct 20, 2010 13:32:48 GMT -5
The parking lot of the UFWA arena is shown and Amanda stands there arguing with Rae. Most of the time Rae is talking and Amanda juz looks at her, pretty annoyed. She was listening to what Rae has to say and she almost can't believe what she juz hears there. Rae really wanna screw her out of her title shot, but what's even worse is that she wanna release Rose and Ryan. For a short moment Amanda doesn't know what to say or what to do, but then she storms forward and slides into the ring. But she doesn't attack Rae. Instead she grabs her by her throat, but then she juz pushes her back viciously.
~Amanda~
Ok, you think that it's funny to play God but you're wrong. And now you listen to me you sick bastard.
Rae wants to say something, but in the meantime also Ryan and Rose came to the parking lot and hold her back by holding her by her arms. Amanda smiles viciously now.
~Amanda~
Do you really think that you can do whatever you want only cuz you're the boss? Then I must tell you that you're wrong. I tried to end this drama here, but you never stopped terrorizing me and my friends. Too bad that you are too stupid to learn your lesson. You said that you're sick of losing and in some way I can understand it, but I think you will have to lose again a last time.
Amanda laughs out as she sees Rae's puzzled face.
~Amanda~
You wanted this war and you can have it, but now it becomes dirty. First I wanted to beat you up, but I juz got a better idea. Beating you up would be too easy, I will take you out for a really long time.
Amanda smiles viciously.
~Amanda~
Did you know that one of my friends has a lil farm with lots of pigs? I juz thought that this would be the right place for you to think about your actions for a while. Haha, but I don't mean that you have to live in the farm house, I thought it would fit better if you live together with the pigs in the cot. Haha, then you can role around in the pig crap and eat with them from the same feeding trough.
You showed me that you like crap, so this might be the right place for you.
But then Amanda gets a sad facial expression.
~Amanda~
The only bad thing is that the pigs are nicer than you and in some way I feel bad for then when they have to live together with such a slut like you, but hopefully they will forgive me.
Rae starts to yell at Amanda, but Rose shuts her up with putting her hand on her mouth.
~Amanda~
And in the meantime I will take over Wreck. Yes, you heard right, I will run the show now and the first thing I do right now is to rehire Rose and Ryan. Haha, and the next thing is to make sure that I will have my title match at the PPV.
Amanda looks at Rose and Ryan.
~Amanda~
Bring this piece of crap to my truck.
Rae wants to yell at Amanda again and she also tries to kick but Ryan pulls a sack over her head and they cuff her hands behind her back. Then they drag over to Amanda's truck. Rose and Ryan through the still struggling Rae into Amanda's truck. Then the three drive off.
-----------------------------------
Inside the arena the Wednesday Night Wreck theme goes off and the show opening pyro begins to go off. The camera makes it's way around the arena showing the screaming fans and then settles at the commentary table.
Michael Cole:
Hello folks, I'm Michael Cole alongside my broadcast collegue Tazz and welcome to Wednesday Night Wreck.
Tazz:
Raven certainly got welcomed back but in a way that I'm sure she didn't suspect or will end up liking.
Michael Cole:
Indeed she won't partner, that also means that Ivory's reign of terror continues and I wonder just how hard she will work to ensure her "friend" is set free?
Tazz:
That's a good question Cole, because ever since this beef with Amanda and Raven has been going Ivory has remained silent and when she did get involved it was clear that she was neutral and didn't pick sides. This time there is no being neutral if she gets involved.
Michael Cole:
Well she simply can't sit back and do nothing Tazz because the kidnapping happened which means she didn't ensure the safety of all was ensured.
----------------------------------------------
The camera cuts backstage where Ivory already has her head in her hands and John Cena is rubbing her shoulders.
John Cena:
You can't be everywhere to stop everything babe. You had no clue that was going to happen.
Ivory:
That little twit is right though, I have to do something but what...and how?
Ivory stands and looks at the monitor which is showing her and Cena and looks angry.
Ivory:
Why is the show opening match not underway yet? Must I do everything myself around here?
Ivory storms out of the office and slams the door behind her.
Show Opener, Single Match: Yasha Styles vs. Fredkash
Before the two lock up, Fredkash takes Yasha down with a shoulder block. As Yasha crashes to the mat, Fredkash goes to pick her up. Yasha takes this as an opportunity to pull him into a small package. Fredkash manages to kick out at 2. As the two make it back up to their feet, Yasha whips Fredkash into the ropes. As he flies back towards Yasha, he picks her up and quickly drops her to the mat in the form of a T-Bone Suplex. He holds her down for the pin but Yasha manages to roll her shoulder up at the count of 1 and a half. An angered Fredkash brings Yasha back to her feet and rocks her with a thunderous chop to her chest. He follows up with a second, which is powerful enough to send Yasha falling back against the ropes. She manages to use the ropes in order to keep her balance but Fredkash doesn't let her for long as he prepares to strike her again.
This time, the clothesline doesn't connect as Yasha dodges the shot. She ducks underneath and runs to the corner, connecting with an impressive Whisper In The Wind. With Fredkash crashing to the mat, Yasha takes the opportunity to go for her second pin attempt of the match. Fredkash manages to kick out at 2. Yasha brings Fredkash back to his feet but before she can make a move, Fredkash strikes her in the midsection a couple of times. With Yasha doubled over in pain, he makes a running start towards her but Yasha once again avoids the move. Yasha uses the ropes to gain momentum before taking Fredkash down with a Lou Thesz Press, followed by multiple punches. Yasha doesn't lay off for a second, forcing Fredkash to cover up from the shots as best he can. Eventually, he manages to push Yasha off of him. As he does, he quickly springs to his feet and kicks Yasha in the back multiple times.
Keeping her grounded, Fredkash manages to execute a picture perfect Shooting Star Press. Fredkash once again keeps Yasha down for the count. Again, however, Yasha manages to stop the count as she places her foot on the bottom rope. A frustrated Fredkash begins to argue with the referee but this just allows Yasha to recover and pull Fredkash into another roll-up. Again, Fredkash kicks out. However, Yasha stays in control this time as she delivers an uppercut to the jaw of Fredkash, followed by a Roundhouse Kick. With Fredkash down, Yasha decides to put him away completely. As she waits for him to return to his feet, Yasha stalks him for the White-Out (Hangman's Driver). Fredkash manages to counter by lifting Yasha high in the air before dropping her with the Last Ride. He holds Yasha down and pins her to pick up the victory in his debut match tonight.
Michael Cole:
What an impressive match between these two awesome athletes.
Tazz:
I expect this Fredkash is all about sending a message to his brother Pat Heagerty Jr. that is loud and clear and that is I'm coming for you and I can't be stopped.
Michael Cole:
With matches like those it would be in Pat's best interest to take notice and be ready for anything.
---------------------------------------
The scene opens up in Ivory's office with an intense convrsation with Ivory and Cena, the same pair of shoes from last week are shown lounging on the couch with no body or face attached to them.
☭Purple Fury – Ivory:
Johnny you are not being replaced calm down
☭Superman – John Cena:
Calm down you are replacing me! I was your Enforcer just fine.
Ivory:
Sweetie I'm not replacing you, I need you to go on this mission for me. I need to find out about that phone call and that scene we saw earlier. If Amanda did kidnap Rae it is up to me to launch a rescue attempt and save them both from this destructive path. It is what friends do and I trust no one but you to handle this for me.
John Cena:
But ever since he arrived you…is he going to be your new enforcer?
Ivory:
Well it's funny you mention it because he is. Don't worry sweetie we have history and he'll take good care of me.
The camera turns and Jaydan Gabriel comes into view with a huge grin upon his face. He propped his legs off the lounge and stood up and walked over to Ivory so he could prove her point.

Jaydan:
You don't have to worry about anything Johnny boy, I'll take good care of her.... I promise.
Jaydan raised up his arm and put on Ivory's shoulder, trying to act sincere towards John Cena but having an arrogant vibe.
Cena simply glares at Jaydan as Ivory smiles.
Ivory:
Johnny it's fine, Jaydan will take really good care of me.
John Cena:
Yeah that's what I'm worried about.
Ivory:
Sweetie you're not jealous are you?
Jaydan:
My good looks can be a curse, it makes me hard to befriend other guys because they think the ladies would swarm all over me. Even though Ivory is one feisty women and there are certain 'rumors' about my own relationship status, I can guarantee that nothing will happen between us, it's strictly business. No need for any jealously, I'm only here to help.
Cena knocks Jaydan's hand off of Ivory and steps up face to face with him.
John Cena:
I may be gone but that doesn't mean I won't be watching and if you try anything and I mean anything with my fiance' I'll do more than hurt you and I hope you understand that.
Ivory:
That's enough Johnny! Jaydan is not your concern... Amanda and Rae and this whole kidnapping thing is your concern and that is what I need you to be focused on. If you can't trust me than we don't need to be getting married.
John Cena:
No I trust you babe, it's this pretty boy I don't trust. How do you know he even has what it takes to enforce your wishes?
Jaydan:
I guess Ivory was the only one checking out what I was getting up to while I wasn't here. Or even go ask some little redhead that I know about my credentials too. Ivory is a smart woman, she has a brain and knows what I'm capable of. If I some how fail, then I give you every right to kick my ass since this is your fiancee I'm taking care of.
Ivory:
Gentlemen is this not about...
John Cena:
If you so much as let the wind blow her hair in the wrong way, when I come back you'll have a very big problem on your hands and ensure that you only take care of her here in the arena okay.
Ivory:
John!
John Cena:
Yeah I've seen his type before.
Ivory:
Well then trust my instincts when I say I trust him. I trust Jaydan okay and well Johnny...you'll just have to accept that.
Jaydan:
Yeah John, she trusts me okay and you need to deal with it.
Jaydan wasn't trying to hide his cocky tone towards Cena, he had to mock him a bit since it was his nature. Ivory cringes a bit but has to hold her ground.
John Cena:
I don't have to accept anything. You let me tell you...
Ivory:
Excuse me if you are quite through! This is my decision and it is official Jaydan Gabriel is my Wednesday Night Wreck Enforcer. Johnny you have to accept that and complete you mission or...if you don't trust me than the wedding is off!
Cena looks at Jaydan with a fierce glare but he knows Ivory is serious and swallows his pride and hugs her.
John Cena:
Alright baby...alright. Look Jaydan is it? Are you sure you can take care of my Baby and carry out her wishes?
Jaydan:
I didn't mean to start all this drama but I'm pretty damn sure I'll carry out her wishes, you have my word.
With that, Jaydan extends his hand out to John Cena so he could shake it. Cena looks at it and roughly grabs it and pulls him close and smiles before releasing the hand. Cena storms out of the office and slams the door behind him. Ivory looks at Jaydan and smiles while shrugging.
Ivory:
Welcome aboard? Huh, sorry about that Jaydan you are indeed my Enforcer of Wednesday Night Wreck and I will afford you all the power that comes with that position, Johnny will be gone after tonight okay.
Jaydan:
It's all cool. I'm honored to be given this such position. Suppose we shall get to work?
Ivory:
In due time my edible and sexy man, just not now. You shall make your prescence known when I need you the most at when millions are sure to be watching at the next Pay-Per-View. Is that okay with you?
Jaydan:
If you need me, I'll be at your service. I'm up for anything and any challenge. You can always count on me. I'll make my presence known at next weeks Pay-Per-View and I'll make sure that the millions remember who I am exactly.
-----------------------Commercial Break--------------------Michael Cole:
Welcome back to Wreck and the scene before we went to commercial was an interesting one.
Tazz:
Yeah it was, it means Ivory's gonna do something but she's gonna do it her way.
Michael Cole:
Well you have to give the "Devil" her dues, if anybody could pull off a neutral rescue she can but if she can't then she'll do what's best and explain later.
Tag Match: Melissa Jordana & "Princess A" Akasha Monroe vs. Jenny Tuck (accompanied by: Kelly Kelly) & Kristal Marshall
The bell sounds off and it appears that Kristal and Akasha are going to start things off but Kristal quickly tags out to Jenny Tuck and steps back through the ropes laughing and taunting Akasha. Jenny smirks as well as she advances and the two lock up in the center of the ring. Akasha lifts the side of her leg and throws a body shot and transitions the hold into a side headlock. Akasha shoves Jenny back and blasts her with a Back Kick. Akasha quickly grabs her again and pulls her into a Bulldog. Kelly Kelly slaps the mat in support of Jenny as Akasha stands and tags out to Mel. Mel enters the ring and rolls Jenny up by the neck and drives her back down with a hard Scoop Slam. As Mel goes to lift her again she finds herself pulled into a sneaky pin by Jenny but Mel kicks out at the count of one. Jenny and Mel begin to rise and Jenny quickly rakes the eyes of Mel on the way up and makes her way behind Mel planting her with a Reverse DDT. Jenny happily makes her way over to tag out to Kristal who enters the ring with a smirk on her face pointing at Akasha as she grabs Mel by the hair and pulls her to her feet. She executes a Hair Pull Backbreaker and rudely shoves Mel to the mat as she gets down by Mel's head, she puts her elbow across the throat. Akasha tries to enter the ring to break up the hold but is stopped by the referee. Kristal releases the choking maneuver as the referee turns around. Kristal stands and takes a bow drawing heat from the audience and then makes her way over to tag out to Jenny.
Jenny enters the ring and grabs Mel by the hair and lifts her to one knee and Mel blasts her in the stomach with her elbow with all she's got and follows through with another shot, causing Jenny to release the hair and Mel stands and delivers a Front Dropkick that sends Jenny hurtling to the mat. Mel makes her way over and tags out to Akasha who enters the ring and makes her way over to Jenny. As she lifts Jenny who has crawled by her corner, Jenny spins her around and out of the view of the referee as Kristal throws a hard knee to the back of Akasha and Jenny lifts her overhead for a Suplex. Jenny quickly rolls Akasha on her side and begins to kick her in the back repeatedly before yanking her head off the mat and pulling her to her feet to deliver a devastating DDT. Jenny pins Akasha and gets a two count for her efforts and as she slaps the mat to argue with the referee Kristal quickly enters the ring and delivers a Kristal Lyte (Running Shining Wizard) to the rising Akasha. Kristal hastily makes her retreat and Jenny stops arguing with the referee. Kristal and Kelly make their way over to Mel and yank her off the apron and the referee is watching Jenny hit her Bitch-Out (Powerbomb) to Akasha and she goes for the cover and gets the three count victory she has been seeking.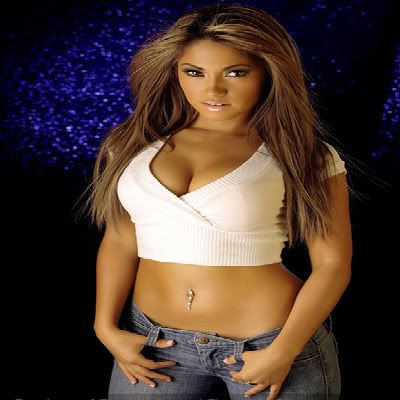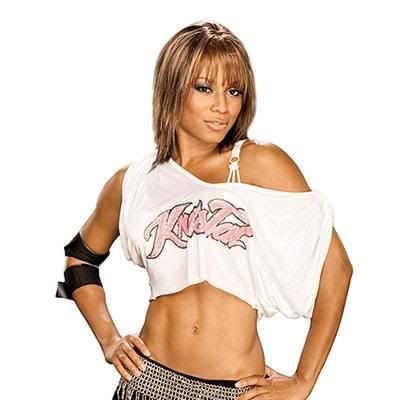 Jenny, Kelly, and Kristal begin making their way up the ramp all smiles and pointing and laughing at Mel and Akasha holding one another up in the ring. Akasha asks for a microphone and as she pants to regain her breath she speaks.
Akasha:
Lemme tell you something heffa. You been duckin and dodging me for three weeks but baaaby at the Pay-Per-View that's when all you owe is gonna kick in! No hiding out in Tag Matches with partners and then you do your little sneaky crap at the last second. It's gon be me and you one on one and you can take that to the bank and cash that. We'll see how funny things are then.
Tazz:
These issues with Kristal and Akasha has this thing glowing red hot Cole.
Michael Cole:
That it is Tazz. I have to say I wasn't surprised at the circumstance but the sheer amount of energy these women have put into this cause.
Tazz:
It's respectable because Kristal did something to the make-up lady that Akasha didn't like and instead of drama backstage in the locker room she brought it out here to the ring.
Michael Cole:
Kristal took exception to being called out and has more than held her own out here. I'm looking forward to seeing these two clash in Singles action Tazz.
Tazz:
That's the only way they'll be able to settle this once and for all.
Single Match: Gregory Black vs. Freddy Funk
The match kicks off with Freddy and Gregory pacing a circle before trading blows in the middle of the ring. Funk begins to get the upper hand, however fucking a punch, Black runs to the far ropes and bounces back, flooring Funk with a running elbow to the head, going for a quick cover, however a tap-out at one leaves the match to continue. As Funk stands, Gregory attempts a sidewalk slam, however Freddy elbows his way out, instead lining it into a DDT, bouncing Black's head off of the canvas. He quickly shifts, and instead attempts a submission, trying a reverse dragon sleeper, however the lock is quickly broken by Black, rolling him across the ring.
The pace having proven nice and fast, the two lock up, Funk trying to control the pace he's created with a northern lights suplex, however not stunned enough, Black is able to put the breaks on before Freddy can put the lift into motion, stepping over his head and grabbing shorts, able to turn it around into a quick spike piledriver, laying back himself on the matt as Funk is sent on a sprawl, the two laying to catch their breath as the quick opening pace has left them both tired for now, using a lot of energy to try and best the other.
Tazz:
That's what happens when you keep a fast pace, Cole, you gotta try and time yourself or else you'll tire out and feel the hurt from some earlier shots.
Michael Cole:
In all fairness, Tazz, considering the tempo these guys have kept up, it's hard not to expect them to tire.
Tazz:
Oh no doubt, Cole, this has been an entertaining match, but remember, pride is on the line here. Black thinks he was screwed out a win last week, and he wants to prove he can beat Funk if the odds aren't against him. Funk disagrees, and he wants prove he can win no matter what!
As the two slowly stand, Funk gains the upper hand, managing to plant a fierce kick to the gut of Black. Causing him to drop to the floor on his chest, Funk runs to the corner, climbing up to the top rope and waiting, lining up for a Flawless Victory (diving fame asser) as Gregory slowly stands. Diving off the ropes, Funk goes flying in, however Gregory manages to side step and avoid it, causing Funk to land harshly on the mat. Taking advantage, Black slides right in, locking in The Black Out (anaconda vice with scissors), holding it tight for a minute or two, the ref down to check Freddy's status. He holds out a little longer, however begins to quickly tap out as it becomes painfully obvious he's trapped.
Michael Cole:
Switching gears here it's time for some X-Division action.
Tazz:
Cole this X-Division has really been putting the pedal to the metal and I don't know how this is going to turn out cause there has been no number one contender named for a Championship match at the upcoming Pay-Per-View.
Michael Cole:
Indeed there hasn't and that has got to be the question that is on everyone's mind in that division. Just how is a number one contender going to be decided?
Tazz:
If I know Ivory I know she has something worked up, she just likes to tease us and make us wait.
Tag Match: "The Predator" Randy Orton & The Miz (accompanied by: "Foxy Diva" Alicia Fox) vs. JBL & UFWA X-Division Champion Patrick Heagerty Jr.
As all four men make their way to the ring one thing stands out the most and it is the one thing they all can't take their eyes off of and that is the X-Division Championship that Patrick Heagerty Jr. just took off his waist and is holding it up in the air greeted by the cheers of the fans in the arena and the hopes of retention from his fans watching at home. The two teams meet in their corners and after a quick huddle the bell sounds and it is The Miz who will start things off with JBL. Miz walks up to JBL with his usual air of overconfidence and trash talks him calling him everything from old to washed-up until JBL blasts him with a clothesline that sends him spiraling to the mat. JBL angrily stomps away on the chest of The Miz yelling at him "I'll show you old boy!" JBL pulls Miz up to his feet but Miz is quick to blast him in the chin with an Uppercut and grabs his arm and whips him across the ring and delivers a Clothesline of his own. Miz gets down and throws some hard punches to the face of JBL forcing the referee to utilize the 5 count, Miz stops at 4 and stands and kicks JBL in the side as if kicking a soccer ball. Miz goes to tag out to Orton who enters the ring does his signature stomps around the body of JBL and feeling that the end is near Orton gets down pounding the mat and stalking his prey. As JBL rises Orton strikes going for the RKO but is shoved from behind by JBL and right into a Superkick from the waiting Patrick who slides back out of the ring to a chorus of cheers from the audience. The referee does not have time to admonish Heagerty as JBL has gone for the cover and gets a two count before Orton manages to kick out. JBL rolls off of Orton and makes his way over to his corner to tag out to an eager Pat. Pat enters the ring by climbing the turnbuckle and leaping off with a Frogsplash on top of the downed Orton.
Pat quickly stands and pulls Orton up to his feet, as Pat goes to lock him in a hold, Orton boots him in the stomach and grabs the tights and pulls him into a Suplex and then pulls him back up and into another Suplex. Miz calls for a tag which Orton ignores and Alicia Fox pounds the mat and glares angrily at Orton as he once again pulls Pat to his feet and delivers a European Uppercut and follows through with a Falling Clothesline. As Orton rises he makes his way over and tags in The Miz who glares at him and rolls his eyes as he enters the ring. Miz makes his way over to Pat who throws a hard shot to the solar plexus that knocks the air out of Miz and Pat hits his Mark of Silence finisher (After a boot to the stomach Pat leaps up in the air and delivers a Warrior's Way to the back of The Miz). The crowd cheers and Alicia Fox immediately jumps up on the apron yelling at the referee and distracting him. Orton enters the ring but is met by a Clothesline from Hell by JBL before he could break up the pin. As Alicia hops down off the apron as JBL comes towards her the referee turns around and sees the cover and makes the three count giving JBL and X-Division Champion Pat Heagerty Jr. the victory.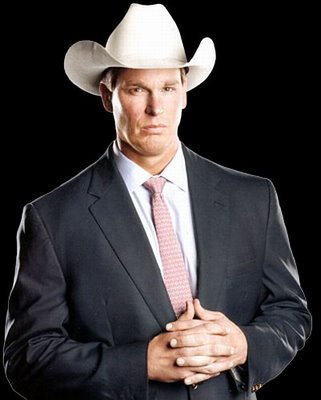 After the match all the competitors make their way up the ramp and through the curtain and as Alicia Fox passes through the curtain she see's Candice Michelle in the photoshoot area taking a few photos for UFWA.com. Alicia grabs a steel chair and runs into the shot swinging the chair at Candice and connecting with her head. Alicia continues to bash her repeatedly with the chair before snatching Candice up by the hair and tossing her through the backdrop and onto the concrete behind her causing the set-up to collaspe completely on top of Candice. As Wednesday Night Wreck goes to commercial.
-----------------------Commercial Break------------------------
As Wednesday Night Wreck returns the arena is somewhat quiet and a somber looking Michael Cole and Tazz are shown.
Michael Cole:
Ladies and Gentlemen, we regret to inform you that Candice Michelle just sustained serious injury during a brutal backstage attack perpetrated by Alicia Fox. The doctors have said that she will be out for an undislosed amount of time while they assess the full amount of damage she sustained.
Tazz:
We wish you the best during your hopefully speedy recovery Candice.
Michael Cole:
So what does this mean for the #1 Contendership of the Women's Championship?
Tazz:
We are about to find out because here comes Ivory.
"Purple Fury" Ivory makes a final decision on the state of the #1 Contender for Lita's UFWA Women's Championship w/"Foxy Diva" Alicia Fox and "Candy Coated Diva" Candice Michelle at ringside
Ivory is all smiles strangely as she stands in the ring. A microphone is handed to her and she turns and looks towards the ramp.
Ivory:
Well look at all of you out there, are you enjoying the show? Of course you are because I'm running it. Ha ha ha! Anyway the reason I am out here is to discuss the number one contender status of the Women's Championship. So let's get started…
Tazz gets up and calls Ivory over and whispers to her what happened backstage as she was on her way to the ring and did not see the incident. Ivory nods her head and walks back to the center of the ring.
Ivory:
Well then apparently the decision has just gotten much much easier. So in that case I would like to be joined by the new #1 Contender Alicia Fox and the Women's Champion Lita.
Alicia makes her way out to ringside first to a chorus of jeers from the audience. As Lita hits the stage and holds her belt high in the air with pride she is met by a resounding wave of cheers from the audience. Lita slowly makes her way to ringside keeping a distrustful eye on Ivory the entire time, which draws a huge smirk from Ivory as Lita steps through the ropes.
Ivory:
Well sweetie if I didn't know any better I'd say you don't trust me much. Truly I'm touched but we'll discuss that at a later time and date. Oh and don't worry your pretty little head about Nicki Minaj embarrassing you yet again tonight. I've given her the night off. But since Candice Michelle is no longer with us on the active roster for the time being. I'm officially naming you the #1 Contender Alicia and now there is the matter of what type of match you two will face off in at the upcoming Pay-Per-View. Now with women who possess the talents that you two have, just any ole' match simply will not do wouldn't you all agree?
Ivory turns and waves her arms to fans to incite a reaction which is met by a chorus of cheers. She mockingly wipes a tear from her eye as she blows a kiss at them.
Ivory:
So what kind of match can I book you in that will do you justice. Oh I know how about a Hardcore Match, that will start in the locker room and can go anywhere in the arena and the belt will be hung in the air above the ring and to win you must climb and retrieve the Women's Championship belt. Do you all like that idea? Why it shouldn't be a problem for you the "Queen of Xtreme" I would think so the scales are somewhat tipped in your favor dear. Never say that I'm not a giving person.
Michael Cole:
Oh my gosh Tazz what a match that was just booked. This is going to be an all out war.
Tazz:
You can say that again just look at them up there Alicia is in Lita's face and they are staring at each other with an intensity that is too much to attempt to describe.
A mixed reaction goes up from the audience and Ivory laughs as she steps in between Lita and Alicia.
Ivory:
Now now Ladies save it for the ring, I can't very well have my Championship match in jeopardy now can I. And that goes for all of you in the back, hear me and hear me well because if you don't there will be consequences. Once there is a number one contender named in your division the only physical contact that will take place between anyone involved in a Championship match at the Pay-Per-View will only come in the form of a sanctioned match that was booked by…me! I hope I'm making myself perfectly clear, I will not have any of you messing up the Wreck segments of the Pay-Per-View. We've got people kidnapping and running amuck around here and I'm not having it. Now then let's go to commercial break and come back with more Wednesday Night Wreck action.
-------------------------Last Commercial Break-------------------------------Michael Cole:
Folks we have taken our last commecial break of the evening and Ivory issued a powerful directive to the entire roster before the commercial break.
Tazz:
There's gonna be some that grumble and says it takes the fun out of things and she shouldn't be concerned but as an someone responsible for matches happening and the show going off without a hitch, she did what she had to do to ensure all her championship matches were covered.
Michael Cole:
Well I certainly wouldn't want to be the one having to find out just what those "dire consequences" she mentioned will be.
Tazz:
Who knows Cole but as creative as our Superstars and Divas are here, if they want somebody bad enough, they'll find some way around what Ivory just said and her hands are basically tied.
Michael Cole:
Speaking of hands tied, that brings us to our next match. Royal Anarchy stole the Tag Team titles that the Motor City Machine Guns rightfully won at Splash-Down and have been in possession of those belts ever since. They made them play this horrendous game and which turned out to be yet another sneak attack and still haven't given the belts back.
Tazz:
One thing is for sure, The Guns are fired up about winning their belts back and will stop at nothing to make these guys in Royal Anarchy pay.
Single w/Manager Match: "The Crown Prince" Samuel vs. 1/2 of the UFWA Tag Team Champions Chris Sabin (accompanied by: Alex Shelley & Melina)
The bell rings and the match gets underway, Sam and Sabin lock up, Sam quickly forcing Sabin to roll across the ring, rolling up to face Samuel, who is now laughing and shaking his head mockingly. As Sabin goes for a running clothesline, Sam ducks, meeting the rebounding Chris with a sudden belly to belly suplex, sending Sabin across the ring, who in turn holds his back on standing, on the outside Shelley and Melina cheer on Sabin, though a little worried as the pace hasn't gone in their favour from the beginning.
Michael Cole:
And this is a quick start to the match this week, Tazz!
Tazz:
No doubt, last week, Samuel suffered a loss, and you gotta bet he wants to make that up, but there's no doubt in my mind that, this week, he'll want to control the pace more physically rather than just taking his time like last week.
Lined up with the turnbuckle, Sabin charges Samuel, who again ducks. Expecting a crash and burn from Sabin, he turns into a springboard body press, flooring both as Chris rolls off, Sam climbing to his feet as he's met with a sharp kick to the head, putting him back down again. Pointing out into the crowd, Shelley and Melina applaud, much more excited now as the energy has turned again. Wasting too much time with the taunting, Sabin is suddenly dropped by a quickly standing Samuel, who takes advantage of the situation using a half nelson suplex from behind, only to follow it up with rolling Sabin over and going for the pin, however losing it at just one as Sabin hasn't felt enough. However by now he has conducted some momentum, grabbing Chris by the waist, twisting around behind him and pulling him up into a German suplex, going again for a pin. The ref this time hits two, only for Sabin to once again kick out. Not happy with how things are going, Melina hops onto the second rope, beginning to distract the ref, allowing Sabin to bend some rules, he hits Samuel with a strong low blow - a return for last weeks game.
Tazz:
Ouch, that shows ya though Cole, no matter who it is, everyone will bend the rules if the stakes are high enough.
Michael Cole:
Even then, Tazz, you can't pretend that doesn't hurt at all.
Dropping to the mat, holding his groin, the ref catches on quickly, and in turn, bans Melina from ringside. As she and Shelley dispute the dismissal of her, Sabin begins to kick Sam's chest repeatedly before pulling him to his feet, delivering a strong shot to the head before following in with a neckbreaker. Control once more in his favour, he hops the far rope and readies for a springboard move. Staggering to his feet, slowly turning, Sabin jumps to the rope, going for a diving body press, however he suddenly finds himself being met with a Purple Dreamz (super sidekick) and sprawled across the ring. Kneeling for a moment and catching his breath, Sam shakes his head, having felt the earlier shots. Shelley going insane on the outside is suddenly met with a set of flying knees to the back from a barrier diving Fear who has emerged out of the audience, rolling across the floor and laughing to his entrance.
Michael Cole:
Oh my God! Did you see ANY of that coming partner?!
Tazz:
Cole I can honestly say, that all of that, was unexpected. I mean that super kick that NAILED Sabin was awesome, but then that sudden appearance from Fear right after? That was a beautiful chain of events!
Realising the situation, Sam rolls Sabin onto his back from his side, going for the cover, one, two, thr-NO! Chris manages to kick out, mostly from desperation, however outside the ring, Fear calls for Sam to finish it, causing his partner to grin. Pulling Sabin up, he lifts him onto his shoulders, moving to the centre of the ring, looking around him before throwing out a perfect Purple Madness, going right for the cover as Sabin bounces on the mat over onto his back, sprawled and unmoving. The ref pulls the call, one, two, three, declaring Sam the winner as the bell rings again, his music hitting the arena.
Outside, however, things aren't done as Shelley gets to his feet, he's rolled into the ring by Fear, who follows him in. Shelley sprawls to his feet quickly, only to find himself on the recieving end of a chokelift spinebuster. Dragging him to his feet and holding him doubled closer to the ropes, Fear sets up for a run in, grinning as it becomes painfully obvious what's to come.
Michael Cole:
This is disgusting, Tazz! The match is over, but these two are still trying to break the two in half!
Tazz:
I guess they want as little resistance from the Machine Guns at the Pay Per View and this is how they plan to-wait what the hell is this?!
Michael Cole:
Oh my God! It's Hardy! Jeff Hardy!
At that, Hardy has hopped the barrier himself with a chair in hand, sliding in with timing, as Fear charges to run, lifting his foot for the boot, he is on the end of a chairshot to the face, sending him under Shelley instead, rolling from the ring. However, Hardy turns his attentions quickly to Sam, charging in with his chair raised overhead, swinging it in as Sam ducks under the rope and out the ring to Fear, pulling him off to the ramp. Jeff, still holding the chair, just stares at the retreating pair, focused on them as they shout and mouth at Hardy as he stares back at them from the ropes.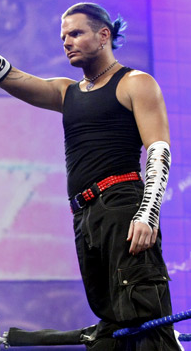 Tazz:
Cole, if it wasn't for that man, right there, I don't think the Machine Guns were even gonna make it to Oblivion, let alone the Pay Per View.
Michael Cole:
Hardy has been chasing Sam for weeks, and you gotta think he got some joy out of that moment there.
Tazz:
No doubt, but it's Samuel he wants, Fear is just a side trap, who knows how this is gonna pan out?!
--------------------------------------------------
Knowing that she is banned from ringside for tonight's match, DeeDee is pacing back and forth in Brutus' locker room thinking about what she's going to do. With the door cracked open, a camera is able to see and hear DeeDee talking to herself in Russian."YA bolʹshe ne mogu pomochʹ vam Bruta. Vy chempion syeĭchas..."DeeDee shrugs lightly as she stops pacing and looks up at the tv in the locker room as she hears Brutus' theme music play."Eto vse, chto ya dolzhen byl sdelatʹ dlya vas. Teperʹ, vy po svoemu usmotreniyu"Hearing the ovation of the crowd and seeing the Combat Championship around Brutus' waist makes DeeDee smile widely as she knows she has done a good job. She blows Brutus a kiss and as she turns to leave, the camera guy hides from her view. Once DeeDee leaves Brutus' locker room and out of sight, the camera guy sneaks into Brutus' locker room and sees a piece of cloth, close to a napkin of some sort on the chair that DeeDee was sitting in. On the cloth is a pair of lips as if DeeDee kissed the napkin and under the lips are two words.
"Love DeeDee"----------------------------------Michael Cole:
Folks it's time for the Main Event.
Tazz:
I been looking forward to this all week Cole. The great lengths these men have all gone to show their dominance is amazing.
Michael Cole:
Indeed it is partner, I just hope we don't get another mysterous message tonight Tazz. I want to know what all this is about or find out if Ivory knows what all this is about.
Tazz:
I dunno but for once I agree with you, I want some answers.
Main Event, Tag Match: "High Roller" Jack Ace & "War Machine" Rhino vs. "Dashing" Cody Rhodes & UFWA Combat Champion Brutus Magnus
"Purple Fury" Ivory has banned all managers from ringside.
Jack Ace and Cody Rhodes start off for their teams. The two lock up. Jack Ace pulls Rhodes' arm behind his back, wrenching it further and further until Rhodes screams out in pain. As Rhodes stumbles forward and latches onto the top rope, Jace Ace releases his arm but then wraps his arms around the waist of Cody Rhodes, taking him overhead with a German Suplex. Ace quickly leaps onto Rhodes as he presses his shoulders against the mat in a pin attempt. Cody Rhodes rolls his shoulder up after the count of 2. Ace brings Rhodes back to his feet but Rhodes begins to fight back with several forearm shots to the side of his head. As Jack stumbles backwards against the ropes, Cody Rhodes takes the chance to run forward and drill Ace square in the chest with a dropkick. Jack Ace falls back through the ropes and crashes to the ground on the outside. Cody Rhodes follows him out of the ring, continually stomping away on him as Brutus Magnus joins him. The two continue to beat down Ace on the outside before Rhino chases the two away. Brutus returns to his spot on the ring apron as Cody Rhodes tosses Jack Ace back into the ring.
After a few more cheap shot kicks, Cody Rhodes tags out to Combat Champion Brutus Magnus. Brutus picks up where Cody left off as he begins putting the boots to Ace again. As Ace soon drags himself to a vertical base, using the ropes for assistance, Brutus Magnus catches him with a European Uppercut. Ace once again stumbles backwards into the corner, leaving him open to a Running High Knee Strike from the champ. As Ace sinks to his knees, Brutus then takes the opportunity to pull him into position for a Release Double Underhook Suplex. Brutus keeps him pinned to the mat but the referee only manages to reach a 2 count before Jack Ace kicks out. As Brutus grabs a handful of Ace's hair, using it to drag him back up, Ace is quick to turn things back in his favour as he connects with a Standing Tornado DDT. Both legal men then begin to make their way to their corners in order to tag in their respective partners. Almost at the same time, both Rhino and Cody Rhodes enter the ring.
Rhino immediately makes a running start towards Rhodes but he leaps over the oncoming War Machine. Rhodes instead takes Rhino down with a Russian Leg Sweep. Cody rolls Rhino onto his back and hooks his leg for the cover. After Rhino kicks out, both competitors return to their feet. Rhino uses his power to gain the upperhand, using that to send Rhodes flying into the ropes. Rhino then delivers an explosive Belly to Belly suplex. Rhino wastes little time in picking Rhodes straight back up and lifting him onto his shoulders. He drops him with a Deathvalley Driver. Rhino awaits Rhodes to return to his feet. As he does, Rhino rushes forward, snapping the unsuspecting Cody Rhodes in half with a powerful Gore. As Jack continues to keep Brutus Magnus at bay, Rhino is able to successfully pin Cody Rhodes to pick up the victory.
Before you know it, within the blink of an eye, the lights in the arena shut off. The crowd goes dead silent, and fuzz appears on the titantron, before coming into focus.



Right as Big Evil's theme hits, the crowd roars, hearing his bike rev up, seeing the light of the front of the bike shine through the curtain. You can hear the throttle start up and see the light getting brighter, seemingly getting closer and closer to the arena. Right then, riding through the curtain, is none other than Big Evil himself, The Undertaker. He pauses at the stage, and turns his head to the lift looking into the crowd for a moment.




With a determined look on his face, Taker turns his head back facing the ring, he pats his chest twice and brushes his leg off, riding down the ramp, turning the corners on the ring, going around it full square, parking his park, facing the entrance ramp. Another pause from Taker as he looks at the fans within an arms reach of him. All he does is shake his head and take his hoodie hood off, turning his bike off, getting off and heading up the stairs, walking to the corner, getting a mic.

Taker leans over and bangs the mic on the ring mat quickly, popping the square off the tip of it, grabbing it and tossing it out of the ring, standing back up straight starting to pace around the ring, scratching his chin, speaking without hesitation.
"This is real damn simple. I been gone, a long long time, and there's a saying, the more things change, the more they stay the same..."
Taker continues to pace, holding the mic up to him, scratching his chin every once in a while after words.
"Now, what that means is, last week, I sent a lil message. And from what I understand, my message was heard loud and clear, so here's what I want...No..no..here's what I
demand
..
Who ever is running this place, who ever is in charge of Wreck, you pay extra attention. Every damn week, you've got this guy facing that guy, and that guy facing this guy.You have this chick facing that guy, and while that's good in all.."
Taker shakes his head and finally stops pacing, leaning over the ropes, looking powerfully into the camera, piercing it with his stare.
"It's all taking place in
my
yard. Which, brings me to my point. I don't care if I have to kick every single person's ass in the back, week after week, things need to start changing around here.
Starting
with the title shot you're gonna give me, and the respect you
owe
me..."
Once again starting to pace along the ring sides, pausing and tilting his head looking into the crowd. His eyes narrow and soft, but evil grin reaches his face. He holds up his hand and two fingers
"That brings me to my second point. You see, there's a little boy here, who thinks he can just walk in and piss in my yard as he pleases. Why? Because he's champion, but, Magnus, what you don't realize, boy. Is I've been watching you, and when people piss in my yard...that's a sign of disrespect, and what I do to people who piss in my yard, it's real simple, son. I'll rub your face in it.
Rule one, now, officially here on Wreck...You
WILL
respect The Undertaker."
Taker sighs softly into the mic and continues to pace back and forth in the ring, listening to the crowd's heat, as he decides to lean back on the ropes and keep talking.
"That's not a choice, and that will never be a choice. You see, it's like this, boys. If we're walking down the same path, and your ass don't change direction... I'll change it for you. This ain't Mary Jane piss in your face fun time, no, not anymore. This is now Deadman Inc, and you
WILL
like it, and if you don't...Try me.."
Undertaker grins devilishly and nods slightly.
"..I'll make you famous.."
Taker tosses his mic away and gets outta the ring, going back to his bike, getting on it, turning it on, and riding away without even looking back. As Undertaker reaches the stage Ivory appears at the top of the ramp and as Undertaker revs his bike she holds a finger up and he shuts his bike off looking up at her with an amused look on his face.
☭Purple Fury - Ivory:
Just a moment Undertaker. First off, welcome to Wednesday Night Wreck but am I to assume that you intend to be apart of the Main Event Division? Now Undertaker I respect you as much as the next but Raven has formed a formidable Main Event division and for me to let you in you simply must give me a better reason to let you in...perhaps there is something you can do or say to spark my interest?
Taker narrows his eyes and takes his hoodie hood off, standing up looking around the crowd, cracking his neck looking down at Ivory.
"You think I won't hit a woman? Get to the point, what do you you want?"
Ivory:
Now now, Undertaker! I wasn't issuing you a challenge, however as the temporary owner of this show I need incentive from you to ensure that me adding you to the Main Event scene is a good idea. I was taught by the best and that being Raven and all that means I'm no fool. So what is the advantage of letting you in and save your ideal threats Taker, you've known me just as long as I've known you so let's really do business without useless threats or banter okay!?!
Taker smiles and scratches his chin, nodding to Ivory, before his grin fades and a slight vindictive grin reaches his face once again.
"Lisa..I don't need a reason to be put into the main event. In fact, let me let you in on something, whether you agree to put me in, or don't, I will be taking that belt, and I'll be taking my yard back."
Ivory:
Taker I know this is your yard however these boys have put a lot in that yard and to include you know means going directly against Raven's wishes. Now to do that I need to know that you and I are on the same page because we all know Raven is not the woman to cross in this "bidnezz"
Takers wipes his eyes and looks back into the ring, he laughs to himself and shakes his head, patting Ivory's cheek.
"I just said things need to start changing around here, and for to you insist that I get on the same page as you, for you to tell me to get on
your
page? Is that disrespect I sense in your face?"
Ivory:
Mar...no they don't deserve to hear your real name. Taker there is no disrespect just facing the reality that someday Raven will return and I will have to defend both you and I on the "red carpet" why not be on the same page here. Let's face it Taker...Rhino is her chosen one so while I'm in charge why not you be my chosen one? Can you not see the logic in that?
"...So Rhino's Raven's boy, huh? Alright, so, Ivory, make me your boy and we'll see eye to eye."
Ivory:
Alright then Undertaker, I'll take you up on that offer, you are now officially my "boy" and soon everyone will know exactly what that means.
Takers eyes stay cold, as he sits back on his bike, starting to back up, and riding out, leaving Ivory on the stage. As the UFWA logo flashes and the screen goes black.