Post by Samuel on Nov 13, 2010 15:50:09 GMT -5
Thank you to everyone the match writers and everyone that sent in skits and ideas. I hope you all enjoy cause everyone worked really hard on this one ;D
--------------------------------------
As usual we see a familiar office, now normally you would see John Cena but this time we see the UFWA X-Division Champion Pat Heagerty Jr. Sitting down in the chair with Mel on top of him as they were in a zone... a kissing zone. That is or was until the door opens and income John Cena and Justin Gabriel and John cleared his throat which made her break up the kiss...
Pat whispers in Mel's ear.
Continue later?
Which Mel whispers yes to before turning to John and Justin.
Hey guys,
Mel is it true?
Asks John as she looks at him a little confused,.
Is what true Johnny?
That "he's" here?
She now got it and shook her head yes.
Yep,,, we just finished up some business a few weeks ago and I'll be announcing his debut a little later tonight.
You know Lisa won't ....
Oh, believe me Johnny, I know she won't which is why were still going along with this plan right?
She asks not knowing about their future and knew Pat was looking at her wondering who "he" was.
Yeah were still together Mel, and now that you agreed to be our valet since...we are now known as "Fallen Dynasty".
All three smile as she whispered something to Pat whose still a little worried about John. True John and Pat worked together in the past but it was weird still for him that Mel and John dated once.
Nice name by the way Mel.
Aww, thanks Johnny, a whole new chapter is gonna begin soon guys and nobody is gonna stop us...nobody will mess with us since I'm gonna be doing double duty by managing you two and Pat...Lisa won't stand a chance.
As she stopped she looked at John and knew he was having a hard time with this and wish she could have done something.
Sorry Johnny.
It's ok Mel, I learned my lesson, I know many people told me about her and I didn't listen but now I'm here to help you 'til the end.
She smiles as the four kept talking as it fades to black.
--------------------------------------Single Match: Rey Mysterio (WNW debut) vs. Gregory Black
Gregory Black makes an immediate running start towards Rey Mysterio but the smaller and faster Mysterio is able to duck below the shot and run off the ropes. Rey is then able to connect with a swift Spinning heel kick to take Black down. With Black collapsing to the mat, Rey hits a leg drop across his throat. Rey attempts an early cover but Gregory Black easily kicks out at 2. Black eventually makes it up to his feet but finds Rey Mysterio running his way again. This time, Gregory Black is able to side-step him and then catch him with a T-Bone Suplex. Gregory Black quickly sinks down to the cover on Rey but he kicks out at 2. Gregory Black brings him back up to his feet and rocks him with an uppercut.
Rey falls backwards. This allows Gregory Black to take a few steps back before launching himself forward again, executing a powerful lariat, that is enough to send Rey crashing to the mat, holding the back of his head after it had smashed against the mat with force.
Tazz:
Ouch! Looks like the power of Gregory Black may just be a little too much for Rey Mysterio to handle tonight.
Michael Cole:
I wouldn't count him out quite yet, Tazz.
Instead of going for the cover, Black picks Rey back up before planting him head-first to the mat with a Brainbuster. With Mysterio laid out, Black hooks his leg and covers him again. This time, Mysterio gets his foot on the bottom rope so that the referee halts his count.
After both men meet in the center of the ring again, Rey catches Gregory Black with a Springboard sitout facebuster. Gregory Black then heads to the outside of the ring to recover and catch his breath. As he eventually finds it up to his feet, Rey Mysterio makes a daring move as he leaps off of the ring apron and catches him with a Diving hurricanrana to Black on the outside. Both men are then left grounded as neither begin to stir. As the referee begins to count the two out, Rey Mysterio eventally makes it back up to his feet at the count of 6. He slides back into the ring with Gregory Black following closely behind him.
As the two lock up, it seems as though Black is about to overpower Mysterio but Rey finds a way to break the hold and slide through the legs of Gregory Black. From here, he lands a drop-toe hold on Gregory Black, sending him snapping throat-first onto the middle rope. Rey wastes no time in connecting with the 619 in order to send Gregory flying back into the ring. Rey finishes him off with a Droppin' Da Dime (Springboard leg drop). Rey Mysterio stays on him for the cover, picking up the victory after Gregory Black fails to kick out.
--------------------------------------
Cooler Than Me by Mike Posner blast and mixed reaction from the crowd begins as she enters the ring and gets a mic.
Oh you people love me more than Lisa so I don't care.
Once again the mixed reaction gets a little louder as she shook her head.
Anyways, I know for weeks now you heard a rumor that there is a new wrestler coming to WNW...well you heard correct. I'm sure you're wondering what happen to him since his promo a few weeks back right? Well, ladies and gentleman it gives me great pleasure to welcome a legacy in the making please help me welcome.....
I Came To Play begins to blast and out comes the Miz in his wrestling attire with Alex Riley and he makes his way to the ring as the crowd continues to boo as she sighs once he enters and gets a mic.
Well, thank you for that warm welcome Mel, I'm touched that's how you see me as ALL of you should....
The crowd boos again.
I wasn't talking about you, you idiot now why are you here?
You know why I'm here and what I want...it's all I wanted since I came here ,I want to become Number one contender, and to face the X-Division Champion.
Mike, Mike, Mike..... see why do I even bother with you, I knew that's what it is cause like you said it's all you ever want but see Mike, I'm gonna say what I'm gonna keep saying No! If you want a shot...
Oh I know I need to earn one right? What do you think I've been doing since I came here Mel, Everytime I get anywhere I always go back to the same spot, and I'm sick of it. I should be number one contender...no I SHOULD be champion and I better get what I want and soon or there will be changes Mel....big changes.
Just as he stepped up in her face she was about to speak the lights went out and a spotlight of a mask was shown in the middle of the ring.
Miz do us all a favor and would you please shut the hell up! You think you're better than everybody? Please Mike, the only reason you keep losing is because you're a loser, and nobody thinks your "awesome" because truth of the matter is your nothing but a coward, all you do is boost up your ego everytime and we see a whining pathetic annoying little man who doesn't get what he wants and were all sick of it.
Oh real cute "phantom" real cute, you think I'm a coward you think you can stop me? Huh? Please, at least I back up everything I do where you on the other hand...
He kneels down to pick up the mask and chuckles
You're the real coward who hides behind this...
Just then the lights went out and some noises were heard and as they came back on we see Mel who was down and out on the mat and we see Rey Mysterio who was going for the 619 but Miz moved out at the last second and Rey accidentally hit Mel as she was slowly getting up. Miz smirked as he started heading back up the ramp as Rey went to go check on Mel.
.....Mel.....Mel you ok?
A few minutes later Pat Heagerty Jr. came out in a brown Lynard Skynard t-shirt, jeans and sneakers as he held Mel's head. He looked towards the ramp pissed.
--------------------------------------Tag Match: Ryan Payne & Freddy Funk vs. Team Epic (Christopher & Mark Frenzy)
Freddy Funk starts off against Christopher Frenzy. The two lock up but before long, Chris Frenzy is able to break it and go behind Funk in order to take him down with a Inverted Falling DDT. Instead of going for the cover, Christopher drags the body of Freddy Funk to his corner as he tags out to Mark Frenzy. Chris holds Funk in position as Mark begins to kick away furiously at Freddy Funk, pushing him further against the turnbuckles. Eventually, Mark is forced back but he hits a quick cheap shot anyway in the form of another kick to the side of his head. With Freddy Funk momentarily knocked out, Mark drags him into the corner and goes for the cover on him. Thanks to Ryan Payne breaking it up, the pin is broken.
Eventually, Freddy Funk makes his first move of the match by going behind Mark quickly, locking his arms around his waist, taking him over with a Northern Lights Suplex. He holds him down for the count but Mark manages to kick out at 2 and a half. Eventually, Freddy Funk begins to make it to his corner but Mark grabs him by the leg. As he pulls him back towards the center of the ring, Mark stands him up, Irish Whipping him into the ropes. As Funk flies back towards him, Mark connects with a Dropkick to his chest. He falls back against the ropes, leaving him open to a Bulldog. Mark then makes his way up to the top turnbuckle and leaps off with Moonsault. Freddy Funk, however, manages to roll out of the way in time, meaning Mark Frenzy crashes and burns.
Michael Cole:
It looked as though Team Epic were on a roll then.
Tazz:
Well, not anymore Cole. After missing that move, I don't think Mark Frenzy will get back into this anytime soon...
This allows Freddy Funk finally make the tag out to Ryan Payne. Ryan immediately Spears the semi-standing Mark Frenzy, breaking him in half. Ryan stays on him, laying into Mark with a series of vicious forearm shots before backing off. As Mark drags himself up to his feet, he manages to eventually tag himself out to Christopher. Christopher lunges forward with a clothesline attempt but misses as Ryan dodges at the last second. Ryan pulls him into a quick Release German Suplex. As Christopher stumbles back up to his feet, Ryan finishes him off by planting him face-first to the mat in the form of a End of Days (RKO). With Freddy Funk keeping Mark Frenzy at bay, Ryan pins Christopher to pick up the victory.
--------------------------------------Single Match: "The Enigma" Jeff Hardy vs. "The South African Sensation" Justin Gabriel (accompanied by: "Superman" John Cena)Justin Roberts - Ring Announcer:
"Ladies and gentlemen, I have just been informed that, at the wishes of both Ivory and our Wreck GM, this match has been changed into a No DQ contest!"
As soon as the bell rings, knowing the stakes, Hardy goes for a very quick clothesline to put the match on the mat, Justin holding his head at the unusual aggression behind it. Hardy rolls out the ring quickly as he goes underneath the apron, beginning to grab a collection of items in a trash can and setting them aside, pulling the apron down again.
Tazz:
"Well, Cole, we're going extreme already, and you gotta remember, this is Hardy's environment!"
Michael Cole:
"We've watched him in countless hardcore rules matches, partner, and you can only guess he's gonna use that experience to his advantage."
As he turns, Gabriel slides with a baseball slide, knocking Hardy back against the announcer table, Justin climbing from the ropes and out, however takes his time, a mistake on his part as Jeff grabs him by the collar, dragging and throwing him back first into the steel steps, knocking them out of place as the crowd even groan in pain to the impact, Justin holding his back in pain. Jeff rolls the trash can full of weapons into the ring, turning and grabbing Gabriel, sliding him in after, joining the two.
Justin, however, doesn't stay down, getting to his feet, he dropkicks the leg of Jeff, knocking him to one knee before dropping him with a forceful facecrusher, causing Hardy to hold his face for a moment, feeling the effects. Gabriel uses the time to upright the can, beginning to dig through and see what he wants, throwing items across the ring that don't suit him - kendo sticks, stop signs, ending on the classic steel chair. He turns to swing, however Hardy kicks up with both feet, bouncing the object off of Gabriel's face.
Tazz:
"There's that experience right there, Cole! Justin is a good wrestler, but I think he might be out of his depth tonight!"
Michael Cole:
"You and me both, partner, that was a sickening chairshot.."
As Justin stumbles, Hardy grabs the stop sign, cracking it against Justin's head, crashing him to the canvas, giving him no time to recover as he pulls him back to his feet, following it up with a sitout jawbreaker, Justin once more collapsing to the mat. Hardy lays back for a moment before standing, stepping over to Justin, once again going to pull him up, however Gabriel grabs the nearby kendo stick, thwacking it full force against the head of Hardy, causing him to stumble back against and off of the ropes. Justin stands, following the shot to the head to one with the back, causing Jeff to collapse on top of the trash can. The opportunity there, Gabriel climbs to the top rope, readying for his finisher, setting it up. With the dive and the flip out the way, Justin looks set to win - however Jeff manages to move quickly enough, Justin smashing stomach down on the trashcan instead, causing it to collapse. Slowly staggering to his feet, holding the midsection, Hardy moves the chair into place, setting up Gabriel before planting him with a Twist of Fate, square on the seat of the chair. However, not finished, even as Justin holds his severely painful head, Hardy rolls him over the trashcan, himself now climbing to the top. A signature gun point taunt and he dives, flipping off to land a chest crushing Swanton Bomb, covering Justin right away to pick up the pinfall, one, two, three.
--------------------------------------
Backstage, Miz was with Alex Riley as Josh Matthews was coming up to them.
Excuse me Miz, but can you tell me what happened out there?
Miz chuckles as he looks at Alex and looks at Josh.
It's simple really Josh, I told Mel I was gonna do whatever it takes to become champion, now if me hitting the Skull Crush finale on the champion girlfriend doesn't make a statement....then get ready for me to make a impact! Because starting next week, I'm not gonna rest until I have that title around my waist... no matter who I have to go through.
Alex smiles as he pushes the mic to him.
You're Dismi……
Just before he could finish their we see Patrick Heagerty Jr. jump into view as Alex runs off Pat throws Alex into the wall backstage as he lets out a loud yell of pain. Pat has a twisted look in his eyes as now the true New York Bad Boy was being shown. He then walks off looking for The Miz.
Where are you, you little bitch!
The camera's follow Pat before Wreck fades to commercial.
--------------------------------------Tag Match: A & M Express (AJ Lee/Madison Rayne) vs. "Princess A" Akasha Monroe (accompanied by: "Shaman of Sexy" John Morrison) & "Quintessential Diva" Trish StratusMichael Cole:
You know Tazz lately Ivory's been giving A & M Express a hard time, calling them a waste and saying they needed to earn their paychecks like everyone else so they need a victory here tonight desperately.
Tazz:
Well that may be a bit difficult because they are stepping in the ring with what some people call the greatest Diva to ever grace the ring.
Michael Cole:
Yes that's right Ladies and Gentlemen, Trish Stratus is making her return to Wednesday Night Wreck this evening in a tag match and her partner is none other than Akasha Monroe.
Tazz:
In a way Akasha needs this victory Cole because she suffered that big loss to Kristal Marshall at Dark Harvest and she needs to get back in the swing of things to keep herself in contendership for the coveted Women's Championship.
Michael Cole:
Indeed she does and there is a long line of competitors ahead of her for that title.
The camera switches backstage and Akasha is standing in the back with a huge smile on her face and not just because the handsome John Morrison is standing beside her grinning at her.
"Princess A" Akasha Monroe:
Oh my goodness babe, tonight I get to be the partner of one of my heroes in this business. There is so much I can learn from her this is a dream come true. I cannot wait to actually meet her in person.
With that Morrison puts on his coat and his arm around Akasha as they head out the locker room door and to the curtain. A & M Express make their way to the ring looking gorgeous and "Dashing" Cody Rhodes is shown watching the monitor in the back with a smile on his face. They enter the ring and smile as they hold their arms up for the crowd. Akasha comes out next with Morrison on her side and they stroll to the ring and head over to her corner. Akasha jumps around a bit and as the lights dim the crowd comes alive as a familiar laugh sounds off through the speakers and "It's Time to Rock and Roll" sounds off. Trish heads to the stage and is met with a thunderous ovation from the audience as she raises an eyebrow and smiles and strolls to the ring. She steps in the ring and heads to her corner completely ignoring everyone to include her tag team partner and as the bell sounds Akasha turns to speak to Trish who has stepped out of the ring and onto the apron finds herself blasted from behind by a spinning heel kick from AJ Lee. AJ keeps on the offensive and drags Akasha away from her corner and pulls her up and begins delivering multiple arm drags. AJ quickly tags out to Madison Rayne who enters the ring and takes the rising Akasha out with a Diving Crossbody. Madison pulls Akasha to her feet and delivers a spinning neckbreaker. Keeping their teamwork going Madison points at AJ who enters and the two deliver The Slice Bomb (turnbuckle powerbomb/sliced bread #2: Madison lifts Akasha to stand on the second rope in a corner. Then she gets in position to powerbomb the opponent as AJ gets onto the top turnbuckle. AJ faces the crowd and sets up for the slice bread. Simultaneously, AJ back flips off of the turnbuckle and Madison forces the Akasha down, both slamming the Akasha to the mat. Ending in a sitdown powerbomb and for Madison to get the pin. The referee gets down and makes the three count declaring A & M Express the winners.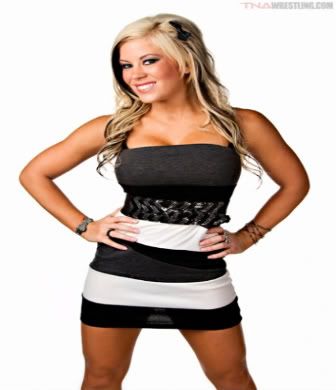 As A & M Express celebrate Trish Stratus steps through the ring ropes and walks over to Akasha and extends her hand to help her up.
Michael Cole:
What a classy move by Trish, she always was...
As Akasha takes Trish's hand she is yanked to her feet and a Chick Kick is delivered. The audience is in disbelief and Trish isn't done as she pulls Akasha up and takes her by the head and whips her into the corner and delivers the Stratosphere (Trish runs up to the ropes and delivers a second rope hurricanrana off the top). Trish again pulls Akasha up and finishes her off with a Stratusfaction (rope aided bulldog) before standing up and delivering a bow to the audience who have now begun to boo her.
Michael Cole:
That's terrible Tazz simply terrible all because of one loss.
Tazz:
Not that I condone Trish's actions but it was her big re-debut and she prolly blames Akasha for ruining it.
--------------------------------------Single Match: Fred Kash vs. "The Wrestling God" JBL
As the two men stand on opposite sides of the ring staring one another down with a look that is one hair from crossing from intensity to hatred, the referee calls for the bell. Fred begins to move in and JBL assumes a wrestling stance. Fred lounges at JBL but JBL sidesteps and shoves Fred forward using his momentum against him. JBL laughs as Fred turns around and narrows his eyes in anger. Fred touches the tape on his wrists before taking a quick step and punching JBL right in the mouth. Fred is relentless in raining down blows that cause JBL to rock and reel backwards. The referee begins the 5 count for the use of closed fists and stops just shy of 5. Fred wipes a bead of sweat from his brow and backs up as the referee checks on JBL who says he can continue. JBL pulls himself up to his feet with the assistance of the ropes and shakes his head to get in back into things. Fred looks up at the titantron and it shows his brother Pat and his girlfriend Mel watching the monitor talking to one another about his match. Fred points at the screen and rubs his waistline and mimics a belt around it. He reaches down and grabs JBL by the hair and yanks his head up and taps the side of his face while looking at the titantron before driving it down into the mat. Fred rolls him over and sprints over to the nearby turnbuckle and climbs and taunts before leaping off with a 450 Splash the referee automatically gets into position to count but Fred isn't done yet.
Michael Cole:
What is he doing? He should go for the cover and take the victory here.
Tazz:
Chill this young man is putting on a clinic up there and I got a feeling this one is gonna be a doozy.
Fred shakes his finger at the referee and pulls JBL up off the mat to his feet. The crowd is a bit indifferent as they are formulating whether or not they like this side of Fred but their hatred of JBL is clear but you can feel the pulse going from the splash that just occurred. Fred whips JBL across the ring and as he rebounds off the ropes he is met with a Fred Currana (Lita). Fred rises to his feet and holds his arms up in the air and begins to draw a couple of boos from the audience. Everyone is saving their cheers hoping for an appearance from the X-Division champion to extract some revenge for Fred's interference the last few weeks. Fred pulls JBL up and into a devastating T-Bone Suplex. The screen switches to the back and Pat does go to stand but Mel pulls him back down with a strange smile on her face. Fred then goes for the gusto and executes Californian Express (Fred jumps on JBL and his left foot is on the chest and right foot on the knees. He rides him like a skateboard, and he then jumps off and does a standing moonsault).
Michael Cole:
That's enough partner JBL can't even stand on his own anymore. Why won't Fredkash just go for the cover and end this?
Tazz:
He's sending a message plain and simple and I guarantee the three people who he's sending it to and the entire roster are taking notice.
Michael Cole:
At the expense of another human being no less! Like him or not JBL is still human and even he does not deserve this.
Fred grabs JBL and has an evil look in his eyes as he does the unthinkable and sets JBL up for Pat Heargerty's finisher The Mark of Silence (Fred kicks JBL in the stomach and jumps up in the air and delivers a Warriors Way to The Back. Fred turns to look at the tron before getting down and placing JBL in pin position and going for the cover. The referee gets down and makes the count, 1...2...3! Fred stands and takes a bow and exits the ring as paramedics rush down to the ring.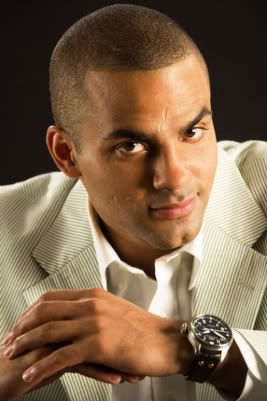 Tazz:
What an impressive victory for that young man right there.
Michael Cole:
Impressive? That was just sick is what it was. Look at that JBL's neck is in a brace and they are wheeling him up the ramp. Who knows what internal damage has been done.
As the stretcher is being pushed up the ramp, Fred comes back through the curtain with a cane and cracks it in half with a blow to the skull of JBL. Security rushes out to take hold of Fred as he places the cane pieces on either side of JBL before being snatched off and carried away.
--------------------------------------Handicap One vs. Tag Match: Daniel "Jaydan" Widdel & "Superman" John Cena vs. "The Crown Prince" Samuel (accompanied by: "Harajuku Barbie" Nicki Minaj)
The bell rings, and Samuel looks on the disadvantage already. The two men on the other side of the ring grin, knowing they will have themselves an easy match. Nicki watches helplessly as she waits for things to begin, however Ivory's music begins to play as she walks down the ramp, smirking as she has a mic in hand, raising her hand and signaling for the sound to be cut.
Ivory:
"As the temporary owner of Wednesday Night Wreck, and being I have a vested interest in two of the three men in that ring, I have decided to change this both to a one on two and a No DQ stipulation match, and I shall act as both Cena and Hardy's manager, to even the odds, being that Nicki can interfere in the match herself."
Michael Cole:
"Can she do that, Tazz?!"
Tazz:
"She's Ivory partner, and without Rae around, she can do whatever the hell she wants."
Handicap One vs. Two, No DQ Match: Daniel "Jaydan" Widdel & "Superman" John Cena (accompanied by: "Purple Fury" Ivory) vs. "The Crown Prince" Samuel (accompanied by: "Harajuku Barbie" Nicki Minaj)
Samuel shakes his head in disbelief as both Cena and Jayden stand, ready to strike, no long having to wait. The both of them charge at once, however Sam manages to duck, catching them each with a strike. Nicki leans in and grabs the foot of Cena, distracting him as Samuel begins to unload on Jayden early, trying to wear him down fast - a quick win in his best interests. However, Ivory quickly stops it, stepping in and shoving Nicki away, in a position of power however, Minaj unable to retaliate. The opening gives Cena what he needs, stepping in behind Sam and catching him with a double axe handle to the back before dragging him out to the centre of the ring, hooking arms so that Jayden can land numerous successful blows to the stomach, slowly working down Samuel's stomach, tendering it up.
Michael Cole:
"This is just wrong, Tazz! I understand that Samuel and Ivory have history, but Sam can't even defend himself! I may not like the direction he's taken lately, but I can't defend Ivory at the moment!"
Tazz:
"What do you expect me to do about it, numbskull? Ivory is callin' the shots here, and since she's standing right over there, I think that it's in our best interests to just keep our mouths shut!"
Ivory laughs as the two men eventually drop Sam, stomping him in the back and stomach over and over, causing him to cry out in pain, the treatment getting more and more vicious, the stomps soon becoming full scale volley kicks to the spine and the stomach of the man on the floor. Unable to defend himself, and helpless at ringside, Nicki does her best to shout encouragement. Ivory, on the other hand, continues to laugh. However, not for long, as she's cut short by a sudden light dim, music beginning to play - not a usual theme.
Ivory straightens up, as do Cena and Jayden, the crowd erupting as Fear steps from the curtain, a very, VERY pissed off expression on his face, a lead pipe in his hand, hanging it by his side as he stares down the ramp, Taylor Wilde standing by his side as she emerges, he turns to look to her, grinning and nodding, the two charging down to the ring suddenly. The lights go back to their usual, Ivory screaming at security, however they do nothing - not allowed to intervene in a No DQ match. Taylor makes her way around the ring, blocking off Ivory from doing anything while Fear sets to work, sliding under the ropes, he quickly stands, flooring Cena as he smacks his leg, tripping him, turning to Jayden, delivering a hard pipe shot to the gut. The two floored, Fear goes off, rolling the pole from the ring, starting with Cena, he pulls him to his feet, delivering a group of vicious knees to the head, forcing him into the corner, delivering another few - blood staining the canvass before letting him drop to the mat. Jayden, having recovered, attempts a run, however Sam grabs his legs, tripping him up, causing him to sprawl face first to the mat. As he crawls up, Fear drags him into position, lifting him right up, and before Widdell knows what is going on, he's dropped, back first into the knees of Fear, a crippling What Pain Is.
As soon as the two are layed out, Fear stands upright, turning to stare at Ivory, a grin slowly forming on his lips as he rolls out of the ring, Taylor holding Ivory back from running - herself now panic ridden - until Fear grabs her by the shoulders, shouting at Taylor as to what she is to do. "Help Sam cover one of them, now!" Taylor just nods, quickly getting into the ring, beginning to drag Sam over the knocked out cold carcass of Cena. Fear, on the other hand, wraps his hands around Ivory's neck, beginning to choke her, hard, forcing her over the announcers table, kicking, punching and trying to scream as she is denied oxygen.
Fear:
"Who's in control now, Ivory?! Who's in fuckin' control now?!"
The ref begins to count as Sam lays over Cena, one, two, three, giving him the win. As soon as the bell is run, security dive in to help Ivory, prying Fear from his grip, pushing him away, Ivory traumatized as she holds her neck, breathing heavily. Nicki rolls into the ring to check Samuel is ok, Taylor doing the same - helping him to sit in the corner and gain his wits about him. Grabbing a mic, Fear rolls into the ring, grinning as he watches Ivory do her best to get up the ramp quickly, pulling a piece of paper from his pocket, holding it up.
Fear:
"Besides this bein' a No DQ contest, in which case, ye cannae lock me away fer anythin' in terms of interference, ye might wanna look at this. See, this is a sheet, Ivory, tha' certifies mah seein' of a shrink - an jus' like ye asked, a credible one. Doctor C. Straum of the Psychological Institution of Kentucky. As of tonight, ah was officially re-instated as a superstar under the UFWA banner and a wrestler under the Wednesday Night Wreck brand! I jus' beat yer fuckin' game, bitch!"
--------------------------------------Single Match: "The Pretty Rose" Poison Rose vs. "The Deadly Enforcer" Vipera
The competitors make their way down to the ring with fire in their eyes. Rose steps in the ring and narrows her eyes at Vipera and as the bell rings she explodes out of the corner and takes her down with a vicious clothesline. Vipera springs to her feet and flies at Rose with a Crossbody that takes her down and the two roll around on the mat trying to gain the upper hand on one another. Rose comes out on top and begins punching Vipera furiously before being grabbed by the hair and rolled over and the punches begin flying the other way as Vipera sends down a fury of blows. The referee begins to count to 5 and Vipera releases the hair and yanks Rose to her feet. Rose battles back with a kick to the stomach and reaches down and grabs Vipera and pulls her into a Powerslam. Rose quickly rises to her feet and begins kicking at the downed Vipera and catches her foot and whips her down to the mat as Vipera kips up and delivers a powerful double axe handle drop to Rose.
Michael Cole:
These women are putting everything they've got into this match and it appears they seriously want to hurt one another Tazz.
Tazz:
Whatever gave you that idea genius?
As Vipera prepares to deliver another drop, Rose rolls out of the way and Vipera connects with the mat. Rose stands and punts Vipera in the side that causes her to roll over and Rose again kicks the downed Vipera. Rose gets down and begins to drive Vipera's head into the mat repeatedly. Vipera thrashes about and Rose finally loses her grip and stands up staring down at Vipera who kicks Rose in the knee causing her to fall. Vipera stands holding her side and pulls Rose to her feet and delivers her signature Side Effect (A series of palm chops before a devastating kick to the side of the head). Rose goes down and Vipera quickly goes for the cover but Rose shows her determination and kicks out at two. Vipera is in disbelief and slams the mat in frustration before standing and getting in the face of the referee. Vipera begins to shove him back and pushes him into the corner before delivering an Anak Krakatoa (Knockout punch).
Michael Cole:
This has gone to far somebody get out here and stop this.
Cause a Scene begins to play and just as Vipera pulls the referee up Ivory's voice rings out throughout the arena.
Ivory:
Vipera you stop that this instant! I will not have you...
Vipera delivers another Anak Krakatoa (knock out punch) to the defenseless referee and Ivory waves her arms and security swarms the ring and they take Vipera down and when they unpile themselves Vipera is in a straightjacket. Ivory unfolds a piece of papers that she pulled from her pants pocket and waves it at the ring.
Ivory:
I know your dirty little secret Vipera and guess what you may have escaped that insane asylum with Raven's help so you could be her enforcer, but because of your actions just now I'm sending you on a one-way trip back there. Get that menace out of my ring and out of this arena this instant!
Michael Cole:
I always knew she was not right in the head Tazz.
Tazz:
Makes sense I suppose but it shows just how deep the hatred between Amanda and Raven goes.
Vipera is pulled out of the ring and up the ramp, she hisses at Ivory as they pull her past and through the curtain. Amanda runs down to the ring and helps Rose to her feet and up the ramp as Wednesday Night Wreck goes to commercial.
--------------------------------------Intergender Tag Match: The Miz & UFWA Women's Champion "Foxy Diva" Alicia Fox (accompanied by: "Miss V" Amiee Vaughan) vs. X-Division Champion "NY Bad Boy" Pat Heagerty Jr. (accompanied by: Melissa Jordana) & "Queen of Xtreme" Lita

As Alicia Fox, The Miz and Amiee Vaughan made their way to the ring for their match, Lita, Patrick Heagarty Jr. and Melissa Jordana talk tactics while they wait. As their music dies down, the Women's Champion grabs a microphone before standing in the center of the ring.
♥ - Alicia Fox - ♥
Lita, Lita, Lita... I suppose you're pretty proud of yourself, huh? I bet you're feeling damn pleased right about now. Last week on the Wreck vs. Oblivion joint show, you defeated some newbie kid, Jessie McKay. Well done, greeeeaaaat achievement. Because noooobody else could possibly defeat some rookie like her.
[/color]
Alicia rolled her eyes but began to smirk after ending her sarcasm there.
♥ - Alicia Fox - ♥
That definitely wasn't THAT impressive, Lita, so don't walk around with your underserved sense of pride... you didn't do anything spectacular. But well done on the victory nonetheless, I bet you managed to revive just a little bit of dignity, right? And I bet you're even happier about the fact that I happened to have erm...[/color]
Alicia stopped there for a moment as her smirk faded and Lita snatched the mic from her.
Lita:
"You lost. Go on, say it. I know it's hard for you to accept that you're actually not as good as you believe you are. Alicia, you are just straight-up pathetic. You're nothing more than a little girl... in fact, no, you're a spoilt little brat, who thinks she's better than everybody else in the world. Well, I've got news for you, Alicia. You've only got Ivory and Amiee Vaughan to thank for getting where you are now. Trust me, you can't defeat me single handedly. Nuhuh, no way."
"If you and I were to face off again, of course with the Women's Championship on the line and we were just in a singles match with Amiee, Ivory, and every single other person on the roster banned from ringside, then I think you'll find that I'd come out on top. And Alicia? Don't even get me started on an 'undeserved sense of pride'. Honey, you're full of it. Grow up, little girl."
Alicia pouted, clearly upset at being talked down to, as she pulled the mic towards herself.
♥ - Alicia Fox - ♥
Say what you want, Lita. I don't care what you have to say! Because I'm the Women's Champion right now, NOT you and I'm going to keep this title for a helluva long time... I'm not going to let you or anybody else stop me! As I've said before, you're past your best and I think you should just go hang up your boots and slip quietly into retirement, no fuss. That'll do everybody a favor and we won't have to listen to your bitching anymore![/color]
Instead of responding with words, Lita slapped Alicia hard around the face, causing her to stumble back into the arms of The Miz. Eventually, the referee forced all competitors to their corners in order to start the match. The audience is buzzing with anticipation as the bell rings and Alicia brews in the corner while Lita smiles in hers. The Miz and Pat meet in the center of the ring and Miz rubs his eyes as if he's crying only to be punched right in the nose by Pat. Pat grabs Miz and plants him with a Snap DDT and doesn't give him the chance to breath before getting down to lock him in a sharpshooter. Alicia rushes in the ring and quickly breaks that up with a sharp kick to the head, but pays for it as Lita leaps off the turnbuckle and catches her with a Lita-canrana. The audience cheers wildly as chaos once again breaks out. Lita and Alicia begin to brawl as Miz rolls out of Pat's clutches before he can lock in him in a Secret Scream (Haas of Pain). Miz quickly stands and delivers a Discus punch before whipping Pat into the corner and delivering a Mizard of Oz(Swinging reverse DDT). The bell rings as the referee has rung the bell due to Alicia and Lita still being in the ring ending this match in a draw but the competitors are so engaged that they do not hear the bell and continue this brawl in the ring.
Michael Cole:
The match is over Tazz but they are still going.
Tazz:
You wanna go up there and get between them and tell them that?
Michael Cole:
I hate to say it but it seems like Ivory can't keep the Superstars and Divas in line here on Wreck and she seems to be losing control fast.
Tazz:
Usually I'm inclined not to agree with you but she's trying to do to much, whoever this GM is, he or she needs to make themselves known quick, fast, and in a hurry.
In the ring, Lita has whipped Alicia across the ring into the turnbuckle and takes off running as Alicia quickly explodes out of the corner and delivers a one legged dropkick. Alicia pulls Lita up and into a backbreaker. Miz is going for his skull crushing finale but Pat blocks it with a series of back kicks and Pat spins around and returning the message his brother Fredkash sent earlier he grabs Miz and plants him with a Kashcity (RKO). Amiee and Mel slide in the ring to assist with the chaos and meet face to face.
Michael Cole:
Uh oh this can't be good partner, those two absolutely despise one another with their history behind Jaydan.
Tazz:
You got that right, the sparks are about to fly.
They stare one another down for a moment before Mel smiles and reaches out and grabs Amiee by the hair. Amiee goes on the defense and rakes Mel in the eyes. The two go down to the mat in an intense cat fight as the audience goes wild. It isn't until Ivory appears on the titantron with a cross look on her face and yells that it draws the attention of everyone.
Ivory:
I can take a hint, you all want to do bodily harm to one another. Fine but this match has ended in a draw and you should not be in the ring, the bell rung almost 5 minutes ago and I wanted to see just how long you'd keep this up. You all want a piece of one another fine by me. Next week there will be a 6 Person Captain's Fall Elimination Tag Match, Pat Heagerty is captain for team one which will consist of Lita and Mel and Miz is captain of team two which will consist of Alicia Fox and Amiee Vaughan. Now clear the ring immediately and I will tolerate no more foolishness of this sort tonight.
Michael Cole:
Now that's a blockbuster of a match that was just made partner.
Tazz:
I agree Cole, maybe some things will get settled in that match next week.
Michael Cole:
One can only hope partner, one can only hope. I see this situation getting worse before it gets better.
--------------------------------------
It becomes dark in the arena and the song "Feuer frei" from Rammstein is played.
As the lights go on again Amanda stands on the stage, dressed in a really short jeans shorts, a white sports bra and some really high heeled shoes. The fans begin to cheer at her and she waves at them and blows kisses at them.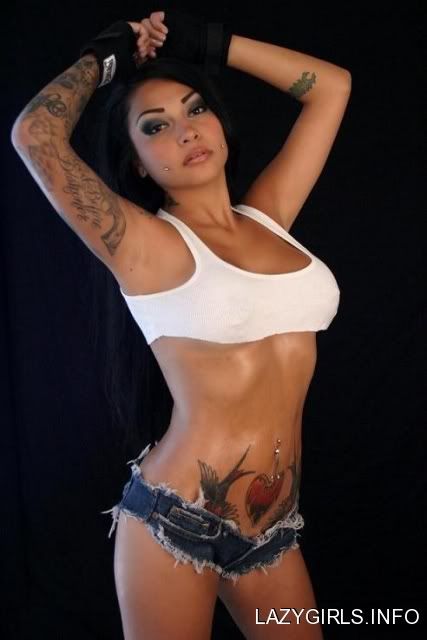 Then she slowly walks down to the ring, still waving at the fans. She seems to be pretty relaxed and in a really good mood, even though she has a really hard match now. Then she comes to the ring and slides insides. She kicks her high heeled shoes out of the ring now and then she climbs on the robes and raises her arms in victory. Slowly the fans calm down and she hops down from the ropes.
~Amanda~
"Ok ladies and gentlemen, I think you all know what awaits ya in this main event. You will see a battle royal with me, Undertaker, Rhino, Rhodes and Jack Ace and the winner will be the new no.1 contender.
She pauses for a moment and now her facial expression changes. Now she doesn't look happy and cheery anymore and then she speaks with a lowered voice.
~Amanda~
"I really don't see any reason in this crappy match. You all may remember that I won a title match a few weeks ago and so there's really no reason for this match. Why do I have to fight again to become the no.1 contender? I am it already. I really don't know what's wrong with Ivory so that she puts me in this match. It's not fair and I hate it to get screwed. It sucks so much.
But it even comes worse, she should know that I really don't have any chances in a battle royal. I mean as small and petite as I am I really shouldn't even try it. All these monsters will wipe the floor with me. Or can anybody tell me how I should throw a guy like the Undertaker over the top rope. Fuck …I really shouldn't waste my time with trying it."
She pauses for a moment.
~Amanda~
"But there are two reasons why I'm still here. The first reason is that I want this fucken title, even though I don't think that I will have any chance in this match here. But the main reason is that motherfucker Jack Ace. Does he really think that he will get away with hurting and injuring my love Rose? No way, he will pay for it and I will make sure that it will be a really high price. This acting last week will cost him his career and I will be the one who ends it. I'm sorry Jack, but it's not my fault. You wanted this war and started it and now you can have it. You will learn now how it feels to get destroyed by the Goddess of War."
Amanda laughs out and the normally so friendly girl has a wicked smile in her face.
~Amanda~
"Juz don't forget, wherever you are or whatever you do in that match, I'll be here and I'll wait for my chance to take you out. I want that title, but I'm even more interested in getting your ass. So be careful with what you do. There's no place where you can hide."
Now Amanda drops the micro and walks over to the corner where she waits for her opponents.
--------------------------------------Main Event, Over The Top Rope Battle Royal - "Dashing" Cody Rhodes vs. "High Roller" Jack Ace vs. "The Goddess of War" Amanda vs. "Big Evil" Undertaker vs. "The War Machine" Rhino
All 5 competitors start with circling one another but it's Jack Ace and Amanda who run at one another, locking up. Jack Ace powers Amanda down to a knee but she doesn't give up as she punches Ace in the gut. He falls forward, allowing Amanda to take him down with a Swinging Neckbreaker. From here, Amanda drags Ace into a seated position in the corner and applies a Foot Choke, pushing him further into the corner and leaving him gasping for air. Eventually, she's forced to back off but she stays on the attack. Meanwhile, the other three competitors had been fighting it out on the opposite side of the ring. Rhino takes Cody Rhodes down with an explosive Belly to Belly Suplex before awaiting for him to return to his feet.
As Cody stumbles up, Rhino speeds forward and turns him inside out with a Gore. Before Rhino can attempt to take Rhodes out of the ring, he's met with a Heart Punch from Undertaker. With Rhino attempting to overpower Undertaker and shove him over the top rope, "Big Evil" manages to hold on. After Undertaker drives his knee into the gut of Rhino, he doubles over in pain. Undertaker leans Rhino back against the ropes before catching him with a devastating Big Boot to the head, which has enough power behind it in order to send Rhino crashing over the top rope and down to the ground below, to be the first eliminated. Cody Rhodes then launches an attack on Undertaker from behind, sweeping his legs from under him. With Undertaker crashing to the mat, Cody Rhodes attempts to keep him down.
Meanwhile, Jack Ace and Amanda continue to brawl all over the ring until they end up trying to force the other over the top rope. Eventually, both fall over the top but both manage to hold on. Quickly, Amanda boots Ace in the chest to force him to fall to the ground to be the next eliminated. With The Undertaker continuing to dominate Cody Rhodes, he drives Rhodes into the corner turnbuckles with the Snake Eyes. As Rhodes stumbles backwards, The Undertaker rushes forward to try and eliminate him but Amanda catches Taker with an Enzuigiri. Amanda lays into The Undertaker with several forearm shots but he fights her off with one powerful kinfe-edge chop to the chest.
With Amanda falling backwards, Cody Rhodes tries to take Taker out. As he lands a dropkick to the chest of "Big Evil", he almost tumbles through the ropes but holds on. Amanda then assists Rhodes in attempting to take him out again. After each hitting several powerful shots on him, The Undertaker soon finds the double-team from Amanda and Cody Rhodes to be too much as the two are finally able to dump the body of Taker over the top rope. The Undertaker, however, hold on. From on the ring apron, Taker grips Amanda by the throat. He delivers a thunderous chokeslam to her but Cody Rhodes takes advantage of this situation by landing another dropkick to Taker, sending him crashing to the outside and therefore ending up eliminated.
With Amanda send crashing into the corner, Rhodes looks to finish her off with the Cross Rhodes (Spinning Facebuster). Amanda has other ideas as she manages to counter by leaping up and connecting with a Hurricanrana. Suddenly, we see Jack Ace return to the ring as he assists Cody in turning things back in his favor as he trips Amanda. A distracted Amanda is then left open to a powerful clothesline from Rhodes, which is enough to send her tumbling to the outside. Thanks to Jack Ace's interference at the end, Cody Rhodes is named the winner and NEW number one contender to the Combat Championship.
[/center]