Post by Kirsten on Nov 28, 2010 9:27:59 GMT -5
Thanks again to all match writers and those who sent in skits, this is another awesome show. If have any adjustments that need to be made to your PPV matches, then let me know asap

--------
Oblivion opens backstage where "Futureshock Vixen" Kirsten is sat on the edge of her desk with Marcus Brett stood in front of her, with his arms folded over his chest. Kirsten started by letting out a sigh as she looked over to him,
Kirsten:
"Alright Marc, I'll make a deal with you. I'll add you to the Heavyweight Championship match at Fatal Lock-up.... that's absolutely fine with me. But in order for that to happen, all you have to do is win tonight against Santino Marella. So if you beat him -"
Marcus just stifled a laugh.
Marcus Brett:
"Did you just say IF I beat Santino Marella? Kirsten, do you really think there's a chance that somebody like Santino Marella can actually do anything in the ring? Do you really think he can beat me? Is that for real?"
Kirsten rolled her eyes as she hopped off the desk and wondered over to Marcus, taking him by the hands.
Kirsten:
"Honey, of course I think you can beat him. I just figured people might judge if I just hand the shot. Afterall, you're always the one bitching that you want to work for opportunities. So now is your chance. If you really want a title match, then I'll happily give you the chance to earn it."
Marcus just nodded his head.
Marcus Brett:
"Alright, fair play. Well, that'll be easy. Destroy Santino and head on into a title match. I appreciate it, Kirsten."
Kirsten:
"Before you get too excited... erm... well, I was thinking about perhaps offering this opportunity to somebody else too.... "
Marcus raised an eyebrow inquisitively, urging Kirsten to go on as she let out another sigh and wondered back to her desk.
Kirsten:
"Now, as much as I usually don't care about giving people 'equal opportunities', I feel as though it would only make sense to perhaps give The Rock the same chance as you. However, his match tonight won't be half as easy as yours. If Rocky loses to Alex Riley, then he won't be in the match. But if he does, he'll be in the title match at Fatal Lock-up too."
Marcus Brett:
"Alright... well, as long as I have my shot..."
Kirsten:
"Ah ah ah, only if you beat Santino tonight, remember."
Marcus Brett:
"Yeah, yeah... "
He said sarcastically before walking out of the room.
--------
Elimination Battle Royal: "Pride of Tennessee" Jacqueline vs. "The Radiant" Rain vs. Nicole Franceschi vs. "Everybody's Favourite Girlfriend" Jessie McKay (accompanied by: Gail Kim) vs. "The Lovely" Lacey
[/u][/b]
At the sound of the opening bell, all five women rush forward and attack whoever they can. Jacqueline takes Nicole down with a quick clothesline before dishing out the same fate to Jessie McKay and then Rain. Lacey makes a running start towards Jacqueline but the "Pride of Tennessee" nails her with an Elbow Smash to stop her dead in her tracks. She then follows up with a Spinning heel kick to take Lacey down. From here, she pins Lacey but Rain breaks it up. With everybody confused as to why she did that, Rain helps Lacey up to her feet and shakes her hand. Both Lacey and Rain then notice Jacqueline now running towards them, so the duo take her down with a double clothesline. After Jacqueline returns to her feet, Lacey takes her down with a sudden Implant DDT. She hooks her leg and pins her to eliminate her first from the match.
Jerry "The King" Lawler:
Well this is certainitely a surprising development, isn't it, JR?
"Good Ol' JR" Jim Ross:
That's right, King. It looks as though this is somewhat of a reunion for former tag team partners Lacey and Rain, who are seemingly going to work together here tonight!
Lacey and Rain's teamwork continues to grow as the two drive Jessie McKay to the mat with a double clothesline. As "Everybody's Favourite Girlfriend" gets back up, Rain runs towards her but gets caught with a Hair-Pull Snapmare from Jessie. Lacey then runs towards her but Jessie ducks and runs off the ropes. As she is launched back towards Lacey, she connects with a School Girl Crush (Yakuza Kick), followed by a Springboard Moonsault. Before she can go for the cover on Lacey, Rain delivers a quick Double Knee Backbreaker. As Jessie stumbles backwards, Lacey connects with a Double knee facebreaker. Rain covers Jessie to eliminate her from the match. Nicole Franceschi then catches Rain off-guard with a Crucifix Head Scissor.
After Rain had flown across the ring, Lacey runs at Nicole but she ducks. Lacey acts quickly though as she takes Nicole over with a German Suplex. Lacey covers Nicole but she kicks out at 2. A frustrated Lacey brings her back up to her feet, rocking her with a Spinning wheel kick. Nicole falls back against the ropes, leaving her open to a cheap shot to the gut from Lacey. Lacey goes back after Nicole but Nicole catches her with a Dragon Whip, followed by a Somersault Enzuigiri to the kneeling Lacey. As Lacey doubles over, Nicole takes her down with the Crushcrushcrush (Cartwheel Bomb). Nicole pins Lacey to eliminate her next. With Nicole and Rain remaining, the two lock-up.
Nicole powers Rain down to a knee but Rain responds with a quick shot to the midsection of Nicole. Nicole stumbles backwards but then rushes forward again to deliver a hurricanrana. Rain springs straight back up to her feet and makes a running start towards Nicole but she dodges. Rain turns back to deliver a Neckbreaker. From here, Rain pulls Nicole into position for her finisher. With Nicole on the shoulders of Rain, she knows what's coming next as she's slammed to the mat in the form of a Acid Rain (Bridging straight jacket electric chair drop). She keeps Nicole pressed down against the mat in order to take the win tonight.
--------
As Oblivion comes back from commercial break, we see "The Lovely" Lacey backstage, grabbing a bottle of water. She takes a sip before she notices none other than "The Radiant" Rain wondering her way.
"The Lovely" Lacey:
I guess congratulations are in order, huh?
"The Radiant" Rain:
[/u]
Well, I couldn't have done it without you. So thanks, Lace. I appreciate the help you gave me out there. I mean, after losing the Diva's Championship all those weeks ago, I've just been sort of out of things a little. It meant a lot to come out with a win tonight.[/color]
"The Lovely" Lacey:
No problem, you deserved it.
Lacey ran a hand through her messy hair as she let out a frustrated sigh.
"The Radiant" Rain:
[/u]
What's wrong with you? [/color]
"The Lovely" Lacey:
Nothing...
She said, shaking her head. Rain placed her hands on her hips, raising an eyebrow.
"The Radiant" Rain:
[/u]
Lacey, we may not be as close as we used to be but I still know you better than you know yourself. It's that tattooed blonde chick, isn't it? She's getting to you... [/color]
"The Lovely" Lacey:
Maria? Well, did you see her out there last week? All over Jimmy, she was. Ugh, she's just so annoying. And she's clearly crazy. I mean, am I the only person who can see that?
"The Radiant" Rain:
[/u]
Nope, I even I can see that. Don't worry Lacey, Jimmy will soon realize that he needs to drop her before that crazy chick ruins his life. He's had enough of certain other women screwing him over. [/color]
Lacey nodded in agreement but her frustration still remained visible.
"The Lovely" Lacey:
And tonight's Main Event? Don't even get me started...
she
[/b] is the one tagging with Jimmy to take on Tyler and Allison? That's a joke. [/color]
"The Radiant" Rain:
[/u]
Lace, calm down. Look, it's obvious that you and this Maria girl are never going to get on. If I were you, I'd cut out the frustration and just do something about it. Take her out of the picture... or you walk out of the picture yourself. [/color]
Lacey just looked at Rain with an unimpressed look.
"The Radiant" Rain:
[/u]
Hey girl, I'm just sayin'! It's up to you what you want to do. But no matter what, I'll be here for you... [/color]
The two nodded at one another as a sign of respect. Rain patted Lacey on the shoulder before turning and walking away as Lacey looked on with a thoughtful expression, obviously working something out in her mind.
--------
Single Match: "King of Controvery" Genesis vs. "Straight Edge Savior" CM Punk
The remaining members of Ego Trip and Straight Edge Society are banned from ringside.
[/u][/b]
The bell rings, but the match doesn't kick off right away, instead Punk and Genesis staring down in the centre of the ring, Genesis beginning to talk down to Punk, the crowd just able to hear it as Genesis begins to shout in Punk's face. "I'm gonna make you a hypocrite!" Punk just tilts his head, a little smirk forming before smacking Genesis across the face with an open hand slap, watching as Genesis goes stumbling off backwards, Punk charges him, dropping Genesis with a running forearm. Genesis slowly gets to his knees, holding his face as Punk crouches, a grin as he claps his hands. "So fuckin' clever! You're gonna lose that match, cause I'm BETTER than you!"
Genesis returns the shot from his knees, punching Punk across the face, causing him to stumble this time. Punk holds his cheek, licking over his lips as his expression drops, far more serious as he turns to run back, however is caught off guard by Gen, being taken down with an arm drag, sending him across the ring. As he stands, he is back first in the corner, Genesis charging in and smacking Punk across the chest with a clothesline. Punk stumbles out, Genesis running off, hitting the far ropes and storming back.
As he reaches the stunned CM, the tables are turned, Punk quickly reacting as he takes control with a running powerslam, quickly covering as he tries to quickly take advantage. The ref only gets a two count however, causing Punk to kneel up and run his hands through his hair, pulling Genesis into a sitting position, pulling arm away from his body and elbowing right into the shoulder blade of Gen, trying to wear him down, burying the elbow in and grinding it right against the bone. Despite his groans of pain from the manouver, Gen begins to get to his feet, forcing Punk to break off, stepping back with a returned smirk of confidence, now sure he himself is controlling the situation.
Genesis takes the lead again, using the opposite arm to blast a series of shots to the face of Punk before irish whipping him to the ropes, using the same arm to land an effective neckbreaker, planting Punk to the floor. Using the moment, Genesis rolls his arm a little, feeling his shoulder to check the extent of the damage before going back to making use of it, bending Punk's arm back at the elbow joint, he triangles it, trying to add extra pressure and force the submission.
With resilience, Punk soon begins to force his way out of the hold, positioning himself above Genesis before kicking him in the side, forcing him to release the hold. Punk stumbles back, shaking out his arm, rubbing the forearm a little as Genesis gets to his feet, stepping in and kicking him in the gut, lifting him to his shoulders. Setting up for the GTS, he goes to push Genesis up, however he rolls off, hooking Punk on the way down, rolling him up. The referee drops to start the count as Gen shifts his feet up onto the ropes, the ref not spotting it as he gets the extra leverage for the one, two, three. As the ref hits the mat the third time, Genesis quickly gets out the ring, heading up the ramp with a wide grin.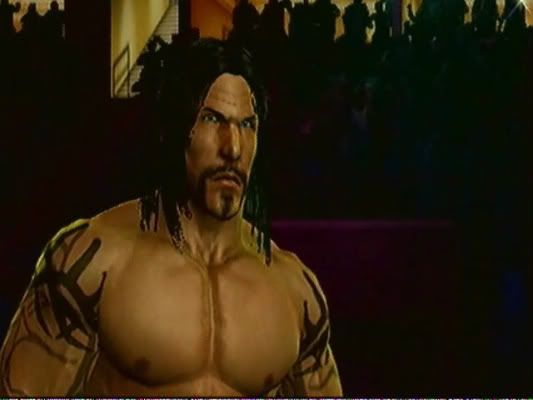 Punk, on the other hand, looks far more frustrated, he kneels, running hand through his hair before standing, reaching out to get a mic. Genesis stops at the top of the ramp as Punk retrieves his t-shirt, heading back to the ropes and leaning out, pointing up the ramp, raising the microphone to his mouth, saying nothing for a moment as he waits for the crowd to quiet.
CM Punk: "..You think you can beat me? You think, with that cheap win, that you've proven ANYTHING tonight? At the Pay Per View Genesis..it's you, versus me, in your ladder match, but here's the stipulation, when I win, I get that case, and I'll make you eat your words, because you'll see, WHY Straight Edge is better..you'll see me, take the only thing that lets you get anywhere NEAR gold, and then, to top it all off, you'll get to enjoy, seeing ME, as your NEW..World Heavyweight Champion. That is my word and my word is a promise. Trust in that, Gen."
--------
The cameras go backstage to see Intercontinental Champion James Storm stood with backstage interviewer Becky Bayless. James himself is wearing a referee shirt, with his title draped over his shoulder.
Becky Bayless:
[/i] James Storm, you're going to be acting as the special guest referee in the match later between Rex Howlett and Edge. I think the question that everybody wants to know is, are you going to call this match straight down the middle?[/color]
James Storm chuckled as he took a bottle of beer up to his lips to take a sip.
James Storm:
Becky, I know that's the question of the moment but honestly, there's only one way I can possibly answer that. I hate Rex Howlett. I think that's pretty damn obvious. But do I hate Edge? Well, aside from the random Spearin' last week, he ain't done anything to be hated by me. So am I gonna call this match fairly or should I base what I do on which of these guys I hate most? Do I really have a reason to be biased either way? Tough call...
James placed a hand on his chin and thought about it for a moment.
James Storm:
... but instead of bullshittin' you for much longer, lemme actually go ahead and answer your question. It's probably not what you were wantin' to hear but let's just say that I'll call this match as I want to. I'll see what I feel like doin' when I get out there. Both these guys want to pick up the victory tonight badly, no doubt about that... they're both determined to make an impact and they're both determined to gain momentum headin' into Fatal Lock-Up.
So what do I do about this match we got in front of us?
He nodded, taking another sip of his beer.
James Storm:
All I'm sayin' is tonight's gonna be fun!
With that, James adjusted the shades he was wearing before wondering off, leaving Becky to shrug.
Becky Bayless:
Well folks, there you go. I guess we'll just have to wait and see how things go later tonight.
--------
Casey's song is played and she comes down to the ring. The fans don't like her too much and now they all boo at her, but Casey doesn't care. She slides into the ring and takes a micro.
~Casey~
Shut up you motherfuckers …
The fans boo again, but eventually she manages it to speak.
~Casey~
I think you already know that I broke up the team with Shelly last week. I think there's nothing much to explain, juz one thing. I don't wanna waste my time with such losers and from now on I will start a singles career. Yeah, you have heard right. And that's not all, I will also go after the main title here. That means that I won't only beat up the girls, but the boys too, so be warmed, from now on the terror begins. I will make you all tap out.
She laughs out in a pretty sadistic way, but then she becomes honest again.
~Casey~
And tonight this horror show will begin when I beat up Laura Jackson. I think most of you don't know it, but I really like Laura Jackson. No, it's even more, I think I love her. But that doesn't mean that we won't fight. It will be Hell of a fight and I hope that Laura understands that this isn't persona. I have to do it ….
Then she drops the micro and walks over to her corner.
--------
Single Match: Casey Cortez (accompanied by: "Futureshock Vixen" Kirsten) vs. Laura Jackson
[/u][/b]
Casey and Laura lock-up at the start of the match, with Casey's strength helping her to take Laura down to a knee. Casey then places a boot on the chest of Laura, kicking her so she falls backwards. Casey goes for the quick cover, with Kirsten cheering her on but Laura manages to kick out. As Laura uses the corner to help herself back up to her feet, Casey runs forward with a Running Knee Strike. Laura collapses to the ground, leaving her open to another pin attempt from Casey. Again, Laura manages to kick out. Kirsten yells at Casey to keep on her, causing Casey to grab a handful of Laura's hair to drag her to her feet. Casey gets in the face of Laura but Laura responds as she headbutts Casey and then follows up with a Superkick to floor Casey.
Laura covers Casey but she gets her foot on the rope to cause the count to be stopped. Laura brings Casey back up, pulling her into position for a DDT. Casey attempts to fight her way out of it with multiple shots to Laura's midsection but she refuses to give up as she completes the move, spiking Casey head-first to the mat. Laura rolls Casey over and covers her but just as it looks as though Laura is going to end Casey, Kirsten distracts the referee.
"Good Ol' JR" Jim Ross:
How did we know that Kirsten would get herself involved in this match?
Laura yells at the UFWA owner but Kirsten responds with a slap to the face of Laura, which sends her flying backwards and into the arms of Casey Cortez. Casey drops her to the mat with a Facecrusher. Casey covers Laura again but only for Laura to kick out. A frustrated Casey drags Laura back up but Laura responds with a Roundhouse kick to her ribs, clearly refusing to be taken down easily. Laura makes a running start towards Casey but she ducks down, taking Laura over with a back body drop. After dragging her into the center of the ring, Casey pulls Laura into position for an Inverted Figure-4 Leg Lock. As Kirsten continues to cheer on Casey, who applies more and more pressure to the hold, soon forces Laura Jackson to submit in order to give Casey Cortez the victory here tonight.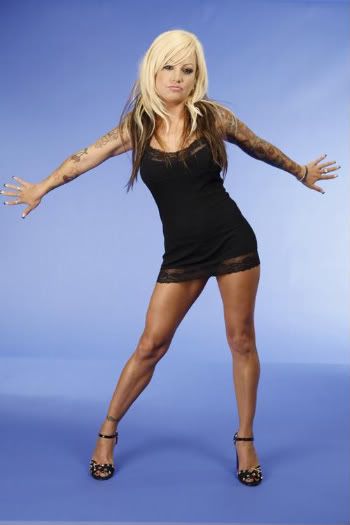 --------
AJ Styles: "Well, I guess I'm thankful just to be where I am today. I'm satisfied where things are going in my career and I'm even more thankful for the existence of the Straight Edge Society. I mean, we know we're making a difference in people's lives, even if people can't clearly see the message, it's there. And to know that we're making a difference, I'm thankful for that."
--------
CM Punk: "What is CM Punk thankful for this Thanksgiving? I'm quite frankly thankful for a lot of things, I'm thankful for being better than I ever had to be, because I learned from others mistakes. I'm also thankful for this business, because it allows me to go that one step further and save more people from themselves. Thanksgiving is a time of year when a lot of people die or get injured from over-drinking and alcohol related incidents, so I want to make those numbers fall."
--------
Special Referee Single Match: "The Inked-Up Extremist" Rex Howlett vs. "Rated R Superstar" Edge
Special Referee: Intercontinental Champion "Cowboy" James Storm
[/u][/b]
The two lock-up, with Rex Howlett powering Edge down to a knee. Edge however doesn't let that stop him as he breaks their struggle and jabs Rex in the throat to send him reeling backwards. Edge then catches Rex with a Half nelson bulldog, rolling him over for the cover. James Storm slides into position to make the count but Rex kicks out after Storm's count of 2. After returning to their feet and meeting again, Edge once again gains the upperhand as he sends Rex flying into the ropes.
As Rex flies back at him, Edge leans forward as he looks to hit a back body drop but Rex leap-frogs over him, catching Edge then with a quick Roundhouse Kick. As Edge collapses to the mat, Rex Howlett goes the cover. James Storm reluctantly begins to count but does so somewhat slowly as Edge is able to easily kick out. Rex stays mounted on Edge as he lays into him with multiple forearm shots, followed by a hard Headbutt. Edge remains sprawled out on the mat as Rex stumbles to his feet.
Rex drags Edge to his feet, using his hair. From here, he goes to hit a Swinging Snap DDT but Edge counters, managing to block the move. He then takes Rex down with a Russian legsweep. Edge rolls Rex onto his back, pinning him. Rex, however, kicks out. As both men meet again, they break into a brawl, eventually tumbling out of the ring. Neither are able to gain the upperhand from here as they each take turns of landing a shot on the other. Meanwhile, back in the ring, James Storm had been beginning to count the two out. Neither competitor realize this until Storm's fast count is over.
As James Storm reaches the count of 10, he declares both competitors as being counted out. James Storm soon rules this match out as a draw due to what had just transpired.
Jerry "The King" Lawler:
Well, what an ending to this match, JR!
"Good Ol' JR" Jim Ross:
Storm did say earlier that he would do what he wanted as the referee and he's done just that. Controversial as it is, this one's over.
As Rex and Edge soon make their way back into the ring, James Storm looks to make his exit but both competitors of the match pull him back into the ring. Both Rex and Edge take a shot at Storm, who attempts to strike them back. Rex catches Storm with an Outlining Sketch (Suplex Facebuster) before Storm then gets turned inside out with a Spear from Edge.
As soon as Edge returns to his feet after completing the move, he gets caught with The Devil's Whisper (The Rock-Bottom) from Rex. Although he wasn't named the winner of the match, Rex Howlett is the last man standing here tonight.
--------
The cameras go backstage to see The Beautiful People all stood in a row, Natalya Neidhart, Angelina Love, Velvet Sky, all with huge smiles plastered on their faces.
Velvet Sky: Hmmm... honestly, there's plenty for the three of us to be thankful for. Don't you girls agree? I mean, our incredible good looks is one thing, of course. And the fact that we're soooo impressive in the ring..
As she spoke, she appeared to be counting each point on her fingers.
Angelina Love: Ooh, my Diva's Championship.
Velvet Sky: ... right, right... her Diva's Championship. Erm...
Natalya Neidhart: ... the fact that we're going to become next Women's Tag Team Champions?
Velvet nodded her head repeatedly.
Velvet Sky: Of course! That too! Guh, I guess there's just so much! We're just thankful that we are who we are and because of that, we're given huuuuge opportunities. We're just pleased to be here and we're loving every single second of it! Everything in our lives is how we want it to be. We love who we are, we love what we do and we love everybody who supports us. Life couldn't be much sweeter for the Beautiful People!
--------
Single Match: Cheerleader Melissa vs. Samoa Joe
[/u][/b]
Before the competitors even make it to the ring for the start of the match, the cameras go backstage to see Cheerleader Melissa and Samoa Joe already brawling in the hallway.
"Good Ol' JR" Jim Ross:
Bah Gawd, King! It looks like this match has already started!
Jerry "The King" Lawler:
If they weren't already, things are definitely personal between these two now!
Melissa momentarily has the upperhand as she goes to slam Joe's head into the wall but Joe holds out his hands to stop himself. Joe then nails Melissa with a back elbow shot, causing her to release her grip on him. Joe then grabs Melissa by the arm and whips her back-first into the wall. Melissa screams out in pain, grasping her lower back in pain, while Joe begins to lay into her with several forearm shots.
Suddenly, somebody runs in between the two and pushes them apart to break up this fight. We soon see this to be none other than Oblivion joint-GM, Terri Runnels.
Terri Runnels
– You two, break this up at once! You were supposed to be in a wrestling match in the ring, NOT a backstage brawl. But if you want to rip each other apart so bad, why not do it at our upcoming PPV?
As Terri's bodyguards had stepped in and held back both Melissa and Joe, Terri looked from one to the other, then back again.
Terri Runnels
[/u] – At Fatal Lock-up, you two are going to go at it in an I Quit match. Maybe that will satisfy the two of you and you can settle whatever is going on between you once and for all! Escort these two out of my sight for now... [/color]
She said, addressing her bodyguards before Oblivion headed into another commercial break.
--------
With the Oblivion fans already excited and going crazy over how the show has been so far, it's almost impossible to think they can get any louder.Just as soon as The Rock's theme starts and the crowd gets even louder, The People's Champ steps through the curtain. Wearing his "Just Bring It" t-shirt along with his wrestling gear and $500 pair of sunglasses, The Rock walks with a purpose down the ramp into the ring. It is obvious he isn't in a good mood as he immediately asks for a mic.
Cut The Rock's music....
The Rock paces around the ring as his them dies down instantly. Looking down, The Rock continues to pace shaking his head back and forth. Suddenly, a "Rocky Got Screwed!" chant starts causing The Rock to stop pacing and look up at the entire Oblivion arena.
You're damn right The Rock got screwed, but The Rock's gonna get to that later because....
The Rock bends over, then immediately back up arching his back and looking straight up."FINALLY.........."The crowd then starts to follow The Rock."THE ROCK HAS COME BACK TO ALLLLBANYYY NEW YOOORK!!!!"The crowd then goes wild as The Rock paces around the ring a little more. Adjusting his shades, The Rock speaks.
Ya know...
The Rock leans against one of the turnbuckles.
In a little over a month since The Rock showed up here in UFWA...he's seen some new faces...some old faces...some older faces....some ugly faces...some hot faces...and two faces in a category all their own...
The Rock starts to pace around the ring a little more as he continues.
And the faces in that category involve both of The Rock's black boots stuck straight up both you're Candy Asses!
The crowd goes wild again as they have a good idea of who The Rock is talking about.
Now The People know who The Rock is referring to...but just in case you two Jabronis are even dumber than you look, let The Rock start from the top....
The Rock pauses a while as he paces.
Jimmy Jacobs....The Rock thought he had you figured out....The Rock thought you of all people would nev....
The Rock then stops and shakes his head looking confused.
Who's The Rock kidding? The Rock "
knew
" you were gonna screw him at Dark Harvest! The Rock "
knew
" you were gonna take the cowardly way out...."
But
"....What The Rock didn't know...was "
How
?" Which brings me to this fan-girl....
The Rock looks like he's trying to remember what her name was. The Rock then looks at the camera guy.
What's her name again? Maria...
The Rock brings the mic to the camera guy, but quickly pulls the mic back."IT DOESN'T MATTER WHAT HER NAME IS!!!!"The Rock circles the ring clearly getting fired up.
The only thing that matters....
The Rock pauses letting the crowd die down a little.
The only thing that matters is The Rock was screwed...plain and simple...and The Rock guarantees...
GUARAN-DAMN-TEES
he will exact his revenge...
The Rock shakes his head pointing to the camera referring to Jimmy Jacobs.
Jimmy...The Rock doesn't care if you had nothing to do with Maria screwing The Rock...in fact The Rock does not believe a single word that comes out of that crap infested hole you call a mouth....so The Rock says this; after he takes care of Alex...Alexa...A-Ri...whatever the hell that jobber's name is this week...The Rock's gonna hand-deliver to you not just any ass whoopin...
The Rock shakes his head.
No no, No...The Rock is gonna hand-deliver to you The People's Ass-Whoopin!
The Rock pauses for a bit, before slowly lifting his head up.
IF YA SMEEEEEEEEEEEEEEEEEEEEEEELLLLLLLLLLLLLLLLLLLL.....................WHAT THE ROCK.........................
The Rock then lifts his head back up and stares into the camera slowly taking his glasses off and tossing them out of the ring like they were just a cheap pair of shades. After a brief pause, The Rock leans closer into the camera and whispers loudly.Is Cookin!....The Rock's music then plays once again as he takes off his shirt ready for his match with Alex Riley.
--------
Single Match: "The Great One" The Rock vs. "A-Ri" Alex Riley (accompanied by: Stacy Keibler)
[/u][/b]
No time is wasted as the bell is rung, The Rock and Riley lock up, stepping around as they push back and forth in the ring. The two shove to break the hold, however as Riley steps back, The Rock drops his hand, outstretching it completely with his hands before stiffly flexing his fingers in and out - just bring it. Riley shakes his head and growls as he runs in to clothesline The Rock, however he ducks and turns, charging back and catching with one of his own, pointing to his head as he looks out to the crowd before turning.
Riley climbs back to his feet, however turning around as he hooks Riley's leg with his own, The Rock grabs Alex by the shoulder, kicking leg out and pulling back, tripping Riley with a Russian leg sweep. Backing up into the corner, crouching down, waiting for Riley to raise, The Rock looks to finish the match early, waiting for the right moment, only to get stopped by Stacey, who slides in and grabs his foot, distracting him long enough to Alex to get to his feet. As Stacey lets go, The Rock turns to be nailed, right into the corner with a clothesline, a few striking shots to follow up with it.
Riley leaves The Rock to stumble out before running behind him, clashing across his back with his full forearm, dropping him onto his chest on the mat, stepping out to the ropes and shouting as he raised his arms in confidence. He soon turned, pulling The Rock to his feet, however going for a shot, Rock ducks, turning Riley around and dropping him with a DDT, the two laying sprawled - only until Rock suddenly springs to his feet.
He grins as he looks around the arena, slowly, before crouching one more time, waiting as Riley tries to climb to his feet, his head being somewhat dazed from the DDT plant. Stacey slides in, trying to interfere behind Rock, however the ref spots it, forcing her out of the ring to the outside. She attempts to argue with the official as The Rock waits, Riley turning before being lifted into a back cracking Rock Bottom. The Rock covers him, however on the outside, Keibler keeps the refs attention - only to find herself being ejected from ringside. Getting to his feet, seeing the following, The Rock stands with Riley laying down between his feet.
He looks around the arena one more time before smirking, raising arm and grabbing his armband, sliding it down before tossing it out to the crowd, a lucky member catching it, giving a shimmying kick with a foot to keep Riley down before swinging his arms back and forth, running to his left, off the ropes, hopping Alex, hitting the right and back, a few theatrics before dropping, planting his elbow right on the sternum and covering one more time, the ref counting it for a one, two, three.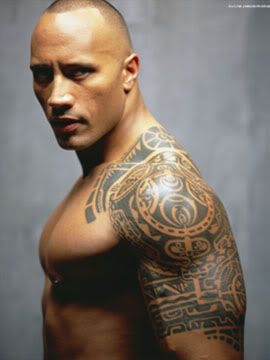 --------
Tyler Black
- "These days, I'm just more thankful for the speedy recovery I've endured this year. I thought my career was over several months ago but now I'm back, better than ever and really in a situation where I can say that I'm happy. I'm honestly loving life and I'm loving the fact that everybody who is a part of my life makes every day worth it."[/color]
--------
Ultimate X Match: "Y2J" Chris Jericho & "Instant Classic" Christian vs. Tag Team Champions Motor City Machine Guns (Chris Sabin & Alex Shelley, accompanied by: Melina)
[/u][/b]
"Good Ol' JR" Jim Ross:
Well folks, as we wait for the Ultimate X structure to be set up here, let's just go back over the past few weeks. First of all, Chris Jericho and Christian challenged the current tag champs, the Guns to a series of matches. Due to Jericho and Christian winning this past week, they've now challenged the Guns to an Ultimate X match.
Jerry "The King" Lawler:
That's right, JR. But was that a wise decision by Jericho and Christian. Afterall, this is the Guns' speciality match.
At the start of the match, both Chris Jericho and Christian begin to climb their way up the structure. The Guns follow them. Sabin drags Jericho back down to the mat as Shelley continues to follow Christian. As Christian shuffles along the cables on the X Structure, Shelley reaches out to grabs for him. He eventually manages to drag Christian down to the mat with force. This allows Sabin to begin stomping away at him repeatedly. As Shelley manoeuvres himself onto the top turnbuckle, he leaps off with a Frogsplash to Christian. Melina points up to the X hanging above them, causing Sabin to quickly begin climbing up the structure.
As Sabin begins to make his way up, Chris Jericho makes his way up on the opposite side. As the two race towards the center of the ring, Christian begins to beat down Alex Shelley. Christian Spears Shelley to the ground before he takes him back down again with a Sitout inverted suplex slam. Shelley rolls to the outside of the ring, with Melina checking on his condition. Meanwhile, Chris Jericho and Christian had caught up with Sabin and the three had begun to struggle in an awkward position at the top. Eventually, Sabin is able to kick Christian back down to the mat. As Sabin reaches out towards the 'X', Jericho kicks his hand away. Jericho reaches out for the 'X' himself but this time Sabin pushes him away.
Sabin continues to kick away at Jericho, until his body eventually drops from the cables, but Jericho just manages to hold on with his hands. Jericho struggles to hang on but is eventually knocked off due to a Missile Dropkick to the chest from Alex Shelley. Jericho heads to the outside of the ring, while the Guns start a double team on Christian. The two take Christian into a Tree of Woe position before they connect with a Bullet Point (Baseball slide by Shelley followed by a Hesitation Dropkick by Sabin).
Jerry "The King" Lawler:
What an incredible move by the Guns, JR!
Shelley then makes a mad dash up the structure in an attempt to reach the 'X'. Chris Jericho, however, has other ideas as he leaps off of the top rope with a Flying forearm smash to the back of Shelley, causing him to drop back to the mat. From here, Jericho stays on Shelley, taking him down with a One-Handed Bulldog before he notices Sabin re-entering the ring. Jericho sees this as an opportunity to nail him with a Springboard dropkick. Chris Jericho now begins to make his way up to the top turnbuckles, leaping onto the cables. He shuffles towards the center, as Chris Sabin joins him in doing the same on the opposite side. As the two meet and exchange shots, Sabin is first to drop down to the mat. This allows Jericho to reach out for the 'X' but Alex Shelley manages to grab onto his legs.
Jericho kicks away at him but as Chris Sabin begins to help Shelley, Jericho falls to the mat quickly. Chris Sabin deliver an enzuigiri on Jericho at the same time that Alex Shelley hits a Reverse STO. Chris Sabin then begins to climb up the structure again but Christian races forward to try and stop him. Before Christian can catch him, Alex Shelley crushes him with a Shellshock (Swinging reverse STO). With both opponents down, Chris Sabin is then able to pull down the 'X' before he can be stopped, meaning that the Motor City Machine Guns take the win.
--------
Shelly Martinez:
So, what did she mean by 'love'?
Shelly Martinez said as she sat perched on the edge of Kirsten's desk.
Kirsten:
"I assume she's as much of a lesbian as her sister."
Shelly Martinez:
So shall we brace ourselves for more creepy sex stories?
Kirsten giggled slightly but then stopped herself as she shrugged her shoulders as Shelly just narrowed her eyes slightly as Kirsten, twiddling some hair around her finger.
Shelly Martinez:
Kirsten, I still can't believe that you've decided to manage Casey. I thought you were always one to make good decisions.
Kirsten:
"Hey hey, I do make good decisions! It's how I've got to where I am today. Though I will admit, perhaps this wasn't the greatest choice in the world here. But if you do end up being correct with saying that Casey ends up only being out for herself and if she perhaps forgets that I'm supposed to be her 'partner' in all of this, as she did with you, then of course, I'll do something about it. But for now, she's got my support."
Shelly Martinez:
Well, don't say I didn't warn you.
Kirsten:
"Hey Shel, don't be like that. It's not as though I'm choosing Casey over you. I believed in both of you girls, that's why I was so dead-set on supporting No Remorse as much as I did. But now that the team is no more, my opinions of you ladies haven't changed. I still do believe in each of you and I know you'll both get far in this business."
Shelly Martinez:
If you say so, Kirsten...
Kirsten sat back, letting out a sigh.
Kirsten:
"Look, I may be out there as Casey's manager but that doesn't mean I'm not going to help you too. If you ever need me, you know where I'll be."
Shelly Martinez:
Thanks Kirsten. And speaking of which, I guess it's time to finally turn my career around... I should get going. I'll catch you later, Kirsten. And just remember, think about what I said before it's too late.
With that, Shelly wondered out of the room to head to the ring for her match.
--------
8-Woman Tag Team Match: "Queen of Harts" Natalya, Diva's Champions Angelina Love, Velvet Sky & Shelly Martinez vs. Daizee Haze, Mickie James, "Puppy Queen" Debra & Gail Kim (accompanied by "Everybody's Favourite Girlfriend" Jessie McKay)
[/u][/b]
"Good Ol' JR" Jim Ross:
Before this match gets underway, let's take you back to last week. Not only did Shelly Martinez and Casey Cortez break up their tag team, No Remorse but Daizee Haze was victorious over Casey Cortez and Velvet Sky. Plus, Debra and Gail Kim were able to defeat Angelina Love and Natalya Neidhart.
Jerry "The King" Lawler:
That's right, JR. All of these women have a score to settle with their opponents and I'm sure they'll do anything tonight to prove which is the better team!
Natalya Neidhart starts by powering Mickie James down with a discus clothesline, immediately turning her inside out. Natalya drags Mickie back to her feet, delivering a backbreaker. Natalya goes for the quick cover but Mickie James kicks out at 2. As her team mates cheer her on, Mickie is soon able to get back into things as she is able to take Natalya down with an Arm trap neckbreaker. Mickie stays on Natalya, laying into her with a series of forearm shots. Mickie soon makes it back to her corner to tag out Gail Kim. Gail enters the ring with a Front missile dropkick to the chest of Natalya.
Gail then covers Natalya but she manages to kick out. Natalya quickly scurries to her corner to tag out to Velvet Sky. Velvet and Gail lock up but Gail soon breaks it, whipping her into the ropes. Velvet delivers a shoulder block to the oncoming Gail to send her crashing to the mat. Velvet then grabs the wrists of Gail Kim after rolling her onto her back. She then performs multiple stomps onto Gail's chest, driving her head repeatedly into the mat. Velvet covers Gail Kim but she kicks out. Velvet heads back to her corner, dragging Gail behind her. Velvet then tags out to Angelina Love.
Angelina begins putting the boots to Gail, as does Velvet Sky until she's ushered back out of the ring. Angelina drags Gail to her feet and catches her with a Leg-feed enzuigiri. Angelina covers Gail but once again, she manages to kick out. Gail Kim is soon able to then tag out to Daizee Haze. Daizee takes Angelina down with a Tilt-a-whirl headscissors. With Angelina sent flying across the ring, Daizee runs over to her, not allowing her to even breath before grabbing onto Angelina's arm from behind her. Daizee takes Angelina over with a Bridging tiger Suplex. She holds her down for the cover but Velvet Sky is first to run in and break up the pin.
"Good Ol' JR" Jim Ross:
Another near fall there. This is definitely a back and forth match. It's hard to determine who may just come out on top here tonight.
Jerry "The King" Lawler:
It doesn't matter who wins, JR. We're all winners with all these divas out here tonight!
After Velvet is forced back to the ring apron again, the now-standing Angelina Love rushes forward with a Botox Injection (Bicycle kick) attempt but Daizee Haze dodges in time. Daizee then pulls Angelina into a Heart punch followed by a Yakuza kick. With Angelina knocked out, Daizee covers her but again, thanks to Velvet Sky, the pin is broken up. Daizee Haze makes the tag back out to Mickie James, while Angelina Love tags in Shelly Martinez. Mickie makes a running start towards Shelly, who quickly pulls Mickie into a Wheelbarrow position, ready to connect with a Casadora Bulldog (Wheelbarrow bulldog). Mickie however manages to counter with a Victory roll.
Shelly Martinez kicks out of Mickie's pin but Mickie drags her straight back up to her feet, knocking her back with a flurry of forearm shots. Shelly eventually fights back with a few shots of her own before executing a Tornado DDT. Eventually, Mickie is able to make the tag out to Debra. Debra runs in, delivering a hard slap to the face of Shelly Martinez to send her stumbling backwards again. With Shelly backed-up against the ropes, Debra takes the time to rush forward and connect with a facebuster, crushing Shelly's face against the mat. Debra rolls her over but only gets a near fall with her pin attempt.
Debra continues to dominate as she strikes Shelly with a sudden Spear, to break her in half. Before she can cover Shelly again, her Beautiful People partners come to her aid and attack Debra. This causes Daizee, Mickie and Gail to rush to help Debra. A fight breaks out between all competitors until Debra gets caught with a sneaky roll-up from Shelly Martinez. She holds Debra down to steal the win for herself and The Beautiful People.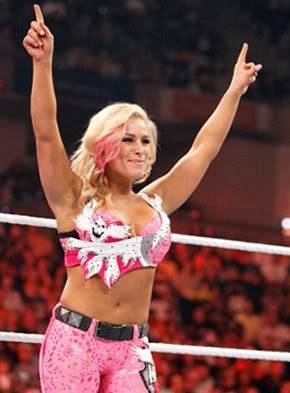 [/center]