Post by Old School Kane on Jul 5, 2010 10:45:00 GMT -5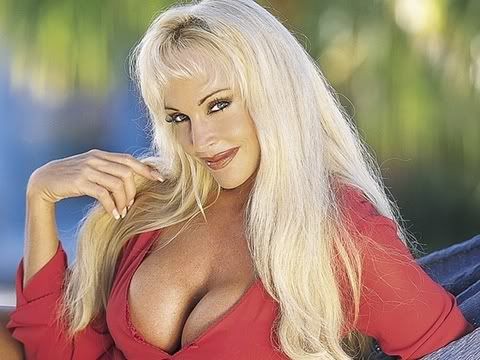 Wrestler Name: Debra
Hometown: Tuscaloosa, Alabama
Height: 5'6
Weight: 125 lb

Relationship: Married to Jeff Jarrett

Trademark
Hard Slap
Getting a Leg Up (Russian Leg Sweep into standing Leg Drop after hands on hip posing)
Figure Four Leg Lock (taught by husband Jeff Jarrett)
Finishers
Puppy Pleasure (Tazzmission)
Animal Welfare (Mic Check)
More information including Backstory...
Full Move Set
Standing
Hard Slap
Kick
Low kick
Club to Back
Stamp on Foot
Grapple (Front)
Snapmare
Suplex
DDT
Headlock
Hair Pulling Snapmare
Spinebuster (to running opponent)
Grapple (Back)
Reverse DDT
Bulldog
Facebuster
Sleeper Hold
Russian Leg Sweep
Headlock into backbreaker over knee.
Low Blow
Running
Shove
Spear
Shoulder Tackle
Chop Block
Lou Thez Press
Ground Attack
Women's angry kick
elbow drop
Leg Drop
Submission
Mounted Choke
Leg Choke
Figure Four-Leg Lock
Single Leg Crab
Turnbuckle
Choke on Ropes
Choke in Corner
Mudhole Stomping
Shoulder Thrusts
Slaps
Flying Moves
Crossbody
Elbow Drop
Leg Drop (middle rope)

Tag Moves
Sweet & Bitter (Debra flirts with male opponent before nailing them with a slap, partner hits finisher. Used in intergender tag match)
Double Suplex
Double DDT
Double Irish Whip hard into corner
Achievements:
1 Time WWF/E Women's Champion
Lt Commisioner 2000-2001
Managed Tag Team Champions, Intercontinental, European and WWF Champion.
PWI Mananger of the Year 1999
PWI Woman of the Year 1999

Fed Achievements/Notes
ZXWWF Best Body Contest 2008 (jointly won with Candice Michelle)
UFWA Women's Champion x 1
UFWA Tag Team Champion x1 (with Jeff Jarrett)
UFWA Women's Tag Team Champions x1 (with Jessie McKay)
UFWA Queen of the Ring 2012


Former founding member of L.O.D (Ladies of Distinction) with Gail Kim & Jessie McKay
2014 UFWA Awards - Couple of the Year - Runner Up with Jeff Jarrett
2015 Splashdown - Bikini Contest winner
2015 UFWA Awards - Manager of the Year
UFWA Hall of Fame - Class of 2016

Custom Titantron


Short Description of Wrestler
Debra is an American Actress and former professional wrestling manager and WWE Diva. She is perhaps best known for her appearances with WWE between 1998 and 2002. Before becoming involved in wrestling, Debra was a beauty pageant participant, winning the runner-up for Miss Texas USA in 1984.
Debra became highly popular for the "Puppies", the name for her large breasts that Debra would use to tease and distract the opponents of whoever she was managing to enable them to get into winning positions to earn victories and championships.
She also won the WWE Women's Championship from Sable (Rena Mero) in unorthodox circumstances despite losing an evening gown contest she was rewarded the belt. Holding onto the belt for just over a month Debra defended against trained wrestler Ivory (Lisa Morreti) in a short match on the June 14th 1999 edition of Raw. With next to no wrestling skills she put up a valiant fight but lost thanks to the interfearance of rival Nicole Bass.
In her personal life she was once married to wrestling icon Stone Cold Steve Austin but this at first happy marriage ended in bitter divorce as a result of domestic violence directed at her.
---
Match Record
Wins:
73
Draws/ No Contests:
13
Losses:
63