Post by Kirsten on Aug 6, 2010 10:27:18 GMT -5
I've decided this is going to be posted early, like it or not, lol. This is a very long show but hey, it's the first Oblivion so I guess it should be. Thanks to everyone who helped with this by writing matches and/or sending in skits. Enjoy :]

---

Friday Night Oblivion opens to backstage and to the scene of Kirsten and Terri Runnels sat side-by-side in their office, looking up at a mysterious person stood in front of them who isn't shown by the camera.

Terri Runnels
[/b] - You think you've got what it takes?[/color]
We assume the person also nods as Kirsten and Terri both nod in response to that.
Kirsten:
"Great. So I know you've literally just finished signing your contract but are you ready to compete tonight? I don't know about you, Terri, but I've just come up with a plan... Ready to give this wonderful person here a title opportunity already? I mean, there's plenty of others who I think could make great champions, but I dunno, I'm feeling we should mix things up a little. Create a little controversy.
Kirsten asked as she looked across to Terri. Terri looks from the person, to Kirsten and then back up to the person, nodding her head.
Terri Runnels
[/b] - Alright. I think I know what you've got in mind. I mean, I've always been a huge fan of you. Prove to me tonight you've got what it takes and I can see huge things in your future.[/color]
Kirsten:
"Oh, I don't doubt it for a second."
She said, looking back up at the Mystery Person.
Kirsten:
"Afterall, you can now consider yourself to be my 'Chosen One'. I'm virtually hand-picking you as the person to tear down the competition on my behalf. As I said, you've pretty much been my hero in the entire wrestling business for a while so I don't see why I can't treat you to a title opportunity tonight..."
Kirsten reached out and shook the hand of the mysterious stranger before Terri did the same. The scene then fades out and reopens to Oblivion announcers "The King" Jerry Lawler and Jim Ross at the announce table ringside, with 'Never Take Us Alive' by Madina Lake playing in the background.
"Good Ol JR" Jim Ross:
Hello folks and welcome to the first ever Friday Night Oblivion taping, "Good Ol JR" here alongside my broadcast partner Jerry "The King" Lawler and we are ready to kick off with one heck of a show.
Jerry "The King" Lawler:
Do we ever JR, the fates have been kind to me because they put me on the same brand as....Puppies....woof, woof, woof! That Michael Cole and Tazz never get any luck.
"Good Ol JR" Jim Ross:
Easy Tiger, we got a whole show to do and we don't need you having a heart attack before the shows end. Folks we're ready to kick off the first of many live events, so buckle up and enjoy the ride.
Jerry "The King" Lawler:
And don't forget JR, after what we just saw in Kirsten and Terri's office, there's going to be a surprise competitor here tonight. Some more fresh meat on Oblivion, who Kirsten has hired as her apparent 'Chosen One'. I just hope it's another diva!
"Good Ol JR" Jim Ross:
You would...
Opening match, Triple Threat match: Roxxi Hunter (accompanied by Legion) vs. Harlow Hunter vs. "The Radiant" Rain
Rain is first to make her move against Roxxi Hunter as the two lock up. Roxxi kicks Rain in the gut before taking her off her feet with a German Suplex. With Rain down, Roxxi squashes her with a Grounded Bodyscissors. Before the move can be fully locked in, Harlow intervenes by delivering an elbow drop to Rain's chest before executing a low-angle dropkick to the face of Roxxi. Roxxi breaks the hold and falls back, rolling to the edge of the ring to avoid any further moves. Meanwhile, Harlow brings Rain to her feet before stunning her with a powerful Bitchslap. As Rain stumbles back holding her cheek, Harlow pulls her into a Chokeslam. With Rain's back smashing against the mat with force, Harlow is quick to hook her leg in a pin attempt. Roxxi breaks up the pin by smashing Harlow in the back of the head. Roxxi and Harlow both meet in the center of the ring and stare one another down. They both suddenly notice Rain crawling back to her feet which prompts the two Hunters to race forward and take her over the top rope with a double clothesline. Now with Rain out of the picture, Roxxi and Harlow are left to determine who the better woman is. The two tie up with a test of strength.
Roxxi Hunter is the first to send Harlow down to a knee. From here, Roxxi strikes Harlow with a Running big boot dropped into the splits, followed by a jumping roundhouse kick to a kneeling Harlow. As Harlow crashes backwards, Roxxi leaps on the cover. Harlow grabs onto the bottom rope to stop the count. Both women return to a vertical base and lock up again. As Harlow pulls Roxxi into a side headlock, she shows no signs of letting go of the hold as she continues to wrench her neck to the side. Roxxi begins to punch away to the ribs of Harlow, eventually causing her to release her from the hold. Roxxi pushes Harlow into the ropes, taking her down with a Kranium Buster (Flipping neckbreaker). With Harlow down and out, Rain enters the ring and smashes Roxxi in the lower back with a forearm smash. She continues her assault on Roxxi, connecting with a neckbreaker and then a diving knee drop from the middle turnbuckle. Rain doesn't have time to cover her as Harlow once again interjects. This time, she viciously grabs Rain by her hair, snapmaring her over into a seated position. Harlow delivers a dropkick to her face.
Harlow smashes Rain's face into the top turnbuckle and then sends a dazed Rain out of the ring following a roundhouse kick to her face. Harlow covers Roxxi but it's too late as she's managed to recover. Roxxi pulls Harlow into a small package but only picks up a nearfall. Harlow takes control again, driving Roxxi to the mat in the form of a Russian Legsweep. Harlow then looks to end things as she sets Roxxi up for the Hunt And Destroy (Chokeslam/Piledriver combo). Rain eventually returns to the match by stopping Harlow dead in her tracks with a sudden Double knee backbreaker. Rain tosses Harlow out of the ring before noticing Roxxi's position on the top turnbuckle. Rain is quick to push the ropes so that Roxxi is made to fall. Rain catches her on her shoulders in order to drop Roxxi with the Acid Rain (Bridging straight jacket electric chair drop). Rain keeps Roxxi's shoulders pinned to the mat in order to pick up the victory.
---
Single match: Chris Crowley vs. "Cowboy" James Storm (accompanied by "Pride of Tennessee" Jacqueline)
"Good Ol JR" Jim Ross:
Now folks earlier this week we heard from "Cowboy" James Storm and he promised to come out here and make this promising Chris Crowley's luck run out, do you think he'll make good on that promise here tonight King?
Jerry "The King" Lawler:
If there is one thing we've learned about James Storm when the chips are done he comes back swinging hard and I for one JR think that tonight will be no different.
"Good Ol JR" Jim Ross:
Well he gets his chance to make good on his word...next.
As Chris Crowley makes his way to ringside the camera switches backstage to see Trixie Callaway gazing at the monitor, he face is blank not giving way to any emotions she may or may not be having. The camera pans back to Chris as he enters the ring. Next "Cowboy" James Storm comes out with a look of all business on his face and the "Pride of Tennessee" has the same look on her face. James enters the ring and stands on the turnbuckle looking out into the audience before hoping down and handing Jacqueline his coat and hat. The referee signals for the bell and the match gets underway with an interesting start. James rushes out of the corner with a Spear in mind and Crowley rushes out of his with a Big Boot in mind and as Storm lowers his head for the Spear, Crowley is picking his leg up for the boot and a train wreck happens and they both fall to the mat. The crowd responds with an "Oh", and both men begin to rise from the mat. They nod at one another and lock up, Crowley pulls Storm into a side headlock but he gets shoved forward and turns around into a Standing enzuigiri. Storm wastes little time and grabs Crowley's arms and hooks underneath and pulls him up and into a Double underhook suplex. Storm goes to stomp on Crowley who grasps the leg and whips Storm down to the mat, Crowley now goes on the offensive and quickly pulls Storm in a Single-Leg Boston Crab. Storm lifts his body and begins to pull himself towards the nearest rope and grabs it. Crowley is forced to release the hold, he stands and yanks Storm up to his feet and begins to hit him with a barrage of knee attacks, he quickly finishes his combination with a quick DDT. Jacqueline pounds the mat to will Storm back in this match as Crowley goes for a quick cover. He gets a two count for his efforts and Storm rolls his shoulder off the mat. The camera pans to the back to show Trixie still intently gazing at the monitor not hearing the speaking Kerri Dalle next to her.
"Good Ol JR" Jim Ross:
Now as I understand it, there's quite a bit of history between these two.
Jerry "The King" Lawler:
I don't like the looks of this JR, history or no history she is going out with Jimmy Jacobs again last I heard.
"Good Ol JR" Jim Ross:
Now just how do you know that King? Ear up to the Diva's locker room door again?
Jerry "The King" Lawler:
A little bird told me. But at any rate do you think we can expect some outside interference during this match.
"Good Ol JR" Jim Ross:
Only time will tell King, folks we'll be back after this commercial break.
Friday Night Oblivion returns from commercial and a split screen comes up with what happened during the commercial break. As Crowley bent down to pick Storm up after that pin attempt, Storm catches him under the chin with an uppercut that sends him down. Storm stands and kicks Crowley right out of the ring. Storm exits and picks him up and Irish whips Crowley right into the steel steps. He walks over and picks him up and bangs Crowley's head on the apron and rolls him under the bottom rope. The split screen closes and we see Storm executing a Swinging Noose (Reverse Tornado DDT). He goes for the cover and gets a two count as Crowley kicks out. Storm bends down to lock Crowley in a Sharpshooter but Crowley fights out of it and blasts Storm in the face with both feet sending him flying backwards. Crowley rolls out of the ring to regroup, he looks over and spies Jacqueline standing not far from him but she holds her hands up and holds her ground. Crowley turns in time to see Storm advancing with a baseball slide in mind and Crowley steps back and grabs the legs of Storm and pulls him out of the ring and swings him right into the barricade. Crowley hops up on the ring apron and leaps off with a Lionsault that connects and draws another huge response from the audience. Both men lie on the floor while the referee begins his ten count. Crowley begins to stir after catching some of that impact himself and crawls towards the ring, and pulls himself up by the count of four and under the rope and into the ring. Storm begins to stir and Jacqueline yells at him to hurry, 6...7...Storm pulls himself up with the help of the barricade...8...Storm slowly moves towards the ring and puts a leg up...9...
Jerry "The King" Lawler:
Oh my gosh JR, he isn't going to make it.
"Good Ol JR" Jim Ross:
Referee is at 9...BAH GAWD he's done it! Storm made it back in the ring.
Jacqueline celebrates and Crowley looks in disbelief and pulls himself up with the ropes as Storm lies there. Crowley now on his feet looks to end things now with Judgment Driver (Electric Chair Driver). He lifts Storm into position but Storm fights and reverses the move and rolls them until Crowley's shoulders are down and Storm is holding his feet on top. The referee counts, 1...2...Crowley barely kicks out but saves the match up. Storm rolls off and slowly begins to stand as a shocked Crowley wonders what happened and begins to rise as well. As he stands he finds himself meeting the boot of James Storm in the form of a Last Call (Superkick). An exhausted Storm falls on top of Crowley whose shoulders are down and the referee gets down and makes the three count. Jacqueline slides under the ropes and enters the ring helping James up.
"Good Ol JR" Jim Ross:
Bah gawd, he's done it, he's won the match.
Jerry "The King" Lawler:
That was a hard fought contest JR.
"Good Ol JR" Jim Ross:
He said he was gonna do it and he did it King. What a phenomenal match-up between these two amazing Superstars.
James Storm and Jacqueline walk up the ramp and Storm turns around and looks at the ring and nods respectfully at Crowley who looks up the ramp at him. Storm turns and puts his arm around Jacqueline and they disappear through the curtain.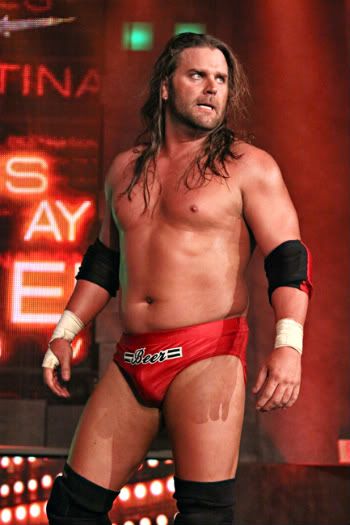 ---
Tag match: No Remorse (Casey Cortez/Shelly Martinez) vs. Hazee James (Daizee Haze/Mickie James)
As No Remorse and Hazee James both prepare for the opening bell to sound, suddenly the sound of 'Toxic' by A Static Lullaby hits over the speakers.
This cues for the Beautiful People to step onto the stage. The duo walk down the ramp as the music begins to fade.
Velvet Sky:
Last week, we did exactly what we said we were going to do. We became the first number one contender's to the Women's Tag Team Championships as we defeated however many other teams in a Gauntlet match to earn that spot. Though we can't really say that's much of a shock, I think we all saw that coming.
Velvet and Angelina high-fived one another.
Velvet Sky:
We've just finished speaking to both Kirsten and Terri about an idea that they suggested and believe it or not, we agree with their idea 100%. You see, seeing as we won the incredible Gauntlet Match last week to cement OUR spots in the Women's Tag Team Championship match, that still leaves us without challengers.
Angelina Love:
And while we love to be unchallenged, seeing as that's what we're used to, we figured we'd be nice and offer you two teams to earn a chance to face us. And why you two teams? Well let's face it, AJ Lee & Madison Rayne nor Michelle McCool & Alicia Fox are worthy of hanging with the Beautiful People whereas we'll actually go as far as to say that you are the more decent of teams. Plus, this means the titles are guaranteed to stay within Oblivion, the clearly more superior brand...
Velvet Sky:
So this match right here, right now is going to be to determine who will face us at UFWA's first PPV. Mickie and Daizee... apparently you girls suggested this idea in the first place. Good idea. But hopefully you don't let yourselves down here. We'll take on whichever one of you wins here tonight. And we'll be watching verrrry closely indeed.
She threw down the mic as she and Angelina walked around the side of the ring, walking over to the announce table and setting up 2 chairs in front of it as they take a seat.
Jerry "The King" Lawler:
I don't know about you, JR, but I'm loving the view from here!
Meanwhile, the bell rings for the start of the match. Mickie James starts off with locking up with Shelly Martinez. Shelly pulls Mickie into a side headlock before Mickie fights her way out it. Shelly is shoved forward into the ropes but she grabs onto them to stop herself. Mickie then runs towards Shelly but she ducks and sends Mickie crashing into the ropes instead. Shelly goes behind Mickie quickly and pulls her into a schoolgirl roll-up. Mickie kicks out. As she springs to her feet, she tags out to Daizee Haze. Daizee kicks Shelly in the midsection and follows up with a Facebreaker knee smash, and then a Yakuza kick. With Shelly down, Daizee hooks her leg. Shelly kicks out and rolls out of the ring. Daizee launches herself through the ropes with a Suicide Dive but Shelly avoids the move connecting, which sends Daizee crashing into the barricade. Mickie rushes to the aid of her partner, while No Remorse pose for the fans and the Beautiful People applaud them.
Mickie helps Daizee back to her feet while Shelly waits for her to re-enter the ring. As she does, Daizee gets beaten down with a series of kicks from Shelly. Shelly then brings Daizee to her feet and crushes her with a Chokehold STO. Shelly follows up with an elbow drop. As Daizee crawls to the corner and attempts to drag herself to her feet, Shelly stops her by pressing her foot against Daizee's throat, choking her. Eventually, Shelly is forced back by the referee. Shelly tags out to Casey, which allows Daizee to also make the much needed tag out to Mickie James. The two meet with a lock-up. Mickie breaks it, going behind Casey and taking her over with a German Suplex. Casey rolls to the edge of the ring and as Mickie follows her over there, Casey kicks her away. As Casey springs to her feet, she delivers a running shoulder block to Mickie, followed by dropping a knee across the side of her head. Casey drags Mickie back up and calls for the assistance of Shelly Martinez. The two connect with a Double Gutbuster before Shelly is ushered back outside the ring. Casey goes for the cover but Daizee Haze breaks it up.
Casey tags out to Shelly, who runs into the ring and plants Mickie with a Tornado DDT. Before Shelly can go for the cover, she turns around into a Heart Punch from Daizee. Shelly sinks to the mat, prompting Casey to enter the ring. Casey and Daizee square off momentarily before both Daizee and Mickie connect with a MDKO (Daizee hits a kick to the opponent's gut, then Mickie hits a roundhouse kick. Daizee follows up with an enzuigiri as Mickie connects with a Superkick.) Casey rolls to the outside, while Shelly is left to be taken down with a Daizee Cutter (Stunner). Daizee begins climbing to the top turnbuckle before helping Mickie get up there too. With both members of Hazee James balancing on the top turnbuckle, they both leap off with a Double Vision (Double 450 Splash), crushing Shelly Martinez beneath them. As Daizee rushes to keep Casey at bay, Mickie successfully covers Shelly to pick up the victory.
As Mickie and Daizee celebrate becoming the next to challenge the Beautiful People, those very people stand up and applaud Hazee James sarcastically from outside the ring. The two teams stare one another down as Oblivion heads into commercial break.
---
Single match: "The Inked-Up Extremist" Rex Styles vs. Ryan Payne
Rex Styles makes his way to the ring feeling stronger after his workout sessions with Genesis. He enters the ring and takes a book from his back pocket and reads silently in his corner and then takes a deep breath and closes the book and hands it to one of the ring attendants. Ryan Payne makes his way down to the ring and enters. The referee checks both men for weapons and finding none he signals for the bell. The meet in the center of the ring and each hold an arm up and lock hands and as they begin to raise the other arm to repeat the process Ryan pulls Rex in and hits him with a short clothesline. Ryan pulls him up and sends him right back down with another one. As Ryan pulls him up again he grabs him and tosses Rex with a Over head Belly to Belly Suplex. Rex hits the ground on his feet and slides, Ryan lifts his arms and Rex looks up and Ryan begins to turn, Rex quickly takes off and delivers a Spear. Rex quickly picks Ryan up and delivers his signature Outlining Sketch (Suplex Facebuster). Instead of going for the cover the man of little words shows the value he brings to the table and pulls Ryan off the mat and whips him across the ring, Rex charges but Ryan pulls himself out of the corner and delivers a Running Big Boot to Rex's face. He does indeed go for the cover but it is not useful as Rex kicks out instantly.
Ryan begins to deliver his Full Body Stomp when Rex grabs his leg as it's coming down and wraps his legs around the torso of Payne and sends him down to the mat. Rex keeps hold of the ankle and grabs the other and rolls Payne over, he crosses the ankles and pulls back with this modified Boston Crab position. Ryan cries out and reaches for the ropes which are just outside of his grasp. He holds his hand up as if he's going to tap but closes the fist and begins to shake. He makes a last ditch effort to pull his body and he grasps the bottom rope. The referee forces Rex to break the hold. Rex pulls Payne away from the ropes and attempts to lock the submission in again but Payne kicks his hands away and drops Rex with a drop toe hold. Payne begins to pull himself up as does Rex, but Rex gets to his feet first and pulls Payne into position for a Chokeslam but Payne boots him in the midsection and hooks his arms for a Double Underhook Backbreaker. He shoves Rex off of his knee and onto the mat. He goes to set him up for the Anaconda Vise and Rex quickly scurries to the ropes. Payne runs and quickly slides under the bottom rope and throws a hard elbow shot to Rex's back. He slides back in the ring and picks Rex up for an Inverted Backbreaker, as Rex goes down again, Payne rolls him on his side and drives his knees in Rex's back repeatedly.
Rex cries out and manages to roll over and cries out in pain as he puts on foot under the bottom rope. The referee cautions Payne who stops but refuses to give Rex time to recover and pulls him up for a Tilt-a-Whirl backbreaker. He pulls Rex away from the ropes and rolls into a cover he gets a 2.9 out of it and Rex wills his shoulder to barely rise off the mat in time. Payne looks at the referee with disbelief and shouts at him. The referee shouts back "Hey I'm just doing my job here!" and points at the UFWA logo on his zebra striped shirt. Rex has dragged himself to the corner and is resting against the bottom turnbuckle. Payne turns and see him and a sick and twisted smile crosses his face, he licks his lips and takes off running with every intention of driving his knee in Rex's face. Rex rolls of the turnbuckle at the last second and Payne's knee connects with the turnbuckle. Rex pulls himself up and delivers a chop block to the back of Payne's knee that takes him down. Rex stands and clutches his back and goes to climb the turnbuckle. Payne sees this and stands and leaps up to hit Rex with the End of Days (RKO) and Rex grabs his arm causing him to miss his target, Payne's body swings hard and hits the turnbuckle and Rex pulls him up releases on arm and grabs his hair and pulls with all his might forcing Payne to cry out and stand quickly. Payne twist his body trying to pull Rex off the top rope, but Rex has locked his legs and Payne has no choice but to climb the turnbuckle. Rex wraps his hand around Payne's throat and from the top rope delivers his Ink Poisoning (Chokeslam Spinebuster). Rex taking a lot of the blow himself as well drapes his arm over Payne and the referee's hand hits the mat three times in succession giving Rex Styles the victory.
"Good Ol JR" Jim Ross:
Oh my gawd King would you look at the carnage in the ring right now.
Jerry "The King" Lawler:
These two young men brought everything they had to the ring tonight and I wouldn't mind seeing them go at it again.
"Good Ol JR" Jim Ross:
You're absolutely right King, that was one heck of a match-up.
---
A replay is shown and then the camera cuts to the Ego Trip locker room. Morrison is all smiles watching his little brother win the match and Maryse stands up off the couch and looks at him and rolls her eyes.
"Sexiest of the Sexy" Maryse: It is because of Genesis that happen, you smile like you had something to do with it.
Maryse turns and walks off and Morrison calls after her.
"Shaman of Sexy" John Morrison: And what is that supposed to mean exactly.
He turns to look at Genesis who smiles smugly and shrugs his shoulders as Friday Night Oblivion cuts to commercial.
---
Triple Threat Tag match: Age of the Fall (Jimmy Jacobs/Tyler Black) (accompanied by "The Lovely" Lacey) vs. Ego Trip (Genesis/John Morrison) (accompanied by "The Sexiest of the Sexy" Maryse) vs. MCMG (Alex Shelley/Chris Sabin) (accompanied by Melina)
Chris Sabin, Jimmy Jacobs and John Morrison start by circling one another. Morrison is first to hit Jimmy with a boot to the gut followed by pulling him into position for a double underhook Suplex. Sabin runs off the back of the bent-over Jimmy Jacobs in order to hit an enzuigiri on Morrison. Morrison flies back, allowing Sabin to take control. Sabin brings Jimmy to his feet before laying into him with a series of forearm shots before connecting with a final discuss clothesline. With Jimmy down, Sabin connects with a Senton and stays on him for the cover. Jimmy kicks out but Sabin drags him to his corner in order to tag out to Alex Shelley. The two hit Jimmy with a Spinning leg sweep by Sabin and a Spinning wheel kick from Shelley. Shelley quickly covers Jimmy but John Morrison breaks it up this time. Morrison delivers a 180° spun flare transitioned into a leg drop on Jimmy before turning his attention to Alex Shelley. Shelley, however, manages to get the first move in on Morrison, catching him square in the jaw with a Superkick.
Shelley rolls Morrison over and brings him into position for a Skull Fuck (Consecutive push up facebusters). Morrison finds his face smashed into the mat repeatedly before Shelley releases him. Shelley kicks Morrison to the outside before noticing that Jimmy had now tagged out to Tyler Black. Tyler runs in with a Jumping Corkscrew Roundhouse kick to Alex Shelley to knock him off his feet. Tyler stays on Shelley with several other moves including an Inverted Hurricanrana and a Standing Moonsault. Shelley eventually manages to tag out to Chris Sabin again. Sabin momentarily teams with Genesis, who had now been tagged in from Morrison, as the two take down Tyler with a double clothesline. Sabin and Genesis then waste no time with turning on one another as they lock up. Genesis powers Sabin down but Sabin springs straight back up to his feet, connecting with a Tilt–a–whirl headscissors takedown on Genesis. Shelley enters the ring to help out his partner put away Genesis. Sabin knocks him down with a Springboard Dropkick transitioned into a Reverse STO by Shelley. Morrison is quick to aid his partner but also finds himself on the receiving end of a Machine Gun beatdown.
Sabin takes Morrison down with a Side Slam, leaving him open to be crushed by a Frogsplash from Alex Shelley. Shelley stays on Morrison for a pin attempt but Jimmy Jacobs breaks it up. Jimmy single handedly disposes of the Machine Guns, taking down Sabin with a Breaking The Fall (Inverted snapmare driver) before taking out Shelley with a Spear. Before Jimmy can do much more, he's dropkicked through the ropes by John Morrison. Morrison and Tyler Black then square off, with Morrison gaining the upperhand with an STO backbreaker followed by a Russian legsweep. With Jimmy taking a breather on the outside with Lacey, they soon find both members of the Guns flying towards them with Suicide Dives. Meanwhile back inside the ring, Tyler Black manages to turn things back around on both members of Ego Trip. Tyler squashes Genesis with a Big Boot, followed by a Running Shooting Star Press. Tyler isn't able to go for the cover as John Morrison returns to save his partner. Morrison and Tyler square off momentarily before Genesis regroups and takes Tyler overhead with a sudden German Suplex. Before long, Tyler is caught on the shoulders of Genesis who slams him to the mat with a Sweet Dreams. With the Guns still beating down Jacobs on the outside, Genesis is able to successfully pin Tyler Black for Ego Trip to take the victory.
Immediately following the match, Ego Trip celebrate their victory up the ramp after the Guns had already retreated backstage. Meanwhile inside the ring, Tyler Black begins to bring himself to his feet. Jimmy Jacobs and Lacey re-enter the ring but don't begin to help him out and instead just watch him struggle to stand. Jimmy grabs a microphone and shakes his head.
Jimmy
- "Tyler, Tyler, Tyler... seems you've let me down already. Look, I accepted your proposition to reform the Age of the Fall with you and Lacey on the condition that we'd be first in line for a title shot and we wouldn't be made to look like a joke. But just take a look at the damage you've already caused. Because of you, I have 2 losses by my name already. The tag scene just isn't for me. See, I only have you to blame, this is in NO way my fault. I've said it before and I'll say it again... I'm fed up of looking like an absolute joke to you people."
The crowd began to show their disproval of what Jimmy had to say, before they broke into a chorus of 'Emo' chants.
Jimmy
- "All of you, shut the f*ck up! I don't care what any of you think, I've heard it all before. The whole 'emo' thing? It's nothing new."
The chant soon faded but the crowd continued to thunderously boo Jimmy and Lacey in the ring.
Jimmy
- "And Tyler, your pathetic attempts at being a good partner to me are just absolutely wasted. I'm already sick of this tag division and I can guarantee that the entire world agrees that myself and Lacey are better off without you. See Tyler, you've always been the weakest link in this team, you've never helped me get ANYWHERE in my career, you've only ever held me back... so now it's time to take out the trash."
Jimmy advances on Tyler but Tyler quickly rolls to the outside. From behind, Tyler finds himself tossed straight back into the ring by Lacey. Tyler rises to his feet and finds himself pulled into a sudden Running Big Boot from Jimmy. Lacey rummages under the ring for something while Jimmy takes out his signature spike from his boot and begins jabbing it repeatedly into the skull of Tyler until the sight of blood pouring from a freshly formed cut on his head is visible. Jimmy leans forward and begins biting the cut to add even further damage.
"Good Ol JR" Jim Ross:
Bah gawd King, Jimmy Jacobs is sick!
Jerry "The King" Lawler:
Well we've all heard of Jimmy Jacobs' frustrations in the past where he believes he's not being taken seriously. This is certainitely a good way of making a name for yourself. Even if I don't agree with his actions.
Lacey returns to the ring with a small black bag. She empties the contents onto the mat which is soon revealed to be shards of glass. Jimmy brings Tyler to his feet before taking him down with a Contra Code (Shiranui), smashing Tyler's back into the glass. Tyler writhes around in pain but Jimmy doesn't stop there. Dragging Tyler partially out of the glass shards, Jimmy locks Tyler in the End Time (Guillotine Choke) while Lacey gets in Tyler's face to trash talk him, adding insult to injury. After deciding that's enough, Jimmy releases him and bends down to Tyler's level with a mic in hand, laughing sadistically as he surveys the damage he's done.
He touches the blood gushing from Tyler's head before wiping it on his face and laughing again.
Jimmy
- "The Age of the Fall has once again fallen to pieces. It's over. And so are you."
Jimmy stood up and held up the hand of Lacey as the two posed above the broken body of Tyler Black.
Jerry "The King" Lawler:
Well JR, I hate to state the obvious but it looks like Tyler Black's time on Oblivion and in the entire UFWA is over before it even really began...
---
Kirsten was sat in her office, watching on a monitor what Jimmy Jacobs and Lacey had just done to Tyler Black. She applauded, actually nodding in approval before she looked up suddenly as she sees the members of No Remorse enter the room. Kirsten sat back in her chair and motioned for the two to take a seat on the opposite side of the desk. Neither Shelly Martinez nor Casey Cortez looked at all pleased, especially after their recent loss.
Kirsten:
"Now before you ladies say a word, let me just say that you don't have to worry about a damn thing."
Shelly Martinez:
"But we lost. Our opportunity for tag gold is out of sight..."
Kirsten:
"Oh, is it? Look, you may have rather unfortunately lost against Mickie James and Daizee Haze earlier tonight but as you may recall, you and I made a little deal. And I have a proposition for you regarding said deal. It's something you may be very interested in."
Casey Cortez:
"That's right. So what do you want us to do?"
Kirsten looked at the two with a sly smirk.
Kirsten:
"I will add you to the Women's Tag Team Championship match at our first PPV against both the Beautiful People and Hazee James in order to make it a triple threat... if you ladies do me a little favor."
Kirsten stood up and walked over to the office door.
Kirsten:
"What I'd like you to do is -"
No more of the conversation can be heard or seen from there as Kirsten closes the door, leaving Oblivion to head into a commercial break.
----
Continued in second post :][/center]