Post by ♡☈aveη on Aug 14, 2010 18:21:07 GMT -5
Here it is! ;D A little late but def worth the wait. As always, thx to the writers of the matches and everyone who sent in skits. Enjoy!
_______________
*Wednesday Night Wreck opens up to Raven backstage on her cell as she leans back in her chair*
…we almost did, but we didn't actually do the deed. It was a nice time though. ------ I doubt she'll find out and if she does then so what? It was just one little peck. There is nothing more! I'm not that kind of girl.....anymore.
*Just then The Bella Twins walk in her office. Raven stood up and formally ended her call as she addressed the twins*
Bella's! I know you two are mesmerized by the sight that is moi, but there will be time to idolize me later. Right now, I wanted to talk to you guys about your match; you two against Trish. As you both BETTER know, I have kind of a rocky past with Miss Stratus and I need her taken care of. That's why I put you two in a match with her. See, I think you two have the potential to be the next me. The Raven's, The Raven Twins; you guys can work out the name later. I just need you to handle this one little favor me. Take out Stratus. I don't care how you do it, just DO IT!! I've already arranged it with the ref, the match is a tornado, no-DQ match. Go wild!
So you want us to out one of the greatest divas on the sidelines, for good?
Isn't that what I just explained, Nikki?
She's Nikki, I'm Brie.
If I gave a damn, don't you think I would've took the time to actually learn your names. Far as I'm concerned it's Thing-One & Thing-Two. Now get ready to extinguish the flames of a 'legend', because if you lose, then you both will be fired. No pressure!!
*Raven smiled and sat on her desk as The Bella's exited her office. Raven soon left her office but jumped back a bit as she saw Ryan Payne leaning against the wall right outside of her door. They shared a glare as Ryan just stood there breathing heavily. Raven slipped past Ryan as he just watched her walk away with a scowl as the scene fades to black*
--------------
Michael Cole:
Hello folks and welcome to another episode of Wednesday Night Wreck! I'm Michael Cole alongside my broadcast colleague Tazz.
Tazz:
Hey hey, I get top billing tonight.
Michael Cole:
Tazz I didn't think that we would be able to top the show we put on last week but after seeing the matches lined up for tonight, we are going to blow last week right out of the water.
Tazz:
If you'd stop talking we could get started. This first match might get bloody.
Michael Cole:
To say these two young men don't like each other would be the understatement of the year.
Tazz:
This one ain't for the weak at heart.
Michael Cole:
Apparently this all started last month when the well documented mentors of the two men, Samuel and John Cena were showing their rookies the arena and passed one another in the hallway. Words were exchanged and Samuel blasted Justin in the mouth and chaos broke lose.
Tazz:
Yeah but that kid's got a mouth on him Cole, hell I almost knocked his teeth down his throat in the serving line earlier today.
Michael Cole:
We shall see if he can back all that up in the ring against the man some call a ticking time bomb in the ring. Speaking of, here he comes now.
--------------
Opening match, Single Match: Justin Gabriel vs. Fear - Mentors: John Cena (Justin Gabriel) & Samuel (Fear)/manager "Purple Fury" Ivory are banned from ringside Winner gets to make the loser's mentor do anything at a time and place of his choosing, so long as the act is not illegal, causes bodily harm, injury, or death
Fear's music sounds off throughout the arena and he makes his way to the ring. He climbs in the ring and looks around and a slight smile begins to creep on his face as Justin's music hits and he comes out with a cocky and smug grin on his face. He climbs in the ring and advances on Fear with a smile on his face. A split screen of Cena/Ivory & Samuel are shown watching monitors in different areas of the arena. Ivory frowns with disapproval and can be seen waving her arms and appears to be yelling at Cena who has his face buried in his hand. Sam is shown with a smirk on his face as he shakes his head at the monitor. The referee pushes Justin back and signals for the bell. Fear and Justin meet in the center of the ring and Fear points to his face to give Justin the first shot. Justin accepts and curls his hand into a fist and clocks Fear right in the jaw. Unlike last week though Justin quickly follows through with more lefts and rights and then shoves Fear to the mat. One of the jabs caught Fear in the lip and blood is coming out of it. Fear sits on the mat and licks the blood off of his lip and grins. Justin celebrates and taunts the audience with his arms raised. He turns around to face the now standing Fear who flicks his lip with his tongue once more and smiles. "Mah turn" Fear unleashes with a boxing combination that leaves Justin reeling and he finishes the combo with a hard uppercut to the chin that makes Justin's knees buckle and he falls to the mat. Fear quickly picks him up and delivers a headbutt and shoves Justin to the mat. Justin loses his arrogant smirk and replaces it with a look of extreme focus.
Tazz:
Looks like he's teaching this young punk a lesson, his expression certainly has changed.
Michael Cole:
I don't think he'll be taking this match so lightly anymore.
Justin kips up to his feet and he and Fear circle one another throwing shadow punches at one another until they lock up. Justin knees Fear in the stomach and spins around and lands a Discus Elbow Smash. As Justin gets down to lock Fear in a submission Fear locks him in an Anaconda Vise. Justin struggles and Fear releases the hold not wanting to end the match just yet. Justin scrambles back until he reaches the ropes and Fear kips up to his feet bouncing around smirking as Justin pulls himself to his feet. Justin rushes Fear and grabs him and takes him down with a STO. Not going to make the same mistake twice Justin climbs the turnbuckle and leaps off with a picture perfect Angel Of Death (450 splash). Looking for a little payback Justin decides to not go for a pin and grabs Fear by the neck and rolls him up to his feet. He shoves Fear backwards and blasts him with a Superkick to the face. Fear falls backwards and hits the mat and Justin covers him and the referee begins to count, 1...2...Fear places his foot on the bottom rope.
That is why these guys are training Cole, Justin made a rookie mistake by not being aware of where his opponents' position in the ring before going for that cover.Michael Cole:
But kudos to Fear for being aware of that fact.
Tazz:
I dunno if that was awareness or desperation there partner, this match has shifted in the favor of Justin Gabriel to me.
Justin begins to argue with the referee about his perceived slow count with his back turned to Fear. Fear pulls himself up with the ropes and shakes his head to get himself back in the game. He slowly advances on Justin and grabs him from behind and takes him down with a Cobra Clutch Leg Sweep. He begins stomping on Justin and rolls him over and stomps on his lower back. Justin cries out in pain and Fear quickly moves into position and locks him in the Cloverleaf Pain (Haas of Pain). Justin struggles to free himself or relive the pressure but he is nowhere near the ropes and finally gives up when asked by the referee. The referee signals for the bell and Fear releases the hold and stands. The referee grabs his hand and raises it in victory. Justin stands slowly glaring at Fear and without warning he grabs him into his Deathstroke (RKO). Justin quickly rolls out of the ring to celebrate his cheap shot, the referee helps Fear to his feet and asks him if he is alright. Fear nods yes and stands on his own staring up the ramp at the retreating Justin Gabriel who stares back with a satisfied and smug grin plastered on his face.
Michael Cole:
Tazz did he just...
Tazz:
You ask me that kid's got a death wish or something.
Michael Cole:
I can't wait to see the fallout behind this one. Folks Wednesday Night Wreck will continue in a moment.
---------------
6-Woman Tag match: "The Perfectionist Diva" Michelle McCool, "Foxy Diva" Alicia Fox & Torrie Wilson vs. The Most Awesome Team Without a Name (AJ Lee/Madison Rayne) & "Queen of Extreme" Lita
As all six women entered the ring the warmed up and talked before the ref rang the bell as Torrie and Lita started things off by Lita telling Torrie to take the first hit after talking she slaps her but Lita kicks her in the stomach and suplex her and covers but gets a one. Both women got up and Lita twists her arm before doing a Russian legsweep and rolling her into another pin but again gets a two, Lita kicks Torrie in the stomach as they reach the bottom rope and begins choking her for a bit before using the rope and hits her back with her knee. Lita begins mocking her before helping her up only to be knee'd in the head, Lita picks up Torrie and hits a few slaps to the head as she goes down, now taunting her again to hit her as she does with a slap across the face. Lita walks up to her mad now and was about to pick her up but Torrie slams her down on the mat and hits a clothesline and follows that with another one as well as a dropkick, she whips Lita to the turnbuckle and hits another running clothesline and Lita goes down and Torrie sees this as she does the Facial (StinkFace) but Lita moves the ref closer as Lita moves outta the way and sets her up for the Swinging snap DDT and covers but Michelle saves the match. Lita begins to drag Torrie to her corner but Torrie hits a jawbreaker and crawls to her corner and tags in Alicia Fox as Lita tags in Madison Rayne. Both women talk and circle around each other before locking up, and push until they reach the ropes and turnbuckle as the ref began to count they broke it up and Alicia pushes Madison she was gonna go for a clothesline but Madison ducked but Alicia picked her up and was gonna slam her down but Madison breaks free and pushes her into the turnbuckle after getting up she walks over picking her up and slaps her then chokes her a few seconds. Madison helped her up before running to the other side of the turnbuckle as she hits her head on it. Now slowly dragging her to the middle she knees a few times before doing a swinging neckbreaker and goes to pin but gets a two.

Madison hits the mat in frustration as she grabs Alicia by the hair but Alicia begins to fight back but Madison kicked her in the stomach and whips her over to her corner and tags AJ in now, as they do a few double team moves before AJ pins her and once again gets a two. AJ begins to whip Alicia but she reversed it and brought her over to her corner and chokes her using her foot as she tags Michelle McCool in now. Michelle immediately begins kneeing her in the stomach before she lifts her up on the turnbuckle for a suplex. Michelle grabs her up by the hair but AJ now fights out after hitting a jawbreaker of her own before following that with a clothesline and dropkick and quickly covering but gets a semi long two. AJ now grabs Michelle up and whips her but Michelle reversed it and AJ went instead, she ducks the first time around but as she came back AJ hit the Headscissors Take down, as she gets up Alicia makes a blind tag and hits AJ with a few hard clotheslines before kicking her in the stomach as she sets her up the scissor kick which she did and goes for the pin but Madison and Lita made the save as all six women entered the ring Torrie tackle Lita down as they began to roll out of the ring and fought on the outside leaving Michelle and Alicia standing tall as they continue to work on AJ and Madison. Alicia and Michelle whips both women to each turnbuckle and had the same idea as both AJ and Madison crashed into each other. Michelle sets AJ up for the Faith Breaker as Alicia hits Madison once again with the scissor kick and Michelle tosses AJ to the outside just as Torrie hits the Nose Job on Lita and Alicia went for the cover,1...2...3!! Alicia rolls out of the ring as AJ rolls back in to check on her partner as Alicia joins Michelle as they celebrate their win.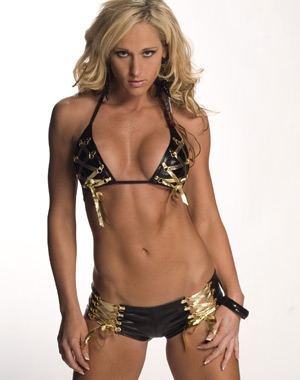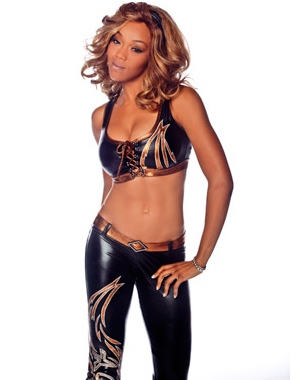 --------------
After the commercial break it becomes dark in the arena and Amanda's music is played.
After the song is finished and the lights go on again Amanda stands in the middle of the ring, dressed in tight jeans, a black bra and a cowboy hat. As soon as the fans realize that she is here in the ring they begin to cheer at he and Amanda poses a bit. Even though her face is still a bit bruised from her last match, she still looks hot and also the fans don't care, they love to see her in the ring, however she looks.
Now Amanda blows some kisses at them and waves at them and the cheering becomes even louder. After a while she raises her hand, trying to calm them down and after several minutes she has success.
~Amanda~
Ok ..ok, please calm down, me really wanna say something here ..Pwease …
She waits a lil bit longer and it's clearly visible how much she enjoys it that they all cheer at her and that they wanna see their Goddess.
~Amanda~
Thankies so much that you all help me here with this nice welcome and all your love. It feels so good to have people here who like me, especially as some others really try their best to destroy me and my career. But your support helps me to survive all these mean attacks, these humiliation and all the cheating. Yeah it gives me the power to fight back and exactly this I will do. So you really don't have to worry, nobody and nothing will stop your Goddess of getting what she deserves, the main title here at Wreck and then even something more, but this will be a lil surprise for our bitchy boss Rae …
It's pretty quiet now and everybody is curious what this surprise will be, but Amanda isn't willing to explain it now. She smiles a bit, but then her facial expression changes and she becomes really honest.
~Amanda~
And now to you Rae and to your weird lil ideas. You told me last week that you wanted to push me around like a rag doll and you also said that you can do with me whatever you want, but there you're wrong. You see, last week you put me in a match against some really strong opponents and you needed three people to defeat me. And even this wasn't that successful. I really proved that I'm a Goddess as I defeated Beth and Kong and then your stupid last friend only could take the win cuz you cheated again be knocking me down and then counting to fast. You stole that win, but I'm a nice Goddess and I forgive you.
Now she glares into the crowd.
~Amanda~
But what I don't forgive is that you try to hold away from me what belongs to me, that main title and for this you will have to pay a high price. Yeah ..and one day it will even cost you your job. I will show you how it feels to lose everything and how it feels to be a sore loser. Yeah ..I will destroy you completely and then justice is done ….
But don't worry, you will have some time left where you can enjoy it to have all your powers and n this time you can try it again to provoke me or humiliate me. So why don't you send me your ugly bodyguard Vipera in a normal match or in a hardcore match, or is she too scared to face me alone?
Amanda laughs a bit and then she continues.
~Amanda~
But anyway, I don't wanna spend all night with talking and now I will bring it to a point. From now on you will be my victim ...Rae. Yeah, you will suffer and you can't do anything against it. Me or someone from my gang will find you wherever you hide and we will make sure that you will get what you deserve.
You have asked me whether I'm scared to lose my job and now I can answer to this question, NO I'M NOT. And you also said that I should respect you, and this answer is NO; I DON'T! And so I can say these last words to you without worrying about any consequences ….FUCK OFF RAE!
Amanda flips the bird and laughs viciously and the fans begin to cheer at her again.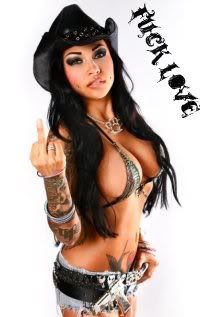 Now the revving of some bikes can be heard and then three Harleys speed down to the ring and stop there. The group are some members of Amanda's gang and now they wait to escort the Goddess of War out of the arena so that nothing can happen. Amanda slides out of the ring and now she hops on the backseat of Ryan Payne's Harley. A last time he waves at the fans and then they drive off with a huge burnout.
--------------
The cameras go backstage to see Brutus Magnus with DeeDee stood to one side of him and an interviewer to the other. The interviewer started things off as an already bored looking Brutus sighed.
[/i][/b]
Interviewer-
So Brutus Magnus, you unfortunately found yourself on the losing side of things this past week when Jack Ace pinned C-Mo-
Brutus Magnus -
Yes, thank you. I am actually fully aware of what happened last week seeing as I was there. I lost. Again. Great. Let me tell you now though, that Jack Ace has just been lucky and he stole the victory last week. I had that one in the bag so yes, yet again, I find myself completely screwed out of the win. That should be me in the title picture, NOT him.
Interviewer-
But tonight, you do get another opportunity -
Brutus Magnus -
Again, I know. Why are you here anyway? I know I've got another shot in a tag match tonight and trust me when I say I'm going to win this one.
Suddenly, a couple puffs of smoke appear from off-camera behind Brutus. Both the interviewer and Brutus start coughing vigorously as Jack Ace appears cigar in hand, much to the crowd's delight. He chuckles for a bit then begins speaking.
[/i]
"Awww, Brutus. Don't get too upset about last week. I'm sure many people would agree that it was a fair, hard-fought match that shouldn't be tarnished by personal feelings. I'm sure tonight will be different for ya."Brutus looked at Jack with an unimpressed expression on his face.
[/i][/b]
Brutus Magnus -
Well Jack, how did I know you'd show up here sometime tonight? But who cares? You're damn right that this week will be different. This week, I'm going to win and I'm glad you think so too.
Jack keeps a cheerful smile on his face on and continues puffing his cigar while Brutus talked himself up. Finally, at the end, Jack wrapped his arm around the Brit and expected a weird reaction, yet didn't care.
"Oh, that's not all, Brutus. I don't just think you'll pull out a win tonight, I hope you pull one out. Brutus, a championship match, the first one in Wednesday Night Wreck and UFWA history, would feel unfulfilling without a guy like you to kick around. So Brutus, I hope you get some of my luck on you tonight, cause I just hope to take you out at the pay per view rather than on one of these shows.
Jack slapped Brutus on the shoulder and gave him a sarcastically-playful smile
[/color]
Brutus narrowed his eyes. Not so much at Jack's comment but because of the smoke finding it's way into his face. Brutus let out another cough, this time expressing his anger at the situation.
[/i][/b]
Brutus Magnus -
That's sweet of you, Jack, very sweet indeed. And as flattered as I am over the fact that you want to kick my ass all over the ring, I actually return that sentiment. Just another reason
I'm going to win
tonight.
He said, adding emphasis to certain parts of the sentence.
[/i][/b]
Jack's smile remained intact as Brutus spoke. He gave another pat on the shoulder and nodded his head.
"Another reason indeed. Let us both hope nothing unfortunate happens during the match. It'd be a tragedy to us both, Brutus. And, simply put, I want to go into our first pay-per-view in high spirits."
Jack began chuckling some more as he took a couple big puffs of his cigar and exhaled the smoke in Brutus' face. Once more, a pat was given as Jack took his leave.
"Good luck, Brutus."Brutus kept his eyes narrowed in the direction of Jack as he walked away. He shook his head multiple times before muttering the word 'Jack Ass' and walking away himself.
[/i][/b]
--------------
Michael Cole:
This next match could mean gold in the future of one of these mixed tag teams.
Tazz:
That's what this business is all about Cole, if you aren't aspiring to wear gold then you are in the wrong profession.
Michael Cole:
For weeks Brutus Magnus has been saying he has been has been screwed out of his rightful victories, will tonight be his night or will his dreams of Championship gold escape his grasp again?
--------------
Tag match: C-Money & "Princess A" Akasha Monroe vs. "Britain's Finest" Brutus Magnus (accompanied by Dee Dee) & "Harajuku Barbie" Nicki Minaj
Winning Team Advances to the UFWA Undisputed Combat/Women's Championship Matches
Both teams have entered the ring and are in their corners. Dee Dee rubs Brutus' shoulders while glaring at Akasha who waves and blows a kiss at Brutus. C-Money dances around to keep his muscles warm and as the referee signals for the bell Akasha and Nicki step through the ropes and Akasha gives C-Money a pat on the backside as he makes his way out of the corner. Brutus and C-Money meet in the middle of the ring and lock up. Neither man gains the advantage and releases the lock up. They lock up again and achieve the same results. They back up and nod at one another and Brutus swings with a short clothesline attempt that C-Money ducks underneath and grabs Brutus' legs and plants him with a Spinebuster and immediately goes for a dropkick to the knee. As C-Money leans down to lift Brutus to his feet he finds himself grabbed by the neck and rolled over into a quick cover. C-Money kicks out at two and the two men rise to their feet with Brutus being the faster of the two and he takes off and blasts C-Money with a Running High Knee Strike and as his head snaps back Brutus nails him with a European uppercut. DeeDee cheers Brutus at ringside and Brutus does not relent in his attack, he grabs C-Money in a wrist lock and pulls him in for a clothesline. As C-Money goes down he quickly covers him but only gets a two count.
Michael Cole:
It seems that Magnus is not leaving anything up to chance tonight and will indeed be seizing his own destiny.
Tazz:
With a match of this caliber you can't afford to leave anything up to chance Cole. It's all on the line here.
As Magnus stands Akasha calls out to him and turns around on the apron and dances drawing a smile to his face. DeeDee pounds the mat and yells something loud in Russian that snaps Brutus back in the game. Nicki Minaj calls for a tag and Magnus points to her which draws a wild reaction from the crowd and he walks over and tags her in. C-Money makes his way out of the ring as Akasha automatically steps in the ring. Akasha and Nicki meet in the center of the ring and look at one another up and down and begin to circle one another. As Akasha and Nicki keep circling each other, the trash talking begins before locking up in the middle of the ring to the rope and the ref began to count as they broke it up. Nicki slaps her before spearing her down as the two began to catfight in the middle of the ring until Nicki gets up and whips Akasha to the ropes, as she ducks the first time but as she came back around Nicki hits a tilt-a-whirl backbreaker and goes for the pin but gets a two, she grabs her by the hair but Akasha begins to fight out and kicks ropes but Akasha reversed it and Nicki now ducks the first time but as she came back both women had the same idea and hit a double clothesline as they both go down catching their breath as the ref began to count.On the count of 5 both women slowly get to there feet they began to hit one other shot after another until Nicki takes control and kicks her in the stomach and whips her to the ropes, Akasha ducks but Nicki outta nowhere hits a spinning heel kick and goes for the pin 1...2...t-nope, Akasha kicks out at the last second. Nicki starts to get mad as she grabs her by the hair and sets her up for the Massive Attack and hits it and goes for the cover. Akasha kicks out at the 2.9 mark and Nicki rises to her feet. She pulls Akasha to her feet and attempts to Irish whip her across the ring but Akasha reverses it and immediately hustles over to tag in C-Money.

He and Brutus step in the ring and C-Money rushes Brutus who ducks down and grabs his legs and hits him with a falling powerbomb. As Brutus stands over C-Money, sizing up for his finisher, the crowd pops and turns towards the ramp as Jack Ace runs out, small steel briefcase in hand. He slides into the ring and immediately ducks a Magnus clothesline and immediately turns, wailing the trademark briefcase into the skull of "Britain's Finest." Jack stands over Brutus with a stone face, the crowd on edge on how to react, though many cheer for the pure carnage.
Michael Cole: What the Hell is Jack Ace doing out here?
Tazz: By the looks of it, he's telling us all he DIDN'T want Brutus in afterall.
Michael Cole: That's just dirty; someone shou- LOOK AT THIS!
The camera pans back to the ring,as Jack looks over his shoulder at C-Money, who begins to stands up. Jack side steps once and winds up, landing an even harder shot to C-Money. Tossing the briefcase outside, Jack quickly pulls Brutus Magnus onto C-Money, prods the referee to get up for the count, and bails out of the ring as the referee counts.
1!
Tazz:
WHAT!?
2!
Michael Cole:
NO WAY!!!
3!!!
-----------------
Tornado Handicap match: The Bella's vs. "The Quintessential Diva" Trish Stratus
The Bella's slide in the ring and immediately attack Trish. Brie tackles Trish to the mat as Nikki jumps in with stomps to the chest. Trish pushes the Bella off long enough for her to get to a vertical base. Trish drives Nikki back with elbow shots to the head before following up with a Whirly-Bird Headscissors. Nikki rolls over across the ring and through the ropes to crash ringside. Trish ducks a clothesline from Brie and goes behind her with a Neckbreaker. As Brie gets to her feet, Trish takes her back down to the mat face first with a Wheelbarrow Bulldog. Trish taunts to the crowd but her celebration doesn't last long as Nikki comes back into play, taking a 2x4 to Trish's side. Trish falls to the mat where Nikki slams her face first to the mat repeatedly until she decides to leave the ring and returns with a chair.

Out of nowhere, Vipera, Raven's Enforcer, slides in the ring with a Shining Wizard, hitting the chair against Nikki Bella's face knocking her out cold. Brie tries for a snapmare on Vipera, but Vipera shoves her off into the corner. Vipera slides out of the ring next to Raven who smiles as she cheers on Trish to victory. Brie finally comes to it only to be pulled in for a Stratusfaction. Trish goes for the cover, but the ref doesn't make the count as Raven slides in to make herself the acting Referee. She counts the three to give Trish the win and The Bella's the pink slip.




Trish steps in Raven's face about the event that just happened. Raven simply smiles as she seemingly starts to calmly talk to Trish. Trish's anger visibly drops as she and Raven share a handshake. Trish exits the ring, backing up the ramp as Raven looks on with a smile with Vipera by her side while UFWA fade to a commercial break.
-------------
Single match: "WNW Enforcer" Vipera (accompanied by "The Ultimate Vixen" Raven) vs. "The Goddess of War" Amanda
*As UFWA comes back from commercial break, Raven and Vipera are still standing in the ring waiting for the arrival of Amanda.*
Amanda! Come out here and take your beating like a man, damnit! Don't make me come back there...See, people. This self proclaimed Goddess of War is nothing but a façade. A couple of lumps and Wittle Mandy is scared to fight again. You people actually look up to her?! Pitiful. But you know what.....?
Raven hops out of the ring, reaching under the ring for a steel bat. She stops halfway up the ramp as Amanda's theme starts to play. She appears from the curtain on the back of a Harley being driven by Ryan Payne. He drives the Harley down to the ring, nearly running over Raven. Amanda slides in the ring and instantly pounces on Vipera with a Lou Thesz Press. Amanda hammers Vipera with left and right hands to the face until she has to be confined by the ref. Raven looks on ringside with a slightly shocked expression as Ryan sits on his Harley applauding. Vipera slides out of the ring next to Raven, but Amanda doesn't let up once as she leaps over the ropes to land on both women with a Plancha. Amanda rolls Vipera back in the ring for a pin but only get a two count.

Vipera keeps Amanda at bay with kick to the gut as she gets back to her feet. Vipera follows up with another straight to Amanda's legs, then another to her chest, then a last kick to the knee. Amanda falls on one knee as Vipera steps back to gain speed for a Shining Wizard. Amanda ducks the knee to the face and catches Vipera's leg, attempting to lock her in a STF Submission. Vipera reaches the ropes before the hold could be properly locked. Through the ropes, Raven swings with the steel bat, making a connection with Amanda's skull. Ryan chases Raven around the ring until she stops to check on his Harley that Raven took the steel bat too, taking off the headlight. In-Ring Amanda has Vipera right where she wants her as she executes a No.1 Stunna (Stone Cold Stunner). Before the ref could start to make a count, Raven slides in the ring to start an argument with him about making the count for Amanda. The official states that he's just doing his job, but Amanda clears the ring with Raven in the form of a Fade to Black (Spear). An angered Ryan slides in the ring swinging a steel chair at Vipera, but she ducks it and slides out of the ring, dragging Raven out with her. Raven, still clutching her gut from the Spear, begins walking up the ramp with Vipera as the ref starts the count, eventually getting to ten, giving Amanda the win here tonight.




Amanda flips Raven the bird with a smile, celebrating with Ryan as The Ultimate Vixen starts a tantrum as she heads backstage with her Enforcer.
---------------
Who's the Sexiest?: Candice Michelle vs. Jenny Tuck
Judges for the contest: C-Money, Kelly Kelly, & "Sexiest of the Sexy" Maryse
Maryse's voice rings through the speakers.
If I wasn't Maryse...I would want to be!
The drum beat of Pourquoi? sounds off and Maryse emerges through the curtain pulling on C-Money's tie and surprisingly Jerry "The King" Lawler emerges looking at Maryse as if he's in heaven. King places his crown on Maryse's hand and they stand at the top of the stage and Maryse dances in front of C-Money and he can't contain himself when she dances and places his hands around her hips as she moves to the music. She turns around he grabs her and dips her back and she takes his arm and then King's and they walk down to the ring. Maryse smirks at her and sits in C-Money's lap and takes a microphone off the table.
Maryse:
Now this is a contest to see who sexiest yes? Clearly the sexiest is in ring.
Jerry "The King" Lawler:
Now I don't get to get out much but is that how you treat guests on this show Maryse? C-Money is here all the time and he gets special attention?
Maryse:
Maryse no want the "saggy puppies" to get jealoux when you go back to Oblivion, you are her biggest fan at moment. Maryse only looking out for your well being. If Maryse pay too much attention to you she will bake you cookies that you have to "eat" and we both know you no want that.
Jerry "The King" Lawler:
Well that's on Friday and tonight is Wednesday.
Maryse grins and stands up and gives "King" a kiss on the cheek and takes her seat in between the two.
Maryse:
Since this contest about Sexy, it is only fitting that the three Sexiest people in entire company judge contest. How that King?
Jerry "The King" Lawler:
Oh Maryse if only I could answer that question.
Maryse:
Well you invited to after party King along with C-Money and Tazz. Michael Cole is probationary, you must impress Maryse by end of night and so far only two men have done that Christian and Genesis, there may be no hope for you Michael ah ha ha! Now then let us see what these girls have to offer, of course do not expect them to be Maryse but we all know they want to be!
Jenny Tuck comes out and enters the ring. Jenny begins to hear the music and begins to dance. She goes over to the judges and exits the ring. She gets onto the table and begins to shakes her booty, giving them a good view. She takes off her shirt, showing a tiny, golden bikini top and throws it to the crowd. She then shakes her booty again, taking off her shorts, showing off her bottoms. She throws them to Maryse to make her mad a little. She then gets onto the ring and goes through the ropes slowly, almost making love to it. She then enters and goes over towards Candice's image on the titantron. She then begins to to a dance in front of her, basically teasing her. The buzzer stops as Jenny stops. She goes back over and looks at Candice on the titantron, she takes the mic as she speaks.
Jenny Tuck
Top That!
Jenny smiles as she gives the mic back and waits.
Candice's music hits and she struts down to the ring, smiling suggestively to the fans around her, already captivating some of them before she gets to the apron. She hops up onto the apron and lays down on her back, arching it sexually and letting out an audible moan, which causes the fans to cheer for a moment. She rolls into the ring, not before grabbing a mic from a techie at ringside, and struts around for a bit, then comes to rest right in front of Jenny. She raises the mic to her lips and pokes Jenny's shoulder with her other hand.
~Candice~
You think you can out-perform
me
? Sweetie, do you have any idea of what you're even
doing
here? You will
never
be on my level, Jenny. See all these people out here, they all have a....
sweet
tooth in their mouths. They want
Candi
. Not a Penny...
Candice smiles and covers her mouth, interrupting the next word, playfully acting for the crowd as they laugh. She turns and blows kisses to the crowd around her, smiling happily as she bring the mic back up.
~Candice~
Now
, let me show you all how a
real
diva does this. Hit the music that
I
gave you, and boys...stay cool,
if you can
.
Candice winks as she drops the mic and "Porn Star Dancin'" comes on the speakers...



Candice starts strutting around the ring slowly, her eyes focused on the crowd, and completely ignoring Jenny. She struts around the judge table, running her hand along Maryse's shoulders as she goes behind them. She stops behind Kelly and puts her hands on her shoulders now, standing in place but rocking her hips slowly. She runs her hands up the back of Kelly's neck, and through her hair. She lets go and continues over to C-Money, twirling around him and sitting on his lap sideways. She flips her hair back and smiles at him suggestively, and she licks her lips, and suddenly hops off of him and continues strutting around the ring. She moves slowly over to the ropes, and climbs up on the first rope, leaning over the top one (like Victoria), and she blows kisses to the crowd, before standing upright on the bottom rope still, and turning to face the judges. She hops off, bouncing a little as she lands, and glides back over towards the table. She heads towards C-Money's side, and climbs up on the table, on her knees, and she turns, crawling along the table slowly and sexily.




Candice comes face to face with Maryse, and gives her a piercing look, then closes in on her slowly, her lips getting closer and closer to Maryse's, and just before they're about to touch, Candice raises her finger and places it on Maryse's lips, blocking them from kissing as she grins and the song ends.
Maryse closes her eyes and puckers up and as Candice pulls away she opens them with a grin that has Touche' written all over it. King is beside himself and has to fan himself frantically. C-Money grins and looks over at King with a smug look on his face. Maryse stands up and walks to the middle of the ring and then "Holla" is heard over the speakers. Kelly Kelly has a mic in her hands and raises it to her lips but Maryse cuts her off.
Maryse:
Look who it is, it is Kelly Kelly should you no be back in back munching on Layla's carpet? Ah ha ha! You were replaced because you no sexy and the "Sexiest of the Sexy" already here so begone Smelly Kelly! Now then Maryse is sure that both you boys agree with Maryse when it come to the sexy sexy...but we let them decide yes?
Maryse walks in between Candice and Jenny and stands there smirking at the crowd.
Maryse:
Now remember this is not about Maryse it is about them. So give applause when Maryse put hand over the head yes?
Maryse holds her hand over Jenny Tuck's head and draws a positive response and she raises an eyebrow and smiles. She walks over to Candice silently and holds her hand over her head and the crowd goes absolutely bananas
Maryse:
It is obvious who win...
Kelly Kelly does not appear to be about to let this go and she steps in the ring. She runs up to Maryse and takes her down with a clothesline. Kelly smirks at her and looks down at Maryse drawing laughter from Jenny Tuck. Maryse pulls herself up and smoothes her dress and grabs Kelly by the hair and begins ripping at it. Morrison comes down to the ring and separates the two and argues with Maryse drawing boos from the crowd.
You no boss of Mar...
Maryse:
You put Maryse down...Maryse is...GENESIS!
John Morrison:
Shut up Maryse! As the leader of Ego Trip, I say you don't belong here and I'm taking you back to Friday Night Oblivion where your business is!
Oh my gosh Tazz! Morrison has just laid down the law and literally carried Maryse off of Wreck.Tazz:
She was not happy, she kicked and screamed all the way up the ramp.
Michael Cole:
So that means the outcome of that match is...
Tazz:
Only time will tell what the outcome of this one is. I can't believe that just happened.
Michael Cole:
Anything is possible in the UFWA Tazz.
Tazz:
Is that supposed to be vintage Cole?
-------------------
The Ol' famous Wall Street bells ring throughout the arena and are met with a horde of anger and respect as the Longhorn limousine enters the arena. Slowly, the limousine makes it stop right in front of the ramp and the man himself, JBL, steps out of the limo. However, this time there is not a smile spread across his face instead there is a scowl. JBL was not happy to have been put in this match. He was a man on a mission to reclaim a spot on the contendership that he felt was stolen by the man who was to be his partner. He had already decimated his partner in their last match after he exacted some revenge but this time he had no choice but to work with him.
Unknown to many people, most typically the younger fans, JBL was actually a powerhouse in the tag team division, securing the title belts on more than one occasion. Better yet, he had more tag team experience than any other man in this match and would use every single bit of it to his advantage. Once JBL was in front of the ring, he slowly walked up the steps and made sure to hold onto his hat.
Once inside he took a deep breath and grabbed the microphone that was handed to him. The expression on his face was of clear disappointment but at the same time he felt like he had the advantage and would not hesitate to remind everyone.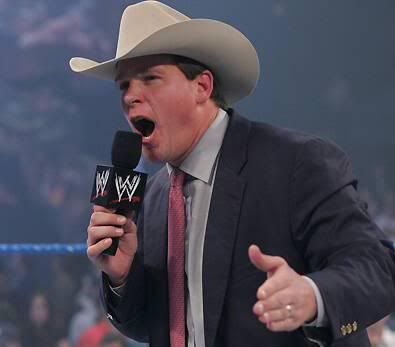 " Last week, I taught a worthless spoiled brat what the meaning of respect was. You disrespect JBL and you get hung out to dry just like Randy Orton was last week. He wasn't vigilant, he didn't care to think that he had just threatened his partner before the match and expected his partner to live in fear of him. Y'all saw what happened; Randy Orton got screwed and lemme tell y'all something. Orton screwed Orton in this position. All he had to was cooperate with a man of gold and a Wrestling God and it all wudda gone by smoothly.

Hell, we even won the match even when we weren't on the same page and that's something that will give us an advantage today because you see, I'm a smart man. I always have a plan and have no doubt that I've come here tonight with a plan to win. Why the monkeys in management still have me in tag team matches I don't know however they're also very smart. Y'all know why?

'Cause the smart bastards put JBL right where he belong…in the main event! Hah! The guys upstairs knew what they were doing when they put me here but there's one thing I want to make especially clear tonight. John 'Bradshaw' Layfield will be the last man standing here tonight in victory as I continue my undefeated streak in this company and tonight will be no exception as I will exact the fury of Wall Street tonight on all my opponents, partners…or not.
Tonight I will fight a pair of boy scouts and rapper wanna-bee's as well as fighting side by side by a sexually disturbed man who gets sexual pleasure from humping the damn ground in every freaking match but tonight a god will destroy all of them and smite them on his path to greatness and his name is JOHN "BRADSHAW' LAYFIELD!"

JBL drops his mic and gets ready to fight.
-------------------
Main Event, "Can they co-exist?" Tag match: "The Predator" Randy Orton & "The Wrestling God" JBL vs. "The Crown Prince" Samuel & John Cena
Randy Orton and Samuel start the match off, both men weary of their own partners and the others. Orton makes eye contact with JBL and shakes his head. Cena reaches over the ropes and tags himself in, forcing Sam to the apron. Cena winks at Sam and moves away from the corner. Orton cocks his head and stares down JBL as he shouts at Randy "A Wrestling...God!" Orton closes his eyes and looks up at JBL dangerously, shaking his head slowly he turns his attention back to Cena when the bell rings.

Orton and Cena tie up, but soon after Orton kicks Cena in the gut, starting to unload a series of rights and kicks to the gut, backing Cena into the corner. Orton put his hands on Cena's face and rakes him violently in the eyes. Orton steps away from Cena letting him fall to the mat, as he looks over at JBL, who's shaking his head and yawning.

Orton falls to the viper position and eyes Cena who's making his way to Sam who has his hand extended out for the tag. Just as Cena makes his way near Sam for the tag, Sam takes his hand back and hops off the apron returning the wink back at Cena. Cena's shoulders drop as he stands up and turns straight into an oncoming RKO, which he evades into a clothesline. Cena bounces off the ropes and hits a running shoulder block, followed by another.

Orton gets up and swings at Cena, but Cena ducks and turns into a back suplex, which Orton counters into his vicious neck breaker. Orton kneels on his knees and looks up at JBL who's got his head rested on the turnbuckle seemingly asleep. Orton gets up and tags in JBL by smacking him straight in the face. JBL pie faces Randy and as soon as he steps foot into the ring he's hit with surprising RKO. Orton flails on the mat and rolls out of the ring leaving his partner, heading up the ramp.

Cena starts to get up and drag JBL to the center of the ring, as Sam reaches over the ropes and tags himself in. Sam hops in the ring and kicks Cena in the gut quickly hoisting him over his shoulders and hitting his patented "Purple Madness". He kicks Cena out of the ring and jumps up to the turnbuckle standing tall on the turnbuckle looking into the crowd for a minute taking in all the heat he just got from booting Cena. A grin reaches his face as he bounces off the ropes into his "Crown's Jewel" over JBL. He stands up and extends his arms putting his foot over JBL's chest, for the 1,2,3.
[/center]