Post by Kirsten on Aug 15, 2010 11:19:41 GMT -5
Sorry again for the lateness but hey, here's the show. Thank you everybody who wrote skits and helped with matches last minute, it's all highly appreciated.

--
UFWA Oblivion opens with a replay of the end of last week's show including the highlights of the Cheerleader Melissa vs. Marcus Brett match before No Remorse's interference, allowing Marcus to win. We're then replayed the part showing the debut of Oblivion's newest star, Samoa Joe as he came to the assistance of Cheerleader Melissa. At the end of the video package, we're taken backstage to the office of Kirsten. The Oblivion co-General Manager is sat with boyfriend Marcus Brett and the other co-GM, Terri Runnels.
Terri:
"So Marcus, did you ever actually manage to find a partner for tonight?"
Marcus:
"Well, it was tough, I'll admit it. It's seems like I am a lot more unpopular than I thought... people here just straight-up don't like me. But don't worry, I kept at it and yep, I got someone."
Terri:
"Oh, you did? Who is it?"
Kirsten:
"Ah, now that would just ruin it for everybody, wouldn't it Terri? It's a surprise."
She said with a slight giggle.
Terri:
"Oh fine, I guess I'll have to wait. Even though I'm sure I've already actually worked it out."
Kirsten innocently shrugged as Terri stood up and wondered towards the door before looking back to the two.
Terri:
"You shouldn't have made it so obvious."
She laughed before making her way out of the room.
Marcus:
"Shouldn't we have just told her that you're
not
my partner?"
Kirsten:
"Eh, it's more fun this way."
--
"Good Ol JR" Jim Ross:
Welcome to UFWA's second ever Oblivion show ladies and gentlemen. We had one helluva show last week and this week promises to be no different.
Jerry "The King" Lawler:
That's right folks, we've got a great show lined up so far, including our Main Event which our two lovely co-GMs were dicussing with Marcus Brett... it's set to be Marcus and a mystery partner versus the recently reunited team of Cheerleader Melissa and Samoa Joe. Who d'ya think is going to be Marcus' partner, JR? My money was on Kirsten too but now I'm not so sure who it is.
"Good Ol JR" Jim Ross:
I assumed the same thing, King. But after the footage we just saw, I'm stumped too. I guess we'll just have to wait for for the Main Event to find out. But we've got a Triple Threat Intergender Tag Match and that's starting now!
--
Opening match, Fatal 4-Way Tag match: Ryan Payne & Roxxi Hunter (accompanied by Legion) vs. "The Inked-Up Extremist" Rex Styles vs. "The Radiant" Rain vs. "Cowboy" James Storm & "Pride of Tenneessee" Jacqueline
[/b]
Once all six opponents enter the ring Rex and Ryan started things off as they lock up backing up to the rope as Ryan leans back and whips Rex to the ropes,he ducks the first time around as he came back Rex hits a hurricanrana on him as he goes down, as he gets up Rex hits a few dropkicks to Ryan before whipping him to the turnbuckle only to be tagged out to Storm. As Ryan rolls out Storm yells at him as he grabs his legs and Rex from behind hits a backbreaker and goes for a quick cover but gets a two. James gets up and the two men circle around each other before locking up as Storm takes control and kicks Rex in the stomach before whipping him to the rope, Rex ducks the first time as he came back around he hits James with a headscissors takedown and whips him to the turnbuckle as Ryan tags himself in as Rex goes out. Ryan hits a sidewalk slam before whipping him to the turnbuckle but Storm stops himself and as Ryan came he hits a hard clothesline and goes for a pin but gets a two count.
James grabs him up and and whips him to the turnbuckle but Roxxi tags herself in as well as Jacqueline. The two women circle around each other before locking up as they back up to the rope as the ref began to count. Jacqueline gabs Roxxi by the hair and slams her down, then she grabs her again but this time does a side headlock on her. Roxxi begins to fight out of it but Jacqueline tightens it up and Roxxi slowly begins to weaken, until the crowd began to cheer as Roxxi starts to fight out and keeps elbowing her in the stomach and whips her to the rope. Jacqueline ducks the first time as she came back she hits a headscissors takedown and Roxxi gets tagged out by Rain, who automatically Thez press Jacqueline and began hitting her head on the mat until the ref broke it up.Rain stalks Jacqueline as she slowly gets up but kicks her back down and Jacqueline rolls outta the ring. Roxxi now comes back in from behind and was about to do something but Rain, kicks her and hits a fisherman suplex and goes for the cover but Jacqueline breaks it up. As Jacqueline exits both Roxxi and Rain now began to fight until Roxxi whips Rain to the turnbuckle but halfway Rain stops herself and hits Roxxi with a hard clothesline, Rain picks up Roxxi and sets her up for the Acid Rain and goes for the pin 1................2............but Jacqueline comes back in and again breaks it up. Jacqueline whips Rain to the turnbuckle and tags Storm in.
As Storm walks over to Rain, Rex automatically enters and clotheslines him and follows that with a dropkicks him before whipping him to the turnbuckle. Rex sits Storm up on the top turnbuckle and hits a hurricanrana and cover but James kicks out. As Rex picks him up James hits an jawbreaker and outta nowhere hits the Last Call (Superkick) and goes for the pin.1................2...........th-nope saved by Ryan just as Ryan was going back James knocks him off the apron and onto the floor as Roxxi went ti go check on him. As James came back Rex sets him up for the Ink Poisoning and quickly covers 1................2...........no! saved by Jacqueline, Rain now comes in and take Jacqueline out outside as those two began fighting. Rex picks up Storm but he fights back and kicks him in the stomach and sets him up for the Eye of the Storm and goes for the cover 1...........................2...........................3!!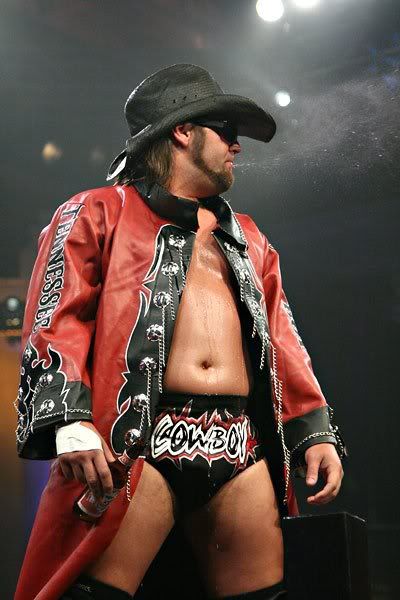 --
Black converse with white soles, seen walking down the parking lot, Camera only focused on the shoes of the man, what can only be made out as a pair and jeans, and what appears to be by the mans shadow; a chair. Whistling in tune as he makes his way calmly down the parking lot to the entrance of the arena where the man is stopped by security.
Security:
Sir, sir, you're not allowed to be beyond this area. I'm going to have to ask you to turn around and not come back..
The security guard sees the chair in the mans hands and attempt to take it. The man quickly takes a step back and kicks the guard in the stomach, raising the chair and nailing him square in the head with it. As the guard falls, the chair gets tossed and the man who's revealed to be Edge crouches down and sighs looking at the guard.
~Edge~
That..is gonna be heard in a Maryse promo next week, I just know it.
Edge pats the guards shoulder and wipes his face, standing tall and grabbing his chair back, going back to whistling in tune, as he heads down the arena halls.
--
Single w/Manager match: Chris Sabin (accompanied by Alex Shelley & Melina) vs. John Morrison (accompanied by Genesis & "The Sexiest of the Sexy" Maryse)
[/b]
Before the match even starts the referee ejects Genesis and Maryse as well as Melina and Shelly. A brief silence is heard as Genesis starts to bang on the ring apron annoyed at the referee. This causes an uproar of "Genesis has no Genitals!" Chants. Genesis starts to fume while Morrison and Sabin look around astonished by the amount of heat Genesis is getting. Maryse shakes her head and puts her hands over his ears, heading out quickly. The crowd dies down and the ref rings the bell.
Sabin starts the match off extending his hand out to Morrison. Morrison accepts but nails Sabin in the gut with a kick, followed by an elbow to the face and an irish whip into the ropes. Sabin bounces back and ducks an on coming kick from Morrison by sliding through his legs with a baseball slide. Sabin kicks the back of Morrison's knees, kicking him in the side of the face, rolling him up for a quick cover for the two.
Both men Kip-up and stare each other down after the near fall. Realizing what they're doing, they rush at each other and Morrison yet again attempts to whip Sabin, but he reverse his whip into one of his own, which is countered into another whip by Morrison and another by Sabin, eventually both men let go and forced by momentum out on opposite sides of the ring. They stare eachother down yet again and both slap the aprons aggravated. Another uproar chant of "This is awesome" begins. Both men slide back in the ring and reach their corners.
Sabin rushes at Morrison quickly out of his corner, but Morrison dodges and trips Sabin into the turnbuckle crashing him into the bottom buckle. Morrison rolls up Sabin out of the corner and attempts a pin fall, which is kicked out of by Sabin. Morrison slaps the mat out of frustration and gets up, pulling Sabin out of the corner, which forced Sabin to hit a quick Kick to the face dropping Morrison. Sabin rushes to the ropes and bounces off them, running over Morrison's back waiting for him to get up. He measures him up and attempts a quick kicks to Morrison's face yet again, but Morrison catches Sabin's boot and trips him.
Morrison kicks Sabin in the stomach while he's down and bounces off the ropes connecting his Knee straight to Sabin's face. instead of going for the pin Morrison drags Sabin to the corner and turns around, facing the crowd taking a breath before hopping up and attempting the Starship Pain. Sabin quickly hops up and pushes Morrison off the turnbuckle locking his legs in the tree of woe. Sabin speeds to the end of the ring and sizes up Morrison. He gives him the guns and runs for the Hesitation Dropkick, which Morrison pulls himself up just as Sabin jumps, forcing Sabin to crash into ring post. Morrison hops off the turn buckle and drags Sabin out attempting a pin fall, but Sabin smoothly rolls Morrison up for the 1...2....--
The ref gets slide out of the ring by a furious Genesis who made his way back out to the ring. He punched out the ref and looked into the ring, quickly sliding in, he pulls Sabin off Morrison and attempts his "Game Over" but Sabin wiggles off him and Shelley rushes down into the ring, he slid in and super kicked Genesis, which led Genesis into another Super Kick by Sabin. The Guns kicked Genesis in the legs and dropped him to his knees, kicking him in the face. The guns rolled Genesis out of the ring and high fived each other smugly.
Shelley slid back out of the ring and sat down against the apron by a groggy Genesis. Morrison found his way back up and turned Sabin around kicking him in the gut and hitting a Moonlight Drive. By then a new ref made his way down to the ring and counted the 3.
--
The cameras go backstage to the office of Kirsten where she is sat with Gail Kim.
Gail Kim:
Kirsten, I really appreciate the fact that you agreed to give me the title opportunity last week. I love the fact that I was able to show what I'm capable of and end up being victorious in that Battle Royal. I can't thank you enough for that opportunity. But –
Kirsten raised an eyebrow and leant forward as Gail sighed.
Gail Kim:
I'm not up for doing all your dirty work for you. I mean, I know I said I would and I'd take this role as the 'Chosen One' but I'm just not like that. I'm here for the wrestling and I'm more passionate about just going out there to fight other than ruin other people's careers.
Kirsten leant back again and crossed her arms over her chest.
Kirsten:
"Don't worry Gail. I actually saw this coming. Afterall, I can't make you something you're not. In fact, that's another reason I call you my hero in this business... you've got the passion for the business and real determination. And I actually like that. So don't worry, just go out there and do what you usually do. I'm just glad to have you on the roster."
Gail smiles and stands up before both her and Kirsten's attention is brought to somebody else having entered the room. This turns out to be none other than Kirsten's former 'student' Natalya Neidhart. Natalya wonders over to where Gail is stood and the two take a brief moment to stare one another down before Natalya turns to Kirsten.
Natalya Neidhart:
This is actually exactly what I came to talk to you about...
Kirsten:
"Oh?"
Natalya Neidhart:
I couldn't help but pay extra special attention to something you said last week... Gail is your 'Chosen One', whatever happened to me, huh? What happened to you being my mentor?
Kirsten:
"Hey Nattie, calm down. I figured you didn't need a mentor anymore... I mean, you're doing a great job on your own and you've even got that little follower of yours now. Would you still even want me as a 'mentor'?"
Natalya Neidhart:
I don't see why not. I mean, have you seen me win a match in the UFWA yet? No. Did you see me win matches back in the ZXWWF when I had you mentoring me? Yes. Look, I'm not saying I need help in the ring because trust me, if you keep giving me opponents like Yuri Whatshername, good old' Gail Kim here and lil' Miss Wilde, I'll keep kicking their asses like you've never seen. All I'm saying is if Gail is rejecting your 'Chosen One' position, then I'd accept it.
Gail Kim:
You wanna be her bitch?
Natalya shot a death stare towards Gail who quickly shut up and made her exit from the room.
Natalya Neidhart:
I'm just saying, we used to be an incredible team, didn't we? It could be just the same here... me and Laura tearing apart this Diva's Division with your support. I know you've got No Remorse as your bodyguards but I'll still gladly do any dirty work you need doing too. I know Gail's a huge influence on you or whatever but I can actually get the job done. You know I can. I just want to get rid of Taylor Wilde and move on to finally getting a Diva's Championship shot. I mean, I should be getting one anyway, being the last champion of ZXWWF and all. My time was cut short...
Kirsten:
"I know it was."
After Nattie's speech, Kirsten couldn't help but agree. Nodding, she stood up.
Kirsten:
"You do deserve a title shot, I can't deny that. But with the trouble you've been having with Taylor Wilde recently and with the Diva's Championship match at the first PPV having already been made, there's nothing I can do right now. But I want to see you succeed and I want to see you as champion."
She paused for a moment.
Kirsten:
"So at our first PPV, the Fatal Fourway for the Diva's Championship between Debra, Rain, Maryse and Gail will remain. But also, I'll set a triple threat consisting of Taylor Wilde vs. Laura Jackson vs. Natalya Neidhart in a Ladder Match at the PPV. The winner has to grab the contract in order to become immediate number one contender and will receive a Diva's title shot sometime in the future. How does that sound?"
Natalya Neidhart:
Sounds great. Thanks Kirsten, I knew I could rely on you.
Kirsten:
"No problem. And Natalya? You'll always be my number one girl here. After the past we've had, I couldn't have any other 'Chosen One' but you. And good luck tonight girl, go out there and win!"
Natalya nodded, smiling as she made her exit from the room as well. Terri Runnels entered the room fully, having spent a couple of minutes standing in the doorway.
Terri:
"Making Pay-Per-Views matches already, I see."
Kirsten:
"Well, why not? Afterall, we've only got one more show remaining after this week. So, we need to prepare, Terri. In fact, you and I should probably discuss the rest of the plans this week and formally announce them on next week's show."
Terri:
"Great. So what are your plans so far?"
Terri takes a seat opposite Kirsten and the two begin discussing things as the scene heads back out to the ring for the next match.
--
Triple Threat match: Shelly Martinez (accompanied by Casey Cortez) vs. Mickie James (accompanied by Daizee Haze) vs. Velvet Sky (accompanied by Angelina Love)
The match starts with all 6 women in the ring in their respective corners, staring each other down. Referee in the center of the ring trying to get Haze, Cortez and Love out of the ring before he can signal for the bell. Neither woman is budging. All make eye contact with their partners and nod to each other.
Love shrugs and makes a quick break for it, surprising Mickie James with a "Botox Injection" The other Five woman stand confused and stare at each other, in a split second a massive brawl breaks out, Haze retaliates and surprises Love with a "Daizee Cutter" she kicks Love while she's down, which gets Velvet's attention, she turns Haze around and kicks her in the gut, following up with an impactful DDT.
Both Cortez and Shelly look at each other and grin. Cortez sneaks up and Sky, and slaps her square in the face, allowing, Shelly to hit her "Shell-Shock". Both stand tall over the fallen woman and raise their hands up in dominance not realizing a fallen Mickie James is finally up. Mickie turns Cortez and nails her with a Super Kick, ducking an oncoming Tornado DDT from Shelly, turning her around nailing one of her own on Shelly.
With Mickie standing tall over all the women, she falls tiredly to her corner, with the ref staring confused. He waits and waits, while Mickie crawls over to Daizee to check on her, and help her up. They get up and Daizee leaves the ring, via ejection by the referee. Soon after, Love makes her way up but is ejected as well, while the ref is ejecting Love, Cortez and Shelly make their way up. Seeing a fallen Sky and distracted James, they hurry after James and surprise her with a double gut buster. The Ref caught attention of this but unable to do anything about it, bell hadn't rang yet, he quickly ejected Cortez and stood in the center of the ring, Velvet down, James down, Shelly standing tall. He had no choice but to ring the bell.
Shelly moved to the center of the ring and dragged Velvet to the center, grabbing James by her legs and arms, pulling her to the center too. Shelly wipes her hands clean and covers James. 1....2.....3.
--
Trixie is seen in her locker room pulling on a pair of sneakers, preparing for a promo in the ring as a soft knock was heard on the door, she wrestled with her shoe as she hollered out a "come in". In entered a rather timid looking Chris Crowley
"Uhm...hey Chris.."
Chris placed his hand on the back of his neck and averted her gaze
"Hey Trix...Look..I'm, uhm, sorry about the other night...I didn't mean to ruin your date"
She shook her head
"Don't worry hun, the night was salvaged, it's okay"
Yeah, prolly not what he wanted to hear but that's what came out. She gave him a sweet smile
"Okay. Well, just let me know if you need anything."
She smiled once more and giggled lightly as she began tying her shoe
"Yeah actually....you mind getting me a water
bottle?"
"Sure. Be right back."
Chris nodded and headed out as Trixie stood up and turned her back to the door picking up her belt. As Trixie turned her back, continued brief whistling is heard down the hall, which quieted down after seeing Chris leave the locker room. Edge slowly crept up on the door and slide into the locker room throwing his chair down
"A banning? That's cute, real sure way to make sure I don't get into the building, real clever, Trix."
Quickly, Edge rushed to Trixie and grabbed her hair, pulling her into the locker. He kicked her in the gut repeatedly, until she fell to her butt, where Edge continued to stomp away at her legs and choke her with his foot, shouting at her.
"You should have stayed out of it!" He continued his beat down, adding insult to injury, by slapping her. As Chris was making his way back to Trixie's locker room, he saw Edge walking down the same hall way. He was far enough ahead so that Chris didn't really have to acknowledge him. Chris stopped in his tracks upon entering Trixie's locker room.[/i][/color]
"Trixie!"
Chris dropped the bottle of water in his hands and rushed to her aid, raising her up and hold her.
"He won't get away with this..."
--
Single rematch: Triple Threat Match: "Queen of Puppies" Debra vs. Angel Martinez vs. Harlow Hunter
[/b]
Once the bell rang all three women circled around each other before Angel immediately going after Debra and began punching her as Debra tries to block but nothing works until Harlow grabs Angel by the hair and slams her down as Debra rolls out to recover. Harlow picks up Angel by the hair and hits a Russian leg sweep as she goes for the pin but gets a two thanks to Debra who broke up the pin, Debra hits a few elbow smashes to Harlow before she whips Debra to the turnbuckle. Debra sits Harlow on top as she tries to stand on the second rope just then Angel comes under Debra which cause a triple suplex as all three women go down and catch their breath as the ref begins to count. On the count of 5 both Harlow and Angel get up first and began hitting each other before Harlow hits her in the stomach and plants a facebuster as she goes down and Harlow goes for the pin and again gets a two. Angel rolls out of the ring to recover as Debra now mat slams Harlow down.
Suddenly, Oblivion co-GM Terri Runnels makes her way down to the ring, applauding Debra's efforts. Terri makes it to the announce table, taking a seat.
Jerry "The King" Lawler:
Woo-hoo! Well if it isn't Oblivion's always beautiful co-GM.
Terri:
"Oh honey, enough with the sweet talk already. I'm just here to call the match with you boys."
"Good Ol JR" Jim Ross:
Well Terri, it certainitely is good to see you tonight. I'm guessing you're out to call this match because it involves your new friend, Debra am I right?
Terri:
"Maybe, maybe not. But 'new friend'? Hun, there's some history between us, remember that..."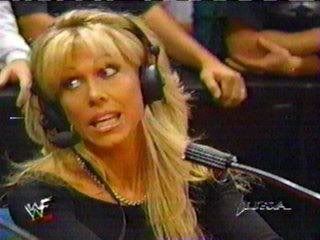 Debra grabs Harlow by the hair but Harlow hits a few timeto the head and dropkicks Debra down. Angel comes outta nowhere with a spinning heel kick and goes for a pin but gets a two. Angel picks Harlow up but she fights out and kicks her in the stomach and hits a DDT and goes for the pin as Debra breaks it up. Angel rolls out of the ring to recover as Debra whips Harlow to the ropes, she ducks the first time around but as she came back both women had the same idea and double clothesline each other. Both women began to catch their breath as the ref began to count, by the count of seven both women slowly got to their feet and began battling it out until Harlow takes control and whips Debra and she ducks the first time around but as she came back Harlow hits a backbreaker and goes for the pin but gets a two. Harlow taunts Debra as she gets up and grabs her by the throat and hits the Hunt and Destroy(Chokeslam/Piledriver) and goes for the pin yet again 1...................2.........nope Angel made the save, Angel grabs Harlow but the hair but Harlow fights out and kicks her in the stomach as she hits the Hunt and Destroy(Chokeslam/Piledriver) on Angel and goes for the pin 1...................2................3!!
As Harlow celebrates her victory, a disappointed Debra begins to drag herself to her feet. Terri places down her headset on the table and stands up to applaud Debra's efforts again.
--
Edge looks around in the hallway and grins as he reaches Katrina's locker room. He walks in with his chair closes her door, locking it and setting his chair up, sitting down behind her, as she stands motionless, seemingly staring into a corner in a trance like state. She doesn't speak, she doesn't feel he deserves it....you made a big mistake...
~Edge~
"Still dressing how I used to make you huh?"
...not quiteEdge grins once more and looks up at Katrina's back, his eyes fall down her body and he tilts his head looking straight at her fish-netted legs and butt. He sniffs and shakes his head, clearly his throat and wiping his face.
~Edge~
"Security around here isn't exactly what I was expecting, it was almost too easy getting in here, but then again, you must have figured I'd be here, seeing how, you know, you just know me
oh so well."...better than I really want to...
Edge sighs after a bit of silence. He stands up out of his chair and walks closer to Kat, putting a hand on her shoulder and speaking softly to her, still unable to see her face.
~Edge~
"You remember don't you? The night at the Penthouse, just gotten out of the shower. Yea? I was there, I was apart of that, a unit. Dare I say family, but you know, you may hate my guts, and I sure as hell can't stand you. And I will, I guarantee you, once I get done with your poor helpless friend Trixie. I'm coming back for you, and I'm finishing what I started. Then, heh, then.."
...I already know what you're gonna say...Edge takes a deep breath and lets out a sigh, sliding his hand down Kat's body, kissing the top of her head....and if that's the case...
~Edge~
"Then..mommy will no longer will be in the picture. It'll just be Kitten, and what's that she calls me again? You know right? Uncle Adam is it?"
...the only one who will need security...Edge backs out of the locker room slowly, grabbing his chair back and opening the locker room door, heading out. Katrina snaps her head around with a deathly gaze on her face.
...is you.
--
6-Woman Tag match: Natalya Neidhart, Laura Jackson & "The Lovely" Lacey vs. Gail Kim, Taylor Wilde & Yuri Zaraki
[/b]
Laura Jackson starts off by taking it to Gail Kim with a series of forearm shots. With Gail leaning back against the ropes, Laura follows up with a chop to the chest and then a dropkick. With Gail sent to the outside, Laura walks towards the ropes but Gail hops onto the apron and snaps Laura throat-first off the top rope. Laura falls back and Gail slingshots back into the ring with an elbow drop. Gail hooks her leg but Laura kicks out. Gail brings Laura to her feet and brings her to her corner. She then tags out to Taylor Wilde. Taylor takes Laura over with an arm drag, followed by an immediate second. As Laura stands up again, Taylor nails her in the chest with a dropkick. Laura scrambles to her corner and is comforted by Natalya and Lacey. Laura eventually turns back to the ring and she and Taylor lock up again. Laura breaks out of it, hitting Taylor quickly with a European Uppercut followed by a Rib Breaker. Laura covers Taylor but Yuri and Gail help break it up.
Taylor makes the quick tag back out to Gail. Gail runs in and brings Laura into a side headlock. Laura battles out of it and pushes Gail into the ropes. She then connects with a Double Jumping Knee to the gut. Gail rolls to the ropes, leaving Laura to tag out to Lacey. Lacey immediately drags Gail into the center of the ring, dropping a knee onto her chest. Lacey then rolls her over and locks her in a Cobra Clutch. Taylor and Yuri will on Gail as much as possibly, cheering for her to hold on. Eventually, Gail finds the strength to break out of it, grabbing Lacey by the hair and using it to toss her overhead. Gail connects with a hurricanrana before tagging out to Yuri Zaraki. Yuri is instantly met with a Spinning Wheel Kick from Lacey before Lacey goes to pin her. Yuri has other ideas as she pulls Lacey into an inside cradle. Lacey just manages to kick out in time. The two spring back to their feet and lock up. Yuri takes Lacey over with a Suplex. After dragging Lacey back to her feet, Yuri executes a Standing Tornado DDT. With Lacey down, Yuri hooks her leg for the cover but soon finds herself yanked off by Natalya.
Lacey eventually fights back against Yuri's next attack as she strikes her with a sudden double knee backbreaker. Lacey drags Yuri to her corner as she tags out to Natalya Neidhart. Lacey holds Yuri in position as she's met with a barrage of shots from Natalya. As Lacey exits the ring, an overly arrogant Natalya poses in the center of the ring. This not only generates boos from the crowd but also buys Yuri time to tag in Taylor Wilde. Taylor goes behind Natalya and takes her over with a Wilde Ride (Bridging German suplex).Natalya barely manages to kick out. As Taylor brings Natalya back to her feet, Taylor is struck from behind by a cheap shot from Laura Jackson. This distracts Taylor long enough for Natalya to regroup and take Taylor down with a Nattie by Nature (Spinning powerbomb). Gail and Yuri attempt to make the save as Natalya covers Taylor but fail to do so as Laura and Lacey stop them. This allows Natalya to pick up the victory for herself, Laura Jackson and Lacey.
--
'Phenomenon' by Toby Mac hit over the speakers, leading to AJ Styles heading onto the stage. He made his way down to the ring, hitting his hand with a few of the fans. He entered the ring and centered himself as he lifted up the microphone that he had brought with him to his mouth.
AJ Styles:
"It's been a relatively downhill journey for me in the UFWA so far. I lost my first match and ended the second as a No Contest. But let me clarify one thing to you people... CM Punk started this. He had to interfere in my match first, leading to me being forced to interfere in his. Then as we faced off the next week, we brawled till the end. Lemme just say that
he
started this and I'm going to end it."
The crowd seemed to approve of that comment as they began cheering.
AJ Styles:
"CM Punk seems to think he's God's Gift to Wrestling but ya know what, Punk? You're not the untouchable superstar you think you are..."
As the crowd cheered, the speakers were very quickly sounding once more, the titantron video beginning as 'Miseria Cantare' hit the arena, filling it with sound. Sure enough, his hair dyed blonde and his expression uncaring, Punk walked from behind the curtain, standing at the top of the ramp with mic in hand.

"AJ, AJ, AJ, it's looking like your "Styles" aren't coming along the way they are. You see AJ, I don't THINK I'm god's gift to the sport, because I'm MORE than that. I'm this sports saviour, I'm the man who is going to take it to new heights, and levels, and make it far more respected than it ever has been. You yourself are used to heights, so you know EXACTLY what I'm talking about."

Punk began to grin as the ground became annoyed, booing him down - to which they were ignored and shrugged off, the man they were directed at focusing strictly on the man in the ring.

"The reason I interfered AJ, are very simple. It was for my Society's progression. If it had been you, in the position I was in, if it had been me in the ring that night and not you, you would have done the exact same thing, so don't give me this whole 'Punk started a war and that's what the problem is!' line."As the booing from Punk's final line came to fade, AJ took over again.
AJ Styles:
"For once, you've spoken a word of truth, Punk. You're right, I would have probably interfered had I been in your position. But seeing as it wasn't me and it was in fact you... I've got every reason to shift the blame onto you."
The crowd cheered AJ, obviously supporting him in this war of words between the two.
AJ Styles:
"But ya know what? I'm actually glad things have gone the way they have, I'm glad this tension is brewing between the two of us and I'm glad we've got this bad blood. Why? It's simple, Punk. As you said, you think you're even
more
than God's gift to wrestling and you believe yourself to be some sort of savior, which may I say is nothing more than delusion. You can think what you want, Punk but at the end of the day, I've seen what you and your little Straight Edge Groupies do. You have a clear message about being Straight Edge and I respect that yet the way you portray yourselves as human beings is sick. The cheap shots, the need to cheat in order to score a victory. It's about time someone cut short that over-arrogance you possess... I'd quite happily be the one to do that."
With a little laugh, shaking his head as he shifted to squint an eye at AJ, head tilted slight as he had arms folded over his chest, raising arm to rest elbow on forearm, mic raised to mouth.

"Because you're claims aren't far fetched? The 'phenomenal one'? You're an above average wrestler, AJ. I'll give you that. You're better than the usual man, you come out here with a versatile attack force and move set. But that isn't enough. What I did was watched my back and my Societies back, that way I watch my own. You don't get anywhere in this business by creeping past egg shells, you do it by taking every advantage you get. You can blame me all you like, but the fact is, it could have been anyone. Me doing that to you was just business."
AJ Styles:
"Though the point is there, Punk, you're still a little wrong with your own beliefs. So you say you're the best damn wrestler that this business has to offer but as I see it, you and I are actually on a relatively similar level... wrestling-wise. But the difference between you and I, is that you rely on your little Society to have your back, whereas I get things done on my own."
AJ moved the mic away from his mouth for a moment, taking a brief second to pause but soon returned to speaking again soon.
AJ Styles:
"The fact of the matter is, Punk, that you are really yet to live up to your own claims. Heck, even I am too. Afterall, both of our first matches were tarnished by each other's interference and our second match had little to no wrestling involved as we just opted to beat the shit outta each other and here we are now, not even scheduled to be in a match at all. If we were to face off again, one... on... one... then maybe we'd get to actually see who the better man is here."
"Whatever you want to think AJ. What could have been a good contest was ruined - because where you were so focused on gaining some revenge over me, I was aiming to just finish it. My career is a testiment to saving people from their unhealthy lifestyles, their poison relationships with substances rotting them from the inside out. When I win a title, it's a statement that StraightEdge is better. Yours is different. Yours is a career built on selfish desire. When you do something, it's for you, and ONLY you. When I do something - it's for the people, so that they can turn to a better life, a better style, a better future.."
AJ Styles:
"Yes, that's right... I get it; the whole Straight Edge thing... Punk, I approve of your message, I approve of your lifestyle and I approve of the entire Straight Edge concept. All I'm saying is I don't think this is over between us. There's still something crying out for another match between us as a way to settle this. You claim to be the best and I too, am pretty confident in my own abilites. Yeah, you're right... I do think I'm Phenomenal. So whataya say, Punk? At UFWA's first PPV, we meet in this ring again. This time, with... No. Holds. Barred."
Arms folded, licking around the inside of his mouth and playing with his lip piercing, he once more raised the mic to his lips with a confident grin.

"We can push, and push, and push, until the other is broken down and put to the floor..you think you're great..but I think I'm better..so come the PPV we'll find it out... at the first Pay Per View AJ, you have your match. And how about when it happens, we wrestle?"AJ just nodded as he took a step forward and leant on the top rope as he continued to look in Punk's direction.
AJ Styles:
"Then we'll do just that; this time, we'll wrestle. And Punk, we settle this... it's as simple as that, my friend."
AJ and Punk exchanged a look and both nodded towards one another before Oblivion head's into another commercial break.
--
Main Event, Tag match: Cheerleader Melissa & Samoa Joe vs. Marcus Brett (accompanied by "Futureshock Vixen" Kirsten) & a partner of his choosing
[/b]
'Last Fight' by Bullet For My Valentine hits, leading to Marcus Brett and Oblivion co-GM Kirsten making their way onto the stage and down to the ring. As they enter the ring, Kirsten motions for Samoa Joe and Cheerleader Melissa to leave the ring, which they reluctantly do. Kirsten reaches out of the ring and instructs a staff member to hand her a microphone. As they do, Kirsten walks back over to Marcus and gives him the mic.
Marcus Brett:
"Well, I was given the chance to pick my own tag partner for tonight instead of being thrown into this with some randomer that I don't even know or care about in any way, shape of form. So, I guess in that case most people automatically assumed I'd go with someone like... I dunno... Kirsten here maybe?"
He looked over to Kirsten who giggled slightly as she posed in the center of the ring, causing the crowd to boo louder.
Marcus Brett:
"But she's made it clear that she's not coming out of in-ring retirement anytime soon. And as much as I'd love her to be my tag partner here tonight, I've got someone else in mind. See, myself and the person in question have such a huge amount of history together... all bad blood. That's right. 4 consequetive Pay-Per-Views at our previous federation consisted of epic matches between the two of us."
He paused as Kirsten stood behind him and applauded.
Marcus Brett:
"Some could even say I've made a deal with the devil here but right now, I couldn't care less. We've struck a deal here and I think things could only get more interesting as time progresses. Melissa... Joe... you also know this person VERY well indeed. In fact, you teamed with him in your last ever ZXWWF match at 'Mania. So here we are... my tag partner for tonight is none other than the man who really showed what he's made of last week when he beat the shit out of his now former tag partner... Jimmy Jacobs!"
"Good Ol JR" Jim Ross:
Bah Gawd King! Can you believe this? After all the hatred these men have shared for one another for the majority of this past year, they're teaming up?
Jerry "The King" Lawler:
I don't believe it either, JR! But who's to say they'll even manage to co-exist and get through this match without turning on one another?
"Good Ol JR" Jim Ross:
Well King, it looks like the entire ZXWWF Deathmatch Division have been reunited and in the UFWA Main Event scene.
On cue, 'Sleep With One Eye Open' by Bring Me The Horizon blasted through the arena, causing Jimmy Jacobs to step onto the stage with Lacey in tow. The two entered the ring and shook hands with Marcus and Kirsten as Jimmy took the mic.
Jimmy Jacobs:
"After a feud spanning several months, we eventually managed to see past the hate and find mutual respect for one another. After the battles, the blood that spilt and the words that we exchanged, we realized that we only want the same thing. And that's to be the best. But in this business, you have friends and you have enemies, some people you can trust and others you can't. But sometimes you have to realize that no matter what, there's going to be people that you'll have to work with and learn to co-exist with if you want to get anywhere."
Marcus Brett:
"That's right. After everything we've been through, myself and Jimmy here are certain we can take the two of you down tonight. Melissa and Joe... you two make a great pair... a cute couple... if that's where you're at in your relationship; I'm not one to comment..."
Jimmy Jacobs:
"Joe, you came in last week, debuting in the company by saving Melissa's ass and now you expect to be in the Main Event scene and that's great. But so am I. I was given a very brief chance to take part in the Main Event picture back in the ZXWWF but was somehow screwed out of that. I'm Main Event worthy, that's for sure. Last week, I proved that I can do just about anything. I said I'm going to be the greatest singles wrestler in this company and that's exactly what I'm aiming for. We'll be working together but I'm still out for myself. As is Marcus. We've just got to do this to take Melissa and Joe down. So enough with the talk and let's show them who the real top dogs on Oblivion are..."
Jimmy tossed the microphone aside and Lacey & Kirsten exited the ring, allowing the match to finally begin. Jimmy starts with squaring off with Samoa Joe. The two lock up but it's not long before Samoa Joe uses his raw power to shove Jimmy to the mat. Jimmy begins fighting back with a few shots to the midsection to Joe but that proves to be a wasted effort as Joe brings Jimmy up to his feet easily and headbutts him. Joe tosses Jimmy to the mat in the form of an Island Driver (Sitout side powerslam).Joe doesn't go for the cover and instead makes the tag out to Cheerleader Melissa. Melissa picks up Jimmy and lifts him onto her shoulders. Jimmy manages to slide off of her shoulders and pushes her forward from behind, causing her to rebound chest-first out of the turnbuckles in the corner. She falls back into a sneaky roll-up from Jimmy but she manages to power out. As Melissa stumbles to her feet, Jimmy runs at her with a Spear attempt but Melissa side-steps it. She catches Jimmy with an atomic drop before Jimmy stumbles forward enough to tag in Marcus. Marcus and Melissa lock up, with Melissa breaking out of it and going behind Marcus. She locks her arms around his waist, looking for a German Suplex but Marcus latches onto the top rope to block it. Melissa soon releases him but she doesn't give up as she spins him around and connects with a Backhand Chop. Marcus uses the ropes to keep himself standing but Melissa runs at him again with a clothesline. Marcus dodges, causing Melissa's momentum to carry her over the top rope. Marcus quickly follows up with a Suicide Dive before Jimmy leaps off of the ring apron with a Senton to the grounded Cheerleader Melissa on the outside.
Jimmy and Marcus return to their feet and hold each other's hands up as they generate a negative response from the crowd who begin to boo heavily. From behind, Samoa Joe unleashes an attack on both men, slamming Jimmy head-first into the ringside barricade before sending Marcus back into the ring. Joe goes to follow up with a lariat but Marcus once again manages to dodge the attack. Marcus delivers a dropkick to the chest of Joe, sending him outside the ring before he's met with a sudden Reverse STO from Melissa. Melissa rolls Marcus over onto his back and sets him up for a Curb Stomp. Before she can connect, Jimmy Jacobs comes out of nowhere with an enzuigiri to her. Marcus is then able to turn the match back in his favor as he catches Melissa with a hurricanrana followed by a Springboard Moonsault. Marcus goes for the cover but Melissa manages to kick out. Melissa then tags out to Samoa Joe. Joe instantly makes an impact as he takes Marcus over with a snapmare, leaving him in a seated position. Joe then follows up with a chop to the back of Marcus, followed by a football kick to his chest and finished with a jumping knee drop.
Keeping with frequent tags, Samoa Joe tags Melissa back into the match as Marcus does the same by tagging out to Jimmy. Melissa turns Jimmy inside out with a discus clothesline and then lifts him back onto her shoulders, this time finishing with a Samoan Drop. Outside the ring, Marcus and Samoa Joe continue to brawl with one another, with Joe gaining the upperhand. With Samoa Joe and Cheerleader Melissa firmly in control, Lacey takes action as she slides a steel chair into the ring to Jimmy who picks it up and waits for Melissa to stand. Instead of hitting Melissa with the chair, Jimmy slams it on the ground to cause it to bend slightly and create a noise. Jimmy immediately tosses the chair into the hands of Cheerleader Melissa, just as the referee turns around to see Jimmy on the ground, holding his head in 'pain'. The referee is then left with no other option than to disqualify Cheerleader Melissa and Samoa Joe based on what he had seen. Melissa immediately begins to plead her case and explain what happened but he isn't hearing any of it as Jimmy, Lacey, Marcus and Kirsten celebrate their so-called 'victory' up the ramp while laughing at an irate Melissa and Joe in the ring.[/center]