Post by Kirsten on Aug 22, 2010 11:00:58 GMT -5
Thanks to the usual match-writers and people who sent in skits. This is a very skit-heavy show but hopefully it'll be a good build-up for the PPV next week.
Speaking of the PPV, can everybody who has a solid PPV match in mind that they've discussed with the person/people they're feuding with or even if people just have ideas on what they want to do, please, please, please send me a PM letting me know what your plans are ASAP. Thanks & enjoy

--
This week's Oblivion opens to the scene of the Beautiful People, Angelina Love and Velvet Sky, being followed for several paces before Velvet held up a camera in her hands. She pointed it in the direction of Angelina and smirked.
Velvet Sky: Ready?
Angelina swung her platinum blonde hair back slightly before making sure it returned to it's perfect position.
Angelina Love: Always.
Velvet Sky: Great. Sure you wanna do this?
Angelina Love: Eh, may as well. I'm bored and we haven't really said anything in weeks!
Velvet took a few steps back, lining the camera up to have Angelina centered in front of it. Eventually, Velvet switched it on and now it was Angelina's turn to look on with a satisfied smirk.
Angelina Love: So here we are. Another week, another triple threat. Rather unfortunately this past week saw Velvet Sky fail to pick up the victory in her match. But in her defence, last week's match can only be described as a complete and utter clusterfuck. Plus, Vel-Vel wasn't pinned; Mickie was. So to me, that's not REALLY a loss. Just not a win. Am I right?
Velvet moved the camera up and down to symbolize her nodding in agreement.
Angelina Love: So this week, I take on Daizee Haze and Casey Cortez. Great. Ya know, I'm actually kinda looking forward to it. Why? Because they're both relatively interesting characters. Daizee and Mickie make a cute pairing, don't you think Vel? I mean, they're BFF's and so determined to make a name for themselves. And then No Remorse, our former students and believe it or not, we're still kinda 'friends' with them, right? So we're glad to have seen Shelly Martinez win last week in some ways. We'd have preferred Vel-Vel to win but Shelly winning isn't the end of the world.
Both began walking down the hallway before stopping as they came to their locker room.
Angelina Love: But whatever. Tonight, the Beautiful People will be standing tall and we'll be the ones with the momentum heading into the Women's Tag Team Championship match. Velvet may be banned from the ring tonight but hey, I can still get the job done.
Angelina stopped and lifted one leg onto a nearby bench and began stretching.
Angelina Love: Time to kick some ass, Vel.
Angelina and Velvet high-fived before walking off.
--
"Good Ol JR" Jim Ross:
Welcome to Oblivion ladies and gentlemen!
Jerry "The King" Lawler:
We've got another incredible show for you tonight and it looks like the Beautiful People think so too! I can't wait to see Angelina Love's match tonight!
"Good Ol JR" Jim Ross:
Anyway folks, we're here tonight live from Detroit, Michigan; the hometown of none other than the Machine Guns, including Alex Shelley, who's going to be in action any minute now! Let's get this show on the road!
--
Opening match, Single match: "King of Controversy" Genesis (accompanied by "Shaman of Sexy" John Morrison & "Sexiest of the Sexy" Maryse) vs. Alex Shelley (accompanied by Chris Sabin & Melina)
[/u]
The two teams are at ringside and the managers and non-active partners step through the ropes and to the floor below Maryse quickly engages Morrison in conversation before the referee can eject them. He shakes his head and signals for the bell. Alex Shelley walks up to Genesis and the two stare at one another. Alex begins making funny faces which only serves to make Genesis angrier. He reaches out to punch Shelley who dodges and continues to make faces. Genesis swings again and again Shelley dodges and begins dancing out of the way. Now Alex throws a punch that connects and continues this dance and then he throws another that connects. Sabin applauds at ringside while Maryse pounds the mat "FOCUS!" That seemed to do the trick and Genesis reaches out and clips the nose of Shelley and the audience shows their appreciation with a chorus of loud boos. Genesis then throws a Kick Combination that starts behind the shin and moves up to behind the thigh and finally the back of the head. Maryse applauds while Sabin and Melina yawn. Genesis begins stomping on Shelley who catches the foot and whips Genesis to the mat while he begins to stand and catch his bearings. Still seeing Genesis down on the mat Shelley quickly executes a Springboard moonsault and goes for a quick cover. Genesis kicks out and rolls out of the ring. Sabin and Melina applaud Alex as he takes a bow in the middle of the ring. Maryse grabs Genesis by the tights and slips something in them. Morrison protests and the two turn to glare at him. Genesis re-enters the ring and charges Shelley with a Lou Thesz Press instead of getting down and punching Genesis rises to his feet and hits him with a elbow drop. He leaps up in the air for another shot but Shelley rolls out of the way.
Genesis crashes into the mat. Waisting little time Shelley picks him up and delivers a Shellshock (Leg hook swinging reverse STO). Alex gets down to cover Genesis and gets a two count out of the ordeal. Shelley looks at the referee and begins to rise from the mat, he goes to pick Genesis up and finds himself pulled into pin. The surprised Shelley kicks out at two. They both stand but Alex is the faster of the two and he backs up and takes off running to deliver a Shining wizard. Morrison looks as if he is about to climb up on the apron and he does. Maryse spies Sabin about to attack and she calls out to Morrison who turns to look at her as if to say "I've got this" and finds himself the victim of a Hurricanrana that sends him into the barricade. In the ring Shelley has set Genesis up for the Sliced Bread #2 (Springboard backflip three–quarter facelock diving reverse DDT) and hits it beautifully and covers Genesis. The referee gets down into position and his hand slaps the mat...1, his hand slaps the mat again...2, he raises his hand in the air and it hits the mat for the third and final time...3!
"Good Ol JR" Jim Ross:
That was a slobberknocker for sure.
Jerry "The King" Lawler:
JR, I just gotta watch this sweet move one more time.
The split screen comes up and in slow motion it shows Maryse turn her head and shout to Morrison, he turns to look at her and Sabin leaps up on the apron and executes a sick hurricanrana that sends Morrison into the barricade. As Alex Shelley hits the Sliced Bread in the ring.
Jerry "The King" Lawler:
That's the sign of a true tag team right there. The set up and execution of victory. Those tag team titles are sure to come to Friday Night Oblivion now. Those Royal Anarchy boys can't hold a candle to our Motor City Machine Guns.
"Good Ol JR" Jim Ross:
Don't count your chickens before they're hatched King. Those boys were hand picked by that Jezebel Raven and you know she will do anything to get what she wants and she surely won't want to have her hand selected team lose.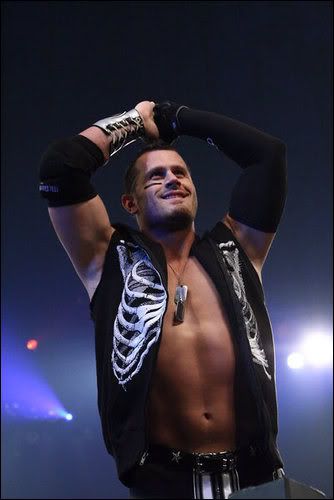 --
Before the start of Daizee Haze's match, she stands in her locker room, finishing adding the final details to her usual bright, floral attire when when Mickie James enters the room.
[/i][/color]
Mickie
: Hey Dai! Ready for your match?
Mickie walks towards Daizee and leans against the wall next to her.Daizee looked over to her best friend, with a wide smile on her face before doing a 'salute' type motion.
[/color]
Daizee Haze -
Ready as always.
She finished perfecting her hair before letting out a slight sigh.
[/color]
Daizee Haze -
Hey, I'm sorry about last week, Mick. I mean, I had the opportunity to stop everyone else getting involved and you ended up getting screwed...
Mickie laughs a little at Daizee's "salute," but then sighs and shrugs a little when she mentions how she got screwed last week.
Mickie
: It's alright Dai...I mean, to be perfectly honest, all that really did was pump me up even more for our title match!
Mickie pulls herself off the wall and shows Daizee a smile.
Mickie
: And I don't think what happened last week is gonna happen again...
Mickie throws her hands up.
Mickie
: How can it? We're banned from ringside!
Mickie can't help but laugh at how she put it. Even though it's not a laughing matter, she feels a little humor is ok to keep the mood somewhat positive.Daizee also began to smile slightly.
[/color]
Daizee Haze -
I know you're banned, which is a shame because I love having you out there with me but I think it could be for the best. Afterall, that means Velvet and Shelly won't be around to interfere, so that could make things a little easier for me, right?
Mickie:
Aww Dai...
Mickie wraps her arm around Daizee's shoulder.

Mickie:
You'll do fine! Without any interference, it should be a piece of cake for you. Velvet's always been with Angelina, and from what I can remember, Shelly and Casey have been a team longer than they have been apart, so that just us. Not only are we an amazing team, but....
Mickie lets go of Daizee and steps back a little.
Mickie
: As individuals, we're still a force to be reckoned with...
Daizee's smile grew as she nodded in agreement.
[/color]
Daizee Haze -
You're right... I've got this. Thanks Mickie, I know I can always rely on you to brighten the mood. But I guess it's up to me, now. I'll go and make sure we're the team with the momentum heading into our title shot.
Daizee pulled her partner into another hug before beginning to make her exit from the room.
[/color]
Daizee Haze -
Wish me luck!
Mickie
: Good Lu....
Before she can finish, Daizee had already left as her entrance theme starts for her match. Even though she can't hear her, Mickie still wishes Daizee luck.
Mickie
: Good Luck Dai...
--
Triple Threat match: Angelina Love (accompanied by Velvet Sky) vs. Casey Cortez (accompanied by Shelly Martinez) vs. Daizee Haze (accompanied by Mickie James)
[/u]
After all three women enter the ring the ref rang the bell as Casey immediately spears Angelina down and began hitting her head on the mat a few times before getting off and Angelina rolls out to recover as Daizee from behind grabs Casey by the hair but Casey fights out with a few elbow shots to the head before kicking her in the stomach and hits a DDT as she quickly covers but gets a two as Angelina makes save. Angel grabs Casey by the hair and whips her to ropes as she ducks the first time Daizee clothesline her out of the ring and Angel, Daizee circled each other before locking up and Daizee leans back to the rope as she whips Angel but as Angel came back Angel does a Headscissors Takedown follows a dropkick and covers but gets a two as Daizee kicks out. Angel grabs Daizee by the hair but fights out and outta nowhere hits the Cashed Out as Daizee now goes for the pin but gets a two as Casey breaks it off. After stomping Casey grabs Daizee by the hair and rams her shoulder first to the ring post and ducks the first time but as she came back around Daizee hits a tilt-a-whirl backbreaker as Casey holds her back Daizee kicks her in the stomach and hits the Daizee Cutter (Stunner) and quickly pins 1.......2......th-no, saved by Angelina. As Casey and Daizee gets up they grab Angel by the arm and whips her to the rope Angel ducks the first time but as she came back round she hit a double clothesline and all three catch their breath.
By the count of seven Angel and Casey began to battle it out but Casey speared Angel down and throws Daizee out of the ring and walks back to Angelina. But Angelina kicks Casey in the stomach and trips her on the rope and begins choking her until the ref broke it up, Angelina runs back to the rope and hits Casey from behind. Angelina grabs Casey by the hair and kicks her in the stomach but Casey fights out and outta nowhere and hits the Hunting RKO and goes for the pin 1.....2......thr-no! in the last second Angelina kicked out and Casey begins to yell at the ref as Angelina gets up. Angelina turns Casey around and hits the Lights Out and quickly covers 1.......2.....3!!
--
"The Radiant" Rain was in her locker room, finishing off lacing up her boots. She sat up as she finished and her gaze was immediately drawn to the person who had entered the room now; none other than CM Punk.
With a smirk, Punk rubbed his chin, blonde hair hanging back behind him, dressed in his PUNK XXX boxing shorts, boots and his tight fitted thermal top, hands in his pockets as he looked back to Rain.
"Long time, no see Rain. How are you? It's time we sorted this all out and got you back on the society roster properly. People are starting to think you parted with us."[/i][/color]
Rain couldn't help but smile at Punk's presence in the room, she was pleased to finally see him again.
[/i]
"The Radiant" Rain
People can think what they wish; I'm not going anywhere. Even though, yes, it has been a while, the SES will always be tightly bonded. I've not been too bad recently though thanks, Punk. Afterall, I've got my title opportunity just around the corner and I'm still managing to remain sober thanks to the help you once so kindly offered me. I could do with spending more time with you, though... you know, for even further support.
She shrugged.
[/i]
"The Radiant" Rain
How have things been on your end?
Nodding as he moved further into the room, Punk leaned to the wall as he smiled, looking to Rain.
"Good to hear we still have you. Things for me have been..fine. A road, but one I can't complain about. Too many people fighting the positive change I try to bring."[/i]
Rain nodded and began to smile as Punk spoke.
[/i]
"The Radiant" Rain
So I've seen.... But don't worry, of course you still have me on board. And together, we'll continue to spread our message to the world.
With his smirk still, Punk stood up straight and opened his arms, his expression soft - one of a leader who cared - as he looked to Rain, obviously pleased with her words.

"Good. The Society is as strong as ever then. Yourself, Rex and I, we are gonna push this to the very peak so that we can save all the people we can.Rain soon rose to her feet, nodding in complete agree with him before she shuffled forward slightly until she found herself in his arms. She gave him a hug before stepping back.
[/i]
"The Radiant" Rain
You saved me. I'm sure we can save more...
--
Single match: Taylor Wilde vs. "The Tattoo Beauty" Laura Jackson
[/u]
The two ladies square off and meet with a standard lock-up. Taylor is the first to break out of the initial struggle as she is quick to go behind Laura, pulling her arm behind her and then repeatedly wrenches her arm back with more and more pressure. Eventually, Laura reaches out to the ropes and latches on tight, causing the referee to force Taylor back. Taylor releases Laura's arm but delivers a few further swift kicks to the back of Laura's knee, which soon buckles from under her. Taylor lifts Laura back up, delivering a dropkick square to her chest. Taylor hooks Laura's leg quickly but Laura powers out. The two soon meet again but Taylor goes straight back to working on Laura's knee, delivering a chop block, followed by several stomps onto it. Laura screams out in pain but Taylor stays on the attack. With Laura stumbling back to a vertical base, Taylor runs at her with an attempt at a Handspring back elbow smash but Laura ducks it. As Taylor crashes and burns, Laura Jackson picks Taylor up as quickly as possible, in order to take her back down with a Double Jumping Knee to the chest.
Laura rolls Taylor onto her back and covers her but Taylor kicks out. Laura keeps Taylor down and repeatedly knees her in the top of the head. Laura then drags a groggy Taylor back to her feet, leaning her against the ropes. Laura lays into her with a series of chops to the chest. Laura finishes off with a Roundhouse Kicks to her ribs, causing Taylor to collapse to the mat. As Laura poses in the center of the ring with a smile on her face, this only allows a resilient Taylor Wilde to pull Laura into a small package. Laura kicks out but is then met with a Tilt-a-Whirl Headscissors Takedown from Taylor. To avoid further punishment, Laura rolls out of the ring to recover. As she does, Taylor delivers a baseball slide, nailing Laura in the back. Laura flies forward, crashing into the barricade. Taylor exits the ring, grabbing Laura by the hair in order to toss her back into the ring. Taylor goes for the cover but once again only picks up a near fall.
Both women soon bring themselves back to their feet and meet in the center of the ring yet again. Taylor once more gains the upperhand, striking Laura with an uppercut. Taylor then sets Laura up for a Wilde Ride (Bridging German suplex), by wrapping her arms around the waist of Laura, but Laura manages to block the move. Taylor releases her grip on "The Tattoo Beauty" and then takes her down with an arm drag, followed by a second. With Taylor dominating the match, she then makes a running start towards Laura but at the last second, Laura side-steps her. As Taylor bounces chest-first off of the ring ropes, Laura takes the sneaky opportunity to pull Taylor into a schoolgirl roll-up. Laura also places her feet on the ropes for added leverage and pulls on Taylor's tights to hold her down and steal the victory.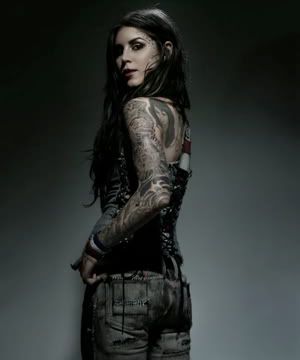 --
Tag match: "Pride of Tennessee" Jacqueline & "The Radiant" Rain vs. Roxxi Hunter & Harlow Hunter
[/u]
Roxxi Hunter starts off with a hard club to the back of Rain, who falls to a knee. This leaves her open to a boot to the side of her head, followed by a Jumping Roundhouse Kick from Roxxi to finish. With Rain down, Roxxi is quick to go for the cover but Jacqueline aids her partner by smashing Roxxi in the back. Jacqueline is forced back out of the ring and Roxxi manages to remain in control. Roxxi brings Rain to her feet and takes her down with a Pendulum Backbreaker Submission. Rain refuses to give up and soon battles out of the hold. Roxxi makes the tag out to Harlow Hunter. Both Hunters remain in the ring as they take it in turns, landing shots on Rain. Rain eventually ducks a shot and nails Roxxi with a lariat, then Harlow with a dropkick. Rain grabs Harlow by her hair and uses it drag her to the ropes. Rain hangs Harlow throat-first off the middle rope before running at her, smashing her knees into the back of Harlow. Rain drags Harlow to her corner and tags out to Jacqueline.
Jacqueline leaves Harlow sat in the corner before beginning to choke her with her boot across her throat. Eventually, the referee forces Jacqueline to back off but the "Pride of Tennessee" can't resist a further cheap shot to Harlow in the form of a swift kick to the head. With Harlow remaining grounded, Jacqueline drags her to the center of the ring before going for the cover. Harlow rolls her shoulder up at 2. As Harlow staggers to her feet, Jacqueline spikes her head into the mat with a Standing Tornado DDT. Jacqueline doesn't go for the cover this time and instead, opts to bring Harlow back to her feet. From here, Harlow begins to fight back, first, catching Jacqueline with a Bitchslap. Jacqueline is quick to get out of there as she makes the quick tag out to Rain. Rain runs into the ring but is taken down with a hurricanrana from Harlow. Harlow doesn't stop there as she drives Rain back to the mat with a neckbreaker. Beginning to get back into things, Harlow grabs Rain viciously by her hair and flips her forward with a snapmare.
Harlow drives her boots into the face of Rain with a low dropkick before she makes the tag out to Roxxi Hunter. Roxxi enters the ring and immediately and goes for the cover on Rain but Rain puts on foot on the bottom rope to stop the count. A frustrated Roxxi Hunter begins to argue with the referee but this ends up being a mistake as this just allows Rain to tag in Jacqueline. Jacqueline and Rain then double team Roxxi with a Double DDT. Harlow intervenes but is met with a Double Knee Facebreaker from Rain. Meanwhile, Jacqueline takes down Roxxi with an Elbow Smash. Jacqueline then wraps her arms around the waist of Roxxi, as Rain runs forward with a big boot to Roxxi's face. This allows Jacqueline to easily take Roxxi overhead with a Bridging German Suplex. As Harlow runs forward to break it up, Rain greets her with a Spear, allowing Jacqueline to pin Roxxi and pick up the victory.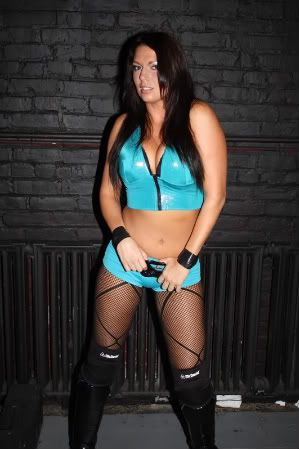 --
Backstage Genesis & John Morrison were spotted walking down the hallway. Talking amongst themselves as they try to work out a small problem that had occurred on Wreck.

Genesis: Look man, I'm not sure where your head is at these days. But we need to get back on the right track here. I've had a few days to cool down. But I'm still a bit pissed off. I know your intentions were good at heart. I do realize you're trying to do the right thing for us as a group. But man, this thing with Maryse. She was fine dude (laughs). Nothing was going to happen to her out there. She was having a blast out there. Then, all of sudden. You walk out there like a bat outta hell & ruin the whole damn thing!

I'll admit, maybe I acted a bit insecure. After all, its no surprise. You & Maryse did have a little relationship before I came along. So, ya know. Maybe I was a bit jealous. I can't help it, bro. In reality? She's all I got man. Well, besides you of course. But you know what I'm saying though, right? I just don't want to feel alone anymore. Until I met here. I had nothing going in my life but the wrestling business.
Morrison nodded laughing lightly but not at Genesis. Morrison couldn't blame Genesis for being angry about what had happened.
John Morrison: It's fine man, just when I heard the rumors of Jericho possibly going after Maryse. I acted without thinking my bad, but I did what I had to so I hope you can understand that I did what I did.
They stop walking upon reaching the interview area as they hear Chris Jericho's music blasting and turn to look at the monitors.
--
"King of My World" hits as a flash of pyro goes off and the camera pans straight into titantron and down some, as Chris Jericho makes his way down to the ring, alone, with a huge smug posture on. His head held high, he makes his to the ring and pauses on the steps looking into the crowd. He walks along the apron and locks his arms around the ropes, staring straight into the crowd. He nods and enters the ring immediately grabbing a mic and looking back into the crowd. Jericho takes a deep breath and just as he's about to speak, he tosses the mic aside, undoing his tie and throwing it out of the ring, he rips his suit top off and throws it as well, he even rips his shirt open, throwing it to the crowd. Topless entirely in his suit pants only, he bends down and grabs a mic back speaking.
~Jericho~
There's one thing, I want to make perfectly clear, to all you parasitic hypocrites, you liars, you cheats, you tapeworms, troglodytes, failures, germ incubators, pesents, nuisances, all of you...
Jericho grins and looks around the crowd nodding to himself.
~Jericho~
..You don't like that very much do you? It's not everyday you get called everything in the book huh? I didn't think so, being called a troglodyte is almost worse than being Edge's partner, and for those of you who were wondering, yes, it's that's bad. And the one thing I want to make very clear to each and everyone of you...
Jericho pauses and puts the mic down looking yet again back into the crowd. His posture changes entirely and seemingly turns sincere before raising the mic back up.
~Jericho~
..I'm sorry. To each and every one of you. You're not troglodytes, tapeworms, any of that. You guys are the fuel to Y2J, the fire the guy from burning down the house was talking about. Chris Jericho wouldn't be Chris Jericho without any of you. And I turned my back for the betterment of my own career, and for that..I'm going to do you all a favor.
Jericho nods and hops up on a turnbuckle corner wiping his face and grinning with a grin that hasn't been seen in a decade.
~Jericho~
Y2J moved to Oblivion with one purpose, One and only one, and that was simply put. Ego-Trip. You have Genesis, and you have a cheap Jim Morrison knock off. And you have their bitch. Their skank, the doorknob of their locker room, Maryse. That was my goal, and while Edge is off being what's the word guys? A pathetic excuse for a human being, I'm here fighting a war. So Ego-Trip, pay close attention.
Jericho leans in close and waves the camera in some as if he's got a secret.
~Jericho~
I'm coming for you Ego-Trip, but I'm not coming alone..
Jericho grins smugly and grabs the camera turning it to the titontron as the lights quickly go out. And a familiar voice is heard through the sound systemSeen standing in the blue lights and smoke is none other than "The Instant Classic" Christian Cage. Arms spread wide back turned, taking in the sheer moment of being back.
He turns around and smiles as only Christian can, making his way down to the ring, entering and immediately walking to Jericho giving him a hug. Jericho hands Christian the mic and steps aside, letting Christian have his moment.
~Christian~
Call your friends, tell them they've just missed a moment in history, where an okay moment....just turned Classic! And in case you've all forgotten, in case you all fell asleep in Peep 101, I'm
"The Instant Classic"
I'm
"Captain Charisma"
And I will forever be known as
"The Champ"
..
Christian rolls his shoulders and hops up on a turnbuckle taking in the crowds reaction, looking back at Jericho and nodding approvingly. Cage hops off the turnbuckle and beings speaking once more.
~Christian~
I'm just gonna get right to the point, straight down to the bottom line! And it like this; apparently there's a cancer here in UFWA, apparently Edge is shaking in his boots, apparently Cheeka's out to get him. What goes around comes around Edge, and you deserve what ever it you get. And apparently this "Ego Trip" is causing the stink here in UFWA. I don't know what's changed since I've last been here, and I don't know what you've done to piss Chris Jericho off, but I do know this....
Christian starts to speak calmly as he stares straight into the camera.
~Christian~
John Morrison and myself, we have history, and so it seems things aren't going so well in Ego Trip land. But listen very closely, very very closely..John Morrison and Genesis..by the way, someone should really make a genitals pun about that guys name, seriously, it's too easy to not pass up--John Morrison and Genesis, take notice. Not only is Y2J Chris Jericho alive and kicking! The Instant Classic, Christian Cage is back! If it hasn't quite registered in your brain yet, allow me to reiterate...Christian Cage is back! And Genesis, from what I hear...You have something that belongs to me, and when I'm damn good and ready, I'm taking her back; BECAUSE THAT'S HOW I ROLL!!
Christian tosses the mic to Jericho as the two grin and nod to each other. Jericho takes stance and tilts his head looking straight into the camera.
~Jericho~
Ego-Trip, you feel it? That feeling of shock, the feeling of uncertainty, the feeling of disbelief, that little feeling John has for Genesis in the pit of his stomach but is afraid to just come out and tell Genesis his true feelings. THAT feeling boys? You had better get used to it, because now that Christian and myself are gunning for you, the Place of Wisdom, Oblivion, Wreck, Wrestling, your homes way from homes, your homes away from your homes homes, nothing, no where you two go is safe, bottom line is, now that Ego Trip has some actual competition, the team will never evvvvvvvvvvvvvveeeerrrrrrr.....be the same, again-uh!
Jericho tosses the mic back to the mat as he and Christian exit the ring.
--
After hearing about Jericho's huge revelation. Genesis & Morrison are spotted backstage watching this on the monitors. Suddenly, a problem that was thought to have been solved. Has now become an even bigger issue. But bigger for whom? For Ego Trip, or Genesis?

Judging by the comments made by Christian & Jericho. Genesis folded his arms and seemed a bit annoyed.
Genesis
[/u]
Well, Well, Well!

Seems that our little buddy has had a change of heart. Wouldn't you say John? Tell me, does Chris really think that by recruiting a no talent mid-carder is going to make a difference? Then that sudden change of heart? *Pfft* Get real! I don't care if the people get behind Y2J or not. Does he really think that by having the fans jump on his bandwagon that he will have an advantage over us? Highly unlikely my friend.

If I were Jericho. I would just swallow my pride and throw in the towel. He could have came out there & admitted defeat. But instead? He goes out & does this!?

What do you think of all this John?
Morrison couldn't help but laugh at how pathetic Jericho's attempt was to get the fans back on his side. What's worse is he had to bring Christian in just to help him, which made it all the more fun to laugh.
>>The Shaman Of Sexy||John Morrison<<
This is quite laughable, first he can't take the heat when we manage to embaress the living hell out of him in Rated Y2J. Now he's gone back to his original "Alatolah Of Rock N' Rolla!" (Busts out laughing again) Are you serious? Are we suppose to be impressed? I think not. I say we squash this roach before his 'Ego' get's any bigger. Don't you agree Genesis?
Genesis
[/u]
Yet people say we have issues with our "ego's" (laughs). I say if Jericho wants to go back to being "funny man" again? Let him. A change in personality isn't going to affect the outcome. He and his little pipsqueak partner can throw out all the wise crack, jokes and everything in between at us. At the end of the day. The only people that will be getting the 'last laugh' is gonna be Ego Trip. You can mark my words on that, bro.

I have to say one thing, John. This new partner of his in Christian? Seems like a downgrade rather then an upgrade. At least with Edge. He legitimately was a big superstar. Naturally, I didn't like the guy. But I had to respect him for what he has done in his career. With Christian? Here's the guy that lives & breathes in his brother's shadow. Not only that. To my knowledge. He hasn't been seen around these parts in a long, long time.

Ring rust anyone?

There is one thing that troubled me, John. Perhaps you can shed some light on this.

... What exactly did he mean by 'taking her back'? Don't tell me that he and... Maryse had a past relationship too??

>>The Shaman Of Sexy||John Morrison<<
I agree, Christian was nothing but a down drag he cost me Ego-Trip the first time. Which is why I turned on him when Showbiz was my Valet at one point and then kicked her to the curb as well. As for Maryse, as far as I know they may have had a fling, I don't know. But you'd have to talk to her about that one man, I know nothing about it.
Genesis
[/u]
Believe me... we are definitely going to have a talk about this. I want to get the bottom of this 'fling' that she & Christian once had together. Us taking care of Jericho & Christian is one thing? But I'll be damned if I'm going to sit here & allow that scumbag to take Maryse away from me!

Speaking of the woman. I think she needs to see this for her own eyes.

Excuse me for a moment, John.Gen. walks over and grabs his blackberry from his bag nearby. Quickly, he sends a text message over to Maryse:
Babe! When you get this. Please come to the 'Ego Trip' locker room, ASAP! We've got a few issues to take care of. Put your differences with John aside. Because now? Things have changed dramatically. Not sure if you were keeping an eye on the monitors, or what. But Jericho just dropped one helluva bombshell.
This may even affect 'us'.

Love ya lots,
Brandon
With that, Gen. closes his phone as he & John waits for Maryse to arrive.
--
Maryse is on the opposite side of the arena watching the monitor. The camera starts at her legs and pans up until her upper torso is in the shot.




Her look betrays nothing but her intrigue as she too had been looking at a monitor. The signature eyebrow is raised and she is playing with her blond hair with a smile on her face. Her phone sounds off to alert her of the incoming text message and she views it and sees it's from Genesis. At the sight of the number she snaps back to reality and turns back to look at the monitor and sees Christian's image on the screen and she waves and turns on her heels and begins to walk away.
Jonathan Coachman: Maryse...Maryse! Please stop I'd like to get your..
Maryse stops as Coach runs in front of her. He is out of breath but raises the microphone.
Maryse given your history with Christian in the past, he just made that statement about getting something that belonged to him and we all know that is you. How do you feel about this?
For the briefest second Maryse smiles before rolling her eyes and raising her hand up in the air and closing her fingers in the shape of a closed mouth. She pats Coach on the shoulder before walking away and twirling a lock of hair around her finger.
--
Single match: "The Lovely" Lacey vs. Gail Kim
[/u]
"Good Ol Jr" Jim Ross:
This next match promises to be a slobbernocker. The women in this match go by the name of Gail Kim and Lacey and this promises to be a hard fought Diva's match that would rival some of their male counterparts.
Jerry "The King" Lawler:
It may not be The Puppies but I'll take it JR, anytime I get to see the UFWA Diva's in action is a special day for me. Especially these two Diva's.
As both women enter the ring they circle around each other before locking up to the rope and Lacey leans back as she whips Gail to the ropes, she ducks as she comes the first time around but second time Gail hits a Hurricanrana as Lacey flies across the ring. Gail hits a dropkick and another before going for the pin but gets a two count. Both women once again began circling around each other before locking up again, as Gail ducks the first time around but as she came back she tries to do a Headscissor Takedown but Lacey caught her and hits a powerbomb as she goes down and hits a bridging pin but at the last minute gets a two as Gail kicks out. Lacey leans back by the rope and hits a dropkick and once again quickly covers but again gets a two. Lacey now grabs Gail by the arm and whips her to the turnbuckle and hits a running clothesline and connects it with a bulldog and again goes to cover, but again Gail kicks out. As Lacey takes a breather she gets up and grabs Gail by the hair and whips her to the rope, as Gail and Lacey both had the same idea and hit a double clothesline and both women go down and catch their breath as the ref began to count.
By the count of 5 both women slowly got to their feet battling it out as Lacy takes control and whips Gail to the rope as Gail ducks the first time and as Gail came back she hits Lacey with a Headscissor takedown and follows it with a dropkick. She grabs Lacey by the arm and hits a Springboard Arm Drag and she goes down. Gail then whips her to the turnbuckle but Lacey moves and Lacey both had the same idea and hit a double clothesline and both women go down and catch their breath as the ref began to count.
By the count of 5 both women slowly got to their feet battling it out as Lacy takes control and whips Gail to the rope as Gail ducks the first time and as Gail came back she hits Lacey with a Headscissor takedown and follows it with a dropkick. She grabs Lacey by the arm and hits a Springboard Arm Drag and she goes down. Gail then whips her to the turnbuckle but Lacey moves moves at the last second causing Gail to crash into the turnbuckle and Lacey rolls her up using the rope but gets a two. Lacey grabs Gail by the hair but Gail starts fighting back and kicks her in the stomach as she hits a Hurricanrana Pin and the ref began to count.1......2....no! Lacey breaks free and hits a dropkick as she breaks free and goes for a cover but gets a one. Once both women get up Gail whips her to the rope but as Lacey came back she hits the Double Knee Face Buster and quickly covers...1.... 2.....thr-no! Gail somehow manage to kick out.The two started to catch their breath as the ref counted again. As the ref counted to 7 both women again got to their feet and Gail got the upper hand as she hits Christo and connects with a pin 1.......2.....th-no! Lacey managed to kick out. Wasting no time Gail wants to end this as she does the Happy Ending and again covers 1.......2......3!!
--
The cameras go backstage to the where we see Samoa Joe walking down the hallway until he meets up with Cheerleader Melissa, who had been talking to a staff member.
Samoa Joe:
Hey Melissa, can I talk to you for a second?
Melissa smiled and nodded as she said a brief goodbye to the person she was talking to before giving Joe her full attention.
Cheerleader Melissa:
Joe, before you start, let me apologize for last week.
Samoa Joe:
Why? You didn't do anything wrong. It's all the referee's fault for not noticing Jimmy Jacobs' pathetic way of cheating. It was all just a fault on his part; we'll get our payback soon enough.
Cheerleader Melissa:
Well still, I'm sorry. I'm sure that's not how you wanted your debut to go at all. And speaking of payback, you ready to take on Marcus later tonight? I know it should be easy to defeat him but remember Kirsten is going to be in his corner. Watch out for her. The second your back's turned...
She trailed off as Joe nodded.
Samoa Joe:
No need to worry. I've got all the pent up rage from last week still inside of me, ready to unleash on his ass. And Kirsten's too if she gets in the way. But to be honest with you, I'd much rather see Jimmy Jacobs out the way, so that means it's all down to you.
Cheerleader Melissa:
Oh, so no added pressure then Joe?
She rolled her eyes playfully, laughing a little.
Cheerleader Melissa:
Trust me Joe, after last week, I am
pissed.
Jacobs is going to pay for compeltely screwing us last week, I can guarantee it.
Both exchanged a look as Joe nodded approvingly.
Cheerleader Melissa:
By the way, Joe, I'm really glad you finally decided to come to the UFWA. After ZXWWF closed, I thought that was the end for us.
Samoa Joe:
Don't worry Mel... I'm always here for you. The Future Legends may be over and done with but as I see it, that's just another chapter in our careers. We may have been reuinted at last but you do realize we have to keep our minds focused mostly on ourselves now? I mean, as I said, I'm always here for you. Always. But we're not in the tag division anymore. We're in the big leagues, with more on the line.
Cheerleader Melissa:
I know Joe, I know.
She nodded.
Cheerleader Melissa:
We're moving on to bigger and better things now. I mean, it hasn't been announced but I'm guessing we've got to be close to fighting for the top prize in this company soon, right? And then it's got to be every person for themselves.
Samoa Joe:
Exactly. Good luck tonight, Melissa. Whatever you do, don't let Jacobs win tonight, please.
He smiled as he patted Melissa on the shoulder and walked off.
--
Single match: "The Inked-Up Extremist" Rex Styles (accompanied by "The Straight Edge Savior" CM Punk) vs. "The Phenomenal" AJ Styles
[/u]
Rex Styles runs forward, immediately taking AJ down with a clothesline. AJ springs to his feet quickly and dodges a second oncoming clothesline. AJ springs back off the second rope and catches Rex in position for an Inverted DDT. AJ connects and covers Rex, only for him to kick out at 2. AJ brings Rex back to his feet, rocking him with a series of forearm shots, followed by a sudden Pelé Kick. Rex stumbles back but is quick to roll out of the ring to recover. He is comforted by CM Punk before making his way back into the ring. Rex is more fierce this time around as he begins to viciously assault AJ with a series of shots. Rex then drags AJ to his feet, delivering a Snap Jab and then a dropkick. With AJ falling back into the ropes, Rex executes a perfect Outlining Sketch (Suplex Facebuster). CM Punk continues to cheer on Rex as he covers AJ. AJ manages to kick out at 2 and a half. Rex doesn't let that stop him as he drops an elbow across the chest of AJ, followed by a leg drop to his throat. As Rex steps forward again, AJ takes the opportunity to pull Rex into a small package.
Rex powers out but AJ remains in control again from here. AJ strikes Rex with an enzuigiri, sending Rex to the mat. AJ connects with a Senton. AJ then wraps his arm around the neck of Rex to drag him back up to a vertical base before connecting with a neckbreaker slam. AJ keeps him down for the cover but only picks up another near fall. Both men meet in the center of the ring and lock up with Rex pulling AJ into a side headlock. AJ pounds away on the side of Rex to force him to break the hold. Rex goes to whip AJ into the ropes but AJ reverses and sends Rex crashing into them. As Rex flies back towards him, AJ Styles pulls Rex into position for the Styles Clash, which he hits perfectly. The Phenomenal One rolls Rex onto his back and holds him down for the cover, picking up the victory. AJ immediately begins to celebrate but he soon finds CM Punk storming the ring, causing AJ to exit the ring and begin to back up the ramp, staring back at Punk as he helps Rex up to his feet.
--
Tag match: Angel Martinez & Yuri Zaraki vs. "Puppy Queen" Debra & Natalya Neidhart
[/u]
With both teams in the ring Debra and Angel don't wait for the bell or the referee and run up to one another and begin to duke it out much to the delight of the fans. Debra trips Angel and sends her to the mat on her back and Debra gets down and her knees and begins to smash Angel in the face repeatedly. She sees the referee advancing to pull her off and she stops and holds her hands up in the air and backs off. Angel begins to rise but Debra rushes her again and grabs her arm and whips her back down to the mat and puts her in a sleeper hold. The camera shows Terri standing in the interview area with papers in her hand but watching the monitor with a smile on her face. The referee forces Debra to break the hold and demands that she go to her corner so that he can start the match. Debra gives him a deadly look and walks off to her corner. Angel holds her neck and makes her way to her corner as the ladies enter their corners the referee signals for the bell to officially start this contest. Natalya and Yuri are the ones to step through the ropes and Natalya has a look of all business on her face and she immediately drops Yuri with a Discus clothesline. With a smirk on her face she imitates Gail Kim's signature pose and then gets down and stomps on Yuri and roughly slapping her arms and legs she locks her in a Surfboard. The referee gets down and begins counting because Natalya's shoulders are down on the mat. Natalya releases the hold and stands up and looks down at Yuri while rolling her up to her feet. Natalya leans in and says "You bore me", with that she hits a devastating Nattie by Nature (Spinning powerbomb) and goes for the cover. Angel steps in the ring to break the cover but finds herself broken from a Debra Spear, for good measure Debra locks her in the Puppy Pleasure as Natalya picks up the win for her team this evening.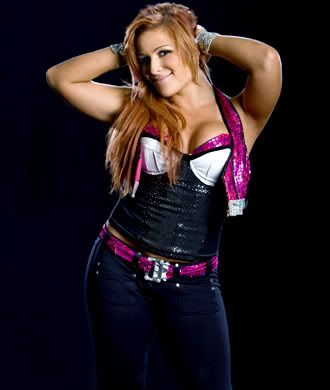 --
We see Jimmy Jacobs with Lacey trailing behind him as they stop in next to Marcus Brett, who's sat casually in his locker room.
Marcus Brett:
"I take it you saw the little meeting between Melissa and Joe earlier tonight, huh?"
Jimmy Jacobs:
"I wouldn't have missed it for the world. Another heart-felt meeting between the world's favorite couple. Awwh, beautiful."
Marcus Brett:
"Ah, so they are a couple?"
Jimmy Jacobs:
"I don't know... I'm just assuming. Is that really so wrong?"
Marcus Brett:
"No. I just want some clarification on the situation. Are they; aren't they?"
Jimmy Jacobs:
"It's hard to tell. Sometimes they seem like the perfect couple and then other times, they -"
Lacey stepped forward and intervened.
Lacey:
"Sorry to break up this little gossip session between you ladies but shouldn't you be more focused on oh, I don't know, possibly getting your asses kicked out there?"
Jimmy and Marcus looked at one another, then Lacey, then back at each other as they shrugged.
Marcus Brett:
"Jeez, fine... just because
you
lose earlier... So erm, it sure seems as though they'd both much rather kick your ass than mine, JJ. Ya know, that makes me feel a lot better."
Jimmy Jacobs:
"Hey, you're the one who wanted us to sort out our issues and start working on the same side as one another in the first place and after much consideration, I finally accept that offer, only to get comments like that."
Marcus Brett:
"Well, it's not my fault they do seem both want to beat the shit out of you. Afterall, you did screw them pretty bad last week."
Jimmy Jacobs:
"Yes. Yes, I did."
Jimmy nodded, with a sense of pride.
Jimmy Jacobs:
"Do
you
have a problem with that?"
Marcus Brett:
"Na, of course not."
Jimmy Jacobs:
"Good, because I got you the win, didn't I? Look, I told you that you wouldn't be making a mistake if you chose me as your partner and I was right. I didn't let you down then and I'm not going to let you down tonight. I'll easily take down Melissa, no matter how much she wants to get her hands on me."
Marcus stepped forward and put his arm around Jimmy's shoulders but he now stared off into the distance as he spoke.
Marcus Brett:
"Jimmy-Boy, that's exactly why I did choose you as my partner. Not only did I want to eliminate the bad blood between us, I wanted somebody who could get the job done. I don't have a problem in the slightest with the way you took care of business last week. All I'm saying is Melissa is looking for revenge and trust me, I've been on the receiving end of her wrath before so I know this isn't going to be easy. I mean, she can be unstoppable at times... she'll tear you apart, limb from limb, spill your blood all over the ring, kick your ass all over the arena... she can make your balls jump straight back up into your body, all with a single glance."
He paused for a second, looking at Jimmy this time.
Marcus Brett:
"But I'm sure you'll do fine!"
Marcus finally released Jimmy from his grip as he began lightly pushing Jimmy out the room.
Marcus Brett:
"Now go out there and shut that Cheerleader the hell up!"
Jimmy nodded as if to show that he was going to oblige to that instruction, as he exited the room with Lacey as the two made their way out for his match.
--
Single match: Cheerleader Melissa vs. Jimmy Jacobs (accompanied by "The Lovely" Lacey)
[/u]
The two circle one another before Cheerleader Melissa makes the first move. She headbutts Jimmy before whipping him into the corner. She follows up with a shoulder thrust, followed by a second and a third. Melissa whips Jimmy back into the opposing corner and runs forward but this time, Jimmy gets his boots up and strike Melissa with a kick to the face. Melissa stumbles back and Jimmy lifts himself onto the center turnbuckle before leaping off with a Double Axe Handle smash to the top of Melissa's head. Melissa falls against the ropes and Jimmy follows up with a dropkick, which is enough to send Melissa tumbling through the ropes to the outside. With Jimmy taking a moment to distract the referee with an apparent 'injury', Lacey takes the opportunity to cheap shot Melissa with a series of kicks. Lacey then sends Melissa crashing into the steel steps before assisting Jimmy in bringing her back into the ring. Jimmy greets a now-standing Melissa with a Running Big Boot before going for the cover. Melissa manages to kick out after 2 as an angry Jimmy Jacobs gets in the face of the referee and begins arguing with him.
Melissa takes advantage of the situation by pulling Jimmy into a small package. Jimmy, however, manages to kick out before the three count. Lacey continues to will Jimmy on but Jimmy finds himself on the receiving end of a Backhand Chop from Melissa, followed immediately by a Northern Lights Suplex. She doesn't bother with a pin attempt at this point, instead locking in a grounded Fujiwara armbar on Jimmy. Thanks to an assist from Lacey, Jimmy is soon able to break out of the hold. Jimmy stumbles back to his feet but soon finds Melissa running full-speed towards him. Jimmy dodges at the last second, causing Melissa to crash into the ropes. With Melissa tied up in the ropes, Lacey strikes Melissa with a hard slap to the face. Jimmy runs forward himself and drives his knees into the back of Melissa, who soon falls onto her back in the ring. Jimmy leaps onto the cover but Melissa finds a way to kick out again.
As both competitor can't seem to gain the advantage, Melissa goes all out as she catches Jimmy with an Air Raid Crash (Over the shoulder back to belly piledriver). As Melissa goes for the cover, the referee doesn't manage to make the count as he's too busy being distracted by Lacey. Melissa gives up in her attempt to get the referee's attention again as she goes back on her attack on Jimmy. Melissa hits a Forward Russian Legsweep on Jimmy, followed by a Curb Stomp. Melissa remains in control, using her strength to toss Jimmy all around the ring with her usual power moves. Melissa looks to finish things off at last, potentially setting Jimmy up for a Kudo Driver. Lacey once again intervenes as she hops onto the ring apron. As Melissa yells at Lacey on the outside, Lacey responds by snapping Melissa throat-first off the top rope. Jimmy Jacobs quickly connects with a Breaking The Fall (Inverted snapmare driver) and pins Melissa to steal the victory thanks to repeated interference from Lacey.
Jerry "The King" Lawler:
Well, JR, looks like Jimmy got one up on Melissa again.
"Good Ol JR" Jim Ross:
And what a terrible mistake that could prove to be! She won't be happy about this...
An irate Melissa quickly begins to run after both Jimmy and Lacey but the two soon retreat out of the ring and disappear backstage as soon as possible while Melissa begins to follow them, obviously not allowing for them to get away with it...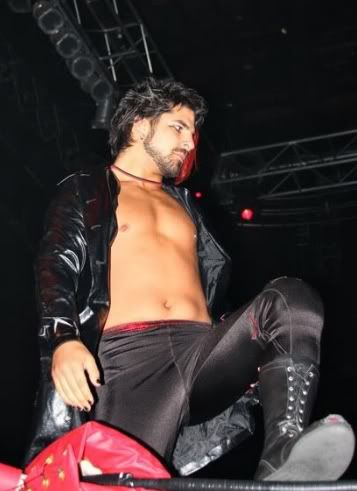 --
Main Event, Single match: Marcus Brett (accompanied by "Futureshock Vixen" Kirsten) vs. Samoa Joe
[/u]
At the sound of the opening bell, Marcus rushes towards Joe with a vicious clothesline attempt but it doesn't seem enough to take Joe down. Marcus rushes at Joe again, this time with an attempt to take him down with a Crossbody but this time, Joe catches him. Joe slams Marcus to the mat with a Powerbomb but Kirsten soon pulls Marcus to safety outside the ring. After a brief motivational talk from the "Futureshock Vixen", Marcus steps back inside the ring. This time as Joe attempts a lariat, Marcus is able to dodge the shot and instead, smash Joe in the lower back with repeated forearm shots. As Joe falls to a knee, Marcus follows up with an enzuigiri. Joe falls onto his back, leaving him open to a Springboard Moonsault from Marcus. Marcus then awaits for Joe to return to his feet. As he does, Marcus flies off the middle turnbuckle in order to take Joe back down with a Throwback. Marcus quickly hooks Joe's leg but Joe powers out at 2. Marcus brings Joe back to his feet and hits him with an STO Backbreaker but Joe counters the move mid-way through as Joe wraps his hand around the throat of Marcus and slams him to the mat with a Modified Chokeslam.
With Marcus flat-out in the center of the ring, Joe sinks to the cover, hooking his leg. At the count of 2 and a half, Marcus manages to roll his shoulder up. This doesn't stop Joe's rampage as he drags Marcus back to his feet and executes an Atomic Drop. Marcus stumbles forward but soon finds himself back in the arms of Joe, who tosses him overhead with a Suplex that he makes look easy. Marcus writhes around in pain for a moment, holding his back but Joe continues to unleash a series of kicks all over the body of Marcus. Marcus grabs onto the ropes in an attempt to bring himself back to his feet. As Joe runs forward, Kirsten grabs onto his leg to stop him in his tracks. A furious Joe turns and shouts at Kirsten, who holds her hands up innocently. This just buys Marcus time to regain control as Joe turns back around in time to be hit with a Missile Dropkick.
With Marcus still managing to maintain his control, we see a bloodied Jimmy Jacobs suddenly tossed onto the stage. A visibly angered Cheerleader Melissa soon follows as she and Jimmy break into a brawl down the ramp.
Jerry "The King" Lawler:
Gosh, JR, it looks like Melissa really isn't happy about her loss to Jimmy Jacobs earlier in the night!
"Good Ol JR" Jim Ross:
You think, King? Afterall, Jimmy Jacobs did cheat. And for the second week in a row! So he's only got himself to blame for Melissa's rage!
Meanwhile, Marcus climbs to the top turnbuckle again but the Melissa/Jimmy fight on the outside distracts him long enough for Samoa Joe to recover and run to the ropes to push Marcus down. Joe is quick to take advantage of the situation by slamming Marcus to the mat with a thunderous Muscle Buster. Samoa Joe wastes no time in pinning Marcus Brett to pick up the victory in tonight's Main Event.
As Samoa Joe continues to celebrate his victory, he's soon cut off by the sound of Kirsten having grabbed a microphone.
Kirsten:
"Hold up! You may have won tonight, Joe but don't get too cocky. You've got one hell of a task ahead of you when next week rolls around. That's right, you actually all do! I'm sure most people saw this coming but the Main Event of the upcoming PPV will be Samoa Joe versus Cheerleader Melissa versus Jimmy Jacobs versus Marcus Brett for the vacant UFWA Heavyweight Championship. Oh, and not only that, it'll be contested as a Hell in a Cell match. They want a show; you all want to tear each other apart. Enjoy."
Kirsten throws down the microphone as the four opponents stare one another down in the center of the ring as Oblivion comes to an end tonight. [/center]