Post by Old School Kane on Mar 1, 2016 15:54:21 GMT -5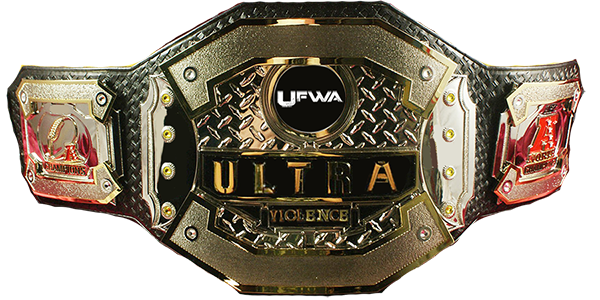 Established in 2012

---

After Sting's violent takeover of UFWA at Black Apocalypse in 2011; what is still described at the blackest day in the history of the fed, the crazed fallen icon found a battered and forgotten UFWA Combat Championship title belt and declared a new championship division that would specialise only in the most brutal no disqualification matches. The crazy mind of the Stinger had begun a hard-core legacy that has not only endured but has created must see matches over the years, the centre piece of which is the Black Apocalypse match that has become an annual highlight of the fed.
The popularity of this division has recently seen two new Ultra Violence titles created for tag teams and the women exclusively but in 2012, four stars of UFWA would compete to be the first champion of Ultra Violence in the first Burnout episode of the year!

Currently the championship can be won anywhere/anytime with a 24/7 rule being activated at Final Frontier 2017 on the 2nd day of events!

1st Title Match
Jimmy Jacobs Vs Samoa Joe Vs Cheerleader Melissa Vs Misaki Ohata

Jimmy Jacobs pinned Melissa

Friday Night Burnout


January 6, 2012
Manitoba, Canada
Winner & First Ultra Violence Champion - Jimmy Jacobs
---
Reigning Champion
Tony Stein


---
Previous Champions
4x Champions
Jaz Ashby
04/19/13 - 04/19/13
06/08/14 - 10/05/14
05/03/16 - 05/10/16
05/17/16 - 05/29/16
---
3x Champions
Delirious
06/09/13 - 11/17/13
05/04/14 - 06/08/14
08/30/15 - 10/04/15
---
2x Champions
Tyler Black
04/29/12 - 08/05/12
10/07/12 - 12/23/12
---
Gail Kim
12/23/12 - 04/19/13
04/19/13 - 06/09/13
---
Dean Ambrose
10/10/14 - 12/21/14
06/07/15 - 08/30/15

---
Jimmy Jacobs
06/01/12 - 02/27/12
12/20/15 - 03/01/16

---
Daizee Haze
03/23/14 - 05/04/14
10/04/15 - 11/03/15

---
Brooklyn
10/09/16 - 02/12/17
03/19/17 - 05/12/17

---

Conrad Black
05/27/17 - 06/03/17 (24/7)
07/11/17 - 07/11/17 (24/7)

---

Bradley Reid
06/03/17 - 06/16/17 (24/7)
07/11/17 - 07/11/17 (24/7)

---
Samoa Joe
02/27/12 - 04/29/12
---
Stinger
08/5/12 - 10/07/12
---
Rob Van Dam
11/17/13 - 12/22/13
---
Chuck Taylor
12/22/13 - 03/23/14
---
Alison Wonderland
10/05/14 - 10/10/14
---
Austin Aries
12/21/14 - 02/15/15
---
Lacey
02/15/15 - 06/07/15
---
Johnny Gargano
11/03/15 - 12/20/15
---
Levi Flynn
03/01/16 - 05/03/16
---
Chyna
05/29/16 - VACATED
---
Andrew Lincoln
05/10/16 - 05/17/16

---
Forrest Brahmer
02/12/17 - 03/19/17

---
Logan Frost
05/12/17 - 05/27/17 (24/7)
---

"The E-Male" M@ Flash
05/27/17 - 05/27/17 (24/7)
---

Nixon
06/16/17 - 06/25/17 (24/7)

---
Jesse Caine
06/25/17 - 07/04/17 (24/7)

---

Marcus Brett
07/04/17 - 07/11/17 (24/7)

---

Taizo Izumi
07/11/17 - 07/11/17 (24/7)

---

Dex Mides
07/11/17 - 08/18/17 (24/7)

---

Tony Stein
08/18/17 - Present (24/7)