Post by Adam on May 17, 2016 6:08:27 GMT -5

17th May 2016
San Diego, California
Oblivion kicks off to SoCal Val standing backstage with a microphone in hand.
SoCal Val:
Welcome to Tuesday Night Oblivion. It's our final Oblivion event before Final Frontier and with me at this time is one of the competitors of the Women's Money In The Bank Ladder match... she is Ashley Massaro!
Ashley stepped forward with a smile on her face.
SoCal Val:
Ashley, before we reach Final Frontier, you still have one challenge standing in your way and that challenge comes in the form of Carmella.
Ashley Massaro:
Don't get me wrong, Carmella could be good. Unfortunately, she's just holding herself back so she's not quite going to get to where she wants to be. I have a huge opportunity in front of me so I'm going to go ahead and take it. To do that, I've got to be at my best and I have to have momentum. Defeating Carmella tonight is a great way to go about that!
SoCal Val:
So you're confident in not only your match tonight but also in your chances for success in the Women's MITB?
Ashley nodded.
Ashley Massaro:
I know that both are tough challenges but I am so ready to get back on track. This time last year, I went into Final Frontier as the Diva's Champion. I might have lost the match but it was still one of the highlights of my career. I'm intending on making this year's Final Frontier just as memorable. And tonight? Well, Carmella is in for the fight of her life and that's all she needs to know!
Ashley said as she turned and walked away.
--------
Show Opener; Singles Match: "Dirty Diva" Ashley Massaro vs. CarmellaBecky Bayless:
We just heard from Ashley and it seems she's confident heading into this!
Rob Van Dam:
She's got the match of her career around the corner. She's got to be!
- Carmella gets a few sneaky shots in on Ashley at the start of the match.
- Carmella throws Ashley into the corner and races towards her but Ashley dodges, causing Carmella to crash into the corner.
- Ashley breaks Carmella in half with a Spear, leaving her down and out on the mat.
- With Carmella still down, Ashley strikes with the Starstruck and stays on Carmella for the cover and the victory.
(Winner - Ashley Massaro)
Becky Bayless:
And she did it! Ashley with the win.
Rob Van Dam:
What a way to head into Final Frontier.
--------
Prior to their match, we see Hardcore Revolution leader Jimmy Jacobs and Imperium leader Crimson stood backstage, currently arguing with one another.
Crimson:
Jimmy, Jimmy, Jimmy... it's about time you learned the truth. You are just incapable of defeating me...
Jimmy Jacobs:
Considering I defeated you back at Black Apocalypse? I'd say that's a lie...
Crimson:
If you let me finish, Jimmy, I was going to say you can't do it
now
. I admit that you were the better man on the night but tonight? It's a different story. With Final Frontier around the corner, I can guarantee that this is my match to win. It's time for payback.
Jacobs just laughed and shook his head.
Jimmy Jacobs:
Nice try... the problem being, Crimson, that the Hardcore Revolution is far more dominant than the Imperium in general. You refuse to acknowledge that and that makes me question your sanity as a whole...
He smirked.
Jimmy Jacobs:
Some can call me crazy and perhaps they will continue to do so – particularly after I make the following proposition. We are yet to bring up this point so perhaps now is the time for one of us to finally say it. It was bound to come to this so how about at Final Frontier, when we meet in what will be our final battle, we ensure it is just that?
Crimson narrowed his eyes.
Crimson:
This may be one of those rare moments in which we agree on something. You're going to propose that the losing team disbands, aren't you?
Jimmy Jacobs:
Precisely. Perhaps you're smarter than I thought.
Crimson:
I can guarantee it. So, do we have a deal?
He extended his hand to Crimson.
Crimson:
I'm so confident in the Imperium, I can guarantee success for us. So I'm in.
He eventually shook Jacobs' hand as the two just stared one another down.
DJ Z:
Woah! Things really just got interesting!
Bayley:
After Final Frontier, either the Hardcore Revolution or Imperium won't exist anymore! That's insane.
--------
Hardcore Match: Jimmy Jacobs (accompanied by Ivelisse) vs. Crimson (accompanied by Nicole Franceschi)Becky Bayless:
This is one of the longest running rivals in this company's history! It ends at Final Frontier but for now, these two do battle again!
Rob Van Dam:
And it's in Hardcore action. This is going to be a good one!
- The two are relentless in their assault on one another in the opening minutes of the match.
- Crimson begins to dominate, having hit Jacobs with a Chokeslam onto a piece of barbed-wire board.
- Nicole attempts to get involved but Ivelisse appears from out of nowhere, smashing a steel chair across her head.
- Thanks to the assist from Ivelisse, Jacobs is able to plant Crimson with the Contra Code to Crimson through a table to steal the win.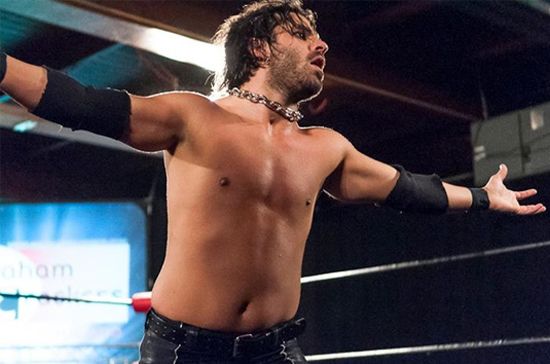 (Winner - Jimmy Jacobs)
Becky Bayless:
It took help from Ivelisse but Jacobs did it! We could be seeing the end of the Imperium if we see a repeat performance at Final Frontier!
--------
Before his match, Austin Aries is stood backstage with Lacey.
Austin Aries:
I'm feeling pretty good. Last week's victory helped me, definitely. I wasn't too sure on how things were going prior to now.
Lacey:
And what about Doug Williams? Are you confident that you'll find a way to work with him?
Austin Aries:
I don't see why not. It's important that we gain momentum ahead of Final Frontier. Even if just for ourselves in a selfish manner.
Just then, the British Invasion's Doug Williams walks onto the scene with Brutus Magnus with him.
Doug Williams:
I don't have a problem with you, Austin. Not even last week. Honestly, there's no bad blood because that was just business. Tonight, we've both got a lot to prove. So we can't let the likes of Seth Black and Corey Graves stop us.
Austin Aries:
I couldn't agree more. It's good to see that you're a professional, Doug. So let's do what we've gotta do for the greater good. That's all we can ask for...
He held his hand out towards him as Doug shook it.
Doug Williams:
It's a one off. I don't see why we shouldn't be able to work together.
He nodded as he turned and walked off with Magnus.
--------
SoCal Val:
Ladies and gentlemen... Oblivion Champion Tyler Black.
Tyler Black, with a smug grin on his face, appeared with his championship on his shoulder.
SoCal Val:
Tyler, you'll be facing UFWA newcomer Stefani Voelker. Stefani, however, is the wife of the #1 Contender to your championship, Mitch so she knows what she's doing.
Tyler Black:
You see this, Val?
He said as he held out the Oblivion Championship.
Tyler Black:
This means that I'm the best. It means I'm the champ. It means I'm the man. Is someone like Stefani Voelker supposed to bother me? She doesn't. I hear she's one of the greatest females of all time. Great. I happen to be the greatest in history, period. So of course, I can take her down tonight and prove why I am the most dominant Oblivion Champion. Heck, I'm the most dominant champion that this business has ever seen and I'm not going to let some newbie like Stefani Voelker change that.
He placed the championship belt back on his shoulder.
SoCal Val:
Will we be seeing Roman Reigns or Dean Ambrose in your corner to perhaps even the odds, considering Stefani will have Mitch?
Tyler slowly shook his head.
Tyler Black:
No way. They're my brothers but they're hardly needed in a match like this, are they? I can definitely get the job done by myself. I have in the past and they weren't needed. The same goes for tonight.
He ended with a smirk as he turned and walked away, patting his Oblivion Championship belt in the process.
--------
Tag Team Match: Corey Graves & Seth Black (accompanied by Cleo Laine) vs. Doug Williams (accompanied by Brutus Magnus) & Austin Aries (accompanied by "Lovely" Lacey)
Becky Bayless:
These MITB competitors team up tonight but it will be all business at Final Frontier!
- Graves dominates Williams at the start of the match, hitting him with several power moves and ending with a release dragon suplex.
- Graves tags in Seth Black, who picks up where his partner leaves off. He throws the also freshly tagged in Aries overhead with a Belly To Back Suplex.
- Aries and Williams keep with frequent tags as Williams comes back in but Seth Black remains in control.
- Williams hits Black with a hard knee strike to the back before performing the Chaos Theory. He keeps him down for the cover as Graves is stopped by Aries.
(Winner - Doug Williams & Austin Aries)
Becky Bayless:
What a win for Williams!
Rob Van Dam:
And Aries, of course. They make a good team!
--------
We see Cheerleader Melissa pacing back and forth, visibly frustrated. She eventually stops and just stares into the camera.
Cheerleader Melissa:
Seriously? Seriously?! So some newcomer is just able to stroll into the company and screw me over? I don't care what's in a person's contract or that it was done purely for revenge... that's not okay with me. So whatever, it's time for me to get payback of my own and that's going to be by destroying Andrew Lincoln tonight and regaining my Ultra Violence Championship!
She said, practically with a scream.
Cheerleader Melissa:
I refuse to let people walk over me or screw me over so tonight? Andrew Lincoln is going to pay and I take back what is mine!
Melissa lifted a hand and shoved the camera away from her as she stormed off.
--------
Ultra Violence Championship Rematch: "Living Legend" Andrew Lincoln (c) vs. Cheerleader Melissa
Becky Bayless:
Last week, Andrew Lincoln shocked the world by debuting and winning the Ultra Violence Championship in the process.
Rob Van Dam:
Melissa gets her rematch here tonight. Will Lincoln prove to be a fluke or we will put Melissa away again?
- Andrew Lincoln makes another huge impact at the start of the match with a brutal assault on Melissa.
- Lincoln plants Melissa onto a garbage can, which allows him to go in for the kill early.
- Melissa comes back fighting, attacking Lincoln with a hammer she finds underneath the ring.
- Soon, Chyna enters the ring and begins to assault both competitors with a steel chair.
- After throwing the chair aside, Chyna grabs a hammer from underneath the ring. With Lincoln being the one to stagger to his feet first, Chyna smashes him in the skull with the weapon.
- Chyna eventually leaves, just staring back at the decimation in the ring. Melissa seems to have taken less of the assault and can just about capitalize, throwing her arm across the chest of Lincoln. He fails to kick out, giving Melissa the win.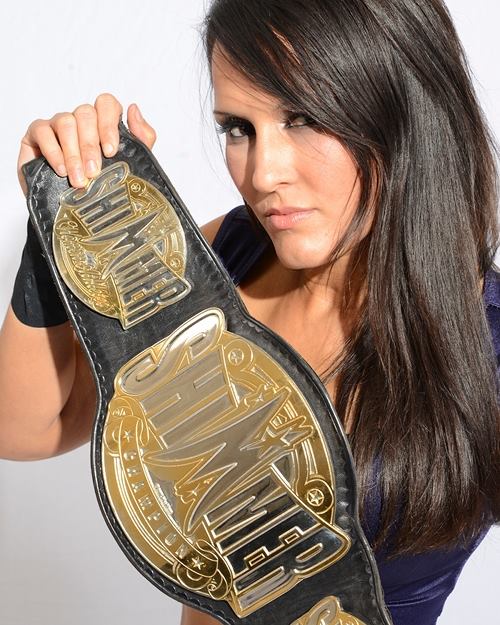 (Winner & NEW Ultra Violence Champion - Cheerleader Melissa)
Becky Bayless:
Well, I guess Chyna wants her hands on both Melissa and the Ultra Violence Championship. That's the only reason she helped out there, surely?
Rob Van Dam:
I'd have to agree, Becky. And Melissa is Ultra Violence Champion again but for how long?
--------
Mickie James:
So... what can I do for you this time?
We see Diva's Commissioner Mickie James sat behind her desk. Opposite her, is Brooklyn.
Brooklyn:
What do you think I want?
Mickie James:
Well, last time we were here, you asked for a match. I gave you a match. You also wanted to face me. You did and you lost. So now, I'm not entirely certain.
Brooklyn suddenly sat up, smacking a hand on the table with force. Mickie jumped back a little as Brooklyn finally calmed herself and sat back down.
Brooklyn:
I don't need to be reminded of that...
Mickie James:
I'm just reminding you because at this point, there's not a lot more you can ask for from me that I could legitimately give you.
Brooklyn sat back but didn't take her eyes off of Mickie.
Brooklyn:
I'm sick of you. I'm sick of Debra. She's continuing to talk about me and still wants to work with me, regardless of me making it abundantly clear. She's clearly not smart enough to understand where we stand but perhaps you can be.
Mickie James:
So... ?
Brooklyn:
I want one more match against you. This time, I want it to just be you and I. This time, I want it to be hardcore.
Mickie sat forward, resting her elbows on the desk.
Mickie James:
You want it? You got it.
Brooklyn:
If you win, I quit. I'm done. I'm out of here because with the likes of you running this place, it's a mess. If I win, I get a title shot. I know that's going to hurt you because you're so dead set on holding me back but if I get that win... if I defeat you, I get a title shot.
Mickie James:
Fine. You've got yourself a deal.
She held out her hand to Brooklyn, who shook it but viciously. The two just stared at each other before Brooklyn eventually left.
--------
Tag Team Match: Skylar Dawson & Summer Rae vs. Veda Scott & Scarlett Bordeaux
Becky Bayless:
These four ladies will soon go to war in the Women's MITB but can they co-exist here as two teams?
Rob Van Dam:
Your guess would be as good as mine but we're about to find out.
- Skylar Dawson dominates Scarlett at the start of the match, connecting with a few power moves.
- Scarlett eventually catches Skylar with a Spinning wheel kick, allowing her to tag in Veda Scott at the same time that Summer is brought in by Skylar.
- Veda connects with a headscissor takedown to Summer, followed by a Tilt-a-Whirl Russian Legsweep before she tags Scarlett back in.
- Scarlett plants Summer with a Diving crossbody. She stays on her for the cover and before Skylar can break it up, Scarlett picks up the win.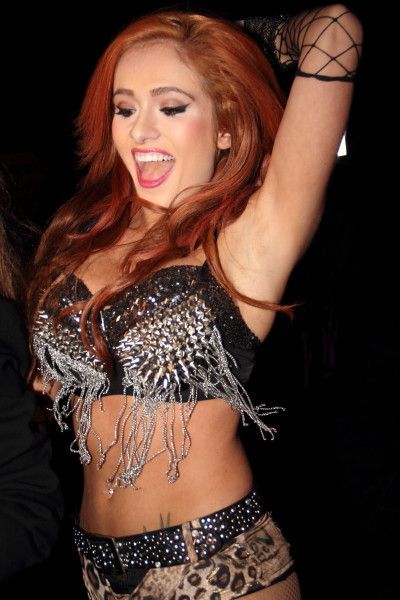 (Winners - Veda Scott & Scarlett Bordeaux)
Rob Van Dam:
Veda is undefeated since assaulting Tori a few weeks ago and putting her out on injury... she's becoming slightly scary!
--------
Mitch Voelker is standing backstage with his wife, Stefani, who was about to step into the ring in her solo debut.
Mitch Voelker:
Tonight, the world is in for a treat. They get to see my darling wife in action in her first singles match here. She's one of the best and I'm not just being biased there, it's true. After all, she and I did just get inducted into the Hall of Fame in another company last week.
Stefani Voelker:
So it's safe to say that we are universally recognized as being two of the best. And tonight, Tyler Black is going to see that for himself. I know my husband is next in line to challenge for the Oblivion Championship but hey, if I can get a win here over the champion, I might just get in on that action too!
Mitch laughed.
Mitch Voelker:
Hey, I'd welcome that. As long as one of the Voelker's leave as the Oblivion Champion, then I'd be a happy man.
Stefani Voelker:
I'm going to ensure that happens. Tonight, I'm going to pick Tyler apart and prove to him why he shouldn't overlook me, my husband or anybody because that's a foolish move to make. He's too arrogant for his own good and tonight, he starts paying for this mistakes...
She said with confidence as she and Mitch walked away.
--------
Triple Threat Match: Talia Cavenagh vs. Xavier Woods vs. Alex Shelley
Ashley Jak, Kenzy Black, Big E, Kofi Kingston, Chris Sabin & Melina are banned from ringside
Big E:
Ooooooh, San Diegooooo! Clap for the New Day! Your soon to be Trios Champions!
The New Day head onto the stage, walking down the ramp.
Kofi Kingston:
Last week, we heard an enlightening message. CM Punk believes that we are capable of becoming Trios Champions and is allowing us to have that opportunity at Final Frontier.
Big E:
Which is a shocker! We have opportunities coming left, right and center. Amazing! And tonight, our good friend... the amazing... the sensational... the phenomenal Xavier Woods is going to prove precisely why.
Kofi Kingston:
Our boy... our boy right here...
He pulls Xavier into a hug after throwing his arm around his shoulders.
Kofi Kingston:
... is about to cement our place as the most successful Trios team out there today.
Xavier Woods:
And I'll be doing that by myself so that just goes to show how talented I am! I, myself, can constitute as an entire Trios team! And tonight, Talia Cavenagh and Alex Shelley are going to find that out!
Xavier dropped his mic as the rest of the team left the ring for the match to begin.
- Talia Cavenagh avoids contact in the opening minutes of the match as Shelley and Woods go back and forth.
- Shelley hits Woods with the Shellshock but Talia is finally in to break it the following pin attempt.
- Talia goes in for the kill with the Bitch Kick on Woods but Shelley quickly throws her out of the ring.
- After a back and forth, Woods catches Shelley with the Lost in the Woods. Before Talia can get back into the ring to break it up, Woods picks up the win!
(Winner - Xavier Woods)
Becky Bayless:
Woods with one hell of a win there.
Rob Van Dam:
Could we see New Day as the Trios Champions at Final Frontier?
--------
We see Roman Reigns sat in the back, his tag team championship belt can be seen on a table. We hear the door opening and given what happened last week, Roman clenches his fist ready to fight if need be. He then relaxes with a smile as Dean Ambrose and Allison Wonderland enter the room. He stands.
Roman Reigns:
Hey! (fist bumps Dean and then hugs Allison for a moment) What's up then my shield brother and maiden?
Dean Ambrose:
Not much, man, we're just enjoying the night. Well, most of it. Unfortunately, it seems as though our good buddy Tyler has had a few choice words tonight. Did you hear it?
Roman Reigns:
No, can't say I saw it. What did Tyler say?
Dean Ambrose:
Basically, he doesn't seem to think we're a legitimate team. Well, he believes that we're essentially non-factors... possibly in his career as a whole.
Roman Reigns:
Really? He's never said anything like that about us before.
Dean Ambrose:
Exactly... it's a bit sketchy if you ask me.
Roman Reigns:
Well yea he has been acting a bit cocky recently but I don't think he believes he is the leader of the group? We're a team, we don't have a leader so...
Dean nodded.
Dean Ambrose:
That's why it's weird.
Roman Reigns:
I'm sure he appreciates us. He's always had our backs, same as we've had his. Right now we've never been stronger. We the tag champions and he is the Oblivion champion. I don't think he would want to jeopardize any of that. The Shield has been a symbol not only of excellence but of unity for a long time.
Dean Ambrose:
I like to think so. It's a tough situation since I don't want to take it the wrong way, it just rubbed me the wrong way is all. I want to give him the benefit of the doubt, though.
Roman Reigns:
Good! That being said Dean I do see where you are coming from. Lets talk to Tyler when he comes back from the main event and I'm sure we'll understand each other going Final Frontier and this was just him being confident in his own abilities.
Dean Ambrose:
I'll trust you on that, man. You've always been a great judge of character so it makes sense. Plus, we're got to focus on ourselves right now as well.
Roman Reigns:
Of course its a bigger challenge now with Devitt and Kim added to the title match but let me assure you of one thing. We're the best damn team in UFWA right now... not Storm and Trish, not that Prince and Gail... after Final Frontier (he turns and picks up his title belt, clinks it together with Deans)
We'll still be the best damn team in UFWA. Believe that!
Dean Ambrose nods with a smile and a few moments later they all leave the room.
--------
Main Event; Singles Match; Non-Title: Oblivion Champion Tyler Black vs. Stefani Voelker (accompanied by Mitch Voelker)
Becky Bayless:
Tyler Black had some choice words for Stefani and Stefani had some choice words for Tyler Black. There's definite bad blood here already!
Rob Van Dam:
Can Stefani do the impossible and defeat the Oblivion Champion here?
- It's an excellent back and forth between the two at the start of the match.
- Stefani eventually gains the upperhand, hitting Black with a running DDT.
- Stefani prepares to end things with the Original Synn, but Black dodges and strikes her with an Inverted hurricanrana.
- Black then start to gain the upperhand after hitting Stefani with a jumping corkscrew roundhouse Kick.
- Black grabs his Oblivion Championship from ringside. With the referee distracted by Mitch shouting at him about the situation, Black takes full advantage by smashing the title across the head of Stefani. He covers for the win.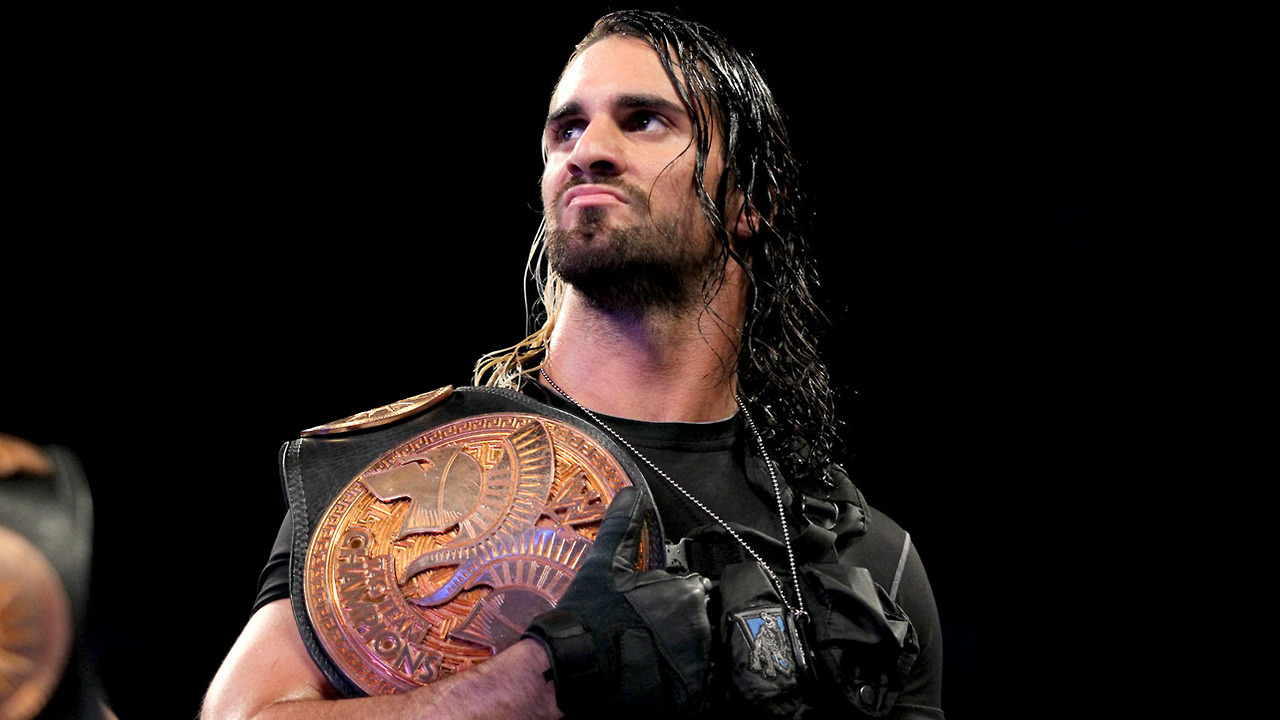 (Winner - Tyler Black)
Becky Bayless:
I actually think Stefani might have beaten Tyler if he didn't resort to that dirty tactic!
Rob Van Dam:
I think Tyler himself knew that. That's why he took that way out!
Oblivion comes to a close with Mitch tending to Stefani as Tyler Black gloats, showing off his Oblivion Championship and posing on the ramp.