Post by Adam on Jul 26, 2016 10:50:16 GMT -5

26th July 2016Birmingham, AlabamaBecky Bayless:
Welcome to Tuesday Night Oblivion! Myself and Rob Van Dam will be here to call the action all night!
Rob Van Dam:
I can't wait, Becky. Tonight is guaranteed to be a good one!
Show Opener; Singles Match: Ashley Jak (accompanied by Talia Cavenagh & Kenzy Black) vs. Ember (accompanied Katie Lea, Shelly Martinez & Lita)
- Ember hits a series of fast-paced matches at the start of the match.
- Ashley soon turns the tables after catching Ember with a Crackajak.
- Katie Lea and Lita wipe out Talia Cavenagh and Kenzy Black with vicious assaults at ringside.
- Shelly Martinez acts as a distraction to Ashley, allowing Ember to plant her with the Down In Flames to steal the win.
(Winner - Ember)
Becky Bayless:
It basically took four people to beat her but Ashley suffers a loss there all thanks to the Anti-Divas!
Rob Van Dam:
The Anti-Divas did claim they were going to turn their luck around and I suppose that's one way of doing it.
--------
After a commercial break, we see Ashley Jak, Talia Cavenagh and Kenzy Black returning backstage.
Ashley Jak:
Okay, that sucked... but we know the Anti-Divas are just soooo desperate to get back on track. It turns out they needed to screw me over to feel better about themselves.
Talia Cavenagh:
But when all is said and done, the Anti-Divas are going to learn a harsh lesson and that is that they stand no chance against the likes of us. They know they're losers and the only way to get anywhere is when four people use the numbers game to their advantage. They'll fail miserably, though, trust us.
Ashley stared into the camera.
Ashley Jak:
Because trust us, this is far from over...
Ashley pushed the camera away from her as she, Talia and Kenzy walked away.
--------
As we see the commentary team talking after one of the later matches on the show, we get some shaky camera footage filling the screen and it goes up to see three familiar faces. The Trios Champions.
Tyler Black:
Over the past couple of weeks you have seen The Shield at is most vengeful, its most destructive as the Trios champions. The Shield has declared war on the Trios division and ANY team who is a part of the division are our targets.Why? The last time we held championship titles, we allowed our enemies to grow strong enough to take them away and cause a rift between us. That's NOT gonna happen again! So we will give you all a warning, if you are a Trios team disband now or be destroyed.
Do I really need to tell you what happens if you don't? Look at what happened to the Guns again tonight! Look what happened the few weeks before that! One by one we will wipe out the competition until there is no one left and the only team standing in the Trios division will be The Shield.
The Trios division was born for a team like us but we will also be the ones to see this division die. This is what UFWA pushed us to become. We didn't want this but after Final Frontier, all of the people who insulted us, who said we were a spent force, who said that we wouldn't win ever again are once again learning that you DO NOT provoke the Hounds of Justice!We're hungry right now and that's when we are at our most dangerous! When our hunger has been satisfied, we will retire this division and it will NEVER rise again from the ruins we leave it in!
Roman Reigns:
Never forget who we are and remember to BELIEVE IN THE SHIELD!
The Shield clink together their titles and then pose with intimidating expressions.
Becky Bayless: The Shield are on a crusade to destroy an entire title division! This is madness!
Rob Van Dam: Madness perhaps but who the hell is gonna stop them doing it?! They are taking out the other teams one by one!
--------
Tag Team Match: Trios Champions The Shield (Roman Reigns & Tyler Black; accompanied by Dean Ambrose & Allison Wonderland) vs. Motor City Machine Guns (Alex Shelley & Melina; accompanied by Chris Sabin)
Becky Bayless:
Things are heating up in the Trios division but can former champions MCMG put away the Shield here?
- It's a hugely competitive opening few minutes as Black and Melina hit a series of impressive moves.
- The Guns hit double-team moves to Black repeatedly until Reigns suddenly breaks Shelley in half with a Spear.
- The Shield work together well but after a minor miscommunication between Reigns and Black, Shelley takes advantage.
- Shelley hits Reigns with the Sliced Bread #2. He's unable to secure the win though, as Dean Ambrose smashes his Trios Championship belt across the back of Shelley.
(Winners - Alex Shelley & Melina via DQ)
Becky Bayless:
The Shield with the cheap move there! Save to say they just took out the easy way out.
The Shield don't stop for a second as they continue their assault on both Alex Shelley and Melina. Chris Sabin soon joins the fight. He's able to get a few shots in on Dean Ambrose but soon, Reigns and Black send Shelley and Melina out of the ring. The three then go to work on Sabin, lifting him up and delivering their signature Triple Powerbomb.
Becky Bayless:
Oh, come on!
From here, Allison drags Melina up on the outside and throws her into the announce table back-first. Melina falls forward again but Allison grabs a monitor off of the table and smashes it into the skull of Melina, who collapses to the mat. Shelley is then met with a Superman Punch to the jaw on the outside by Reigns as the Shield once again leave a trail of destruction behind them.
--------
Becky Bayless: A quick word from our backstage interviewer... take it away So Cal!
SoCal Val: Hey guys! I just received a message from Mr Paul Heyman and he has told me to inform you that he will be making a big announcement regarding Brock Lesnar this evening! He didn't hint at what that could be so we can only speculate but none the less. Later on tonight we will see Paul Heyman and Brock Lesnar here on Oblivion tonight!
She smiles and we head back to ringside
--------
In the office of CM Punk, we see him sat behind his desk, talking about Corey Graves.
CM Punk:
Don't worry, I completely agree with you. He completely overstepped the mark and that's why he's not here tonight. I've given him the night off so he can essentially learn to stay out of things that don't involve him.
Crimson:
I want payback though, Punk, trust me. I'm not going to let him get away with that.
CM Punk:
I agree and the thing is, I was going to let you take him on at Splash-Down but given we don't have a challenger for the Oblivion Championship, I wanted to award you with your shot at the gold for winning the King tournament.
Crimson:
Really?
Punk nodded.
CM Punk:
Hey, you earned it. By becoming King, you get that automatic shot and Mitch Voelker needs a legitimate challenger. So don't worry about Corey Graves for now. Focus on working your way towards Oblivion Champion.
Crimson:
Thanks, Punk. Trust me, I won't let you down.
Punk gave him an approving nod of his head as Crimson stood up and walked away. Before Punk could even think about getting back to work, he sees Sable walk into the room.
Sable:
So, partner. It's about time we talked business, isn't it?
Punk nodded as he sat back, nodding in approval.
CM Punk:
Makes sense to me.
Sable:
I guess since you and I made our way straight to the finals of the Ultra Violence Tag Team Championship tournament, things have been quite quiet but I thought perhaps we could go ahead and finally discuss some tactics...
She wandered further onto the room, perching on the edge of his desk and crossing one leg over the other.
CM Punk:
Hey, I've got the time.
He offered her a smile as she sent one straight back.
--------
Fatal Fourway Match: Rachel Knight (accompanied by Danielle Day) vs. ODB vs. Veda Scott vs. Scarlett Bordeaux
Becky Bayless:
Time for some Divas action! All four are big names looking to make a name for themselves here... who can do it?
- Scarlett Bordeaux and Veda Scott work together in the opening minutes of the match.
- ODB soon fights back, catching Scarlett with a Running powerslam.
- Meanwhile, Veda tries to put Rachel away with the Head Over Heels but Rachel counters with a series of chops.
- Rachel manages to fight back, hitting Veda with a Killshot.
- However, out of nowhere, Scarlett sneaks in, pulling ODB into a roll-up for the win.
(Winner - Scarlett Bordeaux)
Becky Bayless:
Scarlett with the win! It's been much needed for her.
Rob Van Dam:
She just overcame the odds with that win!
--------
We hear the theme of Brock Lesnar and this gets a monster reaction. However we see Paul Heyman come out alone and make his way to the ring looking strangely downcast. With a mic already in hand he signals for the music to be cut. The commentary remark on the fact Heyman is here but Brock is not.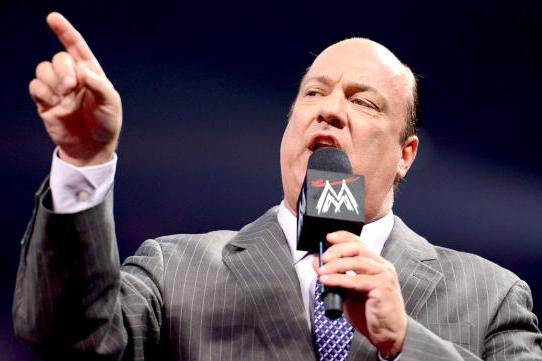 Paul Heyman: Ladies and gentlemen, my name is Paul Heyman and I am the advocate for my client Brock Lesnar! (cheers) We are a few weeks away from Splashdown but tonight I have an announcement that will shake UFWA to its very core and one which I take no pleasure in speaking to you all about. Especially in a place like this! (boos)I am going to go straight to the point here... at Final Frontier Brock Lesnar defeated Cesaro in another classic between the two after their first meeting a year ago at Splashdown for the World Heavyweight title. Now... my client Brock Lesnar has decided to pursue other opportunities in the world of professional sport and over this weekend negotiated I along with Mr CM Punk negotiated a mutual termination of his contract. In simple terms for the foreseeable future, Brock Lesnar has fought his last match in Ultimate Future Wrestling Alliance. (gasps from the crowd)
Becky Bayless: Woah! What a huge announcement this is!
Rob Van Dam: I didn't expect that when I arrived here earlier tonight!
Paul Heyman: Now where does that leave me now that my client and good friend in this business has decided to move on from here? Well first of all, Brock Lesnar has left a lasting impression around here don't you think? He destroyed everything in his path with a undefeated streak, he was one of the main catalysts for the Consortium of Darkness meeting its end and the most dominant performance ever in a King of the Ring tournament to win the whole thing in 2015 and one half of the greatest Splashdown main event of ALL time! Not to mention the fact that he broke Kane's arm, he retired Kurt Angle AND made Debra cry after crippling her husband! (boos as he smirks)Whatever he chooses to do, he will be THE BEAST and THE BEST at it, mark my words! However it may disappoint you but I'm NOT done in UFWA! I'm not finished! My NAME is Paul Heyman and I am looking for a NEW client to represent. I'm not looking for another Brock Lesnar, there is ONE beast on this earth and no one can replace him. However I know in UFWA there is someone in their own way can be just as dominant, just as ruthless and just as willing to do ANYTHING to be the best and not care one bit who gets in his way!I will spend the next few weeks watching you all and then... I will make an offer you would be a FOOL to refuse! My client... BRAAAAAAAOCK LESNAR... no more.Soon MY NEW CLIENT... shall be revealed!
Paul Heyman smiles as he drops the microphone
Becky Bayless: Brock Lesnar gone from UFWA but his advocate is looking for a new client to represent!
Rob Van Dam: Whoever he chooses to go for may well become the new dominant force around here just as Brock was!
--------
Singles Match: Cheerleader Melissa vs. Francesco (accompanied by Serenity)
We hear the theme of Debra and she gets a huge home state pop as she comes out to the ring with a beaming smile, clearly enjoying the moment.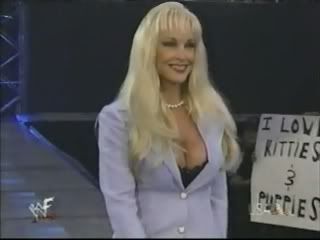 Becky Bayless: Debra is beloved by the Alabama crowd!
Rob Van Dam: No question this will be one of the loudest cheers tonight for the Alabama native!
Debra attempts to speak but laughs as she is drowned out by "We Want Puppies!" chants and then "Debra! Debra!" and after milking that with joy in her face she speaks.
Debra:
Hey yawl! The "Puppies" are back in ALABAMA! (loud cheers) I love you guys, every year I look forward to the Burnout or Oblivion where I get to come back and I hope you are enjoying yourself tonight because Debra sure am' yawl!
Now onto business... tonight we make it official, allow me the pleasure to introduce to you the future top champion of UFWA who recently joined my client group, The Exchange. The most dominant female this company has ever seen, the first ever women's World Heavyweight Champion... the reenergised, refocused and more dangerous than ever! Residing from San Francisco, California!
The one and only... CHEERLEADER MELISSA! (smiles)
Cheerleader Melissa comes out to a new theme and new attire, looking pretty bad ass to a mixed reaction from the fans. She poses in the ring and then Debra asks her to come over to the corner and they seemingly have a quick whispered discussion.
Becky Bayless: I guess Debra is going to stick out here to watch the match!
Rob Van Dam: Melissa came close at Independence Day to winning the Oblivion title but now has to go again tonight!
Melissa then takes the mic and stands in the center of the ring.
Cheerleader Melissa:
Tonight... tonight Francesco feels the wrath of Cheerleader Melissa. Now is the time for me to step up and fight harder than ever and to the point in which Francesco is left as a shell of his former self and he's going to be a bloody and battered corpse.
She narrowed her eyes in his direction.
Cheerleader Melissa:
I have no care for your health and wellbeing, Francesco. I don't care if you have a reason to stay alive or if you have a deathwish. Either way, you're getting your ass kicked by one of the most dominant forces in this company... since day one.
Melissa then handed the mic back to Debra as she exited the ring.
- Francesco gets some shots in on Melissa in the opening minutes of the match.
- Francesco looks to put Melissa way early but she has other ideas as she starts to dominate, hitting him with a series of power moves.
- Melissa is far more vicious in her approach, throwing Francesco all over the ring.
- Melissa picks up Francesco and performs the Kudo Driver. She covers to pick up the win.
(Winner - Cheerleader Melissa)
Becky Bayless:
What a dominant performance from Melissa!
Rob Van Dam:
That's what we thought we'd see!
--------
Jacqueline stood by with The Kat, Terri Runnels and Molly Holly in the backstage area.
Jacqueline:
I know times seem tough. More often than not, the likes of Haruna, Britani, Alicia and Christina have our number. I refuse to let that happen any longer. I'm not sure what we can do to make a change but I am excited about what lies on the horizon for us.
Kat nodded.
The Kat:
It's tough, that's for sure. I'm sure you and I can start that successful run tonight when we defeat Alicia and Britani. I know they're underestimating us...
Terri Runnels:
... so maybe we can take advantage of that?
Molly Holly:
I don't see why not. This is something we can do to take that momentum we need.
Jacqueline nodded.
Jacqueline:
That's the kind of attitude I want to see. I'm not here to mess around anymore so we're going to ensure we're going to keep this morale going.
The Kat:
Let's go show 'em what we're made of!
She said enthusiastically as the four make their way out of the room.
--------
Tag Team Match: InFamous (Cleo Laine & Seth Black) vs. C&C Wrestle Factory (Caprice Coleman & Cedric Alexander)
Becky Bayless:
This rivalry is heating up but who can pick up the tag win?
Rob Van Dam:
The C&C Wrestle Factory are looking to get back on track but can they tonight?
- Seth Black throws Caprice Coleman around the ring in the opening minutes of the match. Coleman soon fights back as he and Alexander work together briefly.
- Seth tags in Cleo, who is also met with a double team before she turns the tables.
- We see someone storm down to the ring, dressed entirely in black from head to toe, and pull Seth Black from the ring apron. He crashes to the ground as a distracted Cleo Laine turns to see this.
- Alexander plants Cleo with the Lumbar Check to pick up the win.
(Winners - Caprice Coleman & Cedric Alexander)
Becky Bayless:
Woah! Who the hell just helped them out?
Rob Van Dam:
I guess this is something that's been planned. Remember we saw someone talking to them last week?
Caprice grabs a microphone from ringside as Cleo and Seth roll from the ring to recover.
Caprice Coleman:
You doubted us. You underestimated us. You decided against believing we stood a chance. What did we do with that? We out-smarted you.
Cedric Alexander:
That's right because as of tonight? The C&C Wrestle Factory is expanding. That's right. We're now the C&C&V Wrestle Factory because please welcome to the team, my former manager and now third member of our trios team... the unstoppable and gorgeous... Miss Veda Scott.
The figure in black pulls the mask off of their face to show Veda. She smiles as she takes the microphone from Cedric.
Veda Scott:
I'm used to getting everything I want. It hasn't worked out recently when I've been screwed over on Pay-Per-View events and I'm sick of that. I continually dominate here on Oblivion but I want more. As you will all remember, I managed Cedric back in Ring of Honor not too long ago but now he and I are reunited and it feels so good!
She let out a laugh as she pulled him into a hug.
Veda Scott:
Consider me the newest member of the Wrestle Factory and I will not only manage you boys to the top but wrestle alongside you in the process to ensure that we are the top team out here. I am a managerial master so nobody can take that away from me and together? We will dominate.
And InFamous? It seems you're outnumbered...
Veda blew a kiss to Cleo and Seth as we head into commercial break.
--------
Tag Team Match: Cecilia Crawford & Liz Crawford vs. Dollhouse (Jade & Marti Belle)
Becky Bayless:
Both of these tag teams have been struggling but who can turn their luck around?
- Liz and Cecilia work perfectly with each other to take down Jade at the start of the match.
- Liz looks to put Jade away early but Jade soon counters with a Yakuza Kick.
- Jade tags in Marti but she stays in the ring so the two viciously assault both Crawford sisters.
- Marti hits Cecilia with The Hells Bells to pick up the victory.
(Winners - Jade & Marti Belle)
Becky Bayless:
That's a win for the Dollhouse!
Rob Van Dam:
But they still don't seem happy!
Jade and Marti have their hands raised in victory but that's not enough as they then drag Cecilia and Liz up, beginning to assault them brutally. We then hear the crowd cheer as Scarlett Bordeaux sprints down to the ring to make the save. That's what it looks like, however, until she strikes both of the Crawford sisters. From here, Scarlett evidently joins forces with the Dollhouse. Scarlett holds up Liz as Jade hits the Package piledriver. The three then stand tall.
--------
After a commercial break, we return backstage. The Dollhouse, alongside Scarlett Bordeaux seem very happy with themselves.
Jade:
Oh, you want to know why Scarlett did that? You want to know why Scarlett helped us out there against the Crawford Sisters? Well, it's clear. We haven't done too well recently, have we?
Marti Belle:
We've been held down and that's sickening. We're done with that so we thought we'd expand the team. Who better to join us than the stunning Scarlett Bordeaux? She is the ideal fit into the group.
Scarlett then took a step forward and looked straight into the camera.
Scarlett Bordeaux:
I've been fairly lost since my previous tag team partner disappeared so I've not been sure where to go. I've been an admirer of these two lovely ladies in the Dollhouse for as long as I can remember. It's an honor to be a part of these team and work alongside them. I'll make sure that they reach the top and finally, we all get the admiration that we deserve.
Scarlett laughed and blew a kiss to the camera before the Dollhouse walked off.
--------
Triple Threat Match: Kofi Kingston (accompanied by Big E & Xavier Woods) vs. Delirious (accompanied by Daizee Haze) vs. Jack Evans (accompanied by Angelico)
Rob Van Dam:
We're seeing members of some of the best tag teams step into the ring in triple threat action!
- Kofi Kingston is clearly still feeling the effects from last week's attack, not being as fast as usual and stopping frequently, clutching his taped-up ribs in pain.
- Jack Evans manages to dominate Kofi Kingston for the majority of the match.
- Delirious manages to gain the upperhand, assaulting Evans with a series of power moves.
- A brawl ensues between Daizee and Angelico on the outside of the ring as the New Day stay clear.
- Delirious throws Kingston out of the ring before hitting Evans with a Bizarro Driver. He covers to pick up the win.
(Winner - Delirious)
Becky Bayless:
It's Delirious, for the Hardcore Revolution, picking up the win!
Rob Van Dam:
That's going to put them in a good place, no doubt about it!
--------
We see Debra in the back with SoCal Val
SoCal Val: Please welcome as my guest... Debra!
We hear loud cheers as Debra appears with a smile
Debra:
Howdy SoCal!
SoCal Val: Earlier tonight we saw your newest client Cheerleader Melissa win in impressive fashion. Apart from your thoughts on your performance are we to expect you to be at ringside for her matches going forward?
Debra:
I was happy with her performance. As for your second point, yes I will be. It was actually Melissa who asked me to accompany her for matches from now on. I of course was happy to accept. The two of us are a different dynamic to the personal and business relationships I have in The Exchange for sure but like them I'm going to do my best to help Melissa get back to the top.
SoCal Val: You've had a great time with the Birmingham crowd here in your home state of Alabama. This Friday on Burnout we hail from Mobile. (Debra laughs as we hear boos) Any plans?
Debra:
I dunno hun. Birmingham, Mobile... it don't matter to me. I'm gonna have some fun like I did tonight. Thank you Alabama, as ever the pleasure was all mine! (loud cheers)
Debra wanders off leaving a smiling SoCal Val.
--------
Tag Team Match: "Foxy Diva" Alicia Fox & Britani Knight (accompanied by Women's Champion Haruna Sakazaki & Christina Crawford) vs. Jacqueline & The Kat (accompanied by Molly Holly & Terri Runnels)
Rob Van Dam:
Jacqueline rallied her troops earlier and gave them a good pep-talk... but can they overcome the formidable team of Britani and Alicia?
- Britani and Alicia dominate in the opening minutes of the match, double-teaming Jacqueline.
- Jacqueline soon catches Alicia with a hard DDT to regain control.
- After a great battle, Britani looks to put Kat away but Jacqueline makes the save.
- Jacqueline kicks Britani hard in the face as she falls back. Britani falls backwards over Kat, who is behind her on all fours. This allows Kat to pull Britani into a small package to steal the win.
(Winners - Jacqueline & The Kat)
Becky Bayless:
They did it! You know Britani and co are not going to stand for that!
Rob Van Dam:
I think you're right!
Britani and Alicia prepares to assault Jacqueline and Kat but Terri and Molly bring them to safety as they retreat back up the ramp.
--------
Marcus Brett:
So.. this is kinda weird, huh?
We hear Marcus Brett talking to Mitch Voelker, his partner throughout the UV Tag Team tournament.
Mitch Voelker:
Well, we've been killing it so far. I know this is our first televised tag team match together so the pressure is on... but it's not like working together is particularly new for us.
Marcus Brett:
Hey, I'm not disputing that. It's just... still not something I'm used to. I don't doubt we'll get through it though. But you and I are both aware of what Conrad and Erica can do. We've worked with them for years and they're legends.
Mitch Voelker:
And so are we. Well, you're a double Hall of Famer already so hey, we're just as much of a formidable team as they are. Don't worry about a thing, we can do this.
Marcus nodded as he, Mitch and Stefani walked off.
--------
Ultra Violence Tag Team Championship Tag Team Tournament Match: Oblivion Champion Mitch Voelker (accompanied by Stefani Voelker) & Marcus Brett vs. World Heavyweight Champion Conrad Black & Erica Rose
Becky Bayless:
This is our first televised Ultra Violence Tag Team Championship Tournament Match. We hope you've been catching up!
Rob Van Dam:
And we're going to see two World Champions in Mitch Voelker and Conrad Black face off with their respective partners, Marcus Brett and Erica Rose! This is going to be epic!
- It's an epic hardcore battle with both teams getting a lot of nearfalls after each hitting their finishers on each other.
- Erica and Conrad bring in more weaponry but Mitch Voelker takes out Conrad at ringside with the Shadowbomb through the announce table.
- Brett hits Erica with the Marc Out onto the steel chair two times in a row to pick up the hard-fought victory.
(Winners - Mitch Voelker & Marcus Brett)
Becky Bayless:
They did it! Perhaps considered the underdog team there, we see Mitch & Marcus advance!
Rob Van Dam:
What a match that was and what a way to end Oblivion. We'll see you next week... good night!