Post by Kirsten on Apr 21, 2017 17:08:07 GMT -5

21st April 2017
Van Andel Arena - Grand Rapids, Michigan
We see "Luscious" Lucy McIntosh in the back staring towards the camera in seductive fashion
✿
Lucy Mcintosh:
I know you have all missed me during the recent break so how good is it for me to back on your screens? (smiles) Gloria has placed a lot of faith in me and I intend to show her why I belong in her group along with my bff Hailee Morgan! So tonight... all I gotta say is watch this space. I intend to make a name for myself tonight one way or the other! I am the future face of the UFWA Vixens division, the Luscious one, Lucy McIntosh!
Lucy does a "Ha!" and the camera fades to black as she pouts
-----
Natalie Chase:
We've seen some great people heading into the FF MITB matches so far and right now, we're going to add more!
Tony Stein:
We'll kick things off by adding one more competitor to the Superstar MITB!
Show Opener; Superstar Final Frontier Money in the Bank Qualifier: Damon Lamar vs. Wally Hardwick
- Hardwick attempts to get some shots in on Lamar early but Lamar fights back with forearms of his own.
- Lamar then uses speed to his advantage and catches Hardwick with a Float-over DDT.
- Lamar hits the Trouble in Paradise and this one is over!
(Winner - Damon Lamar)
Natalie Chase:
Huge win for Lamar!
Tony Stein:
He's heading to FF.
-----
We go backstage to see Rae Bronwyn pacing back and forth. She then stopped and looked up at someone... that person being Hannah Everly.
Rae Bronwyn:
There's really no way you can even consider giving me a contract?
Hannah Everly:
With the way you tried to get a job? You're just a fan who sure, proved herself but stepped into the ring pretty much illegally at Retribution. I just can't do that.
Rae Bronwyn:
But you said it yourself, I proved myself. I'm sorry I had to sneak in that way but well, I can't really make excuses. I'm sorry but just give me a chance!
Hannah crossed her arms.
Hannah Everly:
You know what? I will give you a chance...
Rae's face lit up.
Hannah Everly:
... to earn it. If I hand-pick another woman on the roster for you to face on the biggest show of the year, Final Frontier, if you defeat that woman, I'll sign you to a contract.
Rae Bronwyn:
Uh... okay. Fine, yeah, I'll take it.
Hannah Everly:
Good. Now get out of here and start training. You'll have a tough challenge ahead of you.
Rae nodded and quickly walked out of the room.
-----
Women's Final Frontier Money in the Bank Qualifier: Nicole Franceschi vs. Ria (accompanied by Cheyenne, Sherrie Fox & Aimee Birch)
Natalie Chase:
Time for another MITB qualifier!
Tony Stein:
This time, we'll see either Nicole or Ria secure a place in the Women's MITB match!
- Ria gets off to a strong start, hitting a Saito Suplex but Nicole soon counters with a Roundhouse Kick.
- Nicole then connects with a Tornado DDT and tries to put Ria away.
- With Aimee Birch acting as a distraction, Sherrie and Cheyenne step into the ring and assault Nicole from behind.
- Ria connects with the Package piledriver to pick up the victory.
(Winner - Ria)
Natalie Chase:
Woah! That might be an upset!
Tony Stein:
Ria and the Dollhouse are heading to Final Frontier!
-----
We see Brent Farrell backstage, walking down the hallway.
"Looking for someone?"
We hear the voice of Anna Amore as she and Emily Rivera appear on the scene.
Anna Amore:
We're right here!
Brent rolled his eyes.
Brent Farrell:
Yeah... you both know you're definitely NOT who I was looking for.
Emily shrugged.
Emily Rivera:
Probably not. Doesn't matter. When we're finished with you, we'll always be the ones you'll be looking for.
She leaned forward and placed a hand on the shoulder of Brent as Anna did the same on the other side. We then see someone attack Emily from behind and it's soon seen to be Kara D'Ambrosi.
Tony Stein:
Kara is finally shutting these two up!
Kara is relentless in her assault on Emily but soon, Anna pulls her off. Kara goes straight back on the attack. She throws Emily into the wall as Anna pulls Kara up yet again. Anna shoves Kara back into Brent before she helps Emily up and they disappear down the hallway as Kara and Brent stare them down.
-----
Tag Team Final Frontier Money in the Bank Qualifier: The Kassidy Legacy (Blaze Kassidy & Blade Kassidy) vs. The Rising Sons (Shiori Katashi & Chiyo Rei)
Natalie Chase:
It's time to see another team qualify to be in the Tag Team MITB.
Tony Stein:
Two great teams here, who will take it?
Before they can continue, we see Dex Midas make his way down to the ring.
Tony Stein:
Looks like we've got company!
Dex Midas:
Hello, gentlemen. I have a few people to scout out here so I figured I'd join you.
- Katashi almost puts Blade away early following a series of power moves and then the Nagoya Bomb but Blaze storms into the ring to make the save.
- Both Kassidy's then assault Katashi before Rei gets involved.
- From here, Rei turns the tables with a huge Sit-Down Powerbomb. Rei then looks for the Hakai suru but Blade storms into the ring and attacks him from behind.
- Blaze hits the Blaze of Glory of Rei to put him away.
(Winners - Blaze Kassidy & Blade Kassidy)
Natalie Chase:
Huge win for the Kassidy's!
Tony Stein:
Great showing from The Rising Sons but it wasn't enough.
Dex Midas:
This is what I thought would happen...
Dex stands up and put his head set down on the announce table as he then steps into the ring. With the Kassidy Legacy celebrating their victory up the ramp, we see Katashi help Rei to his feet. Midas just stares at the two as they stare straight back. They continue to do so as we head into commercial break.
-----
We cut back to the entrance of the arena where we see Blain Marshal of The Monarchy is only just arriving
Tony Stein:
Bit late isn't he?
As Blain enters the hallway he's bumped in to by Gustav Wolfe
Blain Marshal:
Hey, watch it!
Gustav raises both hands
Gustav Wolfe:
My fault entirely, you have my apologies
Blain Marshal:
I should think so too
Gustav Wolfe:
Say, Blain, while I have you here I was just wondering if we could have a little chat?
Blain Marshal:
About what exactly?
Gustav Wolfe:
Believe it or not I've actually had my eye on you for quite some time and I'm interested in having you in my Wolfe Pack
Blain smiles and shakes his head
Blain Marshal:
You know Wolfe if you'd asked me two days ago I may have seriously considered it but after seeing what you did to Gunnar Madsen last night I would never even consider putting my trust in you, let alone my career…
Gustav Wolfe:
The thing with Gunnar was just business, it was necessary
Blain Marshal:
Yeah, whatever, I'm afraid I have to decline… Now if you'll excuse me
Blain goes to walk away but Gustav grabs him by the arm, Blain shoots an angry look at Gustav
Blain Marshal:
Get your damn hands off me
Wolfe lets go but Blain turns, the two get in each other faces
Gustav Wolfe:
Trust me Marshal, you'd rather have me as a friend than as an enemy
Blain Marshal:
I'd rather have you as neither but if me declining makes you my… our enemy then so be it but believe me when I tell you this Wolfe, making us YOUR enemy will be the biggest mistake you ever made
Blain shoves passed Wolfe and walks down the hallway as the scene fades.
-----
Women's Final Frontier Money in the Bank Qualifier: Madison vs. Lizzie Hunt
Natalie Chase:
Time for one more qualifier!
Tony Stein:
Will it be Madison or Lizzie heading to the Women's MITB?
- Lizzie catches Madison with an early Leg-feed enzuigiri and then a Shoulder jawbreaker.
- Madison manages to turn things around with a quick Belly to back suplex.
- From here, Madison goes for the Sharpshooter but Lizzie has an answer for that in the form of a Spear.
- Lizzie misses the Botox Injection, allowing Madison to strike with the Maddie Bomb to put her away.
(Winner - Madison)
Natalie Chase:
Huge win for Madison... she needed that!
Tony Stein:
She's got a place at Final Frontier!
-----
Vicky Royce makes her way to the ring and gets a big reception.
Natalie Chase:
Here she comes! The woman who will be challenging Summer Valdez for the UFWA Vixen Championship at Final Frontier!
Tony Stein:
As always brash, arrogant and confident but she backed it up. It was an impressive win recently! She must be out here for some reason!
Vicky poses on the ring apron and then enters the ring, her theme dies down and she stands there smiling as she milks the "Like a Bo$$!" chants
"Big Bo$$" Vicky Royce
: Aww you guys! (smiles) Now then... you may be wondering what I'm doing out here. Last time out on the Joint Show special I beat a whole bunch of other hacks to become the #1 contender for the... excuse me... MY Vixens Championship and at Final Frontier I finally get a 1 vs 1 opportunity to reclaim the title from someone who like a library book has long had it overdue to give back! (nods)
However there will be plenty of time for me to talk about good old Summer Valdez but something has been really in my mind for a long time. Something I really felt needed attention and that is my relationship with Spring. The truth is, we really got off on the wrong foot since coming back. Things have been said, some of those I regret. We have fought a couple of times and she even beat me clean one time and it was the greatest night of her life. I was really happy for her I just found it hard to express it. So given that I have a HUGE match to focus on I think its time we put all this bad blood behind us... so my dear Spring! Lets be friends! (yay! smile) Come out here and lets shake hands, hug it out right here in Michigan!
Natalie Chase:
I somehow don't think Spring is going to come out here!
Tony Stein:
Spring can't stand... (theme plays) What the?! She is coming out here! Maybe they will bury the hatchet after all!
Natalie Chase:
Wow she is indeed and... wait a minute. Something isn't quite right about Spring!
The crowd start to laugh as a over the top parody of Spring runs to the ring pulling off exaggerated fierce expressions. She looks somewhat overweight and her hair looks terrible. A total mockery of Spring as Vicky Royce applauds "Spring" climbing the turnbuckle and trips up comically as she comes down. Vicky hands her a microphone and offers to shake her hands. Spring does an over the top ANGRY pout and refuses.
"Big Bo$$" Vicky Royce
: Wow Spring! You look... terrific! You really must be working out hard at the moment! (crowd laughs) So what did you want to say?
"Spring" says some words and its drowned out by some obnoxious baby crying sound effect. She tries to speak again and the crying comes back. When it stops we hear more laughing from the crowd.
"Big Bo$$" Vicky Royce
: Hmm yes I understand why you are upset, getting no title shot and all. The world is soooo unfair! The way I see it you should just about make it onto the Final Frontier pre-show! (oooooooh from the crowd)
The parody continues as "Spring" speaks into the microphone. More crying and then does a comical tantrum on the ring.
"Big Bo$$" Vicky Royce
: Now I won't have you insult Summer like that! She's a great champion. Sure not as great a champion as me but I think Spring I've had enough of you bad mouthing everyone here after I was the mature one here!
Vicky Royce boots "Spring" in the gut and lands her "Out of Business" finisher. Vicky Royce stands up and takes in the applause from the crowd and poses in the ring as her theme hits.
Natalie Chase:
The crowd enjoyed that! Not quite so sure the person she targeted it did!
Tony Stein:
Spring is going to go absolutely bonkers when she sees this if she hasn't already!
Vicky Royce heads up the entrance stage and then turns to pose one more time. She eats up the cheers but then from out of nowhere she gets taken down by Lucy McIntosh! Lucy pummels Vicky on the back of her head with punches and stomps before her "BFF" Hailee Morgan, the UFWA Women's Champion wonders out onto the stage. With UFWA officials coming out to check on Vicky the duo pose and laugh as they leave.
Natalie Chase:
What was that about?!
Tony Stein:
Beats me, as far as I know those two don't have any association with Spring! Lucy did say earlier she was going to make a name for herself!
-----
Tag Team Match: Trios Champions Eddie Kassidy & Mitch Voelker (accompanied by Stefani Voelker) vs. The Gunn Club (Shooter Magnum & Tommy Gunn; accompanied by Colt Waker)
Natalie Chase:
Big tag team match here! Both these teams have a lot to show but who can walk away with the victory?
Tony Stein:
A win for the Gunn Club could give them a Trios match!
- Voelker is on the receiving end of a double suplex from the Gunn Club but soon turns it around with an STO on Magnum.
- Gunn then catches Voelker with a Big Boot, followed by a Backbreaker. Voelker brings in Kassidy and the champions work together to deliver a Double DDT.
- Gunn hits Kassidy with a Gutbuster before tagging in Magnum.
- Kassidy hits the All In on Magnum. Voelker holds back Gunn, allowing the champs to pick up the win.
(Winners - Eddie Kassidy & Mitch Voelker)
Natalie Chase:
And the champs walk away with the victory!
Tony Stein:
Great effort by the Gunn Club though!
-----
Backstage, we see Shane Knox watching the previous match coming to an end on a monitor. We then see Orlando Cruz and Micah Sterling show up on the scene.
Orlando Cruz:
They're pretty damn good. I mean, with Stefani as well, they're an almost unbeatable trios team.
Micah Sterling:
Yeah. You would reaaaaally need some great partners to beat a team like that.
Orlando nodded.
Shane Knox:
What do you want?
Orlando Cruz:
We're just saying... you've got the Trios shot and you want to cash it in on the biggest show of the year... Final Frontier. Unfortunately, you don't have any usual partners. A guy like you? You're a lone wolf but you can't be in this situation.
Micah then leaned closer to Shane.
Micah Sterling:
So imagine this... at Final Frontier, we see Mitch Voelker, Stefani Voelker and Eddie Kassidy defend against Shane Knox, Micah Sterling and Orlando Cruz but not just that... the challengers win to become new... Trios... Champions.
Orlando Cruz:
Ooh, beautiful. That is a sight I would kill to see!
Shane just sighed, looking unimpressed.
Shane Knox:
Nice try, guys.
He stated as he then walked away as Orlando and Micah look frustrated.
-----
Luca is seen standing backstage.
Luca:
So... things have been quiet for me and that's been a while. I've gone from being Superstar of the Year to being forgotten about. I'm sick of that and I've just been overlooked but that's my own fault. I now need to come back fighting and I can do that by defeating Marty Wilson tonight, heading to Final Frontier and becoming Mr. Money In The Bank.
He nodded.
Luca:
Marty Wilson wants the opportunity too? Well, I'm willing to bet he won't want it even half as much as I do...
With that, Luca walked away.
-----
Superstar Final Frontier Money in the Bank Qualifier: Luca vs. Marty Wilson
Natalie Chase:
Luca is confident heading into this and I'm sure Marty is too!
Tony Stein:
But who is heading to FF?
- Marty Wilson attacks Luca immediately with a hard series of shots.
- Luca soon comes back fighting with an Uppercut and then a Backbreaker.
- Eventually, Luca delivers the Neutralizer to put Wilson away.
(Winner - Luca)
Natalie Chase:
Luca with a big win!
Tony Stein:
He wanted that shot and he's got it!
-----
We go backstage to see Kirsten and Adam Ryder stood side-by-side.
Kirsten:
It's that time again! With Final Frontier and subsequently the Hall of Fame edging every closer, we need to round off our Class of 2017 list. So far, we've announce Jaz Ashby, Zoe Seiko, Orlando Cruz and Summer Valdez. We're about to add three more.
Adam Ryder:
So we're going to go with my pick first. Of course, we both agreed on this one because he's someone who is still very relevant and he's a friend of ours.
Conrad Black
has made history as the longest reigning World Heavyweight Champion and he's not even been with the company that long so that's a huge deal. He's even made history as one of the first ever Trios Champions and is a Retribution Rumble winner. So we're proud to be able to announce him as a Hall of Fame inductee.
Kirsten nodded.
Kirsten:
And my pick may come as a shock to many people. I am choosing someone who I've had nothing more than a rocky relationship with, to say the least, but someone I have grown to respect. We've screwed each other over countless amounts of times and we're on opposing sides. We're not the best of friends but let's be honest... my sister,
Nicole Franceschi
has done everything there is to do. She's a multi-time Women's, Vixen's, Women's Tag Championships and more. She's been here more or less since day one so regardless of my feelings towards her, she is officially a Hall of Fame inductee.
Adam Ryder:
And that's not all. We're introducing our first Honorary Hall of Fame inductee. That means that particular person is no longer with the UFWA but we feel they deserve to be recognized.
Kirsten:
That person is, of course,
Samoa Joe
. Joe is someone who has been with us from the start and has made history as a multi-time World, Tag and Ultra Violence Champion. Joe stood out as one of the most versatile athlete around and was one of the mainstays around here so of course, he has a place in the 2017 Hall of Fame.
-----
Tag Team Final Frontier Money in the Bank Qualifier: The Asylum (Leyton Kimura & Audra) vs. The Brotherhood (Myles Maxted & Nyle Adessi)
Natalie Chase:
Perhaps a show-stealing match here!
Tony Stein:
And its for a place in the Tag Team MITB!
- Myles Maxted dominates at the start of the match, hitting Audra with a series of impressive moves, ended with a Neckbreaker slam.
- Maxted brings in Adessi, who hits Audra with a Spinning backfist. She soon comes back fighting, catching him with a Spinning backfist.
- Audra brings in Kimura and both hit Adessi with a double-team move. They both then take out Maxted at ringside.
- Kimura hits Adessi with the Annihilation. Maxted is still down on the outside so can't make the save, meaning the Asylum take it!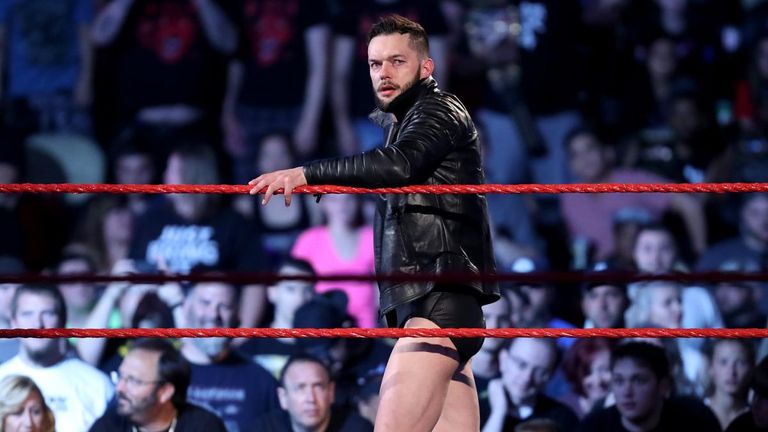 (Winners - Leyton Kimura & Audra)
Natalie Chase:
Woah! Huge win there for the Asylum!
Tony Stein:
Great showing by both teams!
-----
Six Person Tag Team Match: Ricky Parker, Jett Hanson and Marty Wilson Vs Mystery Opponents
In the ring we see Ricky Parker, Jett Hanson and Marty Wilson having made an entrance together. Ricky Parker as we had seen recently does not look himself with a vacant stare as his team mates joke around.
Jett Hanson: YEA BAYBEYYYYYYYYY! (some cheers) Tonight we are going to face off in a match. Its about time we got some TV time! So to you three bozos! Get out here and bring it on! (the lights go out)
Natalie Chase:
Looks like we're getting an unannounced match tonight which apparently management have approved!
A black hole vortex we had been seeing for weeks appears on the titantron and then it is accompanied by a piano version of "Black Hole Sun" by Soundgarden
Rising out of the stage which is now covered in smoke is Lady Vortex with her arms crossed across her chest and above the featureless face mask like a ring wraith. It then transitions into the rock original at 0:31, Lady Vortex raises her hands and the rest of the faction in El Miedo and Anti-Matter who have their skull masks for the entrance now join Lady Vortex in walking down to the ring. The ramp LED has an effect of the light going out and being sucked back into the vortex on the main screen.
The three men head into the ring and the bell sounds. Ricky Parker screams and holds his head, falling to his knees. Jett Hanson and Marty Wilson are assaulted by Vortex in brutal fashion, not having a hope in hell of withstanding this. Anti-Matter squash them in the corner with splashes before finishing them off with Event Horizon (stereo powerbombs, after colliding their opponents) that leaves their victims down on the mat. Ricky looks up at El Miedo before the masked lucha nearly caves in his face with a devastating super kick. He looks back over at Lady Vortex who appears to nod in creepy fashion. El Miedo crushes the artist formerly known as Bo Dallas with Deathwatch, his running package piledriver and makes a cover.
The three count is a mere formality.
(Winners - Vortex)
Lady Vortex enters the ring and places a hand on each of the broken men. They individually scream and then fall silent.
Natalie Chase:
What the hell did she just do?! Its like she just claimed their souls!
Tony Stein:
Lady Vortex is a entity unlike any we've seen in UFWA and these men appear to be her personal instruments of destruction... but why?
A eerie silence has fallen on the arena as their theme song plays and Lady Vortex leads her men to the back with dimmed lights.
-----
The cameras shift to the boiler room of the arena, a place where the group known as The Asylum frequently make their home. We see that is the case here tonight as well as Logan Frost is seen standing with his back to the camera
Logan Frost:
At this moment in time there is a lot of hype surrounding Brooklyn as she made history just last night by winning the top title in the Universal Wrestling Federation so there is no doubt that she's riding high right now. While she may not be thinking about UFWA business right now I am and I have nothing but Final Frontier on my mind, specifically a certain match and Brooklyn that match is against you. I have already defeated you Brooklyn so by wrestling rights I believe I have earned a shot at your championship but I wish it to be made official so this is a challenge from myself to you. At Final Frontier I challenge you to an Ultra Violence Championship Match, one on one, no Asylum, no Glorious Revolution, just me, you and any object that isn't nailed down. This is my challenge Brooklyn, should you wish to accept you know where to find me
The scene fades to black
-----
Tag Team Match: The Beauty Club (Faye Clarke & Jenna Cyde) vs. Vixens of Tomorrow (Avery Knight & Haruna Sakazaki)
Natalie Chase:
The Women's Tag Team division is heating up so there's plenty of teams gunning for the gold.
Tony Stein:
Which team can stand out here with a huge win?
- Haruna is on the defensive early against Jenna Cyde, who hits a huge kick, followed by a DDT.
- Haruna turns things around, hitting Jenna with a snapmare before tagging in Avery.
- Avery and Faye exchange shots, with Faye gaining control with a hard backbreaker.
- Avery hits the Knight Rider on Faye. Haruna ensures Jenna can't break it up so the Vixens of Tomorrow pick up the win!
(Winners - Avery Knight & Haruna Sakazaki)
Natalie Chase:
The Vixens of Tomorrow with a huge win there!
Tony Stein:
But they've gotta watch out!
Tony says that as Avery and Haruna are assaulted by Katana Valentine and Kathleen Skye who arrive on the scene. They are immediately joined by Faye and Jenna as the two teams begin to assault Avery and Haruna.
Natalie Chase:
The entire Beauty Club are taking it to the Vixens of Tomorrow!
Soon, we see Daisy and Kaity storm down to the ring to join the fight and they're in turn, joined by Teagan Cavenagh and Melissa. An all-out brawl ensues between the Women's Tag Team division as we head to commercial break.
-----
We see No Remorse stood backstage.
Caiden Tate:
So, No Remorse are once again moving up the ladder here in UFWA and we're going to head right to the very top soon enough. After all, I'm going to be the Intercontinental Champion and Tyler here? He's going to be World Champion.
Tyler Ruocco:
All of which is incredibly overdue. So tonight, I'm going to defeat Bradley Reid before heading to Final Frontier and working my way into the main event. It's a guarantee.
Caiden nodded in agreement.
Caiden Tate:
There's no way that there's any other answer than that. Success awaits us on this journey.
Tyler Ruocco:
And it all begins tonight. Bradley Reid? Prepare.
Tyler walked away, with Caiden following.
-----
Main Event; Singles Match: Tyler Ruocco (accompanied by Caiden Tate) vs. Bradley Reid
Natalie Chase:
Huge main event here! Tyler Ruocco is working towards main event status but will he be stopped by Bradley Reid here?
Tony Stein:
Reid himself has a target on his back as well right now so this is gonna be good.
- Reid is in control early, taking a more aggressive approach. He hits Ruocco with a hard Discus forearm smash and then a German suplex
- Rucco eventually regains control after hitting a Lariat. He follows up with an Atomic Drop.
- It's a great back and forth throughout the match. Reid looks for the Reid Up but Rucco counters with a One-armed side slam.
- Reid manages to counter the Ruocco 'n Roll with a sneaky roll-up to steal the win!
(Winner - Bradley Reid)
Natalie Chase:
Reid did it! Reid just pinned Ruocco!
Tony Stein:
Ruocco is not going to be happy about that!
Instead of celebrating that victory, Bradley Reid rolls out of the ring and grabs a microphone.
Bradley Reid:
At the Anarchy/Burnout joint show before the break, that man right there...
He pointed to Ruocco, who was now back on his feet.
Bradley Reid:
... was given one hell of an opportunity. He's facing Erica Rose at Final Frontier, where the winner goes on to the main event to join Levi Flynn and Conrad Black for the World Championship. I just went to show he doesn't deserve that but I do because I defeated him. So if anybody deserves a huge opportunity like that, then its me.
He pointed to himself as Kirsten makes her way onto the stage.
Kirsten:
I'll give you that credit, Brad. That's some sound logic and it makes perfect sense. You did just defeat the potential number one contender so I'm going to do the right thing here... and that's add you to that match. Don't get too cocky about it... you've got far further to go.
Bradley Reid:
Oh, don't worry. I know I can get through that and I can really show you who your next great main event star is.
Kirsten:
Fine... don't disappoint.
Kirsten turns and walks away as Bradley Reid seems happy with himself. However, he's suddenly hit with the Ruocco 'n Roll by Ruocco from out of nowhere. Burnout comes to a close with No Remorse standing over Bradley Reid.