Post by Kirsten on Jun 25, 2017 13:18:20 GMT -5
OOC NOTE
- A huge thanks to
Adam
,
Kameron
,
Lincoln
and
Old School Kane
with match writing and
☠ Kaz ☠
for the GFX. As always, thanks to those who send in segments as well. This turned out to be a great show and there's a lot that we can take from this and use in some great storylines/feuds next. Enjoy!
25th June 2017The SSE Hydro - Glasgow, United KingdomTony Stein:
Welcome to UFWA's first ever Indestructible event!
Natalie Chase:
It's looking t be one of our greatest events to date and i can't wait to be a part of it.
Kameron Ryder:
It's an honor to be here!
Tony Stein:
We kick off the pre-show for Indestructible with 8-woman tag team action!
Kameron Ryder:
Might be a few scores to settle out here!
- A chaotic start to the match as all eight women battle it out in and out of the ring. Eventually the referee restores order.
- Cayla Hawthorne, Jessica Wilde, Lizzie Hunt & Audra all take turns in isolating Jorja with signature moves. The rest of Jorja's team preventing pins.
- Jorja hits her finisher out of nowhere on Audra. Audra rolls back to her corner and makes a tag, Jorja tags in Bianca.
- Bianca cleans house on the other team.
- Match breaks down as all the women start brawling outside of the ring. Faith blindly tags herself in
- Bianca is taken down by Jessica Wilde. She looks to go for a pin but the referee explains she isn't legal.
- Jessica turns around into a signature spear by Faith. Faith follows up with the The Bewitching. She gets the pin despite attempts to break it up from the outside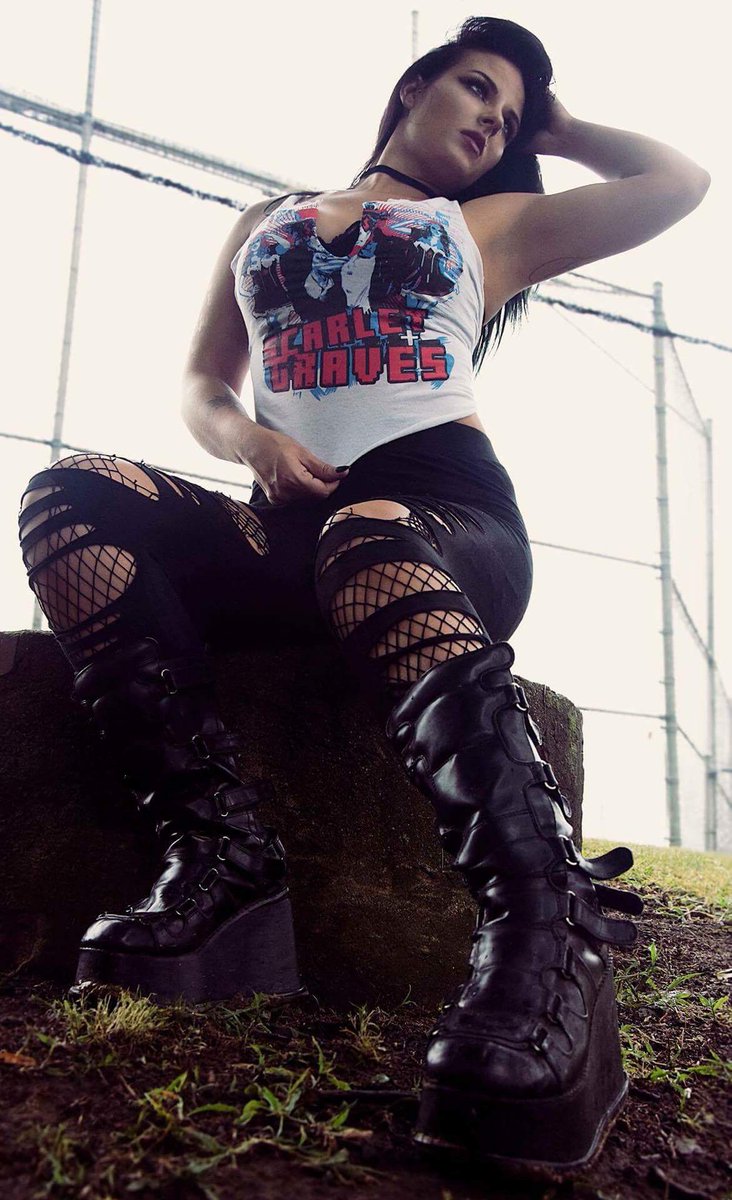 (Winners - Bianca Auriel, Jorja, Anya Castello & Faith)
Tony Stein:
A huge win for these four ladies!
Natalie Chase:
That was impressive by both sides, let's be honest.
Kameron Ryder:
And that could be Faith's biggest win to date!
------
The Cougars are stood backstage.
Emily Rivera:
I can't help it, I just think they're kinda cute.
Anna Amore:
I won't disagree with that but you've even heard yourself, they're not interested! That's why we have to kick their asses.
Emily Rivera:
Their cute little asses...
Anna rolled her eyes.
Lacey Monroe:
Stay focused, Emily! I know you like these guys but we need a huge victory here... we NEED it. There is no way that I'm going to let you girls suffer here. You might not want to hurt them but my girls need a win and that's what I expect...
Emily pouted but nodded as the two walked away.
------
Tony Stein:
It seems the Cougars could be a little distracted in this one!
Natalie Chase:
Well, certainly Emily Rivera at least!
- Match starts with Emily and Sledge Hammer, they go back and forth in quite a fierce contest
- MC Hammer is tagged in, he dominates Emily for a few minutes
- Lacey distracts the referee. This allows Emily to do an illegal low blow on MC Hammer. She tags out to Anna Amore. Sledge Hammer chases Lacey round the ring
- Anna Amore hits repeated forearm shots in the corner to MC Hammer
- MC Hammer does a nice slam counter and then nails Anna with Hammer Time! A near fall as Lacey puts her foot on the rope!
- Sledge Hammer once again chases Lacey to the back and returns only to get clotheslined by Emily.
- MC Hammer complains to the referee oblivious to that and then turns to see Emily pouting at him. She plants a kiss on him!
- MC Hammer is not sure what to think of that but he gets rolled up! Anna Amore has the tights! THREE COUNT!

(Winners - Emily Rivera & Anna Amore)
MC and Sledge Hammer furiously protest but the referee waves them away as the three ladies celebrate on the stage.
Tony Stein:
Anna Amore picking up the questionable win for her team!
Natalie Chase:
Emily smooching MC made the difference there I guess! Lacey played a part too!
------
To a big reception as the arena continues to fill up, Vicky Royce makes her way to the ring. With her Vixen's championship, she also has a microphone.
"Big Bo$$" Vicky Royce:
Excitement is the air am I right Glasgow? THE star of UFWA is here, your Vixen's champion! (smiles as the cheers go up) Unsurprising, what a horrible place Glasgow is! (boos)
There is not much left to say to you Spring. This is my first title defence since winning this championship and I have no intention of giving it up so soon. This championship belongs with me and me alone, don't you ever forget that. Your friend Summer brought her best and lost at Final Frontier and you are not HALF the woman that she is in UFWA so what chance do you really think you have? 0.1% perhaps. 99.9% probability is that the Big Bo$$ is finally done with you and your pathetic challenge tonight. Anything else would be the biggest crime in the history of professional wrestling, to see the likes of you holding a title that wouldn't mean anything without me.
We're going to hell and back, possibly three times to decide who the better woman is. The future of the Vixen's championship will be decided here tonight. Will it continue to be one of the most talked about and prestigious championships in the business or will it go back to what it was before I came here? A title that was once ALWAYS the shadow of the Women's Championship.
Spring, when we go through three stages of hell tonight, it will be the Big Bo$$ that sends you to eternal damnation!
Vicky lifts her championship and her theme plays before she heads to the back
------
Kameron Ryder:
Time for singles action on the pre-show! Sydney takes on Rei!
Natalie Chase:
Madison will be the guest referee!
- The referee delays the start of the match by doing some stretches which irks Rei a little.
- Its a back and forth match with each exchanging signature Blockbuster and Dragon Screw moves respectively
- The referee calls it down the middle throughout
- A big kick by Sydney stuns Rei
- Sydney looks for the Game Over. The referee suddenly faints in theatrical fashion.
- Sydney shoves Rei to the mat seeing this, not hitting her finisher to check on the referee. She helps the referee back to her feet
- Madison thanks Sydney and says she is ok.
- Rei rolls up Sydney. A FAST COUNT?!
(Winner - Rei Kagura)
Tony Stein:
What the heck?! The referee just screwed over Sydney!
Madison escapes the ring before an irate Sydney can get her. On the outside Madison "faints" again and instantly stands up laughing as she raises the hand of Rei on the outside.
Natalie Chase:
It was all an act! Sydney looks furious!
------
Tony Stein:
The Wolfe Pack will be defending the Stables Championships against other Monarchy members later in the night but for now, these two sides do battle!
Natalie Chase:
Who can gain some momentum heading into that title match?
Kameron Ryder:
I don't like the Wolfe Pack... I just thought I'd thrown that out there.
- Anton attempts to jump Nicole off the bell but it's countered, Nic hits a hurricanrana for the count of two
- Wolfe drops Nic with a hard clothesline to get control, he gets a two count off a knee to the head
- Jezabelle gets the tag in and hits Wolfe with a missile dropkick for a two
- Pierre Renaud arrives ringside to be in the corner of his team
- Anton with a belly to belly suplex on Jez gets two
- Nic with a blind tag in hits a spinning heel kick on Wolfe for a two
- Zara Lockheart arrives ringside to cheer on her Monarchy team mates
- The referee gets nailed by a Gustav clothesline
- Pierre attempts to get involved but Zara stops him, nailing him with the sceptre
- Zara then attempts to nail Wolfe with the sceptre as well but accidentally hits Jezabelle
- Wolfe is then able to pin Jezabelle to score the win
(Winners - Gustav Wolfe & Johan Anton)
Tony Stein:
And it's the Wolfe Pack with the win!
Natalie Chase:
That was impressive, you've got to admit!
Kameron Ryder:
Fine...
------
Current Ultra Violence Tag Team Champions, The Young Guns Alice Autumn and William Levon are stood backstage ahead of their title defence.
Alice Autumn:
I'll admit, I have seen R.B.A being overlooked on plenty of occasions. We don't think they deserve that because they are fighters and we've seen the very best of them.
William Levon:
But do we see them as being the team to finally put a stop to us and take these titles from us? No. They would really have to step up in this to get the job done and while I am taking them seriously, I just don't see that in them.
Alice Autumn:
So Kacey and Karleigh, we will give you all the credit in the world but what it's going to come down to here is the fact that we're willing to fight harder, we're willing to give this our all and we're proven to be far more dominant than you. So you have to accept that.
Will nodded.
William Levon:
This is going to be one hell of a match, we know. But when it's all said and done, we'll be leaving still with these titles in our possession and there's nothing you can do about it.
The couple then walked off.
------
Tony Stein:
Pre-Show main event time!
Natalie Chase:
The Young Guns defend the Ultra Violence Tag Team Championships in an Elimination Tables match!
Kameron Ryder:
This is going to be good!
- It's an all out brawl from the get go as Karleigh pairs off with Will and Kacey with Alice
- Levon attempts to spear Kacey through a table early on but she moves, Will crashes through instead. He's still in the match however as it wasn't an offensive move
- Karleigh attempts to Superplex Alice off the top through a table but Alice blocks it with a head-butt
- Both Karleigh and Alice fall off the top through the table, both are declared eliminated
- Karmozjin gets involved, taking Will down with a spear
- Karmozjin helps Kacey double team Will as Karleigh recovers.
Kacey and Karmozjin attempt to double suplex Will through a table but Alice shoves the table away at the last second
- Alice nails Karmozjin with a steel chair, taking him to the outside
- Autumn then disposes of Karleigh with Alice in Wonderland on the floor
- Will and Alice then double powerbomb Kacey through the table to win the match
(Winners and still UFWA Ultra Violence Tag Team Champions – William Levon & Alice Autumn)
Tony Stein:
And the champs retain! But what a damn match!
Natalie Chase:
R.B.A certainly did prove themselves there but the champs walk away with the win.
Kameron Ryder:
That's a great way to end the Pre-Show. We'll be back soon with our main show.