Post by Kirsten on Aug 18, 2017 5:32:55 GMT -5
18th August 2017
Air Canada Centre - Toronto, Ontario, Canada
As The Burnout Anarchy Super Show goes on the air we cut straight to Kirsten who is sat in the Administration office behind her desk
Kirsten:
Before we get to the action tonight I want to address an ongoing issue that exists in our Women's division between champion Ashley Jak, possible challenger Vicky Royce and former UFWA Vixen's Champion Spring. It has come to my attention that week after week these three take verbal shot after verbal shot at each other and something needs to be done about it. Vicky Royce wants a title shot against Ashley Jak and Ashley Jak has no problem with that so Vicky Royce will get her title shot at Ashley at Dark Harvest.
Natalie Chase:
Some big news right there!
Kirsten:
This leaves Spring who we are having some issues contractually with, while Spring was a member of the Combat:Pro roster it was technically the Vixen's title that was contracted to that show, which means that now Spring cannot receive her rematch against Karleigh as Spring isn't an official member of the Combat:Pro roster. Therefore I am allowing Spring to use her rematch clause for the Vixen's title to get a shot at the UFWA Women's title so at Dark Harvest it will be Ashley Jak defending her Women's title in a triple threat match against both Vicky Royce and Spring in what I call a last chapter match
Tony Stein:
Last chapter?
Kirsten:
What that means is this is it, after Dark Harvest whoever leaves as the UFWA Women's Champion will move on to new challengers, these three all want to prove that they are the best and the best will be determined at Dark Harvest. Furthermore these three Women will be in action later tonight in a triple threat tag team match. I have contacted Ashley, Vicky and Spring and told them to each find a partner for a match later tonight, so we will see a Women's Triple Threat tag team match
Natalie Chase:
Kirsten with some epic announcements right here
Kirsten:
With all that being said and done with I just want to tell everyone to enjoy the show. Lets get to the action!
The cameras cut to the ring
-----
Singles Match: Kenzy Black vs. Anita Christy (accompanied by "Sweet" Stan Harrison)
Natalie Chase:
First match of the night and we're seeing Kenzy Black in action against newcomer Anita Christy!
Tony Stein:
Who's going to walk away with the win?
- Christy jumped Kenzy off the bell, much to the delight of Sweet Stan
- Anita then gets a near fall after a running bulldog on Kenzy
- Kenzy gained control of the match after reversing a suplex with one of her own
- Kenzy then made short work of Christy, nailing her with The Kenzy Kick and pinning her for the three
(Winner – Kenzy Black)

Natalie Chase:
Kenzy with a huge win!
Tony Stein:
Impressive!
-----
Singles Match: UFWA Tag Team Champion Oliver Orozco (accompanied by Jax) vs. Alexander Shaw (accompanied by Isaac Carter & Duane Jordan)
Natalie Chase:
Shaw and the rest of the FCC might be looking for a title shot here. A win here could do that!
Tony Stein:
This is a huge opportunity!
- Shaw gets off to a strong start, hitting Orozco with a series of shots, followed by a huge Reverse STO. He goes for a Brainbuster but Orozco escapes.
- Orozco catches Shaw with a Leaping Tornado DDT, followed by a Victory Star Drop but Jordan hops onto the ring apron to act as a distraction. This buys Shaw time to recover and hit a Michinoku driver.
- Shaw then hits a Jumping corkscrew roundhouse kick but as he goes for the Shaw Thing, Orozco dodges, hitting a quick Backslide Driver.
- Oliver Orozco goes for the Automatic Midnight but Jordan hops onto the ring apron and shoves him as he and Carter then begin to attack him, prompting the disqualification.
(Winner - Oliver Orozco via DQ)

Natalie Chase:
Oh, come on!
Tony Stein:
The FCC crossing the line!
There's a brief fight between the two before the FCC begin to retreat.
-----
Renee Taylor:
Ladies and gentlemen... UFWA Ultra Violence Tag Team Champion and UWF Television Champion... William Levon.
William walked onto the scene.
Renee Taylor:
Will, you're on a roll right now and those two championships of yours prove it. However, you still have one of the biggest matches of your career ahead of you tonight in a champion versus champion match against Levi Flynn.
William Levon:
I'm not gonna lie, I don't like Levi Flynn but I know he's probably the best out there. He is the top star of this generation, as far as I'm concerned. Am I afraid of stepping into the ring with him, though? No. I mean, he's not quite as good as he used to be.
Renee Taylor:
Care to elaborate on that point?
William Levon:
Well, let's be honest. He used to be undefeated, invincible, unstoppable. He's lucky to scrape a victory these days and when he does, it's not all that impressive. Not the way they used to be.
"I'm still more memorable than you..."
We hear the voice of Levin Flynn as he walked onto the scene.
Levi Flynn:
What you need to learn, Will, is that while I might not be at my best, I am still better than everybody else... particularly you. So you can talk me down if you want but at the end of the day, you stand no chance of defeating me tonight because you're not in my league.
William Levon:
Maybe not but considering I have two championships right now and you barely have that one. I mean, what have you done since winning it? Nothing worth talking about...
Levi narrowed his eyes at him.
William Levon:
I mean, if you really wanted to prove yourself and show that I'm not World Champion material, maybe we should make things interesting and make our match tonight a UFWA World Heavyweight Championship match.
Levi hesitated but eventually nodded.
Levi Flynn:
Fine. I know I can beat you so I have no problem with that. When tonight is over, maybe I will finally have 'something worth talking about' after all...
He looked Will up and down in disgust before walking off.
-----
Women's Tag Team Championship #1 Contender Match: Vixens of Tomorrow (Avery Knight & Haruna Sakazaki) vs. The Beauty Club (Kathleen Skye & Katana Valentine) vs. T.M.I. (Teagan Cavanegh & Melissa) vs. Glorious Revolution (Hailee Morgan & Lucy McIntosh)
Natalie Chase:
The Sirens' Daisy and Kaity are going to see new challengers crowned here.
Tony Stein:
Some great teams in this thing!
- It's an all-out brawl from the start as the match kicks off. Hailee and Lucy brawl with Kathleen Skye and Katana Valentine as member of the Glorious Revolution and Vixens of Tomorrow square off.
- T.M.I look to take advantage of this but they're then taken down by the Beauty Club.
- The referee continues trying to restore order but eventually, this leads to the referee completely ruling out the match.
(Winner - N/A)

With the brawl continuing, Women's Commissioner Hannah Everly made her way onto the scene.
Hannah Everly:
Come on ladies, really? You think that was called for? I know you all want a shot but this is madness and now, this match is a no go.
She shook her head.
Hannah Everly:
But thankfully, I have all the answers as usual. So instead of crowning a #1 contender, all of you will get the shot because at Dark Harvest, we're going to have us one of the biggest Women's Tag Team matches in UFWA history. The Sirens' Daisy and Kaity will defend the gold against the Vixens of Tomorrow, all four members of The Beauty Club, T.M.I. and the Glorious Revolution in an Elimination match.
The crowd seem pleased with that announcement as the teams in the ring stare each other down.
-----
We cut back to the backstage area where we see UFWA Women's Champion Ashley Jak talking to her long time Sisterhood partner Kenzy Black
Ashley Jak:
I know that you wanna get back to see Ellie and I know you've already had a match but I really need a tag team partner that I can trust. Talia isn't here tonight or I would have asked her to not bother you…
Kenzy holds up her hand
Kenzy Black:
Ash! You know me better than that! You don't have to explain anything, defend anything, Ellie understands. You need me, you got me but are you okay with this? I mean, Spring is practically your Sister In Law
Ashley Jak:
It's not ideal but Spring knows that business is business and so do I.
Kenzy Black:
Then lets get this Sisterhood back together!
Ashley and Kenzy lock hands as we go to a commercial break
-----
Hardcore Tag Team Match: The Fallen Brothers (Harley Archer & "Disfigured" Dean Denton) vs. Ricky Parker & Jett Hanson
Natalie Chase:
The Fallen Brothers duo trying to get back on track here.
Tony Stein:
This is their chance to prove themselves.
- Archer is in control immediately with a brutal assault on Hanson before he brings in a baseball bat, which he uses to target Hanson's ribs.
- Meanwhile, Parker is trying to take it to Denton but has no luck as Denton hits a running kick, followed by a powerful suplex.
- Archer then throws Hanson through a table on the outside.
- Denton nails Parker with the 3DT onto a steel chair and he covers, picking up the win.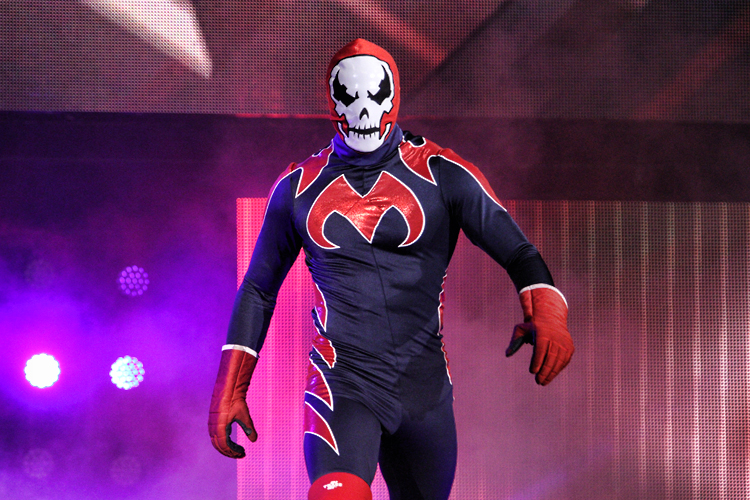 (Winners - Harley Archer & Dean Denton)

Natalie Chase:
Archer and Denton impressing again!
Tony Stein:
A dominant performance.
-----
We cut backstage where we see Renee Taylor standing by with reigning UFWA Ultra Violence Champion "The Real Deal" Dex Midas
Renee Taylor:
I'm standing by with reigning UFWA Ultra Violence Champion Dex Midas and Dex, I have to say that your run as Ultra Violence is an impressive one seeing as it's under twenty four seven rules, nobody seems to be challenging you.
Dex Midas:
There's no denying that I've been pretty dominant in this division and I'm enjoying myself Renee, I'll admit that. Thing is I'm not one of these types that likes to site on the sidelines with their title and refuse to defend it, I like compet—
Dex stops and frowns
Dex Midas:
Can I help you?
The cameras zoom out as we see UWF Grand Prix Champion Rhys Huxley walk in to the shot, the Grand Prix title over his shoulder
Rhys Huxley:
Seems like we have something in common Midas
Dex Midas:
Is that right?
Rhys Huxley:
Yeah, see I've been UWF Grand Prix champion for a few weeks now and I haven't had any challengers either so we're kinda the same Dex because clearly there's nobody out there that wants a piece of me either
Dex Midas:
Well I'll be happy to have a piece of you Huxley, hell I don't want a piece, I want the whole damn thing
Rhys smiles
Rhys Huxley:
I was hoping you'd say that Dex cause I have a proposition for you for later tonight. I say we go to that ring and we fight and whoever wins takes both titles home with them tonight
Dex Midas:
You don't have to ask me twice, I'll see you later Rhys
Huxley taps Dex's Ultra Violence title belt
Rhys Huxley:
Keep it warm for me
Rhys walks away as we go to a commercial break
-----
Caiden Tate's Intercontinental Championship Open Challenge: Caiden Tate (accompanied by Tyler Ruocco) vs. TBA

Caiden Tate and Tyler Ruocco head down to the ring, with Caiden grabbing a microphone.
Caiden Tate:
Here I am once again, still holding the Intercontinental Championship and well, it's getting a little tiring. I am happy with that though and to the point where I am here with yet another open challenge match.
Tyler applauded.
Caiden Tate:
So who is it tonight? Anybody out there want a fight?
The music of the FCC hits as Alexander Shaw, Isaac Carter and Duane Jordan head down to the ring. Shaw and Carter step aside as Jordan is the one to step into the ring.
- Tate gains control early with a quick Tilt-a-whirl backbreaker followed by a Shoot Kick. Tate then goes for the early Worst Case Scenario but Jordan escapes.
- Jordan turns the tables with a Suplex, followed by a Snap DDT.
- Jordan goes in for the kill but both Shaw and Carter are attacked at ringside suddenly by Jax and Oliver Orozco. The distracted Jordan is then pulled into the Betrayal by Tate, who pins him to pick up the win.
(Winner & STILL Intercontinental Champion - Caiden Tate)

Natalie Chase:
The FCC are having one hell of a night! It might not be a good thing, though...
Tony Stein:
Tate retains!
A furious FCC just stare down the Brotherhood as they head to the back.
-----
We cut to the locker room area where we see Spring standing by with Summer Valdez
Spring:
It's not hard to figure out why I'm standing here in front of a camera with Summer Valdez standing beside me. I got told to find a partner so I found one, Ash, Kenzy, I saw what you said earlier tonight and I'm glad we're in agreement that business is business because that's how we feel too
Summer Valdez:
As for Vicky and whoever is dumb enough to team with her it isn't business because both Spring and I hate you and we're gonna make it our collective mission to kick your ass from pillar to ring post!
Spring:
We'll see you girls later tonight!
The scene fades
-----
Ultra Violence Women's Championship #1 Contender Match: Emily Rivera (accompanied by Anna Amore & Lacey Monroe) vs. Aaliyah Khan
Natalie Chase:
Leah Riley is the new Ultra Violence Women's Champion and now, she's about to see a new challenger crowned.
Tony Stein:
Will it be Emily of the Cougars or Ultra Violence Women's division mainstay Aaliyah Khan?
- Emily surprises Khan with a sneak attack at the start of the match, using a lead pipe as her main weapon. Soon, Khan manages to fight back with a quick Leg Lariat.
- Khan then remains in control and fights off intereference attempts from Amore and Monroe.
- Khan prepares for the Reload but Anna Amore storms into the ring and attacks Khan with a kendo stick. The referee tries to get Anna out of there but this allows Lacey to sneak in and hit her with a pair of brass knuckles.
- This allows Emily to hit the Hit It Off onto the steel chair to steal the win.
(Winner - Emily Rivera)

Natalie Chase:
Emily with a huge win! I don't know anybody expected that!
Tony Stein:
It was the upset victory there but hey, she did need the whole of the Cougars to do it!
-----
UFWA Ultra Violence & UWF Grand Prix Championship Match: "The Real Deal" Dex Midas © vs. Rhys Huxley ©

- Both men wasted no time getting in to it as each brought a kendo stick to the ring
- Huxley wins the kendo stick duel and gets a two on Midas
- Midas with a back breaker on to a steel chair gets a two
- Huxley with a DDT on to a stop sign gets a two count
- The match spills ringside where Dex gets put through the steel barrier, Rhys only gets a two though
- Both men end up bleeding heavily
- Rhys attempts to use a chair on Dex at ringside but Dex punches the chair back in to Rhys' face with The Midas Touch.
- Dex hits a second Midas Touch on Huxley at ringside for a three
(Winner & STILL UFWA Ultra Violence Champion / New UWF Grand Prix Champion – Dex Midas)

Dex struggles to his feet at ringside as the referee grabs both championship belts from the timekeepers table
Natalie Chase:
What a brutal match but it's Dex Midas that ends up with two titles here tonight!
The referee hands a staggering Dex both of his title belt
Tony Stein:
If you'll excuse me one moment Natalie, I have a little something to do…
Tony stands up from the announce position and takes his steel chair before folding it up, Chase raises an eyebrow
Natalie Chase:
What the hell are you doing Stein?
Stein slides over the announcers table with the chair in hand, he then strikes Midas across the spine with the steel chair which drops Midas to his knees
Natalie Chase:
What in the world? Stein get your ass back here!
Stein drops the chair and pulls Midas up from behind, he then lifts Dex and drops him with a belly to back suplex through the announcers table!
Natalie Chase:
Stein you crazy bastard, sit down!
Stein quickly grabs the referee before throwing him to his knees, Stein then covers Dex. The referee counts the three count!
(New UFWA Ultra Violence Champion / New UWF Grand Prix Champion – Tony Stein)
Stein quickly grabs both title belts from the floor and picks them up as we see Alexander Shaw and Isaac Carter making their way to the ring
Natalie Chase:
Here come the FCC, Dex Midas is in a heap at my feet and the damn commentator has just won two titles!
Carter and Shaw quickly grab Stein and escort him over the steel barricade, the three of them make their way through the fans
Natalie Chase:
Is Stein with The FCC? They just escorted him out here!
Medical staff help out Dex at ringside as we cut to commercial break
-----
'United Divided' by Voodoo Johnson hits as X-Division Champion Freddie Grayson makes his way onto the stage. He walks down the ring and grabs a microphone.
Freddie Grayson:
I've been X-Division Champion for some time now and it seems I'm just not getting the level of competition I want. I want someone to step up and challenge me. I want this division to thrive so I'm going to start issuing a few challenges so I'm not forgotten about and neither is the division.
He shook his head.
Freddie Grayson:
As of next week, I want to start seeing a few qualification matches for a Ladder match that I want at Deadly Game. I want to put the X-Division gold on the line in that match type and I want to see people fighting for the opportunity. I know I've got friends in high places so Adam, Kirsten, make this happen. I know you can. Find me some X-Division competitors and give them the opportunity of a lifetime, I'll be waiting.
The crowd cheer as Freddie drops the mic and points out to the crowd before leaving the ring.
-----
Hardcore Tag Team Match: The CarnEvil (Stitches & Scar) vs. Nixon & Silas
Natalie Chase:
I'm going it alone on commentary for the rest of the night it seems and we're back with hardcore tag action!
- It's a war from the off-set with the two teams trading shots. Silas and Stitches battle their way outside the ring, while Nixon and Scar assault one another in the ring.
- Nixon and Silas gain control at first as they hit target Scar, taking him out with a double Suplex through a table.
- Stitches manages to turn the tables as he goes on an assault with a lead pipe, targeting Silas.
- However, Nixon plants Stitches with the Ultra Driver onto the barbed-wire steel chair and this one is over!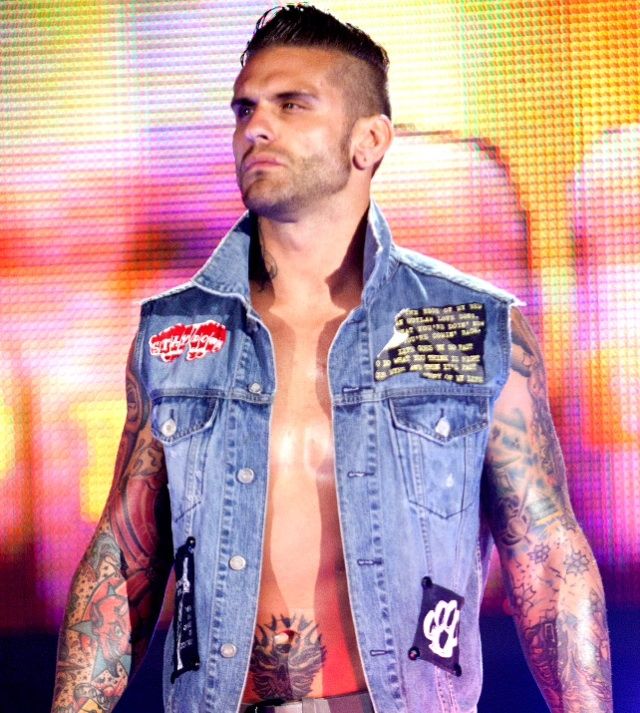 (Winners - Nixon & Silas)
Natalie Chase:
Nixon and Silas getting back on track!
-----
Renee Taylor:
Ladies and gentlemen... Shiori Katashi.
Shiori Katashi wandered forward.
Renee Taylor:
Shiori, you've had a difficult few weeks but we're about to see you perform in the first World Domination Tournament match to happen here on UFWA soil. You'll be representing Japan as you take on Juan Rodriguez, who is representing America and UKCW.
Shiori Katashi:
I know I haven't had the best few weeks but I am not giving up. This is redemption for me and I will represent my native Japan well in this.
Renee Taylor:
So you're confident that you'll be able to defeat Rodriguez tonight?
Shiori nodded.
Shiori Katashi:
It will not be easy but I'm confident. I haven't been at my best but this is where I show just how good Shiori Katashi can be when he sets his mind on something. I will walk away with the win and take one more step towards World Domination...
Renee Taylor:
Thank you and best of luck!
Shiori nodded towards her to end before walking away.
-----
World Domination Tournament Match: Shiori Katashi vs. Juan Rodriguez (accompanied by Samuel Garcia)
Natalie Chase:
Time for our World Domination Tournament match! Will Shiori or Juan advance?
- Katashi gains control at the start of the match as he hits Rodriguez with a series of forearm shots, followed by a series of multiple German suplexes.
- Soon, Rodriguez fights back as he catches Katashi with a Double underhook DDT before locking him in an Octopus stretch.
- Katashi manages to fight back as he hits a Elevated Belly-To-Back Sideslam but he misses a Springboard moonsault. This allows Rodriguez to regain control with an Exploder suplex.
- Rodriguez goes for the Chosen Juan but Katashi is able to escape and counter with the Nagoya Bomb. Garcia shouts at Rodriguez to kick out but he doesn't so Katashi takes it.
(Winner - Shiori Katashi)

Natalie Chase:
Shiori does it! He heads to round two!
-----
The cameras cut to the hallways where we see Women's Money in the Bank holder Sammie Hart heading towards the entrance way
Natalie Chase:
I don't have Sammie on my schedule, what's she doing?
As Sammie makes her way to the entrance we see Renee Taylor run up to her with a microphone
Renee Taylor: Excuse me Sammie, can you tell me why you're heading towards the entrance way? You're not scheduled to be here tonight
Sammie Hart: I'll tell you Renee, sure, I'm going out to compete because whether Vicky Royce likes it or not I'm going to be her tag team partner in this Women's Tag Team Triple Threat match and before you ask I'll tell you why.
Sammie holds up the Money in the Bank briefcase
Sammie Hart: Because I have this and I want to be as close to Ashley Jak and that Women's title as I possibly can be. Now Renee if you'll excuse me I have a match to get ready for
Hart walks passed Taylor and heads to the ring
-----
Women's Triple Threat Tag Team Match: The Seasons (Spring & Summer Valdez) vs. The Sisterhood (Ashley Jak & Kenzy Black) vs. Vicky Royce & Sammie Hart
Natalie Chase:
This is a match set up by Kirsten earlier. Some expected teams and some strange teams!
- Sammie and Vicky argue about who starts the match, Royce wins the argument
- Ashley gets a quick two count on Vicky off the bell with a roll up
- Spring and Ashley trade shots, Spring hits Ash with a spinning DDT for a two
- Sammie gets a near fall on Kenzy following a hurricanrana
- Summer gets a two count on Royce after a superkick but Kenzy breaks the count
- Royce gets a near fall on Jak after a Russian Leg sweep
- Sammie blind tags in which pisses off Royce, the two get in to a brawl at ringside
- In all the confusion Ashley ducks a Spring Clean attempt and school boys Spring for the three count and the win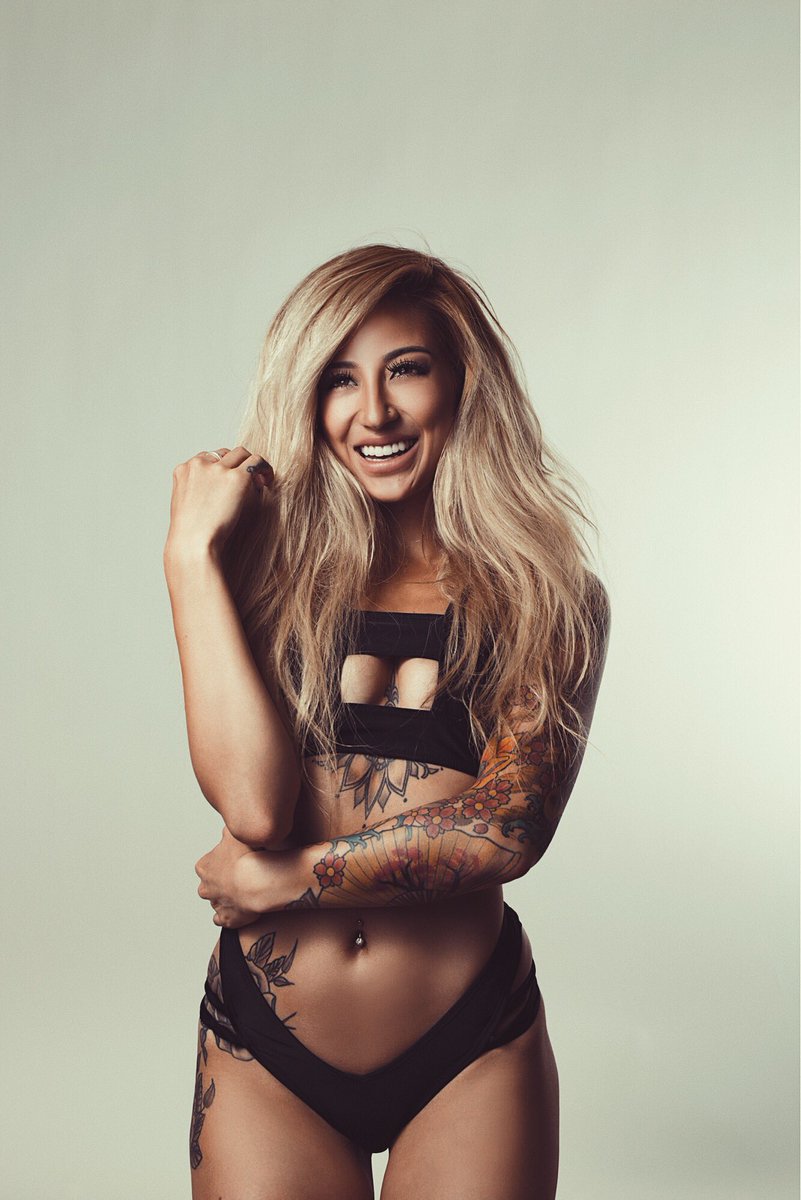 (Winners via pinfall – The Sisterhood)

Following the match Sammie Hart and Vicky Royce brawl up the aisle as The Seasons and Sisterhood both stand in the ring opposite each other
Natalie Chase:
Ashley caught Spring fair and square!
Spring gives Ashley a nod and mouths "You Got Me" to her. The four then shake hands
Natalie Chase:
Respect being shown by The Seasons there
Spring and Summer leave the ring. Ashley and Kenzy remain and celebrate with the fans
-----
Main Event; World Heavyweight Championship Match: World Heavyweight Champion Levi Flynn (accompanied by Bradley Reid) vs. Ultra Violence Tag Team Champion William Levon (accompanied by Alice Autumn)
Natalie Chase:
Main event time and we've got ourselves a World Championship match!
- Flynn is in control early, hitting Levon with a Backflip Kick, followed by a Superkick and then a Springboard Moonsault. He goes for an early No Remorse but Levon escapes.
- Levon is able to turn it around by catching Flynn with a Running DDT and then a Springboard Moonsault. This then allows him to hit the Avalanche. He goes in for the kill but Flynn manages to keep side-stepping him.
- However, Flynn goes down, holding his knee and shouting in pain.
- With Flynn continuing to 'feign' the injury, the referee checks on him again. This allows Reid to nail Levon with the Riot Act.
- Alice Autumn storms into the ring and Spears Reid across it. The two tumble out of the ring and with the referee now checking on them, Flynn pulls the semi-standing Levon into a roll-up to steal the win.
(Winner & STILL World Heavyweight Champion - Levi Flynn)

Natalie Chase:
Flynn stealing the victory but we could have easily seen a new champion crowned there!
Flynn and Reid celebrate as an annoyed Alice Autumn and William Levon stare back at them.