Post by Kirsten on Sept 15, 2017 11:21:39 GMT -5
15th September 2017
Matthew Knight Arena - Eugene, Oregon
Burnout kicks off with Cleo Laine standing backstage with a championship belt on her shoulder.
Cleo Laine:
So, I haven't quite made a name for myself here in the UFWA the way I'd like but I am still the UWF Women's Champion so I'm now going to bring that success here into the UFWA. Given Seth will be defending the Anarchy Championship and both Marcus and RJ are going to be challenging for the UV Tag gold, that doesn't leave me with too much to do...
She shrugged but then smiled.
Cleo Laine:
... so I've got permission from Andrew Lincoln to put the UWF Women's Championship up for grabs against any three women who want to show up at Dark Harvest. The offer is there... take it.
She ended with a smile as she walked off.
-----
Natalie Chase:
Welcome to Friday Night Burnout! It seems I had no say in who was joining me on commentary tonight...
Levi Flynn:
Sorry? You're lucky to have us.
Bradley Reid:
Exactly. Unless you're just jealous because we could easily take your job.
Natalie Chase:
Well, uh, let's just get the show underway. Up first, Trios action!
Show Opener; Trios Match: The Dollhouse (Ria, Cheyenne & Sherrie Fox) vs. Elena O'Neil, Lara Willis & Samantha
- Lara and Elena try to take down Sherrie with a double team at the start of the match but soon, Sherrie fights back with a huge series of kicks.
- Sherrie then works with Cheyenne as the two throw Elena and Lara out of the ring so Ria can target Samantha.
- Ria nails Samantha with the Package piledriver and this one is over!
(Winners - Ria, Cheyenne & Sherrie Fox)
Natalie Chase:
The Dollhouse with a huge win!
Levi Flynn:
I'll admit, that was impressive.
Bradley Reid:
It's really not often he admits that.
-----
We join UFWA United Kingdom Champion Andrew Lincoln backstage
Andrew Lincoln:
So I'll admit that as of later with everything going on with The Network, Jonathan Gold and my past coming back to haunt me that I've been a bit distracted with things here in UFWA but that by no means does that mean that I'm not gonna be here to defend my title when I need to. I've been distracted before, no doubt I'll be distracted again, when you've been in the business as long as I have it kinda comes with the job but I'm here and when the time comes to defend my title against Rhys Huxley and Phillip Blake you better believe that my full focus will be on those two and when the time comes the two of you are going down just like everyone else that has tried to stop me taking over this United Kingdom title division.
The scene fades out
-----
Singles Match; Non-Title: U.K. Champion Andrew Lincoln vs. Charles Sullivan (accompanied by Matthew Alcot)
Natalie Chase:
U.K. action up next!
Bradley Reid:
Andrew Lincoln taking on Charles Sullivan!
- Sullivan gains control at first with a Running high knee, followed by a Tornado DDT. He goes in for the kill with the early Chaos Theory but Lincoln escapes.
- Lincoln then gains control with a huge lariat, followed by a Backdrop Driver. Lincoln then looks to end the match there but Alcot appears on the ring apron to act as a distraction.
- Lincoln smashes Alcot in the face with a forearm shot before nailing Sullivan with the Legend Status to pick up the win.
(Winner - Andrew Lincoln)
Natalie Chase:
Lincoln continuing to dominate the U.K. scene here!
Levi Flynn:
Again, I'll admit that's impressive. I have to say that less often...
Bradley Reid:
Yeah, it's getting weird.
-----
Ahead of their upcoming Trios Match, Chiyo Rei and Dom Knight are talking backstage.
Chiyo Rei:
So, what about Cassian? He never strikes me as a team player...
Dom Knight:
As long as we have each other's backs in this, then we should be fine.
Chiyo nodded.
Chiyo Rei:
Agreed. Heading into Dark Harvest, we need all the momentum we can get.
Dom Knight:
Don't worry, I'm sure we can. Even if we're not sure about -
Cassian then walked onto the scene with the Beauty Boys.
Cassian:
Not sure about what? The fact that you'll be working with a legend in the making such as myself? Well, it's intimidating for just about anybody but fear not, you're going to have a wonderful partner this week. After all, someone on this team has to carry us to victory.
He smirked and raised his hands and clicked his fingers as the Beauty Boys followed him as he walked off. Dom and Chiyo just looked at each other and sighed.
-----
Trios Match: X-Division Champion Freddie Grayson, Trevor Marsden & Romeo Matthias vs. Cassian, Dom Knight & Chiyo Rei
Natalie Chase:
Can either of these two teams get along?
Levi Flynn:
I highly doubt it. They're not professionals like Brad and I.
Bradley Reid:
True story.
- Matthias and Rei kick off the match as they exchange shots. Soon, Rei gains control with a Leg-hook STO but he then goes for a Orosu, only for it to be blocked.
- Matthias takes down Rei before tagging in Grayson. Grayson executes a Pumphandle neckbreaker before Rei tags in Knight.
- The two trade shots but soon, an all-out brawl ensues between both sides as they take their battle outside the ring.
- Knight lays out Marsden with the Knight's Curse but before he can make the cover, Cassian slaps him on the back to make the blind tag as he then pins Marsden.
(Winners - Cassian, Dom Knight & Chiyo Rei)
Natalie Chase:
Cassian didn't do any work and stole it!
Levi Flynn:
A smart, commendable move.
Bradley Reid:
Yeah, you can't deny that smart tactic.
-----
Ahead of his match, we see Alexander Shaw stood backstage.
Alexander Shaw:
Last week, the FCC wasn't quite at their best but this is the week where we show what we're made of. While the Network ladies of Trina and Amy are guaranteed success later in the night, yours truly is gonna walk away with the huge win against Jayden. Now, the kid is good but we're about to step into the ring in a World Domination Tournament match. That's a big deal.
He nodded.
Alexander Shaw:
Jayden might be South Africa's only representative in this match but I'm reppin' the US of A. So I'm going to do everything I can to get through this and shut the kid up and send him packin' because the Network are in the house and we're going to show precisely what we can do. Tonight is our night!
Alexander laughed before walking off.
-----
World Domination Tournament Match: Alexander Shaw vs. Jayden
Natalie Chase:
It'a time for another World Domination Tournament match!
Levi Flynn:
Shaw of America taking on Jayden of South Africa.
Bradley Reid:
Who will advance?
- Jayden gains control early with a Backflip Kick and then an attempt at the The Killing Curse. Shaw is able to escape it and answer with a Dragon screw legwhip.
- Shaw remains in control with a series of hard shots and then a Brainbuster.
- Shaw goes for the Shaw Thing but Jayden escapes it and connects with a Kneeling STO.
- Jayden connects with the J-Driver and this one is over!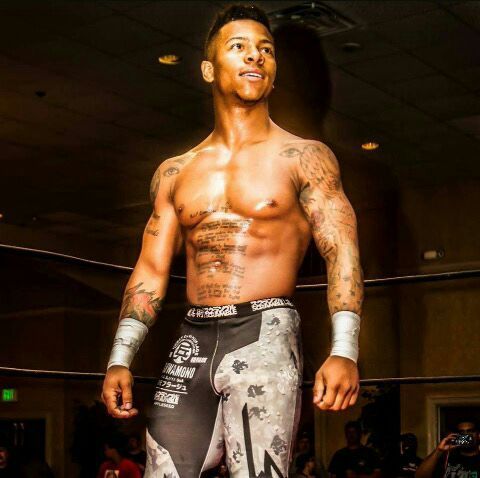 (Winner - Jayden)
Natalie Chase:
That's a huge win for Jayden and South Africa!
Levi Flynn:
Shaw was feeling confident but it didn't quite work out for him.
Bradley Reid:
Jayden heads to round two.
-----
We see Spring, Teagan Cavenagh and Melissa getting ready backstage
Spring:
I'm so ready for this match tonight and if it's all the same to you girls any time that Vicky Royce is in there I want in, she always tries to dodge me, not today
Melissa:
I'm cool with that
Teagan Cavenagh:
Me too
Melissa:
So what's the strategy? Triple threat Trios matches are so weird
Spring:
We go out there and do what we all do best, win the match!
Teagan Cavenagh:
That's pretty sound
Melissa:
Eh, works for me!
We cut back to ringside
-----
Trios Triple Threat Tag Team Match; Non-Title: Women's Champion Ashley Jak & Women's Tag Team Champions The Sirens (Daisy & Kaity) vs. Spring & T.M.I. (Teagan Cavenagh & Melissa) vs. Vicky Royce & The Network (Trina Yates & Amy Wright)
Natalie Chase:
A very strange match up next!
Levi Flynn:
No doubt about it, this is going to be chaotic. I'm just really here to watch Spring.
- Spring is the dominant force at the start of the match as she takes it to Vicky Royce. Soon, Vicky fights back and nails Spring with a hard series of shots, followed by a huge backbreaker.
- With Ashley and Teagan then in, they surprisingly work together to beat down both members of the Network.
- Vicky is back in and attacks Ashley and Teagan, bringing Melissa back in. Meanwhile, Spring drags Vicky out of the ring and assaults her.
- Trina and Kaity argue, with Melissa soon shoving Trina off of the ring apron and onto Ashley, Daisy and Melissa on the outside.
- This allows Amy Wright to then roll-up Kaity from behind to steal the win!
(Winners - Vicky Royce, Trina Yates & Amy Wright)
Natalie Chase:
Vicky and the Network stole it!
Levi Flynn:
I don't approve.
Bradley Reid:
I don't think anybody does.
-----
Renee Taylor:
Ladies and gents, please welcome Shiori Katashi.
Shiori took a step forward.
Renee Taylor:
Shiori, you're set to challenge Caiden Tate for the Intercontinental Championship at Dark Harvest. So how are you feeling heading into that event?
Shiori Katashi:
I'm happy. It's not often I'm given opportunities but I will take this one and I will ensure that the UFWA finally sees a new Intercontinental Champion. It's about time and -
Before he can continue, he's then suddenly assaulted from behind by No Remorse members Caiden Tate and Tyler Ruocco. The two are relentless in their assault as they throw Katashi into the wall with force. Ruocco then nails Katashi with the Ruocco 'n Roll onto the ground. Tate just watches in approval as he grabs the microphone from a stunned Renee.
Caiden Tate:
There you have it... a broken man. Shiori Katashi once believed that he was a threat to me. Does he look like he's a threat to me? I don't think so...
He smirked as he and Tyler then walked off.
-----
Triple Threat Match; Non-Title: Stables Champion Zara Lockheart vs. September vs. April Morales
Natalie Chase:
Triple threat action next!
Levi Flynn:
All three will represent their teams here but only one team can walk away with the momentum!
- April Morales kicks off the match with a hard series of kicks to September but April is then pulled down to the mat by her hair thanks to an aggressive Zara Lockheart.
- Zara then looks to put April away early with the God Save The Queen but September is in to put a stop to that.
- September nails Zara with the Dark September but September is then met with a huge Shining Wizard from April.
- Before April can cover, we see the rest of the Asylum members and the Monarchy storm down to the ring, finally followed by the Diamond Alliance. A brawl breaks out.
- This leads to the referee declaring the match as a no contest.
(Winner - N/A)
Natalie Chase:
What the hell?!
Levi Flynn:
Apparently, these stables don't want to see a winner named here.
Bradley Reid:
Well, they're going to have to fight it out properly next week!
All three teams continue to fight as we head into commercial break.
-----
Taizo and Sal Izumi were seen talking tactics backstage ahead of Burnout's main event.
Taizo Izumi:
So this is where we get the job done. People aren't taking us seriously as a team but they're about to.
Sal nodded.
Sal Izumi:
You can trust me. We can get through this and we can show why we're the next Ultra Violence Tag Team Champions.
Taizo Izumi:
We might not be the favorites in this but we can show that we should be. We're just as dominant as anybody. Let's go out there and show it.
Sal once again nodded in agreement as the two walked away.
-----
Main Event; Tag Team Fatal Fourway: Sal Izumi & Taizo Izumi vs. Nixon & Silas vs. Conrad Black & Erica Rose vs. Stitches & ScarNatalie Chase:
Another no doubt chaotic match!
Levi Flynn:
Of course, we'll be watching this very closely...
Bradley Reid:
And no matter who wins this, it's not as though they're really proving anything, let's be honest.
- Stitches and Scar wastes no time in sending Sal Izumi out of the ring. They then turn on Taizo and assault him.
- Meanwhile, Conrad and Erica work together to take out Scar before doing the same to Stitches. Just then, Black is targeted by Nixon.
- Nixon and Silas then take control of the match and almost put Taizo away with a double DDT.
- Conrad Black and Erica Rose fight it out with Stitches and Scar on the outside and part-way up the ramp.
- Back in the ring, Sal clotheslines Nixon over the top ropes and Taizo nails Silas with the Nokkuauto, pinning him to steal the win.
(Winners - Sal Izumi & Taizo Izumi)
Natalie Chase:
Well, that's a huge win for Taizo and Sal!
Levi Flynn:
Yeah, good for them but excuse us...
Bradley Reid:
Yeah, we'll be back. Or maybe not. I don't care.
The two then put down their headsets and slid into the ring, attacking both Taizo and Sal from behind. This then leads to all other competitors in the match joining the fight. Soon, Marcus Brett and RJ as well as Dean Denton, Harley Archer, Alice Autumn and William Levon race down to the ring to join the fight.
Natalie Chase:
This is chaos out here!
Burnout comes to a close with several security teams trying to separate all of the teams.