Post by Kirsten on Oct 27, 2017 14:31:24 GMT -5
27th October 2017First Niagara Center in Buffalo, New YorkJonny DeBroux:
Welcome to the final Friday Night Burnout!
Renee Taylor:
We're kicking things off with a match between the Beauty Club and the Glorious Revolution. We're being told this has been since made a UWF Women's Tag Team Championship match!
Show Opener; UWF Women's Tag Team Championship Match: The Glorious Revolution (Jaz Ashby & Hailee Morgan) (c) vs. The Beauty Club (Jenna Cyde & Faye Clarke)
The champions are first to make their way down to the ring but The Beauty Club soon head onto the stage, carrying microphones.
Faye Clarke:
So, of course we're being given a championship match! Safe to say that we deserve it! So of course, we're now going to walk away with the victory and leave as UWF's new Women's Tag Team Champions. This is the sort of thing that the Beauty Club deserve.
Jenna nodded in agreement.
Faye Clarke:
So Jaz and Hailee? Realise that you don't deserve those championships and you're just going to fail miserably. You didn't really even earn the championships in the first place so it's all just going to go wrong for you now because the most
gorgeous
team in the business are about to hold the gold!
- Faye kicks off the match with a huge series of shots to Jaz before nailing her with a vicious series of German Suplexes.
- Jaz finally throws Faye into the corner and tags in Hailee. However, Faye fights back with a headbutt and then a neckbreaker. Faye tags in Jenna.
- Jenna catches Hailee with a quick Tornado DDT.
- Jaz storms into the ring and nails Faye with a huge kick that knocks her off of the ring apron.
- Morgan nails Jenna with the Boyfriend Stealer to pick up the win!
(Winners & STILL UWF Women's Tag Team Champions - Jaz Ashby & Hailee Morgan)
Jonny DeBroux:
That's a huge win for the Glorious Revolution!
Renee Taylor:
They retain tonight!
------
Jonny DeBroux:
Woah! Wait just a second!
Renee Taylor:
Its Vicky Royce! I can't believe it! We haven't seen any of her since Dark Harvest!
To a huge reception, the only three time Vixen's champion in UFWA history makes her way to the ring.
"Big Bo$$" Vicky Royce
: Oh hai! (smiles as a loud cheer goes up and a "Vicky! Vicky Vicky!" chant. Its been quite the ride in UFWA hasn't it? From the moment I debuted as Sasha Banks to all the epic matches that followed over the last few years. Its been an amazing experience personally, the highs, the lows and I do believe I have made the impact I always wanted to do from my first my first day through the doors.
In some ways I thought Dark Harvest might be my last match, after failing to get the UFWA Women's Championship I had a lot to think about and in some ways I thought that was my final UFWA chapter. (one more match! chant goes up and she smiles)
BUT! All things considered and now with the news that UFWA is ending I thought that it would be wrong if I didn't have one last PPV match before it all ends.
I owe that not only to all who have supported me but also to myself to leave UFWA with a bang. So its real simple, at the Festival of Violence I am bringing back for the last time the Bo$$ Invitational.
Any woman who wishes to challenge a UFWA legend like myself I invite to step forward that night and face me. No titles on the line, no gimmicks. Just a match, two women and putting on the best show we can.
We'll see you there then UFWA fans and trust me, its going to end LIKE! A! BO$$!
Vicky's theme hits and she poses as the crowd go wild.
Jonny DeBroux:
Vicky is going to have one last match in UFWA!
Renee Taylor:
As it will be for everyone involved but this is a great addition to what will be an epic final show!
------
Tag Team Match: Richie Allen & Luca vs. The Beauty Boys (Apollo & Amadeus; accompanied by X-Division Champion Cassian)
The Beauty Boys head to the ring first, with Cassian leading them. They reach the ring with Cassian grabbing a microphone.
Cassian:
Luca and Richie Allen... you both believe that you have what it takes. You think you can defeat them all and rise to the top of the X-Division. No. See, last week, you got on my bad side. Now, you're about to see how it feels to target a very strong unit. A team that is generally better than you.
Cassian looked at Apollo and then Amadeus. Finally, he looked back at Luca and Richie.
Cassian:
You are NOT going to hurt my boys. They're MY BOYS! So don't feel safe at all. You're about to be taught a lesson!
- Apollo and Amadeus both storm into the ring and assault Luca with a series of shots. Soon, Luca is able to fight them off.
- Allen storms into the ring and nails Amadeus with a huge Superkick to the jaw.
- Cassian screams in horror as Luca nails Apollo with the Super Uppercut and pins him to pick up the win.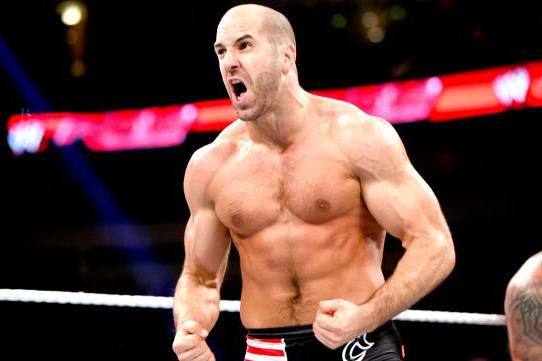 (Winners - Richie Allen & Luca)
Jonny DeBroux:
Well, that didn't quite work out for Cassian and his Boys!
Renee Taylor:
But that's a huge win for Luca and Richie!
------
The cameras cut backstage to the men's locker room where we see both Conrad Black and Dex Midas getting ready for their match, they look at each other awkwardly
Conrad Black:
What?
Dex Midas:
I don't like being on opposite sides, we've been boys since the dawn of time, now we gotta fight. It ain't cool
Conrad Black:
Yeah I know but sometimes business is business, if we're in there at the same time then it happens, otherwise you can beat up Arlo and I can beat up Shiori, that'll be fun right?
Dex Midas:
You know it!
Conrad Black:
And if you beat Arlo up enough then maybe…
Conrad picks up his UWF Gold Rush Briefcase
Conrad Black:
Maybe I'll just have to cash this in
Conrad smiles as the scene fades
------
Singles Match: Women's Tag Team Champion Haruna Sakazaki (accompanied by Avery Knight) vs. Daisy (accompanied by Kaity)
Jonny DeBroux:
The women's tag team division has definitely heated up recently so who can walk away with this huge win?
Renee Taylor:
Haruna takes on Daisy!
- Haruna gains control with a hurricanrana, followed by an Inverted DDT. Soon, Daisy fights back with a DDT of her own.
- Daisy remains in control, as she hits Haruna with a spin kick and then a Jawbreaker.
- Daisy goes for the Daised but Haruna is able to escape it. However, we see Kathleen Skye and Katana Valentine storm down to the ring and begin to attack both Avery Knight and Kaity at ringside.
- In among the distraction, Haruna connects with a Jumping Roundhouse Kick and then the Lapis Lazuli.
(Winner - Haruna Sakazaki)
The Kats seem satisfied with that interference as both then head backstage as both sides try to regroup back in the ring.
After the match is over, Haruna is asking for a microphone as the official gives it to Avery while she's going inside the ring too.
Haruna Sakazaki:
Well, before I get out of this ring, I would like to thank you for all this amazing ride that I will never forget. Five years ago, I can't even wrestle properly and I am only someone who always hiding behind everyone's back. But then I tried to break the boundary and make myself be brave to step inside this ring. At first, I never think that I can even do all of this thing but look at me now. I am here standing as someone who makes a huge impact to this company and always be remembered until the time it ends. I and Avery have walked towards this path and paved our way with the memory of how we fight and how we win and this..... this championship belt. Our belts are a proof that we still become the most dominant tag team in this company.
Haruna looks at Avery as she responds it with a smile. Then they go for a fist bump before Haruna continues to talk.
Haruna Sakazaki:
And next week will be our final match. We will defend this title until the end and we will never give it to you, to you, or to other tag teams in that locker room. We are going to cement the legacy of Women's Tag Team title and show every one of you that the Vixens of Tomorrow is the most dominant, relentless, indestructible, Undisputed Tag Team Champion and Next week, Vixens of Tomorrow is not coming to an end. But this, this is just the beginning for us to spread our wings even higher and we will keep fighting until the day we are unable to fight anymore. Kira-niichan..... I'm coming home. And I am going to make sure that I am taking this belt home with me.
Haruna gives her title a kiss and bows down her body to the four sides of the ring as Avery is raising her title up high.
------
After a commercial break, we see Kathleen Skye and Katana Valentine backstage.
Kathleen Skye:
So, since myself and Katana have been on a HUGE roll recently, it's clear that we deserve to be champions right now and guess what? We're going to be. This might be the end of UFWA but that doesn't mean we don't want to go out with a bang. We want to make history and leave as the final ever UFWA Women's Tag Team Champions. That is what we want to be remembered for!
She laughed.
Kathleen Skye:
So we just showed the Vixens of Tomorrow and the Sirens that they don't stand a chance compared to us. We're going to be leaving Festival of Violence and the UFWA as champions. So this is just a warning...
Katana nodded in agreement as the two walked away.
------
Tag Team Match; Non-Title: Stables Champions The Diamond Alliance (United Kingdom Champion Rhys Huxley & April Morales) vs. The Monarchy (Phillip Blake & Zara Lockheart)
Jonny DeBroux:
Stables action up next!
Renee Taylor:
Can the Monarchy put the champs away?
- Blake kicks off the match with suplex after suplex on Huxley. Soon, Huxley fights back with a Jawbreaker.
- Huxley tags in April but the two continue to beat down Blake. Blake soon shakes them off and connects with a DDT to Huxley before tagging in Zara.
- Zara dominates at first but its April who fights back again, nailing her with a neckbreaker.
- Blake seems to be getting frustrated and argues with Zara, telling her to stay focused.
- However, April takes advantage, hitting Zara with the Shining Wizard to steal the victory.
(Winners - Rhys Huxley & April Morales)
Jonny DeBroux:
Miscommunication between Blake and Lockheart ending up as the decisive factor there!
Renee Taylor:
Issues within the Monarchy?
------
Gustav Wolfe is seen backstage and strangely, he's dressed to compete.
Gustav Wolfe:
Tonight, you'll see Gustav Wolfe step into the ring to compete himself, which is a rarity but given this is the World Domination tournament and as the only Norwegian representative, I will ensure that I walk away with the victory. I am facing an interesting opponent in Jeremy Radley of WCWA but I will not hesitate to put a stop to him.
He shook his head.
Gustav Wolfe:
I am a trained athlete in my own right so I am confident that I can defeat him and show that I am not only the greatest manager but also, an amazing athlete and very worthy of heading into the next round of the World Domination Tournament. After all, world domination is what my Wolfe Pack is about...
He smirked as he walked away.
------
World Domination Tournament: Gustav Wolfe vs. Jeremy Radley
Jonny DeBroux:
We heard from a very confident Gustav Wolfe. Will he be able to live up to those promises?
Renee Taylor:
Against an athlete like Jeremy Radley, he's got a challenge on his hands!
- Wolfe manages to gain control with a series of shots and then a Sitout rear mat slam.
- Soon, Radley fights back with a Hurricanrana, followed by a Neckbreaker slam.
- Radley goes for the Show Off but Wolfe is able to escape and counter with a Savate kick.
- Wolfe nails Radley with the Killer Instinct and rolls him over to pick up the victory.
(Winner - Gustav Wolfe)
Jonny DeBroux:
Gustav pulled it off!
Renee Taylor:
And Radley does NOT look happy!
Jeremy calls for a microphone and stands in the center of the ring.
Jeremy Radley:
Let me tell you, I deserved that more than he did! He's a damn manager, not a full-time wrestler like me! I should have won that and I should have advanced in the World Domination Tournament!
He shouted.
Jeremy Radley:
In fact, I should be further in my career than I am right now since I've been doing this for a while now. Every single one of my opponents from the past are the reason behind why I'm being held back and I'm sick of it!
Jeremy then stormed backstage.
------
Singles Match: Sherrie Fox vs. Robyn Wynter
Jonny DeBroux:
Sherrie walked away with a huge win over the Seasons last week. Can Wynter now fight back?
Renee Taylor:
Sherrie has momentum, that's for sure!
- Wynter kicks off the match with a series of shots and a Running DDT. From here, Wynter goes in for the kill but Sherrie answers with a stiff kick.
- From here, Fox nails Wynter with a quick Suplex and then another series of kicks in the corner. Fo then goes for the Fox Kick but Wynter escapes.
- Wynter nails Fox with the Out Cold and pins her to pick up the victory.
(Winner - Robyn Wynter)
Jonny DeBroux:
Wynter did it!
Renee Taylor:
Now that gives her momentum heading into Festival of Violence!
------
Gloria makes her way to the ring in typically smug fashion accompanied by Joy. She ignores the wolf whistles and speaks
[
Gloria:
The Glorious Revolution lives on in the hearts of men, even as UFWA comes to a close in just over a weeks time and to all the gals taking it further I said what I said at Dark Harvest. I am here for business tonight and that refers to my cousin Joy who has certainly had a lot of fun demolishing woman after woman over at Combat Pro but since that brand is also closing I feel that Joy is ready for something bigger. A match... on a UFWA PPV is the award for her hard work! (Joy smiles as she stands there in imposing fashion)
My forces you say? I thought Gloria didn't have the support of her former Glorious Revolution allies? Oh trust me I still do but they are all otherwise occupied in what I'm sure will be victories to come. No no... I write history and I intend to put a blockbuster like no other for the final UFWA show!
There is a final little purge I need to do in UFWA to cement my legacy as one of its greatest managers in UFWA history and that is to destroy... VORTEX! (crowd reacts big)
Such fools. You only have themselves to blame. It was a golden offer to make you mega stars and you refused out of petty principles. So listen to me Lady Vortex.
You have claimed many souls in your time but after the Festival of Violence, yours will be shattered just like the person I destroyed a year ago! I will unmask you, I will humiliate you, I will make sure the name Vortex is only talked of as the sad group of people Gloria made her personal bitches when they made the dumb decision to say no to me!
You do make a strong team though. I admit that but... it pales in comparison to the force I released from the depths of the world of shadow!
The lights go out and when they come back on the Burnout crowd is stunned to see the feared leaders of the Consortium of Darkness is standing alongside her from UFWA's past!
Jonny DeBroux:
No! This is impossible! How can this be?! Those two were banished from this world after the Shadow Games by Prince Devitt!
Renee Taylor:
Well somehow they have been released, they have returned to plague us all for one final night!
Gloria:
Now you may be wondering how this alliance came about. Since it was once said that only Prince Devitt could release the Consortium of Darkness from the dark prison they fell into after the legendary Shadow Games at Final Frontier a few years ago. I met with our Prince and day by day he allowed himself to be seduced... by me. (sultry look) With his guard down, I gained the key to release the nightmare of UFWA once more and he now lies in the same dark prison he swore to keep locked forever! Look at these legends Vortex, these will be your final reckoning!
"The Fallen Icon" Stinger (we hear him laugh crazily) and this man here. He fell as The Undertaker but he rises again as The Shadowmaker. Yet here you ask, there are but three... these two and my cousin Joy. Who dares take on Lady Vortex herself? Everything about her is an illusion, she can't fight and can only conjure tricks. She is a weak little girl.
Therefore I have absolute confidence in taking her down, I am not a wrestler but I can fight even if I probably won't have to! (smug) So Gloria will step into the ring for the first and final time at the Festival of Violence.
UFWA fans. You have loved me and hated me in equal measure and I have adored it all, one last time I will steal the show and Vortex will be torn apart, Lady Vortex will be beaten at her own game! Ha Ha!
Gloria raises her arms as the Consortium of Darkness and Joy pose around her with flashing lights and thunder.
Jonny DeBroux:
This is unbelievable!
Renee Taylor:
Vortex's journey comes to an end one way or the other at the Festival of Violence!
------
Arlo Hunter is stood backstage with his newly won UWF Uncensored Championship belt on his shoulder.
Arlo Hunter:
This has been one hell of a week for me. I've picked up the biggest victory of my career and captured my first singles championship... which happens to be a World Championship. I'm flying pretty damn high right now and I want nothing more than to continue that success.
Arlo nodded.
Arlo Hunter:
I'm working alongside Conrad Black this week, a man that I do respect. But at the same time, we're facing another two men that I respect in Shiori Katashi and Dex Midas... so this is going to be tough. But let me tell you, it's going to be a main event worthy of being the headliner of the final Burnout event and I can't wait to be a part of it.
He said with a smirk as he walked away.
------
Main Event; Wildcard Tag Team Match: Arlo Hunter & Conrad Black vs. Shiori Katashi & Dex Midas
Jonny DeBroux:
Main event time and what a main event we have!
Renee Taylor:
These four men are all voting options for the World Heavyweight Championship match at Festival of Violence.
- Midas kicks off the match with a vicious suplex to Hunter, followed by a devastating Lariat. Hunter manages to fight back with a Swinging reverse STO.
- Hunter tags in Black, who immediately hits Midas with a German Suplex. Midas then tags in Katashi.
- Katashi storms into the ring and after a great back and forth with Black, Katashi hits a Fallaway Gutwrench Suplex. Katashi goes in for the kill but Black escapes it.
- Black tags Hunter back in and the two throw Katashi overhead with a double suplex.
- With Black taking Midas out with the Black Out, Hunter nails Katashi with the Hunter and rolls him over to pick up the win.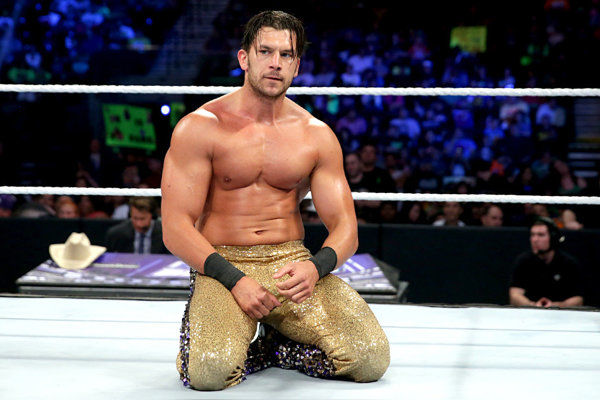 (Winners - Arlo Hunter & Conrad Black)
Jonny DeBroux:
The fairly strange team of Arlo and Conrad with the win!
Renee Taylor:
What a main event that was!
Arlo Hunter celebrates that victory as he's handed his UWF Uncensored Championship belt. However, Conrad is also reunited with his UWF Gold Rush briefcase. He stares at Hunter and his championship belt before looking back at the case.
Jonny DeBroux:
Uh-oh, we could have a cash in here!
Renee Taylor:
We could see a new UWF Uncensored Champion here!
Conrad Black seems hesitant and almost hands it over to the referee but then laughs and exits the ring but Hunter never takes his eyes off of him.