Post by Samuel on Sept 25, 2010 11:29:12 GMT -5
Thank you from the bottom of our hearts for being so patient and understanding, RL has been beating us down lately on the staff. This is a long show and we really hope you enjoy it.
------------------------------------
Wednesday Night Wreck opens in the office of the UFWA Co-Owner Raven. Ivory is seated in the visitor's chair awaiting Raven's arrival. She came here in hopes of finding out why this match was booked for later in the evening and why of all people was she chosen to be the Special Guest Referee. She hopes that she will catch Raven in a good mood and appeal to her good side to get her to cancel or change the match. The phone rings and Ivory looks around and does not see either of the General Managers on hand so she answers the phone.
☭Purple Fury - Ivory:
Wednesday Night Wreck this is Raven's phone, Ivory speaking how may I help you.
Ivory nods her head while listening to the caller.
Uh huh...yes...I see...I understand. Well the show must go on, oh I'm sure of that fact. You don't leave "The Ultimate Vixen" Raven and live to tell about it. No they aren't around but it's no matter I'll use this to further my discussion with Raven about a little issue. I'll take care of it and the show will go on. Thanks for calling.
Ivory hangs up the phone and sees the camera.
Ah perfect, you showing this on the titantron?
The camera man nods and Ivory smiles as she smooths her clothes and looks into the camera.
Good evening Ladies and Gentlemen, welcome to Wednesday Night Wreck. I of course need no introduction since I know that you are all absolutely thrilled to see me. Stop..save your cheers I know you appreciate me but I have something to say to the two young men standing in the ring right now.
The crowd that was previously booing as much as possible to annoy Ivory turns to look at the two young men standing in the ring.
Yes you two in the ring with stupid looks on your faces, Team Epic or whatever you are called. Anyway I know that you came here expecting a Tag Match for your debut but apparently your opponents for the evening have moved on to other things and are no longer employed here in the UFWA. We wish them all the best in their future endeavors and..yada...yada...yada...insert the standard good bye blurb there and let's get on with it. But I know that you two are just dying to show yourselves off to the world and I'm a giving and very creative woman sooo since we have time reserved and you're all dressed and everything, instead of a Tag Match, you two will get a Singles Match. Sound good to you?
The two young men smile and eagerly nod while the audience cheers for the first time of the evening.
Great then it's all settled, you two will face each other in singles action right now. Ring the bell please.
Ivory's evil laughter can be heard as the screen fades to black and the camera cuts to the ring and Christopher and Mark Frenzy do not look amused with Ivory's choice of match for them. The camera cuts to Michael Cole and Tazz.
Michael Cole:
Wow umm wow, what a way to open the show. Hello folks, welcome to Wednesday Night Wreck, I'm Michael Cole alongside my broadcast colleague Tazz. Tazz that is not how I envisioned things starting off tonight at all and if that is a sign of how the night is going to go then we're in trouble.
Tazz:
I think it's funny and proves the unpredictability of this show. It's keeps things interesting and everyone on their toes.
Michael Cole:
But Ivory is no Queen Elizabeth and neither is Raven, could you imagine the sheer chaos those two evil evil women would inflict on the rest of the world?
Tazz:
One of these days Cole you just might find out, cause of all that mouth you got.
----------------------------------------------------Single Match: Christopher Frenzy vs. Mark Frenzy
The referee calls for the bell and the two men stand there and refuse to fight one another and cross their arms defiantly. The titantron begins to glow and Ivory appears on the screen again.
Gentlemen, perhaps I did not make myself clear. I said that you two were to face one another in a...oh...I get it I'm not Raven nor am I a General Manager so I have no authority to order that match right? You are correct in that gentlemen I do have no authority on the show but I can do this for you...
John Cena and Justin Gabriel attack Team Epic from behind and begin to rain down on them with lefts and rights. The referee looks confused but the bell has rung and it looks like a Tag Match is underway.
----------------------------------------------Tag Match: Team Epic (Christopher & Mark Frenzy) vs. The Devil's Fury (John Cena/Justin Gabriel)
John Cena starts things off and immediately locks up with Christopher Frenzy. Cena shows that he is the stronger of the two in respect to power and causes Frenzy down to one knee. Frenzy struggles to free himself and Cena pulls him up like a rag doll and takes him down with a Belly to Belly throw. Cena stands and walks over to C. Frenzy and picks him up off the mat and whips him across the ring, Cena takes off and as Frenzy hits the corner Cena is there to hit him with a Turnbuckle Clothesline. The impact makes him stumble out of the corner and Cena climbs to the top rope and leaps off with a Diving Fameasser from the top rope. Justin has made his way around the ring and yanks the foot of Mark Frenzy which causes him to fall and hit his head on the ring apron before falling to the floor. Justin smugly stands over him with his arms folded as Cena hoists Christopher up on his shoulders and delivers his F U (Fireman Carry Slam). Cena rolls him over for the pin and the referee gets down to count, one...two...three! The bell rings and Cena's music begins to play. The lights go off in the arena and the sound of wind blowing and lightning crashing is heard and when the lights come back on a deck of Tarot cards similar to the one's seen in Yasha Styles promos begin to fall all around the arena. Cena and Gabriel look confused and the sound of Yasha's eerie laughter is heard all around the arena. Justin and Cena look at one another confused as the camera cuts over to the commentary table.
Michael Cole:
This night just gets stranger and stranger Tazz.
Tazz:
You're telling me, I got the Death card ova here.
Michael Cole:
What does Yasha Styles have to do with any of this that is going on in the ring?
Tazz:
Beats the hell outta me, but this gives me the creeps. Hopefully she was just making her presence known and that was it or if there is an ulterior motive there then I don't wanna know what it is.
Michael Cole:
At any rate we don't even know who that message was being sent to, was it The Devil's Fury or was it Team Epic?
Tazz:
Whoever it was to, I hope they got the hint.
------Commercial Break---------Michael Cole:
Welcome back folks, Tazz this next match is all about attitude.
Tazz:
Indeed it is Cole. Apparently at Splash-Down, one of our newest Diva's Kristal Marshall wasn't happy with not having a match on the card. This is how she reacted.
The titantron lights up and the viewers at home are treated to a Splash-Down replay segment:
The camera shows newly signed Kristal Marshall sitting in the make up chair with a furious look set across her face. Jane, one of the make up artists is standing in front of her trying to apply some make up to her complexion. Kristal then began to get irritated at the pace Jane was going. She quickly pushed Jane out of the way and furiously got up from her chair not feeling to well.

♥Kristal: Ugh are you serious?! What is your problem? Can't you do you job right! I am already pissed off because I don't have match at this huge event. I should have been in that championship match, and now I have to sit here and let you waste 5 minutes of my life with your poor skills!

♥Jane: Miss Marshall I am so sorry. But not to be rude, but if you weren't moving around so much I could have maybe... ..ya know... done a faster job.

Those words from Jane set Kristal off, she sighed heavily looked behind her and then looked back at Jane with a fierce look. Suddenly, she extended her legs and sent a hard kick into the stomach of Jane. She then grabbed her by the hair and threw her forcefully into the wall. As Jane lay on the ground holding her back and screaming in pain, Kristal flips some hair from her face and confidently walks off after doing the damage.
Michael Cole:
That was totally uncalled for Tazz. That poor defenseless woman did not deserve that and the fact that Kristal is a trained wrestler makes it that much worse.
Tazz:
Pump your brakes Girl Pants, because our very own Akasha Monroe took exception to it and challenged Kristal to a match to "put her in her place" so to speak. Take a look:
☭Akasha Monroe:
Now usually Ms. 'Kasha would come out here and address you all with something cute and have something slick to say about one of the useless heffas of the week but today baby is a different day. Now it has come to my attention that Wednesday Night Wreck has a new "Wicked Bitch" on the scene honey and that is one Kristal Marshall. We all saw that heinous attack on Ms. Jane the fabulouso diva herself by that vile heffa that was unprovoked and totally unnecessary. Now let me tell you something Trick, you are in my kingdom and honey Princess A does not play when it comes to anything or anyone that brings glam into the lives of others.
Akasha folds her arms and cocks out her hip and narrows her eyes at the camera.
Just because you signed up for the wrong show and found out that this was not the place to get your much needed make-up overhaul does not mean that you can just waltz your narrow ass in here and start attacking people. Jane is not a miracle worker honey and that is not what is on her UFWA contract so get it together Trick. Now being the Princess that I am, I simply cannot let this go unchecked and unpunished so listen up bitch. As the UFWA Princess I command you to meet me in the ring this Wednesday and we'll see if we can't improve that face of yours fast enough for your liking okay sweetie. Don't disappoint me Kristal. Now you're dismissed!
Now that's how you handle business Cole. You got a problem with somebody, you call em' out and do something about it.Michael Cole:
Well we'll find out how this turns out right now.
----------------------------------------Single Match: Kristal Marshall vs. "Princess A" Akasha Monroe
As Wednesday Night Wreck returns from commercial the last few beats of Commander finish playing and the referee signals to the timekeeper to ring the bell. Akasha and Kristal slowly advance to the middle of the ring. Upon reaching the middle Kristal throws her hand up in Akasha's face and then pushes her backwards. Akasha plants her foot and then moves forward and pushes Kristal backwards. Kristal quickly advances and grabs a handful of Akasha's hair and tugs, she spins her around into a Hair Pull Backbreaker. She throws her hand in Akasha's face and mushes it before standing up and taunting the crowd. The crowd boos her and she scoffs at them. Akasha stands up behind her and hits her with an elbow to the back of the head and follows with a Head smasher. Akasha begins to execute Angry Stomps to Kristal before grabbing her and pulling her to her feet. She grabs her wrist and Irish whips her across the ring with a clothesline in mind but Kristal is the one that hits a Running Dropkick that sends Akasha flying backwards. Kristal rolls Akasha over and delivers a Hair Pull Stomp. Kristal rolls Akasha over and hooks the leg for a pin attempt, the referee makes a two count and stops as Akasha rolls her shoulder up. A frustrated Kristal gets in the referee's face demanding that he actually do his job correctly and count faster. Akasha begins pulling herself up and Kristal quickly goes for her Kristal Lyte (Running Shining Wizard) but Akasha rolls out of the way and Kristal misses. Akasha quickly grabs her and takes her down with a Reverse Neckbreaker. Akasha kicks Kristal in the back and that rolls her over to all fours and Akasha then delivers a Soccerball kick that causes Kristal to cry out in pain. Akasha then locks in the Camel Clutch and Kristal struggles to reach the ropes and Akasha applies as much pressure as she possibly can. The pain grows to be too much for Kristal to handle and she has no choice but to tap out. Akasha releases the hold and stands as the referee lifts her hand in victory.
Akasha leaves the ring and Kristal slams her fist in the mat. The referee tries to help her up but she throws a hand in his face and furiously stomps off and exits the ring. She ignores the chants and jeers from the fans and heads straight to the back. She marches right up to the make-up area and grabs Jane by the throat and slams her into the wall repeatedly. She then takes Jane's head and clears the make-up table of it's contents. Finally in a huff she picks Jane up and slams her through the table. Kristal looks down at her handiwork and at the unconscious Jane and then walks off with a smile.
------------------------------
The camera cuts back to Raven's office where Ivory is seated on the couch on her cell phone.
☭Purple Fury - Ivory:
Oh really? Well you might have them fooled Frenchie this is your pattern. Shame on you for stringing both of them along like that, but yeah you aren't save it sister. I know you and the only thing a high-class hooker like you changes is panties in between "dates". Hold that though "Sluttiest of the Slutty", I'm getting another call.
Michael Cole:
Was she talking to...
Tazz:
Shut up Cole! I'm trying to listen.
Ivory here. She plans on doing and saying WHAT? Slow down Johnny. John...John...John Cena shut up, you're talking to fast. That skank! After all that I've done for her, I'll take care of it sweetie you just get ready we'll proceed as planned. And hey, don't feel guilty sweetie okay. They will all understand and if not then you know my motto. Love Ya Babe.
----------------------------------Freddy Funk vs. "The Charismatic Enigma" Jeff Hardy
Both men circle one another before they both seem to advance on the other at the same time. The two lock up and battle it out with a test of strength for a few moments. Eventually, Funk is first to break the struggle as he boots Jeff in the gut. As Jeff doubles over, he finds himself on the receiving end of a Hurricanrana. Hardy springs to his feet but Funk takes him over with a Dragon Whip. Funk immediately presses Jeff's shoulders to the mat with a quick pin attempt but fails to get more than a 2 count. As Funk brings Jeff back to his feet, Jeff battles back with several shots to his gut. This time Funk is forced to double over in pain as Jeff delivers a low dropkick to the back of Funk's knee. As his knee buckles from under him, Funk collapses to the mat and is left at Jeff's mercy as he drags him into a seated position in the corner. Hardy delivers a rope-aided corner dropkick before he goes back to work on the knee of Funk.
Dragging him back to the center of the ring, Hardy boots Funk in the knee several times. He then brings Funk back to his feet and Irish Whips him into the ropes. As Funk flies back at Jeff, Jeff connects with a Sitout Jawbreaker. Hardy then baseball slides Funk out of the ring and is quick to connect with a Plancha over the top rope. As the crowd continue to cheer on Jeff Hardy, he looks to put Funk away. Bringing Freddy Funk back up to a vertical base, Hardy boots him in the midsection on more time in order to connect with the Twist of Fate. To finish him off completely, Jeff Hardy squashes him with a Swanton Bomb for good measure. He covers Freddy Funk to pick up the well deserved victory.
Michael Cole:
Very impressive this young Freddy Funk.
Tazz:
Well not to take anything from the guy but he faced a distracted Jeff Hardy.
Michael Cole:
Distracted Jeff Hardy? What do you mean partner?
Tazz:
Well it's no secret that Jeff Hardy doesn't approve of Samuel's actions as of late and rumor has it he's been wandering around the arena looking for his friend but Samuel is no where to be seen tonight, neither is Fear.
Michael Cole:
Smart on their part with the Wicked Witch of the West apparently running things tonight in the absence of Raven and our General Managers. She's still got a vendetta with her ex-boyfriend Samuel and things wouldn't be pretty if either of the Royal Anarchy members where here tonight. She hang them out to dry for the Motor City Machine Guns.
Tazz:
Personally I think those two are scared that the Guns will be here tonight to reclaim their rightful property.
-----------------------------------
The match opens up as we see Mel and Layla walking down the hallway
Now tell me again why the hell am i in a match?
Because you had a chat with Raven....and you pissed her off remember?
She thought and nods.
Oh....yeah..guess i just answered my own question huh?
Yes guess so.
But I haven't had a match in 8 months.
Layla nods.
I know but once you get out there you'll remember, besides were reuniting Dangerous Angels tonight let's make April proud.
The two smiled and nods as the two headed out as "Imma Be" began to blast.
------------------------------------------ Tag Match: Kelly Kelly & Jenny Tuck vs. Melissa Jordana & "Nasty Girl" Layla El
At the start of the match all four women talk before the ref rings the bell as Jenny and Mel went to their corners as Kelly and Layla start things off. They circle around each other until Kelly hits Layla with a Spear and hits her head on the mat until the ref breaks it up and Layla rolls out of the ring as Kelly calmed down she slid out and began chasing her a few minutes until she went back in Kelly followed but Layla hits a dropkick as she did sending her back out. Layla slides back out as she immediately rams her backwards into the barricade and whips her to the steel steps. Layla taunts as the crowd boos and grabs her by the hair and whips her back in the ring at the count of 7. Layla leans back and hits a dropkick to Kelly and immediately does a few more and ends it with a clothesline. Layla grabs her by the hair but she slowly begins to fight out and hits the jawbreaker and whips Layla to the ropes as she ducks the first time Kelly does the headscisdors takedown sending Layla halfway across the ring. Kelly grabs her by the hair but Layla slowly began to fight out and hits a jawbreaker of her own and whips Kelly to the ropes as she ducks the first time but when she comes back both women have the same idea and hit a double clothesline and both lay there catching their breath as the ref began to count as both partners and the crowd cheers when both women slowly crawled to there corners to tag there partners who both entered Kelly and Layla rolled out to recover. Immediately Jenny was going for a clothesline but she ducked and hits a Lou Thesz press. Jenny down to the mat and begins hitting her head until the ref breaks it up and Mel backs up. Both women circled around each other before circled around each other before locking up to the rope and Jenny does a side headlock but Mel leans back and ducks the first time but when she came back she did a headscisdors takedown and follows with a few dropkicks after that. Mel grabs Jenny by the hair but she begins to fight out of it and hits her with a jawbreaker and knocks her down to the mat. Mel quickly picks her up and set her up for Annihilation (Faith Breaker) and quickly pins her for the required three seconds and the victory.
Michael Cole:
What an impressive return for Mel for anyone who doubted that she retained her in-ring savvy she just proved that she's got more than what it takes to get the job done in the squared circle.
Tazz:
All while looking good and don't forget the "Nasty Girl" looked good as well.
----------------------------------------------Single Match: UFWA Women's Champion "Queen of Xtreme" Lita vs. "Harajuku Barbie" Nicki Minaj

Nicki Minaj struts down to the ring with passion in her eyes, she was determined to best Lita tonight and that was priority one. Lita is next to hit the stage and the crowd shows her love as she proudly holds the Women's Championship up in the air. She makes her way down to the ring and steps through the ropes. Nicki sucks her teeth while watching Lita hand the referee the Women's Championship belt. The two women meet in the center of the ring looking each other up and down when the bell rings. Nicki wastes little time and explodes with a Spinning Heel Kick to the chest that sends Lita backwards. Not wanting to loose any momentum Nicki pounces with a Lou Thesz Press followed by quick punches to the head, Nicki stops punching at the 3 count from the referee. Nicki backs off as Lita pulls herself up off the mat. Lita shakes her head pulling herself back in the game and after the referee finishes admonishing Nicki for the closed fists and moves out of the way, Lita takes off running and hits Nicki with a Crossbody. Lita quickly stands pulling Nicki up with her and hits a Snap Suplex. Lita pushes her loose hair behind her air and throws her hand up in the air and the crowd responds with cheers. She begins to pull Nicki to her feet when Nicki delivers a shot to the stomach followed by another shot until she is on her feet. Nicki grabs Lita and whips her across the ring, she times it just right and at the right moment of the rebound from Lita she hits a Standing Headscissors Takedown that draws a positive reaction from the crowd.
Nicki knows this isn't enough to put Lita away for good so she opts to show Lita who's boss and drags her towards the nearest turnbuckle. Nicki climbs the turnbuckle and does Lita's signature taunt and leaps off hoping to finish Lita with her own finisher but that was not to be the case as Lita is now up off her feet and with timing hits a Reverse of Fate planting Nicki into the mat. Lita stands and looks down at Nicki who appears to be out of it and then climbs the turnbuckle. She let's out a loud taunt for the crowd and leaps up in the air hitting a picture perfect Litasault. The referee slides into position on the mat as Lita hooks the leg. The referee's hand hits the mat three times in succession giving the UFWA Women's Champion the victory in this match.
Michael Cole:
What a fantastic match that was Tazz.
Tazz:
Hey Cole, have you ever stopped to wonder if this rivalry between Nicki and Lita is about more than just the Women's Championship?
Michael Cole:
What do you mean Tazz?
Tazz:
Think about it, Nicki was trained by Trish Stratus right? Trish Stratus was one of Lita's biggest rivals back in the day. You think this is deeper than what's on the surface?
Michael Cole:
Well it would explain the need to not just beat Lita but to attempt to embarrass her out there. I suppose I never thought of it that way until now.
Tazz:
Just curious is all.
Michael Cole:
Guess we'll have to wait and see. Speaking of waiting Tazz, has anyone heard from or seen Royal Anarchy?
Tazz:
No one has reported seeing them since Splash-Down.
Michael Cole:
As much as I'd like the Tag Team titles to call Wednesday Night Wreck their home, not by stolen means though.
Tazz:
Whoa whoa whoa, pump your brakes Girlpants. The Guns may have won the belts but they couldn't keep possession of their property and to me that means they don't deserve to be the champions.
Michael Cole:
Is that your personal belief Tazz or are you kissing Raven's backside?
Tazz:
How is that kissing up to Raven?
Michael Cole:
C'mon Tazz we all know how Royal Anarchy was "hand-picked" and we all know why.
Tazz:
No we all don't know Cole and until we do you should keep your mouth shut about things you don't truly know about.
Michael Cole:
Well what I do no is it's time for a word from our sponsors, we'll be right back folks.
---------------------Commercial break-----------------Michael Cole:
Folks this next match-up features two women with a very big issue with one another. They both earned the right to challenge the current UFWA Women's Champion.
Tazz:
At Splash-Down they both climbed the ladder and came down with the ultimate prize and the question on everyone's mind is now what.
Michael Cole:
Well knowing the amount of dedication and sheer heart these two women put in this business they won't settle for just letting sleeping dogs lie. They are going to do something about this.
Tazz:
Well they certainly are gonna get off to settling things with this upcoming Tag Match.
----------------------------------Tag Match: The Miz & "Foxy Diva" Alicia Fox vs. C-Money & "The Candy Coated Diva" Candice Michelle

Both teams are in the ring and immediately Alicia gets in Candice's face and bumps chests with her while giving her an evil glare. The Miz being his usual and obnoxious self immediately gets in C-Money's face and talks more trash than usual. Chaos immediately breaks out before the bell can ring and both teams erupt in a brawl with one another. The referee is helpless to regain order and watches as C-Money mushes The Miz's face before hitting him with a standing clothesline and then stomping a mudhole in his chest. Alicia grabs a handful of Candice's hair and pulls her into a devastating backbreaker and shoves her off the knee before taking her head and pounding it repeatedly into the mat. The referee calls for re-enforcements as Wednesday Night Wreck goes to commercial.
Michael Cole:
Folks we welcome you back to UFWA programming and before the commercial break a near riot broke out in the ring.
Tazz:
That's what happens when you get a group of Superstars and Divas together with explosive personalities be it kind or mean and put them in a match together with one goal in mind.
Michael Cole:
Let's take a look at what happened before the break.
A split screen is shown of what was supposed to be the beginning of the tag match and the chaos that erupted. The camera switches back to calmer competitors each in their corner and The Miz and C-Money are circling one another with their hands outstretched in the middle of the ring. The Miz slaps the hand of C-Money and then lunges at him but C-Money catches him and executes a belly to belly suplex that sends Miz to the mat. C-Money quickly stands and backs up and takes off running for a dropkick to the knee but Miz counters with a drop toe hold. Miz slaps the back of C-Money's head with a smirk and pulls him up off the mat for a Sitout shoulder jawbreaker. Alicia Fox applauds Miz's efforts while the crowd begins to echo a resounding chorus of boos. Miz stands and smugly crosses his arms while looking down at C-Money. Miz again goes to pull him up and hit a quick suplex but it is blocked by C-Money who executes a suplex of his own. With Miz down on the mat C-Money backs up and this time is able to execute the dropkick to the knee. C-Money pulls Miz up to his feet and attempts an Irish Whip that The Miz spins through and reverses, Miz takes off running and hits his Swinging Corner Clothesline and pauses a moment to taunt before pulling himself back in the ring. The Miz points at Alicia and the crowd continues to boo to which Miz soaks up as a badge of honor and smugly walks over and tags Alicia in.
Alicia steps in the ring as does Candice. Candice runs at Alicia only to be gripped by the neck and flung to the mat in the form of a modified Chokeslam. Alicia pulls Candice up to quickly take her back down with a Hair pull snapmare. Alicia locks Candice in a Full Nelson and pulls her to her feet before executing a Full Nelson slam. Alicia looms angrily over Candice before getting down and pinning her, Candice kicks out at two and Alicia again hooks the leg for another two count. Alicia pounds the mat with frustration and then gets in the referee's face arguing with him as he throws his hands up until he is backed into a corner by a fired-up Alicia. Candice now on her feet advances and pulls Alicia into a reverse neckbreaker. The referee scurries out of the corner and Candice hits two leg drops in succession on Alicia before standing up giving a little wiggle for the fans and pulling Alicia to her feet. Candice whips her across the ring and runs across hitting her with a Big Thump. Alicia lays in the corner as Candice steps between the ropes and locks her legs around Alicia's neck and hangs backwards much to the delight of the fans and disgust of The Miz. Miz hops off the apron and finds himself face to face with C-Money who quickly pulls him into a Spin-Out Powerbomb. Candice releases the hold as the referee gets to four and enters the ring. Alicia clutches at her neck and as Candice charges at her Alicia side-steps and shoves Candice shoulder first into the turnbuckle. Alicia climbs the turnbuckle and Candice pulls herself out of the corner, Alicia wraps her legs around Candice's neck and executes a Victory Roll that gets a two count but the highly determined Candy Coated Diva reaches down with all she's got and kicks out just before the referee's hand slaps the mat for the third and final time. A frustrated Alicia kicks Candice in the side and executes a Soccerball kick that leaves Candice in pain on all fours. Alicia backs up and goes for the kill with a Foxx Kick (Axe kick). Outside the ring C-Money is taking it to The Miz and blasts him with an Exploding Clothesline while Alicia covers Candice and picks up the three count victory.
Michael Cole:
What a tremendous match-up Tazz.
Tazz:
I got goosebumps watching that one.
Michael Cole:
This situation between the Co-#1 Contenders gets more vicious by the second and I believe this is far..far from over.
Tazz:
That's for sure, one thing that can be said about Candice Michelle is she works hard and never gives up, on the flip side of that neither does Alicia Fox who's mean streak sets her apart from other Divas. They keep going at each other until they can't go anymore and then they'll start all over again.
Michael Cole:
Something has to give and management has to come up with some solution or offer them both the shot. But is that fair to the current champion Lita to be forced into a Triple Threat situation on her first title defense?
Tazz:
Two things Cole, one Lita is the champion and she has to be ready for any and everything thrown her way if she wants to keep that title, and two Lita has to survive Nicki Minaj just to make it to the match at all. I've said it once and I'll say it again, that beef between Lita and Nicki is personal in more ways than one and I sniff Trish Stratus' hand in the middle of this somewhere, but only time will tell.
Michael Cole:
There you are right partner only time will tell what will happen in our Diva's division.
--------------------------------------"The Predator" Randy Orton vs. JBL vs. UFWA X-Division Champion Patrick Heagerty Jr.
All three opponents start by just circling one another slowly all awaiting somebody else to make the first move. However, it's Randy Orton who lays the first punch into JBL. Soon enough, X-Division Champ Patrick Heagerty Jr. makes his first move of the match by joining in Orton's beat down of JBL. Both Orton and Patrick lay into JBL with a series of forearm shots and punches before JBL collapses to the mat. This leaves him open to endure a series of kicks from both opponents. After deciding that's enough punishment for JBL... for now... Randy Orton goes to work on Patrick. After smashing him head-first off of the top turnbuckle, Orton pulls Patrick into an Inverted headlock backbreaker. With Patrick down, Orton begins to delivers a series of multiple stomps all across his body. Orton then stalks Patrick for an early RKO. Before he can get the job done, JBL returns with a powerful Clothesline From Hell, turning Orton inside out.
JBL takes pride in hooking the leg of Orton in order to cover him but Patrick manages to break it up in plenty of time but dropkicking JBL in the side of the head. As JBL retreats to the edge of the ring, Patrick goes after him. JBL executes a cheap shot in the form of a rake to the eyes. As Patrick stumbles backwards, JBL delivers a Big Boot. As Patrick crashes to the mat with force, JBL stands over him and poses as the crowd boos heavily. JBL ignores them before going back to the action. After picking Patrick back up, he sneaks in a quick eye poke, followed by a Swinging Neckbreaker. Before JBL can go for the cover, Randy Orton gets back into things as he delivers a dropkick square to the chest of JBL. Orton whips JBL into the ropes before taking him over with a back body drop. Orton then moves onto Patrick, managing to deliver a devastating Rope Hung DDT to the X-Division champion.
Just as it looks like Randy Orton is about to pick up the victory, JBL manages to scramble back to his feet and put a stop to that. Orton and JBL square off again, locking up. JBL breaks and boots Orton in the gut. As JBL runs forward with a high knee strike attempt, Orton dodges out of the way and pulls JBL into a backbreaker. With JBL down, Patrick leaps off of the top turnbuckle with a Frogsplash. He stays on him for the cover but Orton pulls him off quickly. Patrick responds with a sudden Spike DDT and kicks Orton out of the ring. Patrick then pulls JBL into position for a Cradle Piledriver. He pins JBL for the victory.
Tazz:
You know I like this Heagerty kid, when he first arrived I thought he was just gonna be another wannabe pretty boy that thought everything should be handed to him on a silver platter, but I gotta say this kid gets in there and gets the job done.
Michael Cole:
Oh well it's all so clear now Tazz.
Tazz:
What the hell are you talking about Cole?
Michael Cole:
It's clear that's why he's the X-Division Champion. He gets the job done against some of the toughest people in this business today.
Tazz:
Don't get snippy Cole, I'll knock your teeth down your throat.
Michael Cole:
Just couldn't let me have that one could you Tazz? Anyway, switching gears here,Tazz after Splash-Down how can Ivory honestly still call herself a friend to Amanda Cortez?
Tazz:
We've been through this Cole, Ivory was just doing what's good for business and she insured that Amanda wasn't physically attacked before the match.
Michael Cole
What about the psychological damage done, I mean your partner is viciously attacked before a very important match that has a championship opportunity hanging in the balance and that's your definition of friendship?
Tazz:
Well I wouldn't want a friend of mine doing that to me but...
Michael Cole:
Exactly! That's my poi...
Tazz:
Pump your brakes, I'm not finished. I was going to say that even though I wouldn't want it to happen, I would understand the reasoning why and if I had a manager I would expect them to get me a championship opportunity any way they could if that's what it took.
Michael Cole:
Well we'll see if it was truly that or was it personal because that sea-witch will have to show her true colors tonight as the Special Guest Referee in that ridiculous handicap match ordered by our ever so pleasant owner Raven.
Tazz simply shakes his head as Cause a Scene begins to play and Ivory steps out from behind the curtain.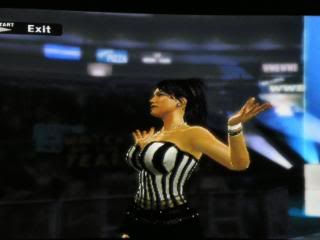 Ivory walks down to the ring with a completely blank look on her face so that she does not reveal any emotion. She steps through the ropes and calls for a microphone.
☭Purple Fury - Ivory:
So I suppose you all want more answers, but most importantly you want to know the reason that I'm standing here as the referee because it's no secret that I'm really good friends with both Raven and Amanda and up until Splash-Down I stayed away from their conflict completely, so what gives right?
A resounding yes goes through the arena and Ivory sighs and smiles.
Are you sure you can handle the truth as to whether or not I've chosen sides in this battle?
Annoyed the audience shouts another yes.
Well I haven't chosen either side, it would be suicide to cross Raven but I never want to hurt Amanda in any way. Whatever Raven's reasons for booking this match, be it innocent or be it to see where my loyalties lie, I can promise you that at the end of the match everyone will know where I stand on the entire issue.
With that Ivory drops the microphone as Amanda and Ryan Payne step through the curtain.
It becomes dark in the arena and the song "Feuer frei" from Rammstein is played. Then a spotlight appears and Amanda comes to the stage. She raises her arms in victory ad then she waves at the fans and blows kisses at them. The fans always loved her and cheer at her, but after her great win in that steel cage match at the PPV they cheer even more. As Amanda comes down the ramp she high fives some of the fans and then she slides into the ring. She kicks of her really high heeled sandals and takes a micro.
~Amanda~
Hiiii ...Ladies and gentlemen ..Thank you for this nice welcome ...thank you so much.
Again she blows some kisses a the fans and it's rally hard to make them become quiet, but eventually she can speak again.
~Amanda~
I think most of you have seen my last match at the PPV. I thought that I would have a normal match against Vipera and even this would have been hard enough, but it came even worse and it was in a steel cage with Rae as the ref. And then they had to cheat again. But as you all remember, I was the one who left the rig as the winner and I was the one who earned the title shot at the next PPV.
Now you might think that it's enough but it isn't. I would have ended this war, but Rae went too far with trying to make my life to Hell, trying to ruin my career and trying to bring me to hospital. Now for me this war juz began and I promise tat it will be worse than ever before.
The fans clap their hands and begin to cheer again and it makes Amanda feel so good.
~Amanda~
I already showed that I'm able to destroy every opponent Rae sends me and I will do it again. Yes Rae ..you can do whatever you want and I juz wipe away these morons you send me. I did it last week, I will do it this week and if necessary I will do it till eternity or at least till I have that title.
She pauses again and takes deep breath. Now it seems that there is something that worries her and she has a sad facial expression.
~Amanda~
But last week happened something more. I had had two friends and these friends really disappointed me. They turned against me and helped out Rae to beat up Ryan Payne in a really mean way.
Ok, it were even three people, but from one of them, from Justine, I already knew that he is a sick bastard. But that Ivy and Cena got involved in this war has really disappointed and shocked me. I really thought that they were my friends and that they would help me, but it seems that heir career is more important for them than our friendship. At least Cena said that to me.
Anyway, hey disappointed me but they also opened my eyes. They aren't my friends anymore and prolly they have never been it. Yes, Ivy, Cena and Justin...I hate you and you will pay for this betray. Maybe not today, but I will get you wherever you hide and hen you will wish that you would have never messed with me.
Ivy, you said that this is juz business, but you were wrong. You should have known that will take it personal when somebody goes against one of my friends. But anyway, you made this mistake and now you will have to live with the consequences you fucken slut.
Amanda pauses again and it takes a while till she can continue, all these thoughts really hurt her, but she isn't willing to step back. But then she continues her speech.
~Amanda~
But now let's come to my match tonight and to the latest events. Then you may understand why I'm so pissed. After all these actions I met Ivy again and she promised me that all tis wasn't possible and that she would never go against me. I was so stupid and almost believed her, but then something opened my eyes. I received the match card for this week and I saw that I was in a handicap match with Ryan against Cena, Justin and Vipera with Ivy as the guest referee. So tell me now that this isn't personal. I think it is and I doubt that this will be a fair match. God damn, Fuck, how can anybody be so sneaky and mean?
But anyway, I said it before and now I say it again. I will fuck up these bastards and they will regret that they came into my way. But that's not all, when this here is over then I will also get my hands on Ivy and make her pay for her betrayal. Wen she thinks that she can help Rae to destroy me then she must also accept the fact that I will treat her the same way as Rae. Yeah, I will destroy them all.
Now Amanda drops the micro and walks over to her corner. She leans against the ring post and pretty relaxed she waits for her opponent and her partner Ryan to come to the ring. It doesn't take long and Ryan's music is played and he comes to the ring with his Harley. He slides into the ring and walks over o Amanda. He gives Mandy a slap on the ass and squeezes her sides so that she jumps, but then he smiles at her and gives her a thumbs up. They both look pretty confident that they will win this match and get their revenge now.
---------------------------------------Handicap Tag Match: "The Goddess of War" Amanda & Ryan Payne vs. The Devil's Fury (John Cena/Justin Gabriel) & "WNW Enforcer" Vipera
Special Guest Referee: "Purple Fury" Ivory
With both teams standing in their corners, Ivory stands in the middle of the ring and calls for the bell. Justin Gabriel steps through the ring ropes and advances on Ryan Payne who walks to the middle glaring daggers at Ivory as she moves out of the way. Justin smirks at Payne who reaches out and slaps the taste out of his mouth. Payne quickly blasts Justin with a Short Arm Clothesline and pulls him right back up and throws an elbow shot to the mouth. Justin staggers backwards and turns to attempt an escape to his corner and is rushed by Payne who grabs him from behind in a Half Nelson German Suplex. Payne grabs Justin by the hair and begins to pull him to his feet. Ivory steps forward to caution him about the hair pull and he turns and glares at her again with a menacing look and she backs away. Payne turns his attention back to Justin and locks his arms around him for an Overhead Belly to Belly suplex but Justin quickly headbutts him in the face and he releases his grip. Justin then spins and hits him with a desperation Discus Elbow Smash. Justin shoves Payne with everything he's got sending him down to the mat and he rushes to his corner and tags out to John Cena. Payne stands and shakes his head at Justin as Cena enters the ring. Amanda calls for a tag and Payne tags out and Amanda enters the ring. She meets Cena face to face with no signs of fear, but he refuses to fight her. She slaps him hard across the face making his head turn and again he refuses to fight her. She rears back and punches him in the mouth causing it to bleed, but he still refuses to fight her.
Amanda: Fight me you wimp!
John Cena: I won't fight you, you are friends with both Ivory and myself and this is stupid and I want no part of it.
Amanda rears back to hit him again but Ivory steps in and catches her hand. Cena turns and legally tags out to Vipera who enters the ring with a growl and charges Amanda and takes her down with a Enforce this! (High Judo Tackle). She mounts Amanda and begins punching her in the face and Ivory again steps forward and pulls her off of Amanda and reprimands her. Vipera doesn't take to kindly to Ivory's choice of break and growls at her. Ivory raises an eyebrow and stands her ground. Amanda pulls herself off the ground and charges at Vipera who sidesteps and Ivory takes a Flying Wheelkick that sends her down to the mat hard. Amanda knows she she can't check on Ivory being in the ring with Vipera and keeps focused on her. The two begin to circle one another and Vipera lunges at Amanda who quickly sidesteps again and clocks her under the jaw with an uppercut and as she flies backwards Amanda blasts her with a quick Superkick. Amanda goes for a quick pin and Ivory gets down to count and make it to two before Vipera kicks out. Amanda pulls Vipera up off the mat only to receive a thumb to the eye followed by a brutal headbutt followed by a Side Effect (A series of palm chops before a devastating kick to the side of the head). Amanda goes down and Vipera covers and Ryan Payne enters the ring and punts Vipera in the side of the head. Justin Gabriel quickly climbs the top turnbuckle and leaps off with a crossbody on Payne. Poison Rose rushes down to the ring and takes advantage of Ivory's turned back and pulls Vipera to her feet and delivers a Thorns Edge (RKO) and places Amanda on top of Vipera and slides out of the ring. Ivory has gotten Justin and Payne out of the ring and turns around and sees Amanda with the cover on Vipera and makes the three count.
Tazz:
So you did all the squirming and bitching and look at that Ivory called the match right down the middle.
Michael Cole:
But at what cost Tazz? If indeed it was a test from Raven to see where Ivory's loyalties lie then she will not accept anything less than being on her side.
Tazz:
Sheesh Cole what is it with you, you are never happy. First you get all pissy about Ivory being so evil and she does the right thing and you still have questions. You need to seriously get laid.
Michael Cole:
What does me getting laid have to do with anything?
Tazz:
Maybe you'll stop being such a whiny little..
Michael Cole:
*clears throat loudly* Look all I'm saying is that if Ivory worked so hard to get her boys a championship opportunity then why go and put it all in jeopardy. Cena refused to fight Amanda and that surely won't sit well with Raven either. Either way there will be backlash from this match all together because Amanda is now two up in victories on Raven.
--------------------Commercial Break------------------Michael Cole:
Welcome back to Wednesday Night Wreck. This next match saw two competitors that fought hard to earn the right to be crowned the first UFWA Combat Champion at Splash-Down, but that was not to be.
Tazz:
Yeah Brutus Magnus won that honor, but apparently these two young men have unfinished business. Cody Rhodes blames Jack Ace for the loss and told the world so earlier this week. So it's gonna be interesting to see how Jack Ace took that.
-------------------------------------Single Match: "Dashing" Cody Rhodes (accompanied by AJ Lee & Madison Rayne) vs. "The High Roller" Jack Ace
Jack Ace rushes forward with a clothesline to immediately knock Cody Rhodes from off his feet. Second later, as Rhodes returns to his feet, he finds himself being treated to exactly the same fate again, followed by a third. This leads to Cody eventually heading to the outside of the ring where Madison Rayne and AJ Lee offer him some words of encouragement. As Rhodes re-enters the ring, Jack Ace pulls him straight to his feet and launches an attack his way in the form of an Uppercut. After missing the shot due to Rhodes wisely moving out of the way, Ace is left to be struck with a Dropkick to the chest, followed by a Knee Drop to the fallen Ace. Cody Rhodes covers Ace but Ace powers out at 2. Rhodes drags Ace to his feet again and this time takes him down with a Running Bulldog. Rhodes once again goes for the cover but only receives a nearfall for his efforts. A frustrated Rhodes gets in the face of the referee and argues with him, claiming that was a slow count.
This move just allows for Jack Ace to sneak in a roll-up. Cody manages to roll his shoulder up before the count is made, leaving the two to just meet in the center of the ring again seconds later. This time, it's Jack Ace who manages to gain the upperhand as he connects with a right hook. As Cody stumbles backwards, Ace takes him down with a swift Belly-To-Belly Suplex. Jack Ace looks to put an end to the match there as he stalks Rhodes for the Ace High but Madison Rayne and AJ Lee hop on the ring apron to argue with the referee as Jack Ace begins arguing with the two ladies. Eventually, as they hop down from the ring apron, Ace turns around to see Rhodes running at full speed towards him. Cody quickly pulls Jack into the Cross Rhodes (Spinning Facebuster). He rolls him over and pins him for the win.