Post by ♡☈aveη on Oct 2, 2010 22:08:30 GMT -5
This week's Wreck
Hope everyone enjoys. Not as "filled up" as the others shows but still good nonetheless. As always thx to all that helped out with the show ^_^
________________
*Wreck opens to Raven sitting in her office, her head wrapped in bandages from the attack Amanda gave her from the UFWA's first PPV. Her face is palm deep in her hand as it appears she is breathing quite heavily. A knock at her door cause her to sit up as she wipes away the water building in her eyes, answering the persons knock in a aggravated tone*
Come in!
*Just the person she didn't want to see, Michael Cole mic ready for an exclusive interview. Raven still speaks to him very annoyed*
Yes?
*Michael eases his way into her office with his camera crew shuffling in equipment. Cole steps up to Raven's desk as he sat in the car in front of it*
I wanted to get your words on the success of UFWA's first PPV and the events that occurred in the show.
What are you looking to hear? That all of the people that worked for me put on a good show? The night was nicely action filled? Hopefully the fans enjoyed the show and will continue to support us in the future? We'll work harder to put on more great shows?
*From there, Raven smiled sweetly as Michael let a half smile grow on his face as well. Just instantly, Raven's smile dropped as she stood up from her chair slamming her hands on the desk*
Well too bad! I could give a damn about the Pay-Pay-View or the so-called history that was made! Really, how could people focus on the little thing when
moi
when brutally attacked by that sloppy tattoo'd bitch!! Do you see what she did to me?!
*Raven points to her head wrapped in bandages with her Drama Queen act in full effect*
That bitch busted the back of my head to where I had to get three stitches!! Right now, I can't even have my weave in.....You know, Vipera may have been in the match and lost, but I actually felt like the los...the loooooos.....I can't even say it.....
* Michael cleared his throat not knowing when to butt into Raven's drama*
.....Uhm, that's.... sad to hear. And what of your disappearance last week? Because of your no-show---
*Raven held her hand up in his face shutting him up for the moment*
Look, I just couldn't last week , okay? I needed to reflect and let the fact that I'm being bested by
her
. This may come as a shock but I don't practice good sportsmanship. Amanda's been getting the best of me the moment this company started and I'm sick of it! Damnit,
I'm
suppose to win! Amanda is suppose to cave in and submit to
me
! I just take the fact that I'm losing.
*Raven said that last sentence in a whiny, high-pitched tone as she kicked the desk*
----------------
Show Opener, Single Match: Gregory Black (WNW debut) vs. Freddy Funk
Funk and Black both start their match at their respective corners. Black, focused, ready, fired up. Funk, almost distant, uncaring, not into it. The bell rings and the two men lock up, jockeying for position, Funk backs Black into the corner, instantly hitting him hard in the stomach with an easy right.
Black takes it like man and returns with a right of his own, only this one, to Funks face. The two men stop all "wrestling" and turn it into a straight up brawl. Rights being thrown everywhere, hitting every time, kicks being kicked, elbows being swung.
Finally, Funk ducks a swing by Black and attempts one of his own, but Black ducks and rushes to the ropes, bouncing off and forcefully hitting Funk with a running Elbow Smash, knocking Funk cold to the mat. Black takes notice of this and stomps on Funks fingers, just when Funk reaches for his hand, Black grabs it and spins it around, slamming it on the mat with Funk.
Black, now on the might, rolls over, still holding on to Funks arms and locks in his "Black Out" Submission Hold. Unable to resist the pain of the intense submission, Funk taps out within seconds of being locked in.
-----------------------
Tornado Tag Match: Team Epic (Christopher & Mark Frenzy) vs. The Devil's Fury (John Cena/Justin Gabriel) (accompanied by: "Purple Fury" Ivory)
During the peak of this match Cena begins gains momentum as he knocks Mark Frenzy down with two flying shoulder blocks with a Spin-Out Powerbomb to top it off. Before Cena could set up for the 5-Knuckle Shuffle, Chris frenzy comes rushing in the ring for a clothesline, but Cena ducks the blow. Chris' momentum takes him to the opposing team corner where Justin dives off the top turnbuckle for a dropkick. Gabriel misses his mark as Chris dodges, sending the dropkick into Cena's chest. Chris attacks Justin from behind before taking him out with an Epic Fail (Powerbomb/Backcracker Combo)
As Team Epic goes for the pin, Ivory hops on the apron for a brief distraction. She is pulled down by Raven who gets in her face yelling about Amanda's match last week. By the time the ref gets back to the action in the ring, Justin kicks out. Cena tosses Chris over the top rope and lifts Mark on his shoulders, setting up for the F-U. Before John could execute the move, Vipera sneaks in the ring, knocking him out with a Shining Wizard to the head, Giving Devil's Fury the win by DQ. On the outside Raven is still having her argument with Ivory. Finally Raven just pushes Ivory to the side heading up the ramp. She is followed by Vipera after a failed super kick attempt from Gabriel to nail a superkick of her own. Ivory starts walking up the ramp to chase after Vipera but instead slides in the ring to check on her boys, as Team Epic is on the outside laughing about what just happened to their opponents.
-------------------
Single w/Manager Match: Kelly Kelly (accompanied by: Jenny Tuck) vs. Melissa Jordana (accompanied by: "Nasty Girl" Layla El
Before the match can get under way, the Referee quickly ejects Tuck and Layla from the ring, not wanting any interference from either of the two.
While Layla and Tuck are leaving, Kelly takes the opportunity to strike Melissa from behind, grabbing her hair and forcing her to the mat. The bell rings and the match officially starts. Kelly stands on Melissa's hair and grabs her hands pulling her up forcefully, causing Melissa to scream out.
The Ref starts the count and Kelly lets go at four, raising her hands up and wiping her feet off in Melissa's direction. When Melissa starts to get up, Kelly rushes for a soccer ball kick to the gut, but Melissa catches Kelly's leg, tripping her and hoping on top of her, grabbing her hair, beating her against the mat.
Kelly rolls over and gives Melissa the same treatment, hitting her with some rough elbows to the point of the Ref having to take Kelly off Melissa. Melissa shakes it off and rushes back to her feet, separating the Ref and Kelly so Melissa can get to Kelly, leaning her against the ropes. Kelly pushes her off and to the middle of the ring.
Kelly runs and spins into a Head scissors, doing a few rotations. Melissa stops Kelly before she can finish and drops her on her Knee. Kelly attempts to no sell and gets right back up, clearly aiding her back and walking straight into the "Black Circus" for the 1,2,3.
---------------------
Michael Cole:
Tazz the blows will certainly be flying in this next one.
Tazz:
No doubt that situation with Candice and Alicia is starting to boil over, and then you've got Akasha who has to have been dying to get her hands on Kristal for attacking the make-up lady again.
Michael Cole:
Well Akasha has dubbed the other team the Mean Girls and I guess in a way they live up to that name.
Tazz:
Oh yeah Cole, Alicia and Kristal have a bona fide mean streak and they get out there and get business taken care of.
Michael Cole:
But on the opposite side of that coin you have Candice Michelle and Akasha who are nice until pushed too far and Tazz I believe they are both out to prove that their opponents have gone too far.
Tag Match: "Foxy Diva" Alicia Fox & Kristal Marshall vs. "Candy Coated Diva" Candice Michelle & "Princess A" Akasha Monroe
The referee has not even had time to ring the bell before the hair pulling action begins. Kristal grabs a handful of Akasha's hair and pulls her head down to the side and starts clubbing her in the side. Candice wise to Alicia's tactics this week has the same amount of hair in her hands that Alicia does and both realize they aren't going to get anywhere here and release and Candice beats Alicia to the draw with a stiff short arm clothesline. Kristal is pulling Akasha to her feet after hitting her with a Bitch Slap followed by a Standing Dropkick. Akasha shoves Kristal back and quickly clips Kristal's nose and pushes her backwards until they reach the ropes, Akasha hits Kristal in the nose with a vicious Elbow Strike that sends her to the mat and Akasha gives her a Soccerball kick right out of the ring. On the opposite side of the ring Candice is holding her own with mounted punches to Alicia until Alicia rolls her over and again grabs two handfuls of hair and begins ramming Candice's head into the mat. Alicia releases the hair at the sound of 4 from the referee and stands up before kicking Candice in the side for good measure. Alicia pulls Candice up only to execute her Backbreaker submission. Candice cries out and Akasha slides back under the rope and delivers a roundhouse kick to Alicia's temple that forces her to release the hold. Akasha quickly exits the ring and Candice pulls herself up and makes her way over to Akasha and tags out. Akasha enters the ring and makes her way over to Alicia who holds a finger up and backs up to tag out to Kristal who enters the ring.
Kristal steps through the ropes and is caught by a running Akasha and hit with a Jumping Snapmare. With Kristal down, Akasha takes out her frustrations with a Choke that draws a serious reprimand from the referee and Akasha releases the illegal move. Akasha pulls Kristal to her feet and whips her to the nearest corner and takes off running, as Akasha reaches the corner Kristal wraps her legs around Akasha's neck and delivers a Headscissors Takedown. Akasha bounces off the mat and Kristal reorients herself and advance and grabs Akasha's neck and begins pulling her up until she finds herself the victim of a kick to the gut and pulled into a Crown "B" (Kick to the midsection, Akasha then hooks Kristal's left arm as she is bent over and places her right leg on their neck and jumps up in the air pulling Kristal and plants her face first in the mat). Alicia enters the ring as does Candice who beats Alicia and takes her down with a Lou Thesz Press and some punches. Akasha pins Kristal and Kristal kicks out at two. Akasha pulls Kristal up to her feet and takes her back down with a Prima Donna (Reverse Standing STO), Akasha hooks the leg and the referee makes the three count.
-----------------------
-----------------------
Tazz:
Last week we asked a lot of questions about the root of this problem between these two women and I gotta say Nicki has been real hush hush about her motives but turning on the skill in the ring.
Michael Cole:
Yeah but it hasn't been enough to defeat our Women's Champion Lita. Earlier this week Lita spoke the truth when she said that Nicki is yet to best her.
Tazz:
Every dog has their day Cole, but this Nicki has a lot of heart or a big motive behind these return challenges.
Michael Cole:
Perhaps we'll have some answers later after this...
Entrance Theme: Cause a Scene by Teairra Mari f/Flo Rida (Tron made by Showbiz ! Torrie)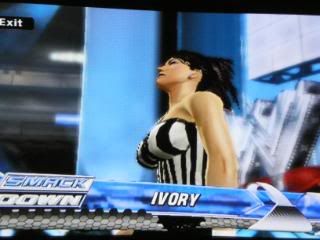 Michael Cole:
What the...what's she doing out here Tazz?
Tazz:
This just gets more and more interesting by the second. I honestly have no idea what Ivory's doing out here.
Michael Cole:
Well knowing Ivory she is sure to tell us why she's here.
Beat the Clock, win in under 3 minutes Match: Nicki Minaj vs. UFWA Women's Champion Lita

Ivory enters the ring and leans against the ropes and looks uninterested as both Nicki and Lita enter the ring. Lita is reluctant to hand Ivory the Women's Championship and Ivory rips it out of her grasp and throws it over the top rope and as Lita gets in Ivory's face she signals for the bell to ring. Nicki seizes the opportunity and blasts Lita in the neck with a hard right elbow and pulls her into a quick bulldog. Ivory sidesteps and Nicki pulls Lita's arms behind her and places a foot on her head and drives it right into the mat. Nicki begins to viciously stomp on Lita before pulling her to her feet and whipping her across the ring. Lita ducks a running turnbuckle clothesline and grabs Nicki's waist and pushes backwards out of the corner. Lita hits Nicki in the stomach with a shoulder block and grabs the legs and takes Nicki down and holding on to the legs Lita flips through with a pin. Ivory slowly gets down and begins to count, Ivory moves over claiming she had no clear view of Nicki's shoulders and begins to count, she gets to one before Nicki kicks out. Lita stands with a highly annoyed look on her face and Nicki quickly rakes her eyes and pulls her into a Barbie BoomBox(Full nelson lifted and twisted into a flapjack). Instead of going for the cover Nicki pulls Lita over to the corner and again climbs the turnbuckle and leaps off, this week she connects with the Litasault and Ivory gets down as Nicki hooks the leg and makes the three count. Nicki stands and looks at Ivory who simply turns on her heels and exits the ring.
Michael Cole:
Tazz I don't get it.
Tazz:
What's there to get Cole?
The screen switches backstage and Ivory walks up to the monitors and joins John Cena and Justin Gabriel. Jonathan Coachman runs up with a microphone, he can barely hold it up he is panting so hard but holds it up to Ivory.
☭Purple Fury - Ivory: Good gosh man, workout every now and then. Why right? I say why not and you will just have to wait until I'm ready to enlighten you. Good night.
Coach tries to advance but is stopped by John Cena who holds his hand up as they walk away.
----------------------
Royal Anarchy (Samuel/Fear) present Game 1 to the Motor City Machine Guns in the quest for the stolen Tag Team Championship Belts
*Coming back from commercial break, the camera opens up in backstage to see Michael Cole standing in front of Samuel's lockerroom*
Ladies and Gentlemen, I regret to inform you that the game scheduled tonight by Royal Anarchy had to have been cut due to extreme graphic nature not suitable for the young children in the audience.
*Just as Cole finished his sentence, Raven walked by in front of his shot.*
Raven, can I get your thoughts on what just happened between you and Ivory?
*Raven turned on her heels and faced Cole with a look that said she didn't want to be bothered, but obliged his question anyway*
Cole, I just don't feel like everything is going my way. I feel like everyone is turning on me and I don't know why.......I Just need to be alone right now.
*Raven turns back around and begins to step inside on Samuel's lockerroom as the scene begins to fade out*
That's Sam's Lockerroom, Rae.
I know that, you ass.
----------------------
Tag Match: JBL & Yasha Styles vs. "The Predator" Randy Orton & UFWA X-Division Champion Patrick Heagerty Jr.
JBL starts off with Randy Orton. Both open with a standard lock-up but JBL is the one to force Orton down to a knee. JBL kicks Orton in the chest to force him onto his back, using this to begin punching furiously at him. Eventually, JBL turns Orton inside out with an early Clothesline From Hell but before he can go for the cover, Patrick smashes JBL with a stiff kick to the head. JBL falls against the ropes as Patrick returns to his corner. JBL stumbles forward, arguing with the referee for allowing Patrick's actions but this just allows Orton to regroup. After Orton takes JBL down with a Full Nelson Slam, JBL begins using the ropes to drag himself back up to his feet. This allows Yasha to hit the blind tag, bringing herself into the match. JBL reluctantly returns to his corner as Orton also take the time to tag out to Patrick Heagarty Jr. Yasha manages to lead a powerful few minutes against X-Division Champ.
Yasha takes him down with a Roundhouse Kick, followed by a quick DDT. She mounts the champ, standing slightly above him as she lays into him with a series of punches. Patrick covers up the shots and soon pushes Yasha off of him. As the two meet again with another lock-up, Yasha boots him in the gut. As Patrick doubles over, he leaves himself open to a Running Bulldog. Yasha rolls him onto his back and goes for the cover but thanks to a Big Boot to Yasha'a head from Randy Orton, the pin is stopped. With both Yasha and Patrick down, eventually, Patrick is the first to stir. As he crawls to his corner, he tags out to Randy Orton. Orton is quick to pick up Yasha, before dropping her with an Inverted Headlock Backbreaker. Orton arrogantly goes for the cover but somehow, Yasha manages to kick out at 2. Orton doesn't allow Yasha to rest though as he brings her straight back up to her feet.
As he goes to Irish Whip her into the corner, Yasha counters so that Orton is sent crashing into the corner instead. Just as it seems as though Yasha is going to get back into the match as she races towards Orton, Orton has other ideas as he gets a boot up, causing Yasha to crash into his foot. As Yasha then looks for the tag from JBL, JBL drops down from the ring apron, having obviously had enough of seeing his tag 'partner' in trouble. JBL begins making his way back up the ramp, making his abandonment clear. As a furious Yasha turns back to the ring, she's met with a powerful RKO from Randy Orton. Before he can go for the cover, Orton finds himself crushed by his own partner's Smash Em Up finisher. This allows Patrick to cover Yasha to pin up the victory for himself and Orton.
----------------------
Single w/Manager Match: "The High Roller" Jack Ace (accompanied by: "Dashing Cody Rhodes & A & M Express (Madison Rayne/AJ Lee) vs. "The War Machine Rhino (accompanied by: UFWA Combat Champion Brutus Magnus & DeeDee)
At the sound of the opening bell, Rhino runs forward and connects with a powerful clothesline. Jack immediately rolls to the edge of the ring to flee from Rhino. Rhino doesn't allow him to escape as he drags him back to his feet by his hair. After slamming him down with a Running Powerslam, Rhino goes for the early cover. Jack manages to kick out at 2. Rhino continues to look to end the match early as he sets Ace up for a Rhino Driver (Spike Piledriver). Under the instruction of Cody Rhodes, Madison Rayne and AJ Lee hop up onto the ring apron simulatenously, momentarily distracting Rhino, who yells at the two, telling them to get down. This distraction allows Jack Ace to pull Rhino down into a roll-up. Brutus Magnus then takes action by pushing the two over so that Rhino ends up on top in the pinning predicament.
Jack Ace powers out at 2 and a half. As both return to their feet, Jack delivers a German Suplex to Rhino, following up with a dropkick to the face of the now-seated Rhino. Rhino doesn't let Ace carry his momentum for long as he manages to catch the 'High Roller' with a Spinebuster. After another interference from Cody and the A & M Express, Brutus Magnus, followed by DeeDee, make their way over to them on the opposite side of the ring. A brawl breaks out between not only Cody and Brutus but Madison and AJ begin an attack on DeeDee. After Brutus sends Cody tumbling mid-way up the ramp, he pulls Madison and AJ off of DeeDee. This allows Jack Ace to gain the upperhand again, executing a Jumping Spinning Back Kick to the head of Rhino. Eventually, Rhino brings himself back to his feet and prepares to hit the Gore.
Once again, the A & M Express make their presence known as they grab on the ankles of Rhino. As Rhino kicks both women off, DeeDee gains a little payback from earlier as she pulls the two out of the ring and begins laying into each of them with a series of shots. Cody pulls DeeDee back but Brutus Magnus runs in and smashes Cody in the head with his Combat Championship belt. Brutus then hands the title to DeeDee, who smashes it over the heads of Madison and AJ also. Back inside the ring, as Ace stumbles back to his feet, he turns only to be crushed with an epic Gore, which breaks him in half. With Brutus and DeeDee having taken care of Cody and the A & M Express, Rhino is able to successfully pin Jack Ace to pick up the win.
----------------
The Ultimate Vixen" Raven presents, Let's Dish featuring "The Goddess of War" Amanda, Ryan Payne, and Poison Rose
*Coming back from the last commercial break of the night, Raven is seen sitting in a chair in the ring with her legs crossed. She slides off her shades and looks around at the audience in attendance as they boo and mock her. Not even feeling the need to address them in her usual Diva manner, she coolly speaks into the mic*
The past week, well month actually, has been hell for me. It seems every battle from this war Amanda has dragged me into, I've lost. Can you people believe that? At every turn, she's the one smiling in victory and I'm---
*Raven stops as the crowd begins chanting "Goddess of War" over & over. She gives them a disgusted look before yelling into the mic, trying to talk over them*
You know, I find it sickening that you people are actually taking pleasure in my pain. My ribs have been bruised, damn near broken, and now the back of my head has been busted open and all you people can do is praise that bitch?!
*Before Raven could go on the sounds of Amanda's entrance music hits as she makes her way down the ramp with Ryan Payne and Poison Rose. Before they could even reach the ring, Raven has their music cut as she continues to talk*
So you pick the time to come to the ring when I'm talking? Okay then, fine. Let's Dish shall we? Let's dish, about truth, reality and how you seem to be getting one-up on me; You little Tickle Slave and your old boytoy you're probably screwing behind her back.
*Raven points to Rose & Ryan respectively*
That's right people, if you look back on the tapes, Rosebud and Payne-In-the-Ass here were at the turning point of the Pay-Per-View match in Amanda's favor. Cheating!! Blatant cheating and I for one am sick of it! It seems like I have been the only one playing fair, so I think because of that, and seeing as I'm the boss, I should punish you. Yeah, I should punish all three of you for the damages done to me for your wrongdoings. Amanda, I am hereby suspending you from the next UFWA Pay-Per-View; that's number one. Number two, Rose & Ryan, as of right now you both are FIRED! And lastly, Amanda, I understand you won the title shot at the Splash-Down, but as boss I have the power to take that right away from you. And since you won't be attending the next Pay-Per-View, I think I will strip you of the title shot; it only seems fair. Oh, and I want you to meet the person I'm giving your title shot to.....
*Raven stops mid-sentence as "Stampede" blasts throughout the arena. Ryan, Amanda and Rose all look up the ramp to see Rhino coming from the curtains. While their backs are tuned, Raven spins Rose around, planting her to face first to the mat via Muah (RKO). This obviously catches Amanda's attention, initiating a brawl between her and Raven. The War Machine sprints down to the ring, setting his sights on Ryan with a Gore, sending him flying out of his shoes. Raven slips out of the ring, getting out of Amanda's grips as she turns face-to-face with Rhino. Not backing down in the least, Amanda goes on the attack, hitting Rhino with straight jabs to the jaw backing him to the ropes. Rhino battles out with a knee to Amanda's gut, causing her to fall to her knee's. Out of nowhere, Raven slides back in the ring finishing The Goddess of War off with a devastating Punt Kick to the side of the head. Raven smiles devilishly, almost crazy, as she kneels down to Amanda's level with a mic in her hand.*
You can try to see the fight out to the end, but the result will be the same just like tonight. You can't win, Mandy. You will
never
win!
*Raven lifts up, throwing the mic down at Amanda's head. Raven smiles at Rhino as she begins to exit the ring. She walks up the ramp staring daggers at a fallen Amanda while Rhino climbs up the turnbuckle, miming the belt across his waist as Wreck closes out.*