Post by Kirsten on Oct 4, 2010 4:00:48 GMT -5
As some people already know, I've been really sick this past week which is why the show isn't up to it's usual standard but either way, I still hope you enjoy it. And as always, thanks to everybody who wrote matches and sent in skits

--------
'Toxic' by A Static Lullaby hit as a group of people made their way onto the stage. This group consisted of Angelina Love, Velvet Sky, Natalya Neidhart, Shelly Martinez, Casey Cortez and was of course fronted by Oblivion owner Kirsten. The ladies made their way down to the ring, all awaiting for the music to fade out before Kirsten started on the mic.
Kirsten:
"Ladies and gentlemen, as you all saw last week, we..."
She paused as she pointed to all of the women behind her.
Kirsten:
"... we were the ones left standing. Sure, Hazee James managed to pick up their fluke win over Angelina and Velvet but we all got our own back when No Remorse beat the sh*t out of my very own sister, Nicole. So that was a night that none of us will forget... we're looking to make that exact same impact again this week."
Just then, Shelly stepped forward and was offered the mic from Kirsten.
Shelly Martinez
- And may I just say that although I don't fit in with the overall look of the group...
She said as she looked across at the rest of the blonde and pink-haired women in the ring but she shrugged.
Shelly Martinez
- Either way, I stand out of my looks more than anything. But I want to stand out for more than that. And that's why I refuse to be forgotten about and why I refuse to be over-looked from the rest of the team. But I'm still in agreement with Kirsten. We're a team. All 6 of us are a well-built unit and we stick together. And that's why myself and Casey are going to promise to watch The Beautiful People's backs in their match tonight.
Angelina Love:
Well girl, you're right. We're all a team. In fact, I'd consider each and every person standing in this ring right now to be a member of The Beautiful People and that means we work together to take out the trash... the trash known as Daizee Haze, Mickie James, Nicole Franceschi and Rain to name a few..."
Kirsten nodded in agreement as the two had that exchange, clearly pleased at the team that she's built.
Kirsten:
"Well ladies, not only are The Beautiful People going to defeat Hazee James and Rain tonight, I've got a little announcement regarding UFWA's next PPV."
"First of all, I will be stepping back inside the ring, as I team with the fabulous Shelly Martinez and Casey Cortez to take on Daizee Haze, Mickie James and Nicole Franceschi for the Women's Tag Team Championships in a 6-woman tag team match."
There was a pop from the crowd as that was announced.
Kirsten:
"But where does that leave The Beautiful People? Well, we all know that Natalya will be cashing in her title opportunity at the upcoming PPV to face Rain for the Diva's Championship. But I will indeed be adding The Beautiful People to that match. That's right... the match will now be a Fatal Fourway for the Diva's title... Rain vs. Natalya vs. Velvet Sky vs. Angelina Love."
"So that's where we stand on that one. We'll be getting our at least 2 titles on my girls here. This is just another warning to Hazee James, Rain and of course my darling sister, Nicole. All of you need to watch out and stay the hell out of our way because we're coming for all the gold. And I know we won't rest until we take... you... out..."
With that, Kirsten dropped the mic as all 6 women held their hands up in the center of the ring before heading backstage to allow the first match of the evening get underway.
--------
Show Opener, Single Match: "The Tattoo Beauty" Laura Jackson vs. "The Sexiest of the Sexy" Maryse
[/b][/u]
A woman's voice can be heard running calling out to Maryse who is making her way towards the curtain. She has not made it into the shot as the camera is focused on Maryse.
☭Unidentified woman:
Excuse me Maryse...hey I just need a moment.
Maryse rolls her eyes and throws her hand up in the air.
Sexiest of the Sexy - Maryse:
Maryse no have time to talk to you, must go take out the trash so that we actually make people want to watch Oblivion. Besides you really want to get on camera with half of your face done?
☭Unidentified woman:
But I spent hours in the chair and she said I she was finished..I...I..
Maryse rolls her eyes and turns and steps through the curtain with a smile on her face as the woman can be heard weeping in the back.
Jerry "The King" Lawler:
Ha ha, now that's the way to start a show and oh boy look at Maryse. Can we start every week like this JR?
"Good Ol' JR" Jim Ross:
If you don't mind King. Hello folks and welcome to Friday Night Oblivion. I'm "Good Ol' JR" alongside Jerry "The King" Lawler, and no King I do not wish to open the show to this view every week.
Jerry "The King" Lawler:
Are you crazy JR? Look at Maryse she gorgeous.
"Good Ol' JR" Jim Ross:
The only thing I like to see is Maryse walking away because that means she's got someone else in her cross hairs ready to take them out and not me.
Jerry "The King" Lawler:
Oh baby...look JR she's about to bend over to flip her hair.
"Good Ol' JR" Jim Ross:
Easy Tiger, we've got an entire show to call and we don't need you passing out from excitement at the very beginning.
Show Opener, Single Match: "The Tattoo Beauty" Laura Jackson vs. "The Sexiest of the Sexy" Maryse
As Laura Jackson enters the ring, Maryse takes one look at her and points and begins laughing. Laura looks down at herself to see what could be wrong and finds herself taken down with a hard clothesline from Maryse. Maryse takes her head and begins to ram it into the mat repeatedly with a look of disgust on her face and as she releases Laura's head she throws her hands up in the air. Maryse pulls Laura to her feet and Laura throws a Roundhouse kick to the ribs that staggers Maryse. Maryse's face twists into a snarl as she pulls Laura into a Spinning Backbreaker and then nastily shoves her off the knee. Maryse stands and goes to grabs Laura's legs but Laura squirms and manages to pull her legs free and kick Maryse backwards. Laura quickly pulls herself to her feet and blasts Maryse in the face with a Superkick. As Maryse goes down, Laura wastes little time hooking the leg for a cover, she gets a two count for her efforts before Maryse rolls her shoulder up. Maryse backs up holding her nose and glaring at Laura. Maryse scoops Laura's legs out from under her and grabs her feet and quickly drags her towards the ropes and hits a Decavitator. Maryse rolls Laura over and rolls up her back and locks in the Camel Clutch but the referee forces her to break the hold as Laura's feet are under the bottom rope. Maryse rolls her eyes at him and grabs Laura by the hair pulling her up off the mat and she locks her in position for a French Kiss (Snap DDT). Maryse lazily lays on top of Laura while mushing her face with her free hand and bobs her head with the referee's count 1...2...3! Maryse rolls off of Laura and throws her hand in her face and whispers "Get off Maryse's show, you no belong here on Oblivion. You belong with the rest of the circus over there on Wednesday Night Wreck. This is final warning! With that Maryse throws her hand in Laura's face again and stands.
Backstage Syren is shown watching the monitors with an unimpressed look on her face and she is approached by Becky Bayless with microphone in hand.
Becky Bayless:
Excuse me Syren but I couldn't help but notice you watching that last match with a look of extreme...well let's call it intensity. Why are you interested?
Syren looks at Becky and rolls her eyes walking away saying nothing.
--------
Tag Match: Blake Knight & Eve Torres vs. Alex Riley (accompanied by: Stacy Keibler) & Syren
[/b][/u]
Eve and Syren are the first to start off this tag match as they advance on each other and lock up in the center of the ring. Syren shoves Eve to the mat quickly before putting the boots to her, kicking her as hard as possible all over her body. Eve crawls to the edge of the ring but Syren connects with a baseball slide to knock her off the apron. Syren follows her out of the ring and grabs her by her hair. Eve attempts to fight Syren off with a series of forearm shots but Syren's having none of it as she uses her grip on Eve's hair in order to smash Eve's face into Syren's knee. Before Eve can fall back, Syren tosses her back into the ring. Syren goes for the immediate cover but Blake Knight helps to break up the pin. Syren drags Eve back to her feet and the two begin to exchange a series of chops to each other's chests. Eve eventually dodges a shot and runs off the ropes. She flies back at Syren, delivering a Running Front Flip.
Syren collapses to the mat, allowing Eve to cover her. Syren manages to kick out at 2. Syren then crawls to her corner, tagging out to Alex Riley, as Eve tags in Blake Knight. Blake and Alex exchange words with each other in the center of the ring, before Alex delivers a right hook to the side of his face. Blake responds with a hard slap. Blake then runs off the ropes, gaining enough moment to hit a powerful Spear, breaking Alex in half. Blake doesn't go for the cover here, instead waiting patiently for Alex to return to his feet. As he does, Blake runs forward with a Superkick attempt but Alex Riley dodges it and catches him with a backbreaker. As Blake stumbles to his feet, Alex drives him back into the corner, pushing him against the turnbuckles as he delivers an onslaught of chops to his chest.
Blake eventually manages to tag back out to Eve, as Alex tags out to Syren. Syren and Eve lock up but Syren powers Eve down. She then follows up with a German Suplex Pin but Eve powers out. With Eve getting into a seated position, Syren takes the opportunity to hit her with a dropkick to the face. Both return to their feet and Eve manages to hit an Enzuigiri. Syren stumbles back into her corner and keeping with the frequent tags, she tags out to Alex Riley again, meaning Blake Knight is also tagged back in. Blake successfully hits a quick Superkick to Alex Riley. Before he can go for the cover, he finds Stacy Keibler stood on the ring apron, shouting something at him. This just allows Alex Riley to regroup and pull Blake Knight into a schoolboy roll-up. Alex Riley pins Blake Knight for the second week running in order to pick up the victory for himself and Syren.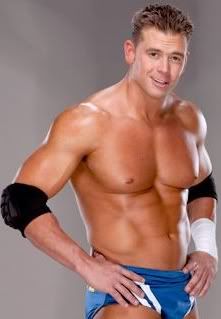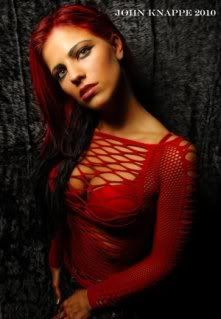 --------
Back in the locker room area. Genesis was seen sitting down in a chair. Applying the finishing touches to his ring gear. As he begun to place his knee pads on. One after the other. Morrison walks in. As he stands up to confront him. You can feel the tension in the air. So thick, that it can be cut with a knife.

Before you say anything. Lemme just say one thing to you, bro. I heard everything you had to say last week as it regards myself and Maryse. You've obviously heard my side of the story. Its clear that we aren't on the same page. We seem to be coming out there on own agenda's & whatnot.

I was going to leave this message on your phone earlier. But its best that you know now. Christian dumped Maryse high and dry last night. Then proceeded to call me up and attempted to recruit me. In order to destroy Ego Trip, and get back at Maryse. Seems like our old buddy Captain Dipshit is up to his tricks again.

But the bottom line is? You and I need to get back to the way we were before. Only better. You've stepped up your game recently. I'm stepping up mine as well. But doing so won't do us any good if we are at each other's throats. So I'm calling a truce. Lets put all this senseless, childish bickering aside and take care of business at hand.

Gen. extends his hand out to Morrison. As he came off quite sincere to him. He knew one thing. The only way Ego Trip would be able to demolish Chris Jericho & Christian would be if the two were united. United they would stand. Divided, they would fall.
The Shaman Of Sexy||John Morrison
In all honesty I am not surprised that Christian is trying to break up Ego-Trip, I mean after all we own Oblivion and he want to knock us off the top, and he used Maryse to try and achieve his goal. He almost succeeded as well. I agree we need to get back to the way things where Genesis.

Tonight we do three things tonight. One we prove to UFWA That Ego-Trip is a Force to be reckoned with, and Two we shut down Jericho and Christian, and Three We are going to take back Friday Night Oblivion. Why? Because WE Own it. Glad to see we're on the same page Genesis.
Morrison quickly shook Genesis' hand he was not surprised that Christian was trying to recruit Genesis in order to break Ego-Trip up. Ego-Trip is what sets the standard for Friday Night Oblivion and with a smirk on his face Morrison began planning.
Genesis
[/u][/color]
You see, what Jericho, Christian & The Motorcity Machineguns need to realize is this. Being a couple of pricks and playing games doesn't make you a successful team. Hard work, dedication and the will to be the best at what you do? Those my friend are the credentials needed to get the job done. Christian & Jericho have been teaming for how long now? A couple of weeks? Look at us. We've been together for months now. We are consistent, and frankly? We are the very best this company has.

As for the Machine Guns. I'll give them credit. I don't have to like these guys. But I respect them. They are the 2009 Tag Team of the Year. They've more then paid there dues. The problem with them is simply this. There time has come, and gone. They might still be a couple of young, hungry lions. But on the same token. They are a couple of overrated, young hungry lions.

Do they really think by holding the Tag Team Championships makes them 'better' then us? I don't think so! After all, its the man, or men in this case that makes the belts shine brightest. Not the other way around. So you can only imagine what's going happen once Ego Trip becomes the Tag Team Champions. We will single handily make this Tag Division look good once again. Not only that? Our stock, our salaries will rise ten fold. We will bring back prestige to the already tarnished & tattered gold.

But for now? We've got business to take care of with those two spoiled, Canadian brats!

Christian tried to pull a fast one on us. No doubt about that. Out of this however. He only made us stronger then ever before. The love Maryse once had for him is now shattered like broken glass. Matter of fact. She despises him just as much as you & I. Whatever they had in the past has now withered down to ashes, and blown away within' the winds of time. Far as I'm concerned. I'm not worried about all that anymore. All I care about now is putting an end to all of this once & for all.

As for Jericho? Rumor has it that he's too busy playing patty cake with Cheeka to even care about Ego Trip. So as far as 'Y2J' is concerned? Putting him down to sleep will be as easy as knocking him out with my bare fist again. haha!

But look at this way, John. The sooner we dispose of these parasites. The sooner we get what is ultimately ours for the taking. The UFWA Tag Team Championship Belts. As for that? Well, I have a feeling if we don't get our rightful title shot after we're through with Chris Jericho & Christian? I have a plan that's gonna change all that in due time.



Speaking of plans. I can see your wheels turning inside that sick brain of yours. What is it do you have in mind?

Gen. says as he folds his arms. Patiently awaiting what Morrison has to say next.
The Shaman Of Sexy||John Morrison
I agree with what you just said, Taking out Jericho is going to be a snap since he is to busy playing Grab Ass with that skank of a woman Cheeka, Katrina whatever the fuck her name is. Christian on the other hand just makes me laugh, it's pathetic to see how far the mighty have fallen. Then again when the hell were Christian and Jericho ever mighty?

As for Maryse, It's great to finally have her back on our side, she'll be an intricate part in my favorite Scenario I like to call Mind Games, we're going to not only destroy Jericho and Christian physically... But Mentally, the kind of Mind Games I play are what made me a champion, I expect nothing but your best and I am going to give you and Maryse my top form, Each and every single week... Am I understood?
Morrison was no longer playing a mire child's game. He is the Master of Mind Games, a New day Cerebral Assassin if you will think of it that way. Morrison had that twisted smile on his face. The tactics he used is what made him who he was today.
Genesis
[/u][/color]
Only in there minds were they ever considered 'mighty'. Anyone with a brain would be able to see past all those infamous put downs and wise cracks. Its like I said weeks ago. Jericho & Christian are better off joining a circus then being in the wrestling business. All they care about is pandering to there circle of friends. The few they have left anyhow. Just so they can all have a laugh and jerk each other off afterwords. Telling themselves how 'great' they think they are.

Us? We don't need to play the 'comedy' routine 24/7. We pander to nobody. We are Ego Trip. We do what we want. When we want, and how we want to do it. They like to play games with people's minds. Well (laughs), they just played games with the wrong damn players. Mind games is what they want to play? Mind games it is then. We shall beat them at there own little game. They wanna try & manipulate us? By all means. Go for it. I can guarantee it won't work. At the end, it will be them that's gonna be left feeling double crossed. Then when they try to play the attention game with the public. Whining, and bitching, and moaning to the public? All there's left to do is to sit back, watch the fireworks go off and laugh our heads off at the beautiful disgrace we have created before our very own eyes.
The Shaman Of Sexy||John Morrison
Exactly right Gen. We are Ego Trip, as far as Jericho and Christian go, they are no where near our level, as you said we are not a Comedy. When it comes right down to it When we say We're gonna do something, then we do it. End of Story. If we say we're going to destroy the 'Greats' of UFWA then by god we're gonna do it!
Morrison was laughing by now at how things were just so easily coming together.
Genesis
[/u][/color]
Whether we finish our business tonight. Or, we finish off Jericho & Christian at another time & another place? One thing's for sure. Ego Trip is going to on top for a very long time to come. If people don't like that? Tough. They better learn to live with it. And learn to love it!

The Shaman Of Sexy||John Morrison
Ego-Trip, Let's Roll...

Afterwords, the camera fades to black.
--------
Best of 3 Series (Match 2), Tornado Tag Match: "Y2J" Chris Jericho & "Captain Charisma" Christian vs. Ego Trip (John Morrison/Genesis)
[/b][/u]
"Good Ol' JR" Jim Ross:
Well this situation between Genesis and Christian is about to turn for the worst. There are reports of Maryse meeting Christian for dinner out in town and she was seen leaving in tears.
Jerry "The King" Lawler
If there is one thing any man hates, it's to see a woman cry, especially one that you love. Genesis will be out for more than blood tonight I would think.
"Good Ol' JR" Jim Ross:
Yeah but it could've been a doop, how often have you known that Jezebel Maryse to cry.
Jerry "The King" Lawler:
That's a good question JR, I don't think I've ever seen Maryse cry.
"Good Ol' JR" Jim Ross:
My point exactly King, it was probably a damn set-up and she left and went to Christian later that night.
Jerry "The King" Lawler:
Either way then Genesis will still not be the man to run across tonight cause that means she didn't go home and if a woman like Maryse doesn't come home, you better be worried.
The bell rings and Christian and Jericho casually walk up to Ego Trip in the middle of the ring and Jericho goes to say something to John Morrison but finds himself popped right in the mouth and this contest gets underway. They trade blows back and forth neither side getting the advantage. Morrison and Genesis both grab the wrists of Jericho and Christian and whip them across the ring, upon hitting the ropes, both Jericho and Christian duck and rebound with dropkicks to the chest of the men of Ego Trip. They both leap in the air and hit elbow drops to the chest. As Morrison goes to sit up he is met with a Springboard Dropkick from Jericho. Genesis is pulled up by Christian and given a Peep Slap to which Genesis kicks Christian in the gut and quickly steps behind him to deliver a German Suplex. Morrison has just kicked out of a pin attempt that got a one count and Jericho is pulling him to his feet. Morrison throws two punches to the gut and delivers a hard Pele' Kick to Jericho's skull. Jericho begins to sit up and Morrison takes off and blast him with a running knee to the face. Christian is now on his feet and he throws some punches at Genesis before whipping him into the corner. Jericho is being pulled up by Morrison but Jericho wraps his arms around Morrison's neck and delivers a Codebreaker. He then runs to the ropes and leaps off with a Lionsault and hooks the leg. The referee slides into position and makes the three count.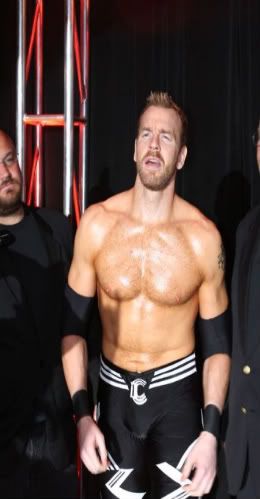 --------
Single Match: Gail Kim vs. "The Lovely" Lacey
[/b][/u]
Gail and Lacey meet with a lock-up to start. Within seconds, Lacey breaks it and quickly goes behind Gail. She wraps her arms around her waist, taking her over with a German Suplex. Lacey runs forward quickly with a punt-like kick to the head of Gail to send her crashing straight back to the mat. Lacey goes for the quick cover but somehow, Gail manages to kick out. From here, Lacey rolls Gail over and locks in a Cobra Clutch. Lacey continues to apply further pressure in order to weaken Gail but Gail eventually finds a way to battle out of it. A frustrated Lacey brings Gail back to her feet and rushes her back into the corner. She follows up with a series of shoulder thrusts into her gut. As Gail stumbles forward, Lacey connects with a Spinning wheel kick. Lacey once again goes for the cover but picks up a near-fall as Gail kicks out.
Lacey brings Gail back to her feet, attempting a clothesline. Gail manages to dodge the shot, catching Lacey with an impressive hurricanrana, which she transitions into a pinning predicament. Lacey manages to power out but now with Gail in control; she takes Lacey over with a Springboard Arm Drag. She then follows up with a second. Both women spring back to their feet. Lacey whips Gail into the ropes but Gail reverses mid-way through. Lacey crashes into the ropes, allowing Gail to run at her with a dropkick square to her chest, which is powerful enough to send Lacey tumbling through the ropes. As Lacey uses the ring barricade to help herself back up, she suddenly finds Gail Kim flying at her with a Suicide Dive. The crowd continue to cheer for the effort being put into the match by both women.
Eventually, both women find themselves making their way back into the ring. As Gail launches herself towards Lacey, she side-steps it and pulls Gail into a Double Knee Backbreaker. Lacey hooks Gail's leg in a cover but Gail puts her foot on the bottom rope. A frustrated Lacey brings Gail back to her feet. After driving her knee into the midsection of Gail, Lacey looks to finish her off with an Implant DDT. Gail manages to block the move connecting and instead, Gail quickly pulls Lacey into position for the Eat Defeat (Inverted stomp facebreaker), which she hits perfectly. After yet another impressive match between the two, Gail Kim quickly takes the opportunity to cover Lacey to pick up the win.
--------
Single w/Manager match: Cheerleader Melissa (accompanied by Samoa Joe) vs. "The Straightedge Savior" CM Punk (accompanied by "The Phenomenal" AJ Styles)
[/b][/u]
Instead of just AJ Styles accompanying CM Punk to the ring, the rest of their Straight-Edge Society comrades, Rex Styles and Rain also join him at ringside. Cheerleader Melissa doesn't let the numbers game bother her as she is first to make a move as she runs at Punk with a powerful clothesline. She follows up with a second after Punk returns to his feet. As Joe continues to cheer Melissa on, she grabs Punk by his hair and brings him back to his feet. Melissa strikes Punk with a Backhand Chop, causing Punk to crash to the mat. He then rolls to the outside as the rest of the Straight Edge Society comfort him. Eventually Punk is urged back into the ring. As Melissa goes after him, Punk lashes out at her with a sudden lariat. After sending Melissa to the mat, Punk rolls her onto her back. He stands slightly above her before laying into her with a series of forearm shots. After bringing her back up to a vertical base, Punk prepares to hit a dropkick. As Punk is in mid-air, Melissa side-steps him, causing him to crash and burn.
Melissa is quick to take advantage of that as she rolls Punk over, smashing him to the mat with a Curb Stomp. With Punk seemingly out, Melissa drags him back to his feet. She rocks him with an uppercut before taking him back down in the form of a Reverse STO. Melissa stands above the body of CM Punk and poses for the fans, who cheer, leaving the Straight Edge Society to desperately try and get their leader back into the match. Eventually, an unsuspecting Cheerleader Melissa gets pulled into a roll-up from Punk. Thanks to Samoa Joe dragging the referee out of the ring, the count is stopped. Joe yells at the referee to plead his and Melissa's case but because of that interference, the referee ends up disqualifying Cheerleader Melissa because of Joe's actions, meaning that CM Punk is declared the winner.
Immediately following the match CM Punk smirks at how easy that match appeared to be. The SES celebrate their 'victory' as they watch Melissa and Joe's actions carefully next. Samoa Joe enters the ring and desperately apologizes for his actions while Cheerleader Melissa just glares at Joe before leaving the ring and returning backstage. CM Punk places a hand on Joe's shoulder and says the words "Tough luck, man" to him. Joe pushes Punk's hand off of him, ignoring the SES as he follows Melissa backstage.
--------
Backstage, we see Jimmy Jacobs and Lacey just chilling in their locker room, discussing what had happened earlier in the night with Lacey's match. Suddenly, Marcus Brett makes his way into the room, standing in front of the two.
Marcus Brett:
"So, I hear you wanted to talk to me."
Jimmy Jacobs
- That I did, Marcus, that I did.
Jimmy stood up and looked at him, adjusting the championship belt he had thrown over his shoulder.
Jimmy Jacobs
- I just wanted to first of all thank you for your help last week, you know I appreciate it. Not as though I couldn't have got the job done myself but there's no doubt in my mind that The Rock is more pissed off than ever before. So judging by what he said this past week, our actions in last week's Main Event got to him. He may not be showing it as much as I'd like to see but as far as I can tell, he's just masking his anger and upset with humor. We won't let that act drag on for too long.
Marcus Brett:
"It's no problem, Jimmy. Any way that I can help out, you know I will. Afterall, that'll teach him for getting in our way and starting shit with us."
Jimmy Jacobs
- Ah, well that brings me onto my next point. It looks like tonight it's you and I against Rocky in a handicap match. I think it's fairly obvious how that came about but...
He paused for a moment, looking down at the title on his shoulder again before looking back to Marcus.
Jimmy Jacobs
- Marcus, if I have to defend this title anytime soon, it's going to be against who I want it to be. And believe it or not, you're the one I'd want to face. At the next PPV, if it was up to me, it'd be you and I stepping between those ropes and fighting it out for the World Heavyweight Championship. But I think we all know that's not going to happen until we eliminate The Rock. I know this was most likely the plan anyway but I propose we keep this alliance running in order to do that. You, myself and Lacey against The Rock all the way.
Marcus Brett:
"I hear ya. But don't worry, JJ, we'll get that out the way tonight. That guy has no chance in hell of beating both of us tonight. Last week was enough for him, so this week should be a helluva lot easier. I mean, Rocky's feeling pretty damn confident about this week, ain't he?"
Jimmy just shrugged his shoulders.
Jimmy Jacobs
- Let's just see about that... we'll have to put a stop to that misplaced confidence of his. Let's just get the job done this week, man. Get Rocky-boy out the way and then it'll be easy going from there. Let's do this.
Jimmy extended his hand to Marcus who nodded his head in agreement and then shook his hand as the scene cut back to the ring for the next match.
--------
Mixed Tag Match: Taylor Wilde & "American Dragon" Bryan Danielson vs. "Puppy Queen" Debra & "Stone Cold" Steve Austin
[/b][/u]
Debra begins with a Hard Slap to the face of Taylor Wilde to immediately get this match underway. Debra then clubs Taylor in the back to send her crashing to her knees. As Debra brings Taylor back to her feet by her hair, she delivers a Hair-Pull snapmare. Debra then goes for the cover but Bryan Danielson assists his partner by breaking up the pin. Danielson returns to his corner as Taylor manages to turn things around on Debra. After connecting with a swift Tilt-a-Whirl transitioned into a backbreaker, Taylor goes for the cover herself. This time, Steve Austin breaks up the cover. He then pulls Debra to his corner so that she can legally tag him in. As she does, this then requires Taylor to tag in Danielson. Both he and Stone Cold meet in the center of the ring and exchange some words between one another. Austin is first to make a move in the form of a right hook to the jaw of Danielson, sending the American Dragon stumbling backwards slightly. Austin then follows up with a Spinbuster.
He then drags Danielson into a corner, laying into him with several mudhole stomps. After getting in the face of Danielson and yelling expletives at him, Austin pulls him back into the center of the ring to go for the cover. Taylor returns the favor from earlier on in the match as she helps to break up the cover. A frustrated Austin brings Danielson back to his feet, setting him up for the Stone Cold Stunner. Before he can connect with the move, Danielson escapes by delivering a quick headbutt to Austin. He then takes Austin overhead with a Northern Lights Suplex. Austin powers out of his following pin. As Austin once again manages to turn things in his favor, he delivers a catapult to Danielson, causing him to snap throat-first off of the center rope. As Debra cheers him on, Austin taunts the crowd. This just buys Danielson some time to recover as he runs at Austin with a Discus Elbow Smash. Austin crashes to the ground but begins making his way to his corner.
Austin soon makes the tag back out to Debra, as Danielson does the same to Taylor Wilde. Debra enters the ring with an impressive Crossbody, staying on Taylor for the cover. Taylor just manages to roll her should up and kick out at 2. Debra stays on the attack, driving an elbow into the chest of Taylor. As Debra drags Taylor to her feet, looking to end things with the Animal Welfare (Mic Check), Taylor manages to counter. Taylor Wilde suddenly takes Debra overhead with a Wilde Ride (Bridging German Suplex) and holds her there for the cover. Debra powers out much to the surprise of Taylor. Debra wastes little time in connecting with the Animal Warfare, more successfully this time. With Danielson and Austin still fighting it out ringside, Debra successfully picks up the victory.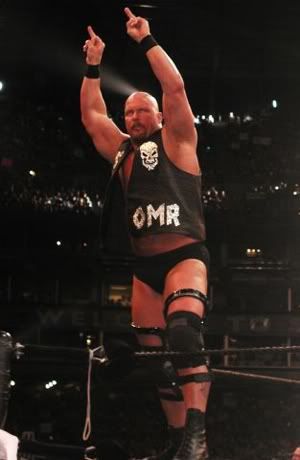 --------
Casey and Shelly are the special time keepers and not really involved in that match, but in some way Casey really can't resist to offend and threaten Nicole again. So, before the match starts, she takes a micro. The fans begin to boo at her, but she really doesn't care about it.
~Casey~
Oh Nicole ..you're really even more stupid than I thought. I gave you a warning backstage as I attacked you and I gave you a second warning last week at the show and I really hoped that you would learn your lesson. But it seems that you're too stupid. Don't you see that the only reason that you aren't in hospital is your sister Kirsten? I only showed mercy on you cuz of her.
Casey shakes her head and then she wipes some of her blond hair out of her face.
~Casey~
I told you that it's better when you stay away from the ring. So why do you have to try that stupid comeback? You know me and you should know that I won't give you a second chance. The next time we meet I will really injure you and end your career forever.
I know that I'm only the time keeper here tonight, but that doesn't mean that I can't do anything. You can be sure that we two will get in contact tonight.
Casey laughs out in a dirty way.
~Casey~
And this contact won't e very nice, at least not for you. I promise that I will bring you to hospital tonight hun. Yeah, you've heard right, your career will end before it even began and this will happen tonight.
She laughs again and puts away the micro.
--------
6-Woman Tag Match: The Beautiful People (Angelina Love/Velvet Sky/Natalya Neidhart) vs. UFWA Women's Tag Team Champions Hazee James (Daizee Haze/Mickie James) (accompanied by: Nicole Franceschi) & Diva's Champion "The Radiant" Rain
Special Guest Timekeepers: No Remorse (Shelly Martinez/Casey Cortez)
[/b][/u]
Angelina Love and Daizee Haze square off first. Daizee begins to lay into her with several forearm shots which sends Love reeling against the ropes. Daizee looks to follow up with a dropkick but Angelina drop down, bringing the top rope with her. Daizee flies over the top rope but manages to hold on. Instead of crashing to the ground, Daizee lifts herself back into the ring over the top rope in an amazing feat of strength. Angelina strikes her with a clothesline but Daizee springs back to her feet. The two square off again and this time, Daizee takes her over with a snapmare. She finishes off with a dropkick to the face of Love, sending her crashing back to the ground. Daizee doesn't bother going for the cover. Instead, she drags Angelina Love to her corner and tags out. She offers the tag to Rain but she shakes her head and points to Mickie. Daizee narrows her eyes at Rain, while she tags out to her usual partner, Mickie James. Mickie and Daizee both continue to kick Love further into the corner but eventually, Natalya and Velvet have had enough as they storm the ring and pull both members of Hazee James back by their hair.
A brawl breaks out between the teams; leaving the referee to struggle to force them all back to their respective corners. Eventually, the legal women, Angelina Love and Mickie James are the two left in the ring. Angelina boots Mickie in the midsection before catching her with an enzuigiri. Angelina then makes the tag out to Natalya Neidhart. This also allows Mickie to head to her corner again. She extends her hand out to Rain but once again, the Diva's Champion refuses to be a part of the match. Once again, a tag is made between Mickie and Daizee. Daizee and Natalya lock up but the strength of the "Queen of Harts" proves to be too much for the 1/2 of the Women's Tag Team Champions. Natalya continues to toss Daizee Haze around the ring but as she goes to finish her off with a Nattie By Nature (Spinning Powerbomb), Daizee manages to counter mid-move.
Daizee takes Natalya down with a Mind Trip (Snapmare driver) but is too exhausted to go for the cover. As Mickie James and Nicole Franceshi will her on, Daizee eventually drags herself to her corner in order to tag out to Mickie James again, as Natalya returns to her feet. She drives Mickie to the mat with a quick spinebuster before dragging her back up and attempts to the Nattie By Nature again. Mickie also manages to block the move and hit a quick Mickie–DT. Before she can go for the cover, she finds herself assaulted by Angelina Love and Velvet Sky, while No Remorse distract the referee. As the referee turns back, Love and Sky return to the ring apron but no Natalya is back in control. Mickie desperately looks for the tag but Daizee finds herself yanked off of the ring apron by No Remorse.
This leaves Mickie ready to tag in Rain but the Diva's Champion drops down from the ring apron herself and wonders over to the announce table, where she grabs her championship belt and begins to walk off up the ramp. As she does, Natalya Neidhart smashes her in the back of the head before grabbing her title and using it against her, ramming it into the face of Rain. Natalya continues her beatdown on the Diva's Champion, while Mickie is left to the mercy of The Beautiful People. Mickie attempts to fight off the duo but The Beautiful People connect with the Makeover (Russian Legsweep by Sky and a running Bicycle Kick by Love) to Mickie James. As No Remorse continue to beat down Daizee Haze and Nicole Franceschi, Velvet Sky quickly pins Mickie James to pick up the victory for The Beautiful People.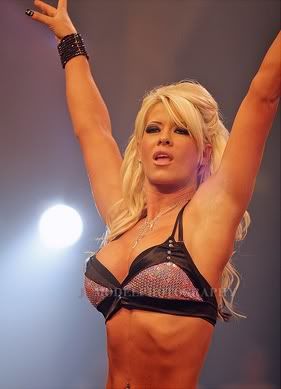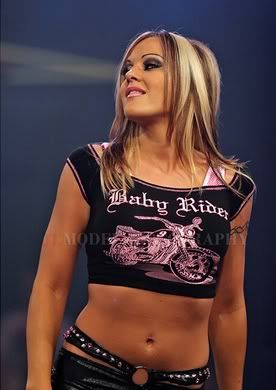 Immediately following the match, The Beautiful People make their way up the ramp, celebrating their victory before they disappear backstage. Rain also returns backstage, leaving Nicole Franceschi to help Daizee Haze and Mickie James to their feet while No Remorse slide into the ring and attack them from behind. However, it's not long before the numbers game adds up and Hazee James are the team in control. Daizee Haze and Mickie James take care of Shelly Martinez with a Rolling Double Knee Jawbreaker (Mickie lifts Shelly into a wheelbarrow position as Daizee hits her with a Double Knee Facebreaker). Meanwhile, this leaves Nicole to beatdown Casey Cortez to gain a little payback. Nicole takes Casey down with a Leg Lariat, before she mounts Casey, laying into her with a series of punches. Nicole then connects with a Springboard Moonsault. Daizee and Mickie slide a steel chair each into the ring. Nicole places one beneath the head of Casey, while Nicole smashes the other chair across her skull, hitting her with a con-chair-to.
Daizee, Mickie and Nicole all pose above the broken body of Casey Cortez as a groggy Shelly Martinez crawls towards her partner to check on her condition.
--------
Tables Match: "Cowboy" James Storm (accompanied by: "Pride of Tennessee" Jacqueline) vs. "The Inked-Up" Extremist" Rex Styles
[/b][/u]
"Good Ol' JR" Jim Ross:
King as if this next rivalry wasn't already brutal enough, we find out the winner of this series of contests will be the Intercontinental Champion.
Jerry "The King" Lawler: This feud has just escalated from bad to worse when it comes to exactly what these two are going to do to one another in that ring.
As the referee rings the bell both men burst out of their corners and meet in the center of the ring exchanging heated haymaker like blows. The referee is ignored as he shouts at both men to stop fighting with closed fists but this being a Table match he can't disqualify anyone. Storm gets the better of Rex as he catches him right in the nose with a right cross to the temple. Rex is staggered and Storm pulls him into Eight Second Ride (Spinning bulldog). Jacqueline shoves a chair under the bottom rope which Storm quickly spies and snatches up for his use. He cracks the rising Rex Styles over the head with the chair and as Rex goes down on all fours and Storm lifts the chair again and slams in on Rex's back. He continues the until Rex is lying flt on his back. Jacqueline is now in the ring setting up a table. Storm smiles and pulls Rex to his feet and drags him over towards the table. He goes to lift Rex who struggles until he is cracked in the back with a chair shot from Jacqueline. Storm picks Rex up and Powerbombs him through the table picking up the victory for the evening.
--------
Main Event, 2 on 1 Handicap Match: The Rock vs. Marcus Brett & UFWA Heavyweight Champion Jimmy Jacobs (accompanied by "The Lovely" Lacey)
[/b][/u]
Immediately as The Rock enters the ring, Jimmy and Marcus begin to beat him down. Both begin kicking away at the body of the grounded Rock. Eventually, Jimmy steps back and allows Marcus to take care of business. Marcus drags Jimmy to his feet Irish Whipping him into the ropes. Rock manages to counter so that Marcus ends up crashing into the ropes. The Rock catches Marcus on his shoulders, dropping him with a Samoan Drop. As Marcus rolls out of the ring, Jimmy runs in and takes The Rock down with a Thesz Press, taking him to the mat before laying into him with punches. The Rock pushes Jimmy off of him and the two spring back to their feet. The Rock quickly runs forward and connects with a Flowing Snap DDT. Rock follows up with a kip up, leading to a huge pop from the crowd. As The Rock turns back to Jimmy, Jimmy strikes him in the gut with a few shots. With The Rock sent down to a knee, Marcus runs in with an Enzuigiri.
After dragging The Rock to his feet, Marcus runs forward, clotheslining him over the top rope. As he crashes to the outside, Marcus follows up with a Suicide Dive. Jimmy heads to the outside as well, helping Marcus to his feet. The two then take it in turns of landing a shot on The Rock. The Rock attempts to fight back, tossing Marcus to one side before going to work on Jimmy. He tosses him back in the ring and awaits for him to return to his feet. Before he can make a move, Lacey takes action by sliding into the ring and jumping on the back of The Rock. She continues to yell at him but The Rock responds by grabbing her by her hair, tossing her overhead and down to the mat. Lacey writhes around in pain, causing Jimmy to run in and take The Rock down with a hurricanrana. As they return to their feet, The Rock goes to whip Jimmy into the ropes but he comes back with a Running Arched Big Boot.
This leads to Marcus Brett following up with a Springboard Moonsault. He stays on him for the cover but The Rock manages to find a way to kick out. Marcus and Jimmy double team him again, just beginning to kick away at him repeatedly. Lacey tosses Jimmy's Heavyweight Championship belt into the ring. Jimmy picks it up and awaits for The Rock to return to his feet. The referee begins to pull the belt out of his hands but he and Jimmy break into an argument. This just allows The Rock to suddenly pull Marcus into a schoolboy roll-up. Both Jimmy and Lacey attempt to break up the pin but fail to get there in time, meaning The Rock pins Marcus Brett to steal the victory in tonight's Main Event.
Immediately after the match, a furious Jimmy Jacobs, Marcus Brett and Lacey begin to beatdown The Rock again. This time, The Rock manages to escape by quickly sliding out of the ring and retreating up the ramp, leaving the three in the ring to just stare daggers at The Rock as Oblivion comes to a close.[/center]