Post by Kirsten on Oct 14, 2010 13:48:20 GMT -5
Oblivion opens to the backstage area where Alex Riley is standing with Syren to his right. He has a mic in hand and appears to want to give his thoughts on tonight's 8 person elimination match. Alex pops the collar of his jacket before speaking.
"You want my thoughts on the 8 person tag match tonight Mr. Camera nerd? Well it goes something like this. Now how many times have I beat that punk Blakey? That is right I beat him 2 times. But still he runs back to get his ass kicked week after week. So why would tonight be any different than any other show? Just because you have 3 no correction because Syren has beat Eve Turtle Ass last week backups. Because if anyone put money on you winning this match is stupid. I mean have I not beat you stupid yet? You got to be if you want to be put ageist me. We all know it, your partners and your opponents know you will not survive here tonight. See my teammate Gail Kim had it right when she said "Alex Riley one of the fastest rising stars.""
Alex stops and smirks.
"And tonight after I beat you once again, hopefully Terri will be smart enough to put me ageist some real competition. But then again knowing her, she won't."
Alex then shuts his mouth and stands back as Syren steps forward.
Syren
See, that is the problem, Alex. Terri Runnels, along with the rest of the Oblivion stooges. Are afraid to give us real competition. If you think you've had it bad. Look at me. I've been playing around with a little girl these last couple of weeks. Eve Torres. What has she done lately? Matter of fact. Let me answer that question for everybody. Nothing! Absolutely nothing!
There there is Debra. Please... Debra? Why must I bother messing with this cougar. Too old, and boring for my tastes. Her 'puppies' are now puppy chow. This woman needs to just call it quits & go home back to the kitchen where she belongs.
Then you have Taylor Wilde. Well, to tell you the truth Alex. I'd say something about her. But she hasn't done anything to grab my attention to even acknowledge her. So if you don't mind, sweetie. I'm going to skip her and talk about somebody else that has caught my eye recently.
That person is Maryse.
Maryse. I've had my eyes on you for a long, long time. Since I came back into the wrestling business after a hiatus. I came back to see that you are living a life that I should have had. To make matters worse. I find out that your sleeping around with my ex boyfriend. Then trying to gain the affection of my son?
You can keep your man. I'm not worried about Genesis whatsoever. But for Marcus? I'll be damned if I'm going to let you take away the only thing I have left in this world. Marcus is my son, my only son.
He adores you, and I don't like this. Not one, little bit. He should be loving me, and caring about me. His only mother. But instead? He flocks to you and his father like a leech.
Bottom line, when I'm through taking care of business here with Eve Torres. Your next!
Don't hold anything back. Don't try to act like you've done nothing wrong. Give me your best that you have to offer. Regardless, if your best will be good enough or not to stop me. Because we all know that in the end? Your best won't be good enough.
You mess with Syren? You get BURN'D!
Nothing more, nothing less!
Come on, Alex. We've got some business to attend to.
Syren grabs Alex by the jacket and starts dragging him out of the camera's sight towards the ring. Just thinking about Maryse has Syren fired up & ready to go apparently.
--------
Before the competitors for the opening match head to the ring, instead, an unknown theme plays... that being 'Just a Girl' by No Doubt. Eventually, a new Diva makes her way down to the ring, dressed in a cute school-girl outfit.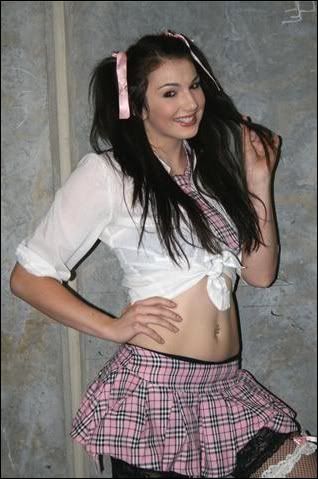 She slid into the ring and hopped up onto one of the corner turnbuckles before posing for the fans, who react with a positive reaction. She grabbed a microphone from ringside before standing in the center of the ring.
Jessie McKay: Ladies and gentlemen, let me put an end to your confusion. My name is Jessie McKay. I'm the newest export from Australia to make it into the big league wrestling promotions. A lot of you may recognize me from SHIMMER, a lot of you may be wondering who the hell I am. Well, I've introduced myself but let me just clarify... I'm Oblivion's newest diva!
That gained another huge pop from the crowd as Jessie smiled widely, obviously very pleased to be here.
Jessie McKay: I'm here for a few reasons. First, I want to succeed. I want to see what it's like to have a taste of the high-life and I'm going to give it my all. And that brings me onto my second reason. I just want to wrestle. That's my passion, that's where my heart lies and I know that now I am in a brilliant company such as the UFWA, I'll get more of a chance to show the world what I can really do! I may only be a rookie but I'm learning as I go... I'm putting 110% into every little bit of training I do. I know I'm not yet as incredible as these other women, but I one day aim to be. Either way, I just can't wait to be a part of this brilliant company!
And I'm here right now not only to say hello to you guys and girls but I'm here to watch tonight's first match very closely indeed, seeing as it involves some of Oblivion's finest women... it should give me an insight into what I'm getting myself into...
With that, Jessie exited the ring and wondered over to the announce table, taking a seat beside JR and King. She placed a headset on and grinned.
"Good Ol' JR" Jim Ross:
Welcome, Jessie. Not only for tonight.... welcome to the company. It's a pleasure to have you here tonight.
Jerry "The King" Lawler:
It certainitely is.
Jessie McKay: Hmm, well thanks guys. It's an absolute honour to be here!
Show Opener, Captain Fall Elimination 8-Person Tag Match: Blake Knight, "Puppy Queen" Debra, Eve Torres, & Taylor Wilde vs. Alex Riley (accompanied by: Stacy Keibler) "The Lovely" Lacey, Gail Kim, & Syren
[/b][/u]
Eve Torres starts for her team, squaring off against Gail Kim. Gail uses her acrobatic skills in the opening minutes to keep Eve down. Gail sends Eve flying across the ring with a headscissors takedown. As Eve springs to her feet, Gail lands a dropkick to her chest to knock her back again. Eve once again drags herself to her feet after using the ropes to aid her. As Gail makes a running start at her again, Eve drops down and sends Gail crashing over the top. Gail lands on the ring apron and slides back into the ring but Eve greets her with a series of kicks. As both women return to their feet, Eve gets caught with a quick Toronto Slam (Double leg slam). Before Gail can go for the cover, Eve scrambles to her corner and tags out to Taylor Wilde at the same time that Gail tags out to Syren. Syren and Taylor meet with a lock-up but Taylor takes her over with a springboard arm drag.
"Good Ol' JR" Jim Ross:
So what are you thinking of the Oblivion divas so far?
Jerry "The King" Lawler:
No need to ask, JR, you know what I think of these lovely ladies!
Jessie McKay: How about I answer that question, King? She said with a giggle. Well, JR, these women certainitely seem impressive so far. Let's just see which teams going to pick up the win here and really impress me.
Taylor then whips Syren into the ropes, taking her over with a quick double knee backbreaker. Taylor then stays on Syren, laying into her with a series of forearm shots. From this position, Syren takes the opportunity to roll over and pull Taylor into a small package. Taylor manages to power out at 2. As Taylor crawls to her corner, Syren pulls her back by her leg. Eventually Taylor kicks her away enough in order to reach her corner and make the tag out Debra. Debra crushes Syren with a clothesline, followed by an immediate second. This then causes Syren to make the quick tag out to Lacey to avoid a further attack. Debra and Lacey lock-up, with Lacey shoving Debra down to the mat with one push. Lacey then drops an elbow across her chest... or attempts to but Debra rolls out of the way. Lacey rolls around, clutching her elbow in pain. This allows Debra to get back up to her feet, bringing Lacey with her. After whipping Lacey into the ropes, Debra connects with a facecrusher.
Debra rolls Lacey onto her back and covers her but Lacey manages to kick out. As Debra drags Lacey to her feet again, Lacey quickly turns the tables as she connects with an Implant DDT. Lacey makes her way back to her corner to tag out to team captain Alex Riley, as the opposing team captain, Blake Knight also gets tagged in from Debra. The two lock up, with Blake pulling Alex into a side headlock. Alex pushes him off, sending him bouncing chest-first into the turnbuckles. Alex Riley then pulls him into position for a backbreaker but Blake blocks the move. Blake prepares to hit a Superkick but Alex manages to dodge the shot and suddenly pulls Blake into the You're Dismissed (Fireman's carry cutter). Alex Riley covers Blake Knight as his team mates hold the opposing team back, meaning Alex Riley, Lacey, Gail and Syren pick up the victory.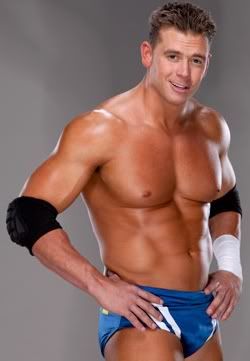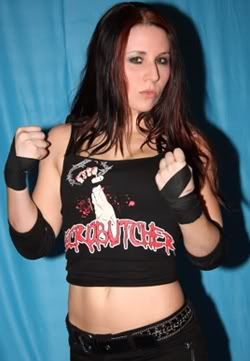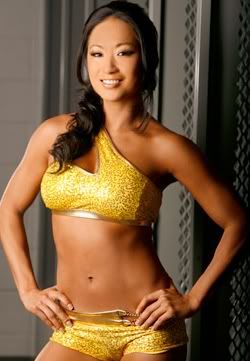 --------
6-Woman Tag Match: No Remorse (Shelly Martinez/Casey Cortez) & "Queen of Harts" Natalya Neidhart (accompanied by: The Beautiful People (Angelina Love/Velvet Sky & "Futureshock Vixen" Kirsten) vs. UFWA Women's Tag Team Champions Hazee James (Daizee Haze/Mickie James) (accompanied by: Nicole Franceschi) & Diva's Champion "The Radiant" Rain
[/b][/u]
Casey Cortez starts with taking on Daizee Haze. The two lock up but Casey takes Daizee over with a hair-pull snapmare. With Daizee in a seated position, Casey drives her knee into the back of Daizee and pulls back on her arms. Daizee screams out in pain as Casey locks in the submission hold but thanks to a brief interference from Mickie James, the hold is broken. An angry Casey Cortez doesn't let that stop her from still beating on Daizee Haze. Casey lays into her with several stiff kicks before dragging Daizee up by her hair and tossing her into the corner. Casey then tags out to Shelly Martinez. Shelly holds Daizee up in position as Casey begins to punch away furiously at her. Casey is soon forced onto the ring apron as Shelly Martinez strikes Daizee with a quick standing DDT, spiking her head to the mat. Shelly goes for the cover but both Mickie James and Rain break it up. Eventually, Daizee is able to make her way to her corner and make the quick tag out to Rain. Rain and Shelly square off with a standard lock up.
The Diva's Champ, Rain forces Shelly down to a knee before delivering a dropkick to her face. Shelly falls back, leaving her open to an elbow drop from Rain. Shelly quickly attempts to scramble to her corner but Rain latches onto her leg. Shelly battles with her but soon kicks Rain off and makes the tag out to Natalya Neidhart. Natalya runs in and quickly takes Rain down with a clothesline, followed by an immediate second one, once Rain had sprung back to her feet. Natalya then brings Rain back to her feet and lifts her onto her shoulders. Natalya slams her down with a Samoan Drop before going for the cover. The Diva's Champion manages to kick out at 2. As Natalya stands up, she momentarily distracts the referee as the Beautiful People take the opportunity to mess with Rain, choking her against the ropes from the outside. Eventually as the referee turns back around, Angelina and Velvet back away and hold their hands up innocently.
Natalya picks Rain up again and begin exchanging a series of chops to each other's chests. Natalya then rakes Rain in the eyes, causing her to stumble back, putting Natalya back in control. This forces Daizee Haze and Mickie James to enter the ring and begin arguing with the referee due to the obvious cheating going on in the opposing team. This leads to No Remorse also entering the ring. Eventually a brawl between everybody in the ring breaks out. Kirsten and Nicole Franceschi also slide into the ring and join the fight. Within moments, the match is ruled out as a no contest as neither team chooses to cooperate and the brawl continues. Eventually, it's the team of Daizee Haze, Mickie James, Rain and Nicole Franceschi who manage to beat-down No Remorse and The Beautiful People enough to cause them to escape the ring and send them retreating up the ramp as Oblivion heads to commercial break.
--------
"Good Ol' JR" Jim Ross: What a brilliant contest, this is what makes me so lucky to have this job and the best seat in the house to see matches like that! Now we... oh my...
Jerry "The King" Lawler: This is why I love my job JR! Its Debra! Puppies! Woo hoo! (whistles) She's wearing an evening gown JR, are we about to have a bonus match?! Gawd I hope so JR!
"Good Ol' JR" Jim Ross: I don't think so partner, Debra took part in the first contest of the evening earlier tonight and I have to say, she'll be making a lot of people stand up and take notice in the Divas division if she keeps performing like she has been doing but... why is she dressed so glamorously at this time? Could it be that Debra is wining and dining with someone?
Jerry "The King" Lawler: She is alone so... I'm free after the show Debra, we could go have a coffee or two... I'll bring the beans, you bring the milk! Woo hoo!
"Good Ol' JR" Jim Ross: Will you stop it! She can't hear you anywho King but if she could... I don't think she would take you up on your offer quite frankly!
Jerry "The King" Lawler: Yea? Well the last time you felt good breasts was in a KFC chicken box... haha!
We see Debra walking down a corridor and then into her locker room, tapping into her cell phone before placing it back into her hand bag. She was humming a little tune as she reflected on what had been a satisfactory night thus far, thanks to another solid performance in the first match of the night. She let out a small giggle as win or lose she was very pleased with her showing, it had been a good challenge for Debra. She was going to enjoy the rest of her evening with dinner for two a few blocks away... she was hungry enough to eat a horse such was the apetite she had worked up in Oblivion's opening match. However her good spirits would be interrupted as she heard footsteps and turning around she gasped as Stone Cold Steve Austin walked up to her with an intense expression.
Debra:
Well... er... hello Steve. What have I done to owe this pleasure? (she rolls her eyes)
Stone Cold:
I just wanted to say you did real good last week in the ring. I was very impressed by your work out there. I used to think you could only be athletic in...
Debra:
(laughs as she prods him) Well, I thank you for your kind words. You did teach me a move or two when we... well you know (she turns away) Look hun, I know you didn't come here just for a social call, what do ya'll want? I got me a date to meet in a little while and I'm done here... so...
Stone Cold:
(looking up and then down) Oh a date huh Debra? Well don't bother with that jackass, cancel your plans because you and I are heading to the bar for a drink or two. What do you think? You look better than ever Debra and I really want to catch up on things... so how about it?
Debra:
(surprised expression as she smells his breath) Oh gawd have you been drinking? Look Steve, I really don't think thats a good idea, the last thing I need is more rumours about what I'm doing in the company. Besides you got a match later on and to be blunt... what exactly is there to talk about? We know each other like that (makes a hand gesture) so do we really have to go back in the past? We were happy but YOU were the one to screw it all up! I won't change my mind honey, so I'm sorry but... hey! Get off me! (she goes for a slap but misses and Steve tightly grips her hand) What the hell are you doing?!
Stone Cold:
(grabbing her and pulling her out into the corridor) You never could do things the easy way Deb... don't fight it. I could see the look in your eyes last week, you want me tonight... and trust me, the feeling is mutual, screw the match! Now lets go have a few drinks and then...lets see how easily this dress comes off like those strip matches you use to always lose! (laughs evily)
Debra:
(anger rises as she struggles in vain to break away from Stold Cold) Unhand me you dang bastard! I'm not going anywhere... please! Get off me! (she trips over her heels and bangs her knees on the cold floor, dirtying her gown as she is dragged towards the parking lot) Ah... let me go, this is crazy! Gawd dang it, somebody help! (she gasps as Stone Cold puts a hand over her mouth)
As we approach the door that leads to the parking lot, four large men come through the door, acommpanied by none other than the General Manager Terri Runnels. The GM of Oblivion looks a bit unhappy with what she is seeing. Debra finally breaks away but puts herself up against a nearby wall looking rather frightened, not daring to try and run incase Stone Cold reacts violently.

Terri scowls as she looked at Steve, shaking her head.
Terri Runnels
- Steve, what do you think you're doing? This is highly innapropriate... don't you think? This is unprofessional and... just wrong! If I dare catch you drunk at work and acting this way again, then trust me, you WILL be fired on the spot. And that's not a threat, Steve, you know I'll do it!
Steve didn't look phased as he opened his mouth to speak and obviously ready to refuse. This lead to Terri looking at the set of Security Guards that had accompanied her.
Terri Runnels
- You fellas know what to do. Get him outta here. For now. I want him sobered up because he's still going to be in the Main Event tonight whether he likes it or not. The people want to see a show and they're going to. But get this man out of my sight, right now!
Terri looked back at the visibly shaken Debra, wondering over to her and putting her arms around her. As the Security Guards advanced on Steve, he raised his middle fingers at them and began shouting obscenaties. Eventually, he found himself dragged off by Security as Terri turned to Debra.
Terri Runnels
- Hey honey, you okay? I'm glad to have bumped into you actually, may I speak to you in my office?
Debra:
I'm alright hun, I just can't believe he would have the nerve to try something like that given our past history... thank you for stepping in like that, I really appreciate it... as for your other question... (smiles) I'd be happy to chat to you for a lil' wile, lead the way Miss Runnels
--------
Single Match: "The Crown Prince" Samuel (accompanied by "The Warrior" Fear vs. 1/2 of the UFWA Tag Team Champions Alex Shelley (accompanied by: Chris Sabin & Melina)
[/b][/u]
As the bell rings, Sam automatically turns to leaning on his turnbuckle, tapping his wrist like there is a watch and shaking his head, laughing as Shelley watches with a glare, suddenly charging at Sam to deliver a hard elbow to the head, bouncing back as he goes to follow up with a dropkick, ending with no-one there as Sam sidesteps and rolling out the ring, withdrawing the momentum before rolling back in, leaving Alex to have to lock up, no distance to run it. The two grab shoulders, only for Shelley to find himself being shoved across the ring, Samuel wiping his shoulders as though they were dirty, laughing in Shelley's face. Taking his time and getting under Alex's skin, Alex goes for another charge, trying to clothesline Sam, only to be once again sidestepped, shoved chest first into the turnbuckle before rolling out the ring, Fear patting his back and laughing himself, the crowd booing. As the two distract each other, both busy trying to annoy Shelley, they miss that Alex is vaulting the ropes, taking the two down with a diving body press, pulling Samuel up, kicking him in the stomach before rolling him back into the ring. He hops onto the apron, lining up for a springboard, however as he jumps to the top rope, Fear jumps up behind him, suddenly forearming his back and causing Shelley to crashland in the ring, Sam pouncing on him and putting on a headlock, choking Shelley out.
Jerry "The King" Lawler:
It's no secret that these, guys, HATE the other team."
"Good Ol' JR" Jim Ross:
That's the truth, King! And after last week, you gotta believe that Sabin and Shelley want to get a win over Royal Anarchy!"
Jerry "The King" Lawler
Well that's just natural, JR, I mean Royal Anarchy are going in with a head of steam tonight, while the Machine Guns HAVE to get the momentum back, or else come the Pay Per View, they go in with no titles even though they're the champions, and come out without the titles or the status.
Hopping back to the mat with a snarl, Sam laughs as he hooks his choking headlock in tight, trying to get a submission win right away. On the outside, Sabin slams on the apron, trying to feed Shelley energy, who in turn slowly begins to stand himself up, working to his knees, a foot, both feet, soon elbowing Sam in the gut to knock him off. Sam stumbles, now with the momentum shifting, Shelley goes to pick up the pace, charging in a clothesline, a second clothesline, followed by a spinning discuss clothesline, leaving Sam now grounded. He goes for a quick pin, Sabin jumping, excited and ecstatic, only for a two count, leaving Shelley frustrated, thumping the mat before getting up, pulling Sam to his feet.
"Good Ol' JR" Jim Ross:
One, two, no! So close, King! Almost the Guns there!
Jerry "The King" Lawler:
That could have been the moment but it takes more to put out Sam! You can't forget, the guy has been wrestling for a while himself!
"Good Ol' JR" Jim Ross:
That's for sure and-wait, what's going on at ringside, what is Fear doing?!
Sure enough, at ringside, Fear had circled round, going right for Sabin, beginning a slugfest of punches and knees to the head and chest, Sabin trying to retaliate, but being on the worse end, striking not being his game. In ring, Shelley had now managed to get energy on his side, landing a good northern lights suplex before following up with a standing leg drop to the throat of Sam, causing him to roll across the ring, holding his neck. Thinking he has time, Shelley goes to the ropes, shouting and arguing with Fear, who finally lets Sabin go, kicking him in the leg and forcing him to the ground, turning to argue with Shelley, he gets closer, Shelley trys to pull the Warrior onto the apron, Fear instead throwing a hard uppercut, sending Shelley reeling, ending up under a rollup, the ref going for the count. One! Two! Shelley manages to kick out, leaving Sam frustrated, him now trying to slow down Shelley as he pushes him into the turnbuckle, beginning to knee Alex in the gut over and over, trying to wear down his cardio, making him easy to pin next time round.
Jerry "The King" Lawler:
Fear caused plenty of commotion, JR! And now Sam has taken advantage!
"Good Ol' JR" Jim Ross:
These two men have started to really get to know the other and working as a tight team, but I really can't condone their methods! It's just dirty play and it's disgusting!
Jerry "The King" Lawler:
Like them or not, JR, they're getting the job done in there!
After a group of knees, Fear jumps to the apron, cheering Sam on, trying to get him to continue, only to end up being hit by a missile dropkick out of nowhere, Sabin having springboarded from the side of the ring, kicking Fear square in the chest and sending him into the announcers table, himself falling into the ring, he quickly stands, charging Sam and dropkicking him in the back. Sam reels this time, ending his knees, he finds himself on the end of a sharp punch to the stomach, rolling back, Sabin kicks the back of his leg, Shelley kicking the front, dropping Sam to his knee. The ref too distracted by Fear, who has bounced off of the table, Sabin and Shelley treat Sam to a kick to the front and back of the head. Laying him out from it, Sabin attempts to jump the ropes, only to meet a now standing though staggered Fear, who lands a fierce headbutt between the eyes of Chris, dropping him on the outside. Shelley however, has already gone for the pin, the ref counting: One! Two! Three! It's over! Alex Shelley picks up the win for the Motor City Machine Guns, leaving both teams drawn up in wins in this twisted saga.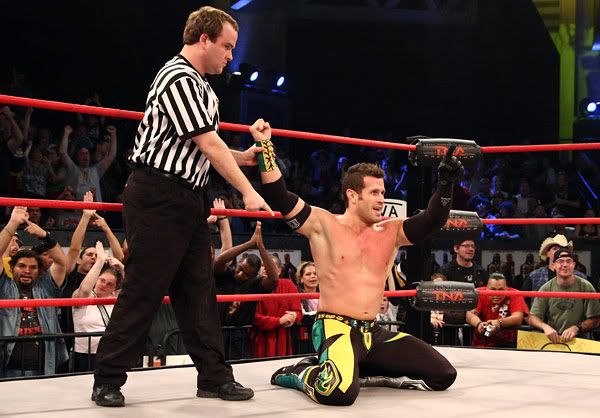 Before he can properly celebrate however, he turns, finding Fear charging with a nasty Head Trauma as the boot follows through, smashing the temple of his head and dropping him to the mat as he rolls Sam out with him, helping him up as the begin up the ramp, mouthing at them about the Pay Per View, dragging hands over their hips as if they were already wearing the belts.
--------
After the previous match, the cameras go backstage to see Becky Bayless stood by with Cheerleader Melissa.
Becky Bayless:
Welcome ladies and gentlemen, I'm Becky Bayless and I'm stood with none other than Cheerleader Melissa. Now Melissa, last week, we saw you unfortunately suffer a loss to CM Punk via Disqualification when your own partner, Samoa Joe cost you the victory. After the match, he tried to apologize but it seemed as though you weren't having any of it... what we're all wondering is have you spoken to Joe yet and sorted things out?[/color]
Cheerleader Melissa:
Woah, woah, woah. Becky, I know what happened and more importantly, I know that's exactly what people want to find out. But let's just put it this way, Joe is on very thin ice with me right now. People know him and I as being best friends who always have each other's backs. But he's let me down far too many times recently. [/color]
Becky Bayless:
So –[/color]
Cheerleader Melissa:
Uh, I haven't finished yet. All I'm here to say today is that Joe... [/color]
She paused as she looked directly into the camera.
Cheerleader Melissa:
You better pull off the victory against AJ Styles tonight because otherwise, you and I are going to have even more problems... go out there and kick ass and prove me wrong, Joe, please....I'm begging you... [/color]
With that, Melissa just looked Becky up and down before storming off.
--------
Single Match: Samoa Joe vs. "The Phenomenal" AJ Styles
Due to the chaos of their first meeting, General Manager Terri Runnels has banned Cheerleader Melissa & All members of the Straight-Edge Society from ringside[/u]
Samoa Joe starts by running forward and taking AJ down with a clothesline. AJ immediately rolls to the edge of the ring but Joe follows him. AJ stays on the apron until Joe reaches over the top rope, grabbing AJ by his head. AJ quickly drops down, causing Joe to snap throat-first off of the top rope. As Joe stumbles back, AJ leaps off of the rope, flipping over in order to catch Joe with an Inverted DDT. AJ quickly hooks the leg of Joe but Joe powers out at 1 and a half. A frustrated AJ Styles gets to his feet and in the face of the referee, arguing that it was a slow count. This just gives Joe the opportunity to Irish Whip AJ into the corner. Joe follows up with few shoulder thrusts into the gut of AJ. AJ stumbles forward and into the arms of Joe, who takes him over head with a Belly-to-Belly Suplex. AJ quickly rolls out of the ring in order to catch his breath. Joe once again follows him.
As he and AJ exchange a few shots, AJ finally ducks and connects with an impressive Pelé Kick on the outside. Joe collapses to the ground, leaving AJ to pose above him triumphantly. The crowd boo heavily but AJ ignores them as he goes back to work on Joe. After tossing him back into the ring, AJ begins putting the boots to Joe. AJ then connects with a senton, followed by a Running Shooting Star Splash. Satisfied that he's grounded Samoa Joe enough, AJ Styles climbs to the top turnbuckle. Suddenly Joe springs to his feet, running to the ropes in order to send AJ crashing down and ending up crotched on the top turnbuckle. Samoa Joe is then able to finish off AJ Styles with the Muscle Buster in order to pin him and pick up the victory here tonight.
As a wounded AJ Styles rolls out of the ring, Samoa Joe takes the opportunity to celebrate his victory. Suddenly, Cheerleader Melissa wonders onto the stage, clapping her hands and applauding his efforts. Samoa Joe doesn't react to this as Melissa drops her arms down to her side and stops applauding him. As Joe poses on one of the turnbuckles and the fans cheer, Melissa just continues to stare at him in the ring as Oblivion heads to commercial break.
--------
With the crowd going wild for the next match, The People's Champ comes down the ramp wearing wrestling gear obviously because his match is next. Stepping between the ropes, The Rock gets on the turnbuckle and raises his arm up getting an even bigger pop then he did when his theme started. Once he steps down, The Rock circles the ring a few times before asking for a mic as his theme dies down. The Rock looks around at the packed arena at all The Rock signs and listens to the crowd before slowly raising the mic up to his lips facing the stage.
Finally...The Rock HAS Come BACK to Day....Ton!
The crowd cheers as The Rock circles the ring.
Before...
The Rock tries to remember his opponent's name.
"
Puff the Magic American Dragon
" steps into the People's ring and gets his ass WHOOPED courtesy of The Great One "and" The Rattlesnake...
The Rock pauses as "Rocky" chants start. After a few seconds, the crowd calms down as The Rock brings his mic back up.
The Rock has to talk about the UFWA title...Now The Rock knows Puffy's partner is none other than the UFWA Champion's Butt Buddy Marcus Brett.
The crowd starts to laugh at The Rock's insult.
The Rock heard what you had to say last week. The Rock heard you talk to your Butt Buddy Jimmy Jacobs about getting the first shot at the title, BUT...
The Rock holds up one finger.
There was...one thing The Rock couldn't quite understand.
The Rock pauses for a bit before continuing.
You said that you were going to "
Eliminate
" The Rock...
The crowd starts to boo even more.
Now if The Rock remembers correctly, he whooped "both" your Candy Asses in a Handicap match last week.
The crowd gets loud as The Rock starts to circle the ring some more.
So The Rock says this; if last week's ass whooping didn't get it through your head, then let The Rock make it perfectly clear for you right here right now live on Oblivion!
The crowd gets loud as The Rock steps up onto the second turnbuckle facing the stage.
The Rock says....no one....
The Rock raises his head up to the ceiling.
AND THE ROCK MEANS....
The crowd finishes with "NO ONE!"
Will ever..."EVER" take out The Rock! So Jimmy Jacobs...Marcus Brett, if you still don't understand what The Rock is saying...if you still want to eliminate The Great One...
The Rock pauses as "Rocky" chants start once again.
The Rock just has three words for you.
The Rock holds up three fingers then opens his hand, sticks his arm out and motions as he whispers.Just...Bring It...The Rock tilts his head to the side acknowledging the crowd.
The People will say it...
The crowd obeys immediately with "JUST BRING IT!!" The Rock turns to the stage once more as she raises his voice.
JUST BRING IT!!!!
The Rock puts his hand down as he raises his head up and yells.
IF YA SMEEEEEEEEEEELLLLLLLLLLL WHAT THE ROCK.....IS....COOKING!!!
--------
6 Person Tag Match: "Y2J" Chris Jericho & "Captain Charisma" Christian & "The Tattoo Beauty" Laura Jackson vs. Ego Trip (John Morrison/Genesis/Maryse)
[/b][/u]
"Good Ol' JR" Jim Ross:
King there is no love lost between any party in this next match.
Jerry "The King" Lawler:
This story gets more heated with every word exchanged between these two teams. Oh go on and say it JR.
"Good Ol' JR" Jim Ross:
Alright I will, this one is gonna be a bona fide Slobberknocker.
Jericho and Morrison start things off after the bell rings circling one another. Jericho jumps at Morrison with a smirk but doesn't fully advance and steps back with a smirk but Morrison doesn't flinch he jumps but he connects with a flying fist to the face. Jericho holds his face as it is now Morrison who smirks but doesn't stop there, he quickly blasts Jericho with a short arm clothesline and as Jericho bounces back up, Morrison takes him down with another. Genesis stares intently across the ring never taking his eyes off of Christian for a moment as Maryse watches with a smile while running a hand through her hair. Morrison picks Jericho up and whips him across the ring into the Ego Trip corner and Genesis grabs him by the neck as Morrison kicks him in the stomach and Maryse throws a hard knee to his back. As Jericho falls to the mat, Morrison tags out to Genesis who enters the ring. Genesis begins to stomp on Jericho repeatedly until Jericho gets his foot under the bottom rope and the referee pulls Genesis back. Jericho slides underneath the bottom rope and begins walking towards his corner and as Genesis slides out in front of him Morrison stands behind him and the two begin their assault until Christian rounds the corner and pulls Genesis off and they begin to exchange blows much to the delight of the crowd. Laura Jackson made her way around the other side of the ring and seeing Maryse pay attention to the chaos and laughing but not paying attention to her gives Laura the opportunity to yank her off the apron and deliver some hard shots before whipping her into the protective barrier. Laura begins slamming Maryse's head into the barrier repeatedly before pulling her up to her feet and lifting Maryse up and sending her crashing down on top of the barrier. Genesis and Christian are still in a fierce battle and Morrison has now climbed back in the ring and dives over the top rope crashing down on Genesis' chest. Christian hits a Peep Slap and all the competitors are stunned when the bell rings signaling a count out. But see Jericho standing in the ring celebrating with his arm raised by the referee.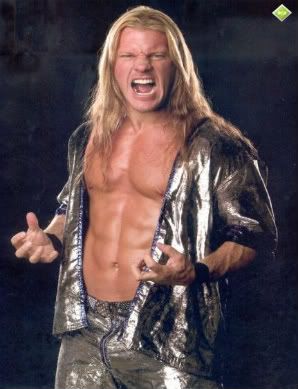 Jerry "The King" Lawler:
JR what just happened?
"Good Ol' JR" Jim Ross:
Well King it all happened so fast that I'm not rightly sure let's watch the replay.
As Morrison leaps over the top rope Jericho rolls out of the way and the referee is at the seven count. Morrison crashed into the protective barrier and is down and out, while Jericho slowly stands with the help of the ring and holding his midsection hears the referee at nine and slides under the bottom rope. Christian is on the other side hitting an Unprettier on Genesis while Laura Jackson has Maryse in a Nighty Night Submission (Body Scissors/Headlock combo -Laura stands in front of a dazed Maryse who is standing and wrap her legs around her waist. She then puts Maryse in a headlock.) As the bell rings Laura releases the hold and Christian stands up with a smug look on his face as Jericho has a grin on his face with his arm raised in the ring.
"Good Ol' JR" Jim Ross:
Well give the devil his due tonight cause Jericho just outsmarted Ego Trip.
Jerry "The King" Lawler:
That was some excellent strategy and that's what it takes to pull one over on the other team.
"Good Ol' JR" Jim Ross:
When motivated by a common goal King, anything is possible but we all know this is far far from over.
Jerry "The King" Lawler:
You're right about that JR and I can't wait.
--------
We see the general managers door, we hear some talking coming from behind it and as it slowly opens none other than General Manager Terri Runnels and Debra emerge having had a good discussion about something with friendly smiles on thier faces. They shake hands and look at each other with positive intent.
Terri Runnels
- So I'm glad you agree. And there's no doubt this is for the best. Only good can come of this, right?
Debra:
Absolutly! It was good to talk with you again, I'm sure that good things will come from this, you had some very interesting ideas and ones that I'm very keen to explore. (smiles)
Terri Runnels
- You're not the only one. I'm very interested to see how all of this is going to turn out... I've been looking forward to working with an impressive individual such as yourself for a while.
Debra:
Why thank you honey, I'll always try and give my best for my employers, the fans, my fellow wrestlers but most importently... for me. When it all comes together, the pleasure will be all mine! (she waves as she confidently walks away)
As Debra walked off, Terri grinned before returning back to her office, satisfied with what the two ladies had just discussed.
--------
Hardcore Match: "The Inked-Up Extremist" Rex Styles vs. "Cowboy" James Storm (accompanied by "Pride of Tennessee" Jacqueline)
[/b][/u]
"Good Ol' JR" Jim Ross:
The road to the Intercontinental title continues tonight in the shape of a Hardcore match.
Jerry "The King" Lawler:
Indeed it does JR.
"Good Ol' JR" Jim Ross:
For those just joining us or are behind on what this situation is all about, a few weeks ago Rex Styles challenged "Cowboy" James Storm to a series of matches that would end at the upcoming Pay-Per-View.
Jerry "The King" Lawler:
The action has been so intense between these two that our Owner "Futureshock Vixen" Kirsten stated that the winner of this series of bouts will become the new UFWA Intercontinental Champion.
"Good Ol' JR" Jim Ross:
That has lead to these two men trying to kill one another and the lovely Jacqueline has been more than involved in these contests as well.
Jerry "The King" Lawler:
That's what makes this so dangerous for her JR. This is for Championship gold and I'd hate to see those pretty puppies hurt in any way.
The match does not even start at ringside as James Storm and Jacqueline were about to give a backstage interview before coming to the ring when Rex flies out of nowhere with a hard elbow to the head taking Storm down. A referee is behind them and the match is underway. Rex begins to pound Storm's head into the concrete until he is bashed in the skull by a steel chair from Jacqueline. Rex releases Storm and holds his head while glaring at Jacqueline who readies to strike him again. Storm grabs Rex from behind by the neck and pulls him backwards while driving a hard knee to the spine. Jacqueline cheers him on and tosses him the steel chair. Rain runs up to assist her fellow SES member and shoves Jacqueline to the floor and grabs Jacqueline's hair with both hands dragging her off down the hall. Storm now has the chair across Rex's neck and is choking him with it. Rex's shoulders are down and the referee begins to count. 1...2...Rex manages to roll his shoulder up and kicks Storm between the legs causing him to release the chair. Rex holds his neck gasping for air while using the wall to lean up against as Storm howls in pain on the floor. Rex pulls himself up still clutching his neck and grabs a nearby broom and kicks Storm in the gut and brings him up to all fours before sitting on his back choking him with the broom handle. After several seconds Rex releases the choke and breaks the broom handle across Storm's back. Opting to not go for the cover but more pain and punishment instead Rex grabs a metal trashcan and raises it above his head and slams it down on Storm. Storm rolls over in pain and Rex licks his fangs before hitting him again with the trashcan. Rex tosses it to the side and pulls Storm up to his feet and drags him over to a nearby catering table he goes to slam Storm's head into a large bowl holding ice and water and Storm reverses it and holds Rex's head under the ice water. Rex struggles and Storm pulls his head out of the water and slams it down into a cake that was on the table. Storm continues to hold on until Rex elbows him in the side twice and picks up the metal bowl and dumps the ice water on Storm and then cracks him over the head with it.
"Good Ol' JR" Jim Ross:
Good Lord King did you see that?
Jerry "The King" Lawler:
Those two are gonna kill each other JR. Can someone see if Jacqueline is okay?
As Storm falls to the floor Rex takes a towel and wipes the remaining cake off his face before picking up a metal trashcan lid and advancing on Storm who promptly kicks Rex in the knee sending him to the floor as Storm now picks up the lid and bashes Rex in the head repeatedly. Storm tosses the lid to the side and wonders off to the side and as Rex begins to stand he finds a giant crate on wheels slamming into to him pushing him back and pinning him up against the wall. Storm delivers a devastating Last Call (Superkick) that connects with Rex's head making it bounce hard off the wall and then he puts his leg down and suddenly lifts it again and delivers another Last Call to Rex. He wheels the heavy crate backwards and Rex slumps to the floor and Storm over clears the entire catering table and picks Rex up and Powerbombs him through the table. Rex is completely out of it as Storm pins Rex and the referee gets down to make the count. 1...2...3! James Storm picks up the victory in this hard fought hardcore match. Jacqueline stumbles up to the scene hair all over the place and clothes ripped but she hugs Storm as the two of them walk off together.
"Good Ol' JR" Jim Ross:
Good lord would you look at the carnege King.
Jerry "The King" Lawler:
This is getting uglier and uglier by the second JR, but I'm glad to see that Jacqueline and her puppies weren't hurt.
"Good Ol' JR" Jim Ross:
You never cease to amaze me King.
--------
The cameras once again go backstage, this time to see Gail Kim wondering down the hallway. She was no longer dressed in her wrestling attire. As she entered the Diva's locker room, she saw exactly the woman she wanted to see... Oblivion newcomer, Jessie McKay sat on a bench, packing up a few of her belongings.
Gail Kim:
"Hey... Jessie, is it?"
Jessie McKay: That's right.
She said as she looked up for a second to greet Gail with a smile.
Gail Kim:
"Well, I'm Gail. Gail Kim. I just wanted to be the first to formally welcome you into the company, and more specifically, Oblivion."
Jessie McKay: Thanks Gail. But there's really no need to introduce yourself... I think everybody knows who you are... you're practically a legend in the wrestling business.
Gail Kim:
"I wouldn't go that far but thanks! But I actually came to talk to you for another reason. I couldn't help but take particular notice of one thing you said during your little speech earlier tonight. You're a rookie, looking for some training, huh?"
Jessie nodded enthusiastically.
Gail Kim:
"Well, how about this... I become your mentor? I mean, I've been in the business for years and I'm always looking to help out others when I can. And I have a sneaky feeling that you're going to be something special in this company. You just need a little guidance and I'd be more than happy to be the one to give you just that."
Jessie smiled as she stood up and pulled Gail into a hug. She couldn't help but smile after hearing that offer and was quick to accept it.
Jessie McKay: Sure, that'd be a dream come true! I'm sure most girls would give ANYTHING to get trained by none other than Gail Kim.
After Jessie released Gail from the hug, Gail giggled slightly.
Gail Kim:
"Hey, don't worry about it. As I said, I'm here to help. But regardless of what most people think, I'm actually not going to be a pushover. And that's why I've decided to maybe give you a little tough love at the start of this... I mean, just so I can see what you're really capable of..."
"You versus me in singles action, next week."
Jessie McKay: Are you serious?
Gail Kim:
"Well, that's my challenge; should you accept it, we're on for next week. I can make it happen..."
Jessie paused for a moment to think that proposition over before eventually beginning to smile again and nod in agreement.
Jessie McKay: Alright, you're on. There's no problem with a little friendly competition.
Gail Kim:
"Exactly what I thought. I want to see you succeed here, Jessie. And I don't doubt for a moment that you'll let me down..."
Gail continued to smile as she hugged Jessie again. This time as Gail broke it, she began to back off and walk out of the locker room before turning back to Jessie.
Gail Kim:
"I wish you the best of luck, girl... Do me proud..."
--------
Main Event, Tag Match: The Rock & "Stone Cold" Steve Austin vs. Marcus Brett & "American Dragon" Bryan Danielson (accompanied by UFWA Heavyweight Champion Jimmy Jacobs & "The Lovely" Lacey)
[/b][/u]
Marcus Brett and The Rock start off with a lock-up. The Rock pulls Marcus into a side headlock but Marcus soon pushes him off and sends him flying into the ropes. As The Rock comes back, he knocks Marcus down with a shoulder block. As Marcus crashes to the mat, The Rock follows up with an elbow drop. He then kips-up and poses over the body of Marcus Brett. The Rock then drags Marcus back to his feet but Marcus manages to connect with an enzuigiri. The Rock doesn't fall and instead, just collapses against the ropes. Marcus begins to hit The Rock with several forearm shots. Eventually, The Rock battles back with a few shots of his own, ultimately taking him to the mat with a running swinging neckbreaker. Before The Rock can go for the cover, Jimmy Jacobs quickly grabs the ankle of The Rock to trip him. The Rock shouts at Jimmy but he and Lacey stand ringside and laugh. In the meantime, Marcus quickly makes his way to his corner and makes the tag out to Bryan Danielson.
Danielson greets The Rock with a knee to the midsection, followed by a quick Northern Lights Suplex pin. The Rock manages to power out at 2. Danielson stays on him, laying into him with several forearm shots. As the two return to their feet again, Danielson prepares to take him over with another Suplex. This time, The Rock manages to counter. He headbutts Danielson before Irish Whipping him into the ropes. He then takes Danielson down with a powerful spinebuster. The Rock covers Danielson but Marcus Brett is quick to break up the pin. The Rock gets in the face of Marcus and the two exchange some words. The referee eventually forces Marcus out of the ring as The Rock makes the tag out to Steve Austin. Austin drives Danielson immediately to the mat with a Thesz Press, followed by several punches. Danielson covers up but Steve Austin stays on him with a series of mudhole stomps. Austin drags Danielson back to his feet, striking him with an uppercut.
With Danielson sent reeling back into his corner, Marcus Brett makes the blind tag in. Austin immediately hits him with a Spinebuster. As Austin awaits Marcus to return to his feet so he can hit his signature Stunner, Lacey hops onto the ring apron to distract the referee. This allows Jimmy to attempt to use his Heavyweight Championship belt as a weapon to smash over the head of Austin. The referee turns back to see this move and stops Jimmy's strike from connecting. After Jimmy's second interference of the match, the referee soon has no other option than to eject both him and Lacey from ringside. As the Heavyweight Champion argues his case, Steve Austin begins shouting something at Jimmy to get him to leave, while The Rock sarcastically begins waving goodbye to him. Eventually, Jimmy and Lacey slowly begin to head up the ramp but back inside the ring, Marcus manages to catch Austin with the Marc Out (Spinning Unprettier). With Danielson holding back The Rock, Marcus Brett pins Steve Austin to pick up the victory for himself and Bryan Danielson.
[/center]